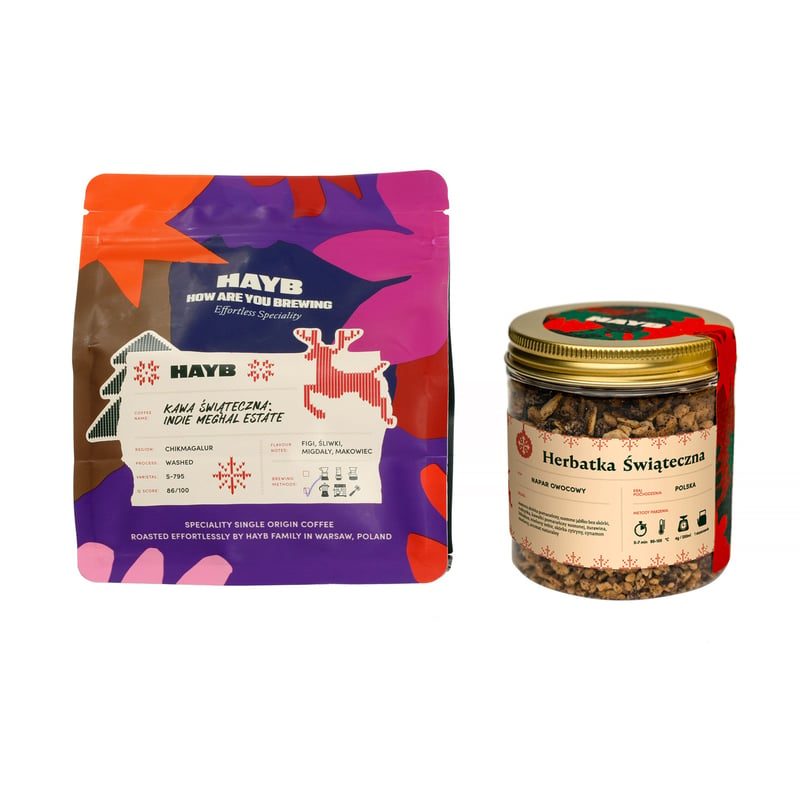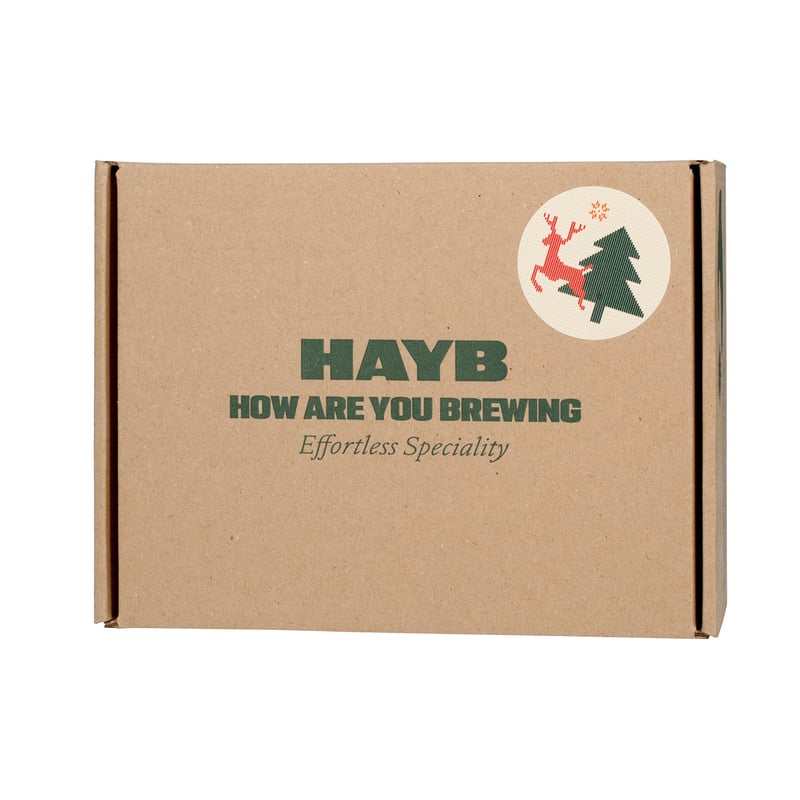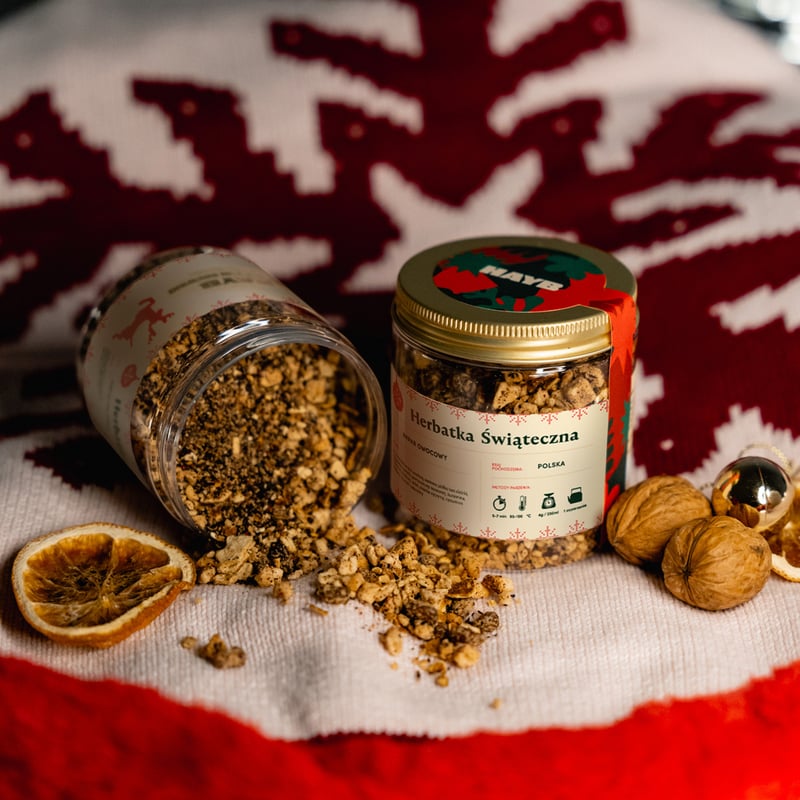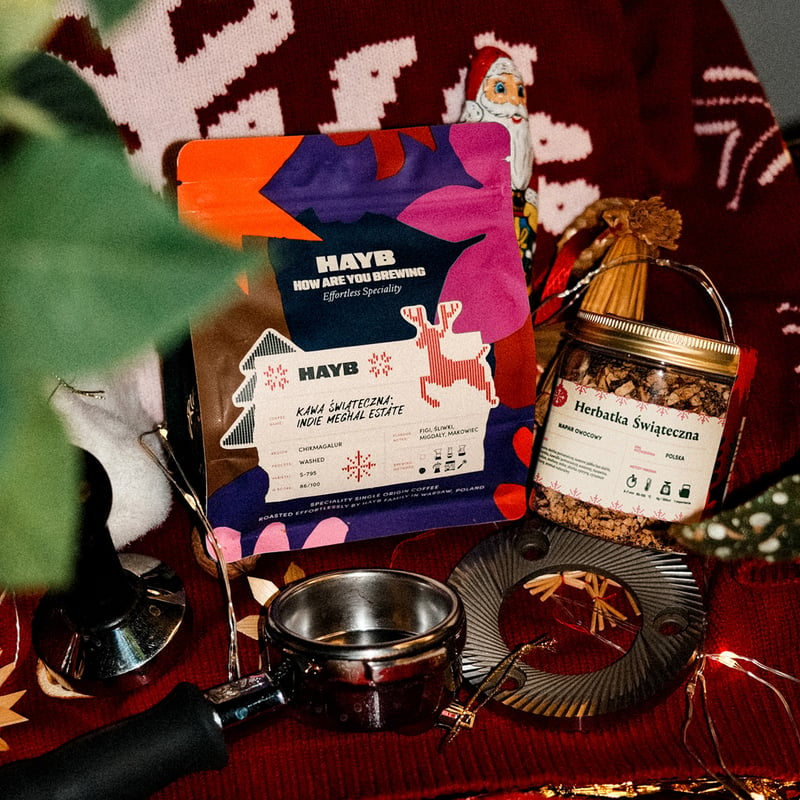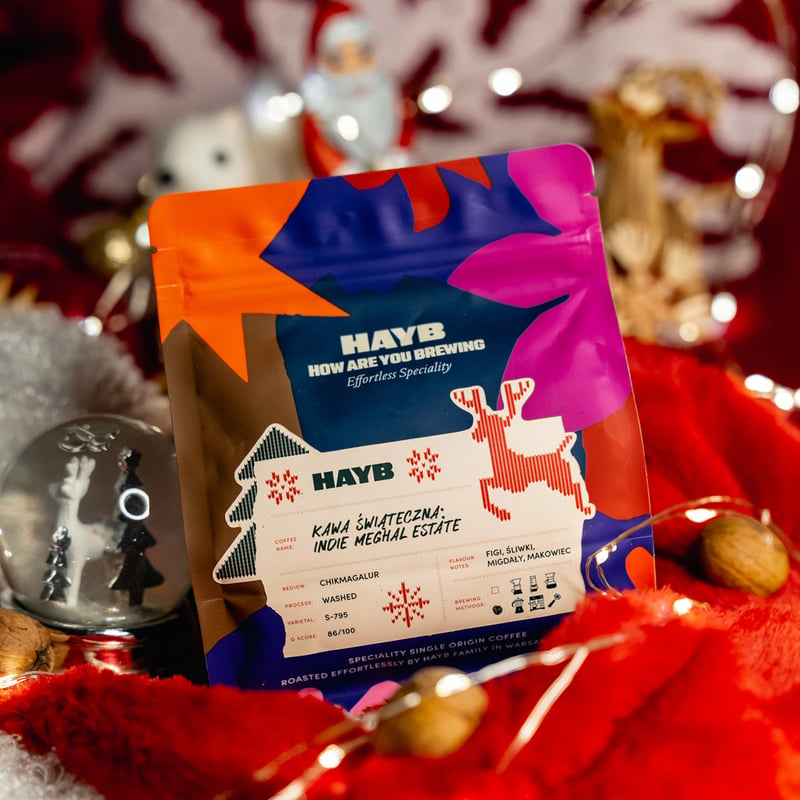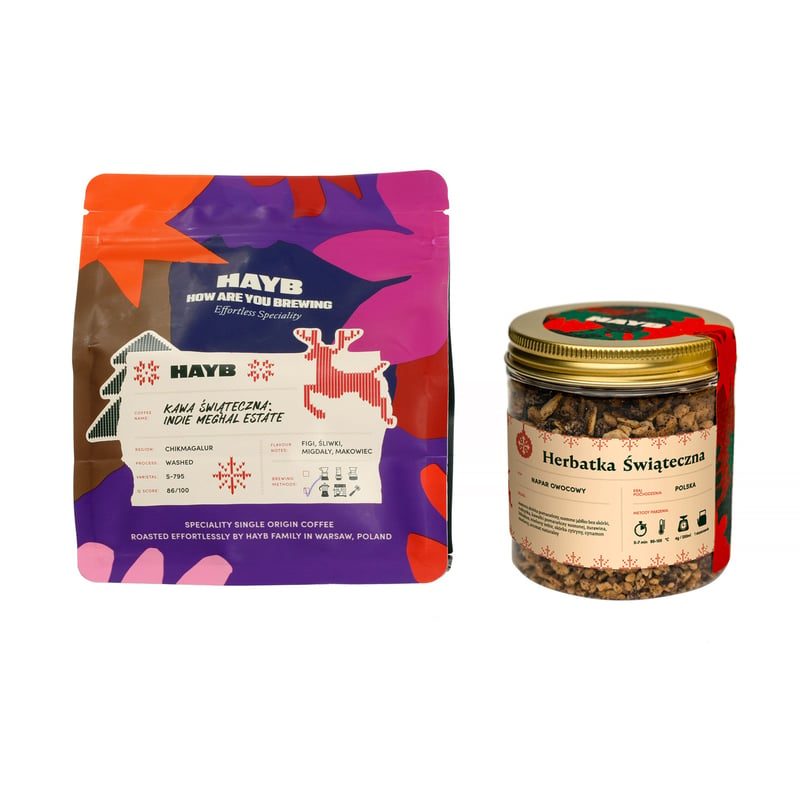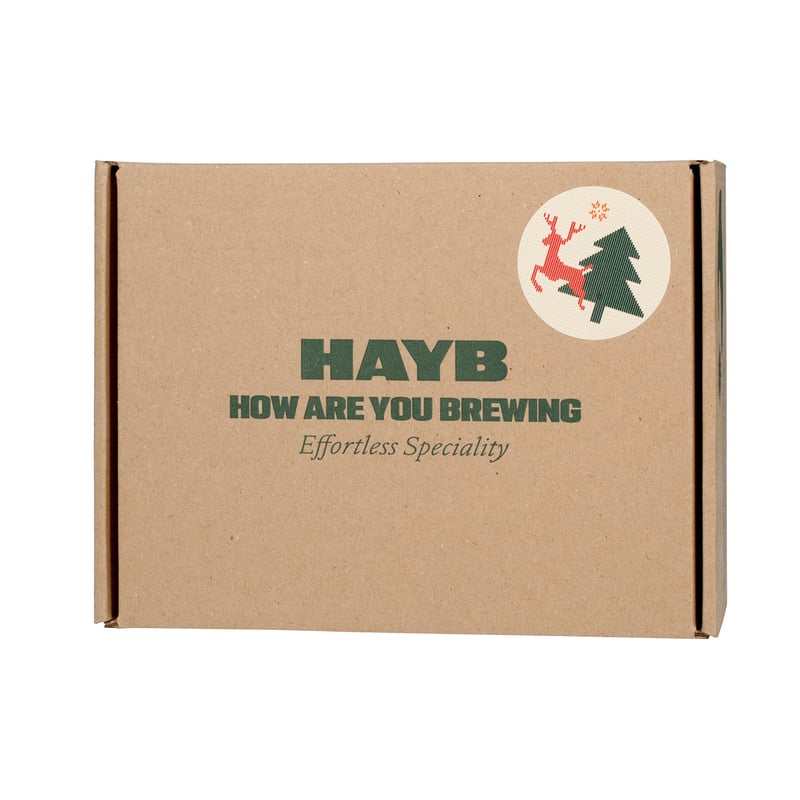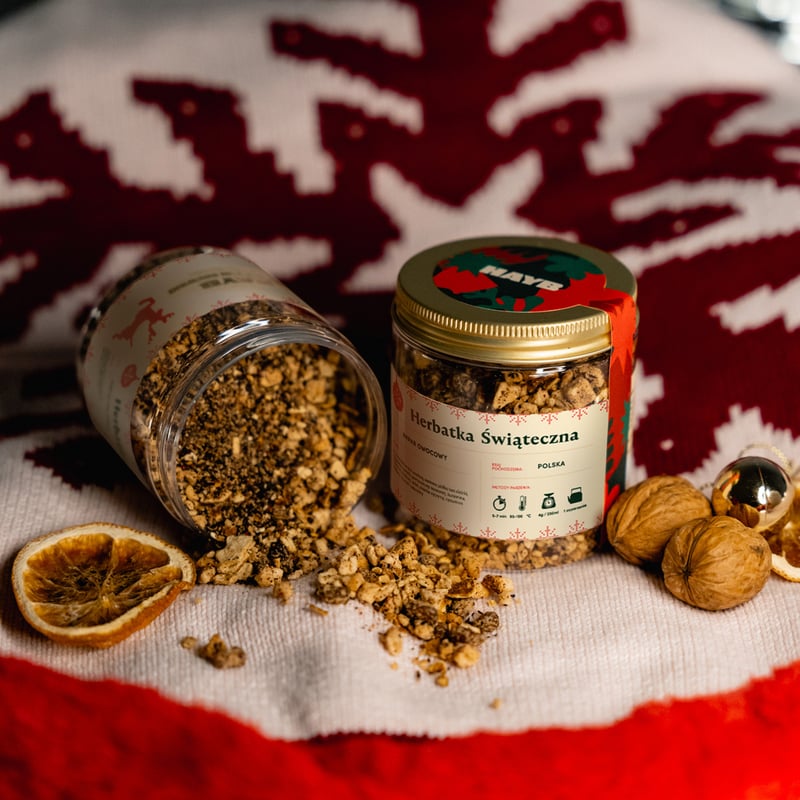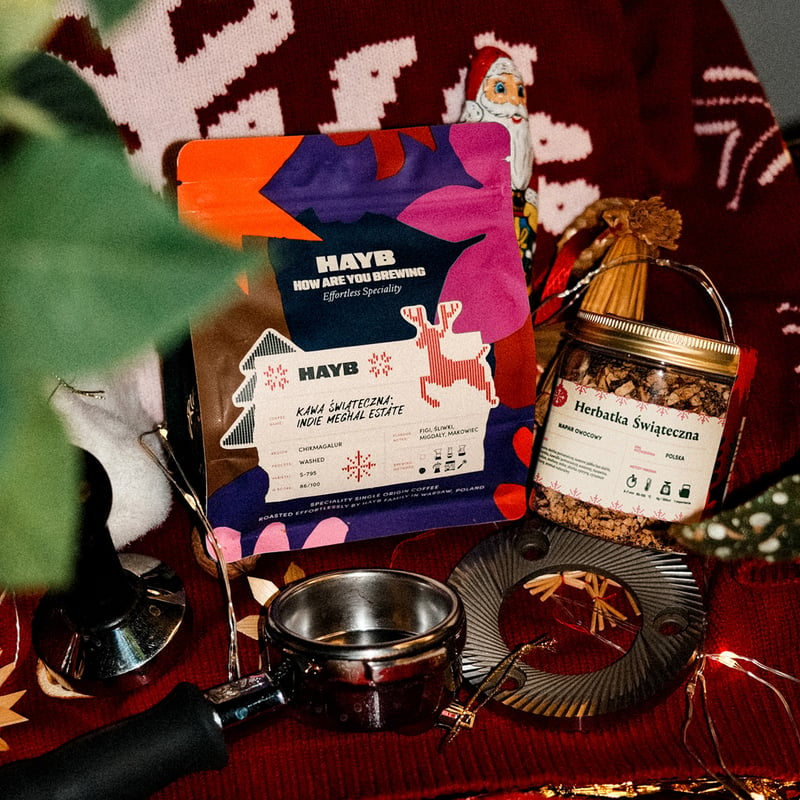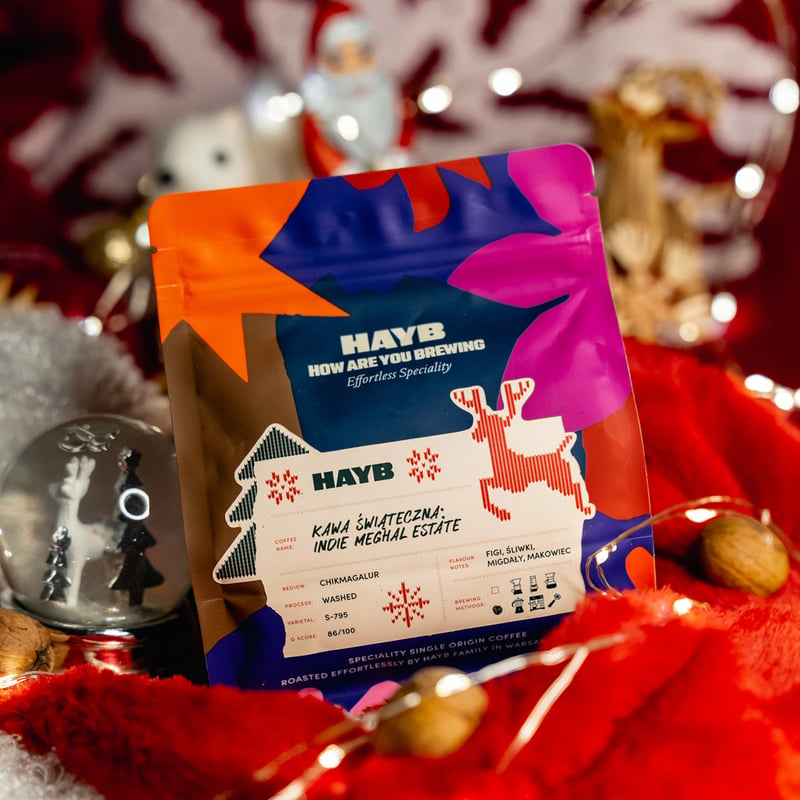 HAYB - Zestaw Kawa Espresso i Herbata
Roasting date: 22.11.2022
Leave us your e-mail, we will let you know as soon as the selected product appears in the offer!
Świąteczny zestaw HAYB dla miłośników espresso i herbaty.
W zestawie znajdziesz:
- HAYB - Kawa Świąteczna Indie Meghal Estate Espresso 250g:
Świąteczna kawa ziarnista jakości specialty pochodząca z Indii, wypalona w warszawskiej palarni HAYB. Palona w średnim stopniu, idealna do ekspresu ciśnieniowego i kawiarki. W smaku pojawiają się nuty zbliżone do fig, śliwek, migdałów i makowca.
Kraj pochodzenia ziaren:
Indie
Region:
Baba Budangiri Hills, Karnataka
Odmiana:
S-795
Metoda obróbki:
Washed
Położenie upraw:
1150 - 1350 m n.p.m.
Wynik w cuppingu:
86 / 100 punktów
Kilka słów o kawie od dawida Zaadra, Head Roastera HAYB:
"Zajarani kawami od Ashoka Patre, poczuliśmy potrzebę szukania więcej fajnych kaw z Indii. Pisałem do różnych importerów, aż pewnego razu dostaję odpowiedź po polsku w stylu "siema mamy to, czego szukasz, za tydzień jesteśmy w Warszawie, chętnie wpadniemy do HAYBa" – jeszcze w lekkim oszołomieniu odpisuję coś w okolicach "Siema, zapraszam!".

Wpadli – przesiorbaliśmy razem około 12 kaw, głównie z Indii. Różne smakołyki były tego dnia na stole, tradycyjne smaki, coś dla kawowych świrków też. Wybraliśmy trzy loty z oferty i co do jednego mieliśmy absolutną pewność, że wleci prosto pod choinkę lub na miękkie sianko pod obrusem. Dlaczego?

A no dlatego, że ta kawa smakowała jak makowiec!
Słodka, dopięta, z lekką kwasowością, idealna na ten zimowy czas. Starałem się lekko wydłużyć profil palenia, żeby wydobyć jeszcze więcej słodyczy – śmiało możesz proponować rodzinie jako świąteczne ciacho, no i nie musisz podawać cukru!"


- HAYB - Herbatka Świąteczna - Sypana 100g:

Pewnie nie zastanawiasz się za bardzo, jak smakują święta. Smakujesz i wiesz. Tak też jest z tą herbatą – jeśli nie skojarzy Ci się ze świętami, to pewnie pomyliły Ci się święta!

Składniki: suszona skórka pomarańczy, suszone jabłko (bez skórki), rodzynki, kawałki pomarańczy suszonej, żurawina, hibiskus, mielony imbir, skórka cytryny, cynamon mielony, aromat naturalny.

| | |
| --- | --- |
| Brand: | HAYB |
| Shipping within: | 24 - 48 hours |
Product reviews are obtained by means of the Trustpilot program, which allows customers who have actually purchased the product in our store issue opinions based on an individual link. Both positive and negative reviews are published in accordance with Trustpilot's terms and conditions - available
here
. The star rating is the average of all customer ratings for a given product.