1 - 2 of 2 available products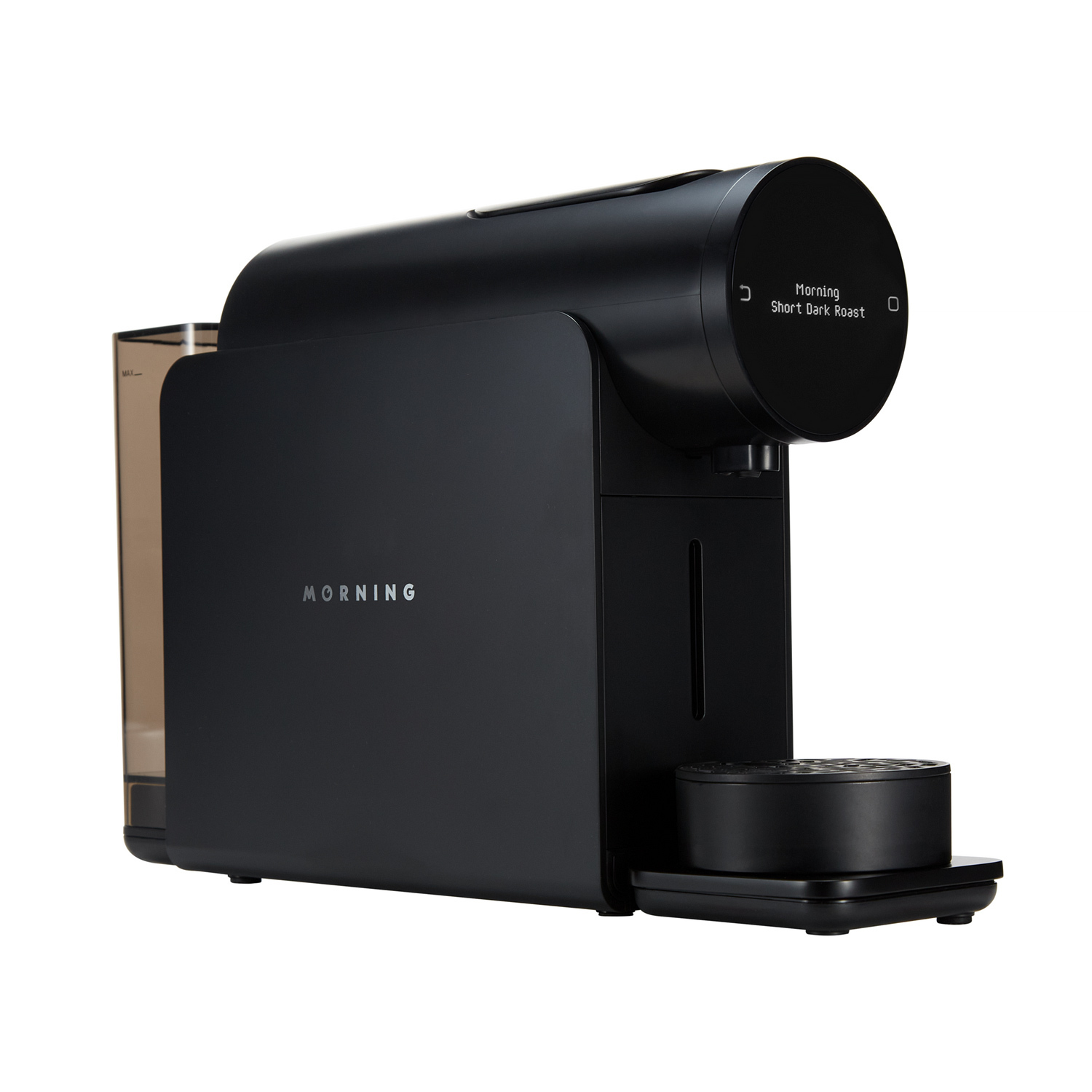 Morning - Capsule Coffee Maker - Black
The Morning Machine is a premium capsule coffee maker. The machine features advanced technology, control of the brewing process and beautiful, minimalist design. Morning Machine is a great choice for everyone - amateurs will appreciate the effortless, perfect cup of coffee every time and coffee geeks the control over th brewing process. The New Standard in Capsule Brewing - features from professional coffee equipment have been taken and adapted them for capsule coffee so you can enjoy convenience, consistency and quality like never before. It starts with the touch of a dial - engagement and experience are elevated with an interactive OLED screen and dial that lets you scroll and draw data at the touch of a button. Good coffee begins with good water. The built-in TDS meter helps to calibrate your water to optimal brewing levels. A separate water spout dispenses clean water at set temperature between 75°C-98°C to prepare a variety of other beverages like drip bags, tea and instant coffee. The spout is Professionally-developed pressure profiles. Once a brew is initiated, an elaborate algorithm dictates the pressure and intervals at which water is passed through your capsule. Developed by a team of coffee nerds over three years using thousands of capsules, the different profiles unlock the best flavours out of every capsule. There are 10 pre-rogrammed brewing profiles. You can also set pressure at 3 stages and 7 levels. Down to the gram. As your cup fills, a scale quietly measures beverage output and syncs with our pump to calibrate optimal output. Like baking, we believe that weight, not volume, based systems offer the best precision. Data is everything. Even after your first brew, the Machine's features are still at work. Data collected from temperature, weight and TDS sensors trigger notifications to extend the longevity of your machine and also informs our development for future updates. Mobile App with roaster recipes. What better way to brew your coffee than with recipes developed by the roasters themselves? Discover and download your favourite roaster recipes to enjoy the perfect cup. Every single time. Technica specifications: - Size & Weight: 40.2cm (L) × 10.2cm (W) × 25.5cm (H), 4.5kg - Adjustable Cup Height: 15cm (with drip tray), 25cm (without drip tray) - Water Tank Capacity: 850ml - Used Capsule Bin Capacity: 8-10 capsules - OLED Screen: 1.44 inches - OLED Interface 128×32 Display - Buttons and Interactions: 2 Capacitive Buttons - Rotatable Dial Selection Wheel - Electricity: AC220-240V 50-60Hz 1200-1300W; - AC120V 60Hz 1250W - Pump: 20 MPa, 120V, 60Hz or 230V, 50Hz - Max Pressure: 20 bar - Pressure Control: 3 stages, 7 levels - Output Control: 1g steps 1g~250g - Temperature Control: 75°C-98°C, in 1°C increments - Connectivity: Wi-Fi & Bluetooth - Capsule Compatibility: Nespresso® OriginalLine capsules and third-party compatible capsules. - Mobile App Works with iOS devices running version 10.0 and later, and Android devices running version 5.0 and later.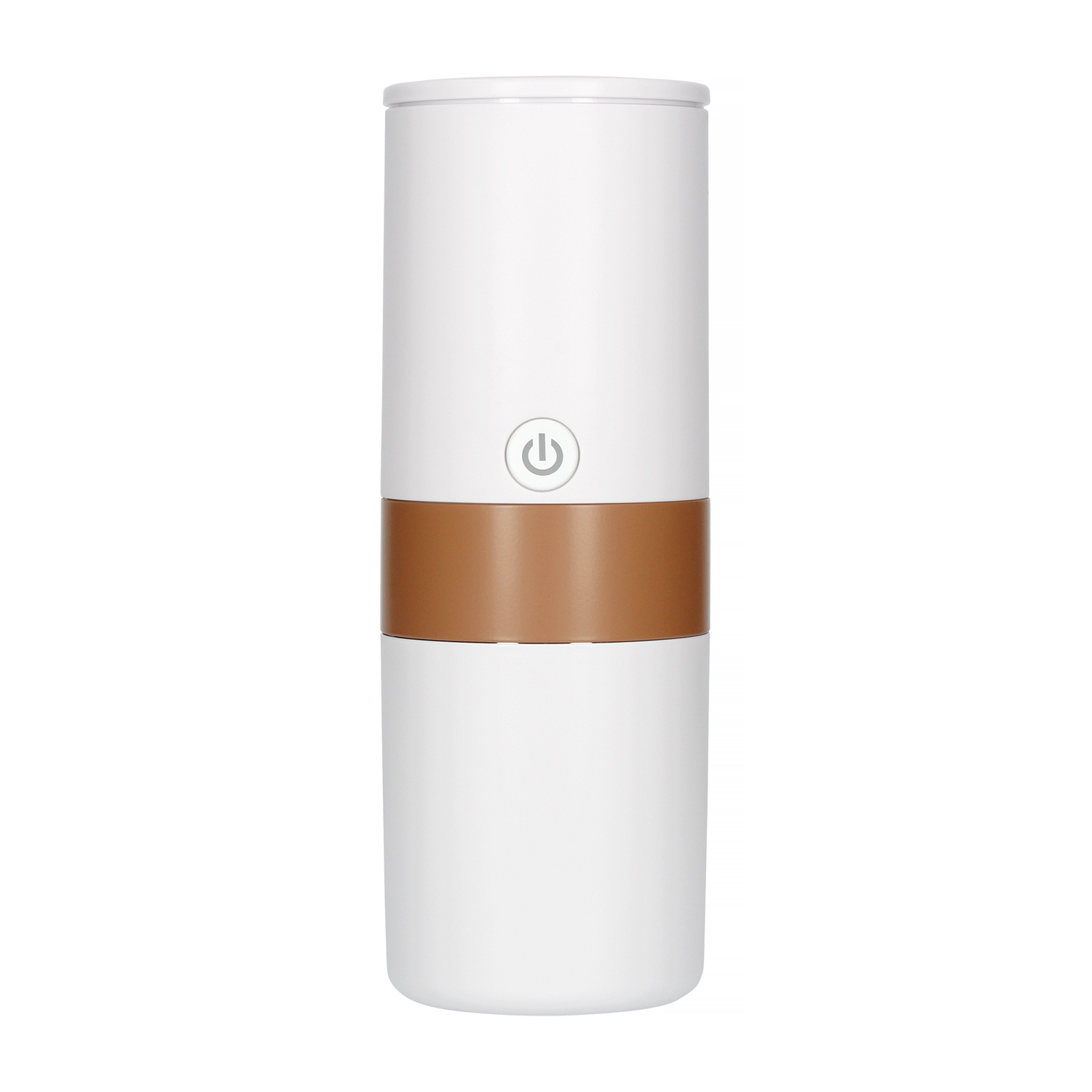 RS5 - Portable Pod Coffee Maker - White
The RS5 GC-CP001K is an automatic pod coffee and tea machine. The device is portable thanks to the built-in battery - it was designed for in-car use and travelling. The machine is compatible only with K-Cup capsules and the included capsule for ground coffee and tea. Design The RS5 GC-CP001K is made of durable plastics. It weighs 540 grams, is 20.3 cm tall and has a diameter of 7.5 cm - the device fits into most car holders and is portable. The RS5 is equipped with a rechargeable battery and a power cable for the car socket. It takes approximately 2.5 hours to fully charge the battery. The device is operated with one button. The total capacity of the water tank is 180 ml, and the device is also equipped with a screw-on cup made of stainless steel and plastic with a capacity of 260 ml. Brewing The RS5 GC-CP001K allows you to prepare coffee and tea with hot or cold water. If you use boiling water, espresso is prepared immediately. In the case of cold water, it takes 8-10 minutes. The brewing process can be started when the device is disconnected from the mains or when it is connected to a car socket. Compatible with K-Cup capsules (Keurig) or the enclosed coffee / tea capsule. The machine is not compatible with Nespresso and L'OR capsules. The brewing is simple: 1. Put the capsule into the machine. 2. Pour water up to the maximum level. 3. Press and hold the button (5 seconds with hot water, 2 seconds with cold water). 4. Wait for a while and enjoy the taste of coffee or tea
Leave us your e-mail, we will let you know as soon as the selected product appears in the offer!
Join our newsletter
Don't miss out on the latest news and follow our blog updates!