1
Johan & Nyström - Ethiopia Guji
11,50 €
2
Johan & Nyström - Brazil Fortaleza
9,50 €
3
6,90 €
4
23,62 €
5
5,70 €
Online products
Ratio Coffee Makers
Coffee
Tea
Yerba Mate
Sweets
Coffee Makers and Grinders
Accessories
Filters
Ratio Eight is a top-notch pour-over coffee maker for home use. It's extremely easy to use, made of high-quality materials, and features a very precise brewing system.

Version: White / Walnut / BPA-free co-polymer tank
Easy to use
Ratio Eight was designed with simplicity in mind. It offers one button operation - simply pour the water in, put ground coffee into the filter, and press one button. No need to programme any buttons.

With Ratio, you can brew from 500 ml to 1.3 litres. Just fill to the desired level with water, and pour the proportional amount of coffee into the filter. Ratio is compatible with the 6, 8, 10-cup Chemex paper filters, and stainless steel Able filter. It is recommended to use about 6g of coffee per every 100 ml of water. To start the brewing process, simply click one button and wait from 4 to 7 minutes, depending on the amount of water.

Design
Ratio Eight was also designed to please the eye. The design is minimalist and modern, juxtaposed with the use of top-quality materials that are fitted perfectly. The body is made of die-cast aluminium finished in a crisp gloss white powder coat, with the frame made of premium wood (Walnut). The water tank in this exact model is made of BPA-free, food-safe copolymer. However, your Ratio Eight will come with hand-blown glass internal lines. This means that the tank is never exposed to any step other than cold water transfer, serving its function without any subsequent exposure to hot water.

The set includes a hand-blown carafe made of borosilicate glass. The Ratio Eight uses a magnet in the carafe to detect if it is safe to deliver hot water. That protects the machine from accidental spillage. The carafe includes a lid that helps to keep the temperature of the brew longer.

Ratio Eight is designed and assembled in Portland, USA.

Precise brewing system
Meeting the SCA standards, Ratio Eight brews coffee at around 93 degrees Celsius.

Ratio is also unique when it comes to the brewing process. In the first, Blooming phase, the coffee grounds are initially saturated to degas coffee. Afterwards, there is the main brewing stage (Brew). The time of each step is adjusted automatically, depending on the amount of water. LED lamps on the front panel inform you about the process.

The shower head is another unique element. The water flows through a stainless steel shower head with multiple holes, designed for even distribution over the grounds. It results in proper extraction and better flavour of coffee.

The package includes:
- Ratio Eight Coffee Machine,
- Glass carafe with silicon lid,
- 4 paper filters,
- Ratio Wash bottle,
- Microfibre towel.
Don't forget about the filters! We recommend getting
the round
or
square
Chemex filters, or
Able Kone Filter
.
| | |
| --- | --- |
| Brand: | Ratio |
| Colour: | white |
| Purpose: | home |
| Width: | 23 cm |
| Height: | 34,3 cm |
| Depth: | |
| Power [W]: | 1600 |
Related products
You may also like:
Related articles
You may also like: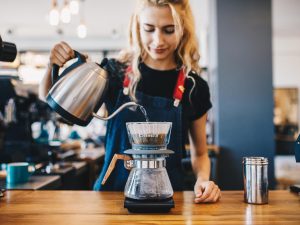 Brewista has a nice, glass dripper in their portfolio. We've checked and tried how does it work and how flat bottom improve our beloved coffee.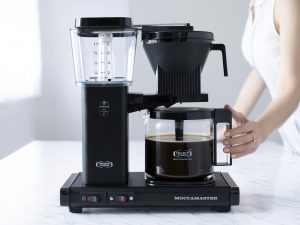 If you are wondering what coffee grounds should go into your grinder, here you will find some suggestions which can actually make it a pleasant experience!