Knock
Knock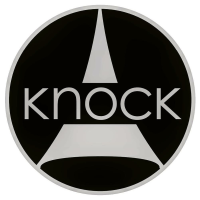 Knock, established in 2010 in Edinburgh, Scotland, was founded by friends Peter Kilpatrick and Dr. Uwe Stein, who shared a deep passion for coffee, design, and engineering. Their common interest led to the creation of a small business that offered a variety of handmade coffee tools. Collaborating with local machinists and wood tuners, their range of top-notch commercial-grade coffee tampers quickly gained popularity among baristas in specialty coffee shops across the UK.

In 2013, Knock executed a planned transition to manual coffee grinders, introducing the highly acclaimed Hausgrind and Feldgrind models, which rapidly earned a reputation as some of the most exceptional and innovative hand grinders available in the market. Subsequently, in 2017, the renowned Aergrind was introduced, gaining recognition as a top-quality, compact coffee grinder worldwide.

As we fast forward to 2022, the company has experienced significant growth, now consisting of a devoted team of coffee professionals dedicated to the development, design, and construction of high-quality coffee grinders and accessories that are cherished worldwide for their reliability, durability, and value. Throughout this journey, the heart of the operation remains in Edinburgh, where every product continues to be meticulously designed and crafted by hand.
1 - 1 of 1 available products
Knock - Aergrind Hand Grinder
Knock Aergrind 2022 is a compact hand grinder. It is made of high-quality materials and offers consistent grinding for various coffee brewing methods. If you are a demanding coffee lover that brews not only at home, but also on the go, this grinder is for you! BURR Aergrind is equipped with a 38mm Italmill burr made of titanium nitrided steel. It is extremely durable, precise and minimizes the level of friction and heat generation during grinding. The 2022 version also uses a 100% longer axle bearing compared to the previous version of the grinder, which provides better stabilization and greater durability. The burr is spring-loaded for better stabilisation. GRINDING A stepless grind adjustment allows you to set the grinder for every brewing method. Both, coarse grinding for filter methods and fine espresso or Turkish coffee grinding are a piece of cake. The coarseness is adjusted by turning the top cover with a scale divided into 12 points. The cover can be turned several times, which allows for even more precise adjustment. The setting is quick and easy. The grinding is precise and consistent - similar to more expensive automatic grinders. DESIGN Aergrind is manufactured in Scotland. The grinder is plastic-free. The body is made of aluminium, which makes it durable. The shaft is made of stainless steel and the knob of walnut. The top container holds about 25-30 grams of coffee beans. Durable materials and solid burr make Aergrind an everyday grinder for long years. Aergrind weighs 445 grams. Due to its compact size (height: 16.7 cm, diameter: 4.7 cm), it fits into the Aeropress. Together they make a perfect travel set for the most demanding coffee geeks. An additional band makes carrying the handle easier. The set also includes three silicone bands improving the grip. Disassembling is easy, fast, and requires no tools. *The AeroPress in the picture is not included.