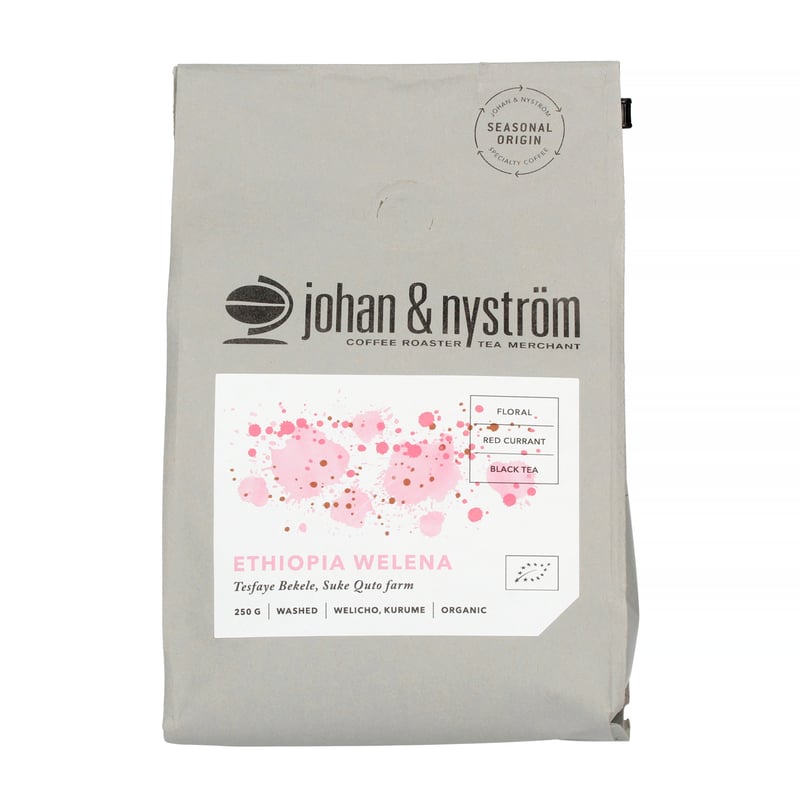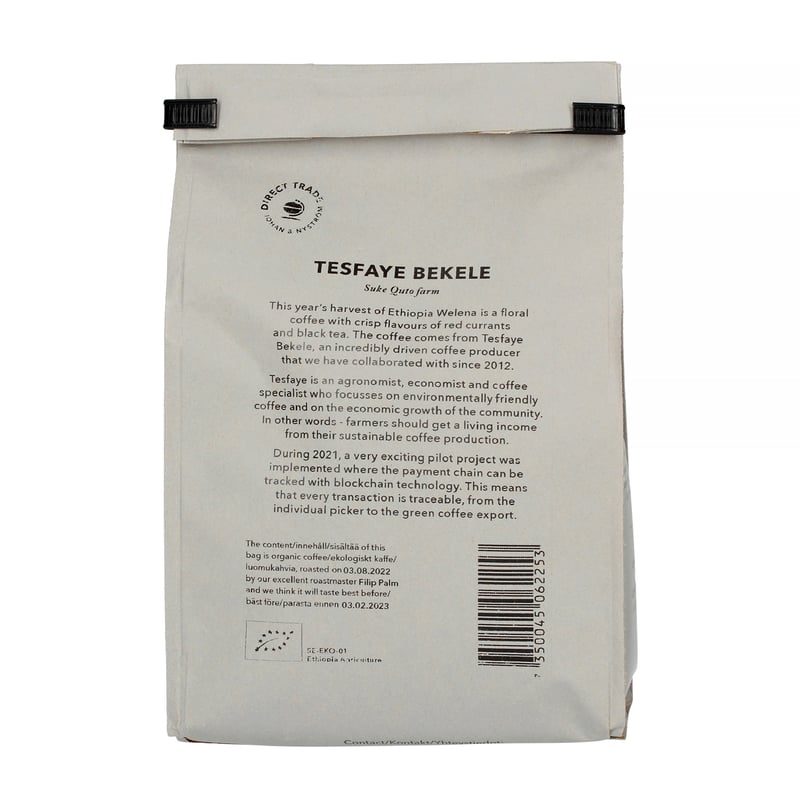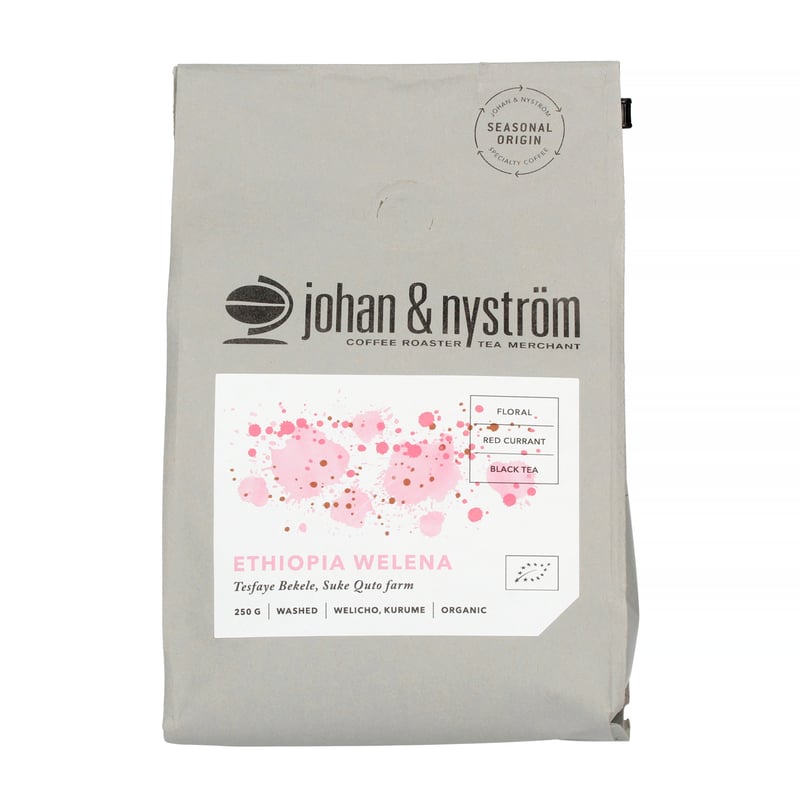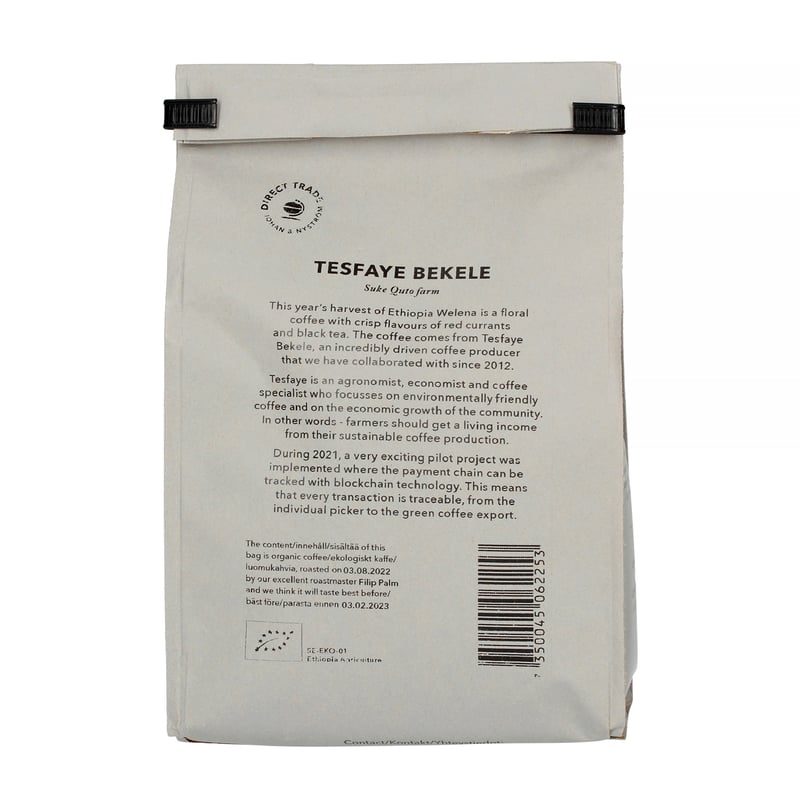 Johan & Nyström - Ethiopia Welena Filter 250g
Roasting date: 22.05.2023
Contents:
250 g
(€3.96* / 100 g)
The lowest price in the last 30 days: €8.80
Leave us your e-mail, we will let you know as soon as the selected product appears in the offer!
Speciality coffee beans from Ethiopia, roasted in Sweden by Johan & Nyström. Light roast, perfect for filter coffee machines, drippers, Chemex, AeroPress, and other pour-over brewing methods. Complex, with clean hints of red currant and black tea with floral aroma.

Country of origin: Ethiopia
Region: Oromia, Guji, Shakiso
Farmer: Tesfaye Bekele
Farms: Suke Quto and Welena
Growing altitude: 1800 -1930 m above sea level.
Variety: 100% Arabica, local variety
Process: Washed Coffee

The fruit flesh is removed mechanically and it ferments in water for 35 - 48 hours, depending on the temperature. It is then rinsed and left in water which, to a great extent, flushes sugar out and features pleasant fruity acidity.

Welena plantations and Suke Quto are located in the Oromia region, in the area known as Shakiso. Coffee from this area is much more fruity than that from the neighbouring Yirgacheffe and Sidamo. This is due to the cultivation of fertile volcanic soil and the processing method including long fermentation. The farm covers nearly 90 hectares, full of mountains and valleys. What is important, the farming is completely organic - no pesticides are used, soil is additionally fertilized with waste from the coffee plant shrubs, and the coffee farming is combined with farming of other fruit.

The founder of the plantation and processing station is Tesfaye Bekele, an expert on agronomy, economics and, of course, coffee. His coffee adventure began in 2001 - since then the farm has been constantly developing and, as a result, the production and bean quality has been growing. Its direct cooperation with Johan & Nyström roaster started in 2012 and has been bringing sensational effects - 300 bags of beans are bought after each harvest and the farmers are rewarded for the product quality and receive a 30% higher salary than the Fair Trade rate.

Our recipes:

- V60

Dose: 6.5 g of coffee / 100 ml of water
Total time: approx. 3:30 min
Water temperature: 89 degrees Celsius
Grinding: Medium

Recipe for 300 ml of coffee:
1. After wetting the filter and heating all the vessels, pour pre-ground coffee (19.5 g) to the filter.
2. Pour the coffee over with 60 grams of water and wait 30 seconds. Shake the dripper gently.
3. Add water to the level of 130 g.
4. When the timer indicates 1:10 minutes, add another portion of water to the level of 220 g.
5. Add the last portion of water (to the level of 300 g) when the timer shows 2:10 minutes.
6. The process should be completed by approx. 3:30 minutes. It's ready!


- Aeropress (Inverted method):

Dose: 19 g
Time: 2:45 minutes.
Temperature: 89 degrees Celsius
Grinding: coarse (like for Chemex)

Brewing:
1. After heating Aeropress, wetting the filter and any necessary utensils, place your Aeropress properly for the inverted method (plunger down). Pour 19 g of ground coffee into the brewer.
2. Pour coffee over with 50 g of hot water and wait for 30 seconds.
3. Add water to the level of 240 g and stir 5 times.
4. When the timer shows 1:45 min, replace the filter holder and the filter, invert the Aeropress and press the coffee slowly (for approx. 60 seconds) into the vessel. If, after inverting, there is any coffee stuck to the plunger, shake the Aeropress gently.
5. It is ready!
| | |
| --- | --- |
| Brand: | Johan & Nyström |
| Package: | 250 g |
| Country of origin: | Ethiopia |
| Whole bean / Ground Coffee: | Whole bean |
| Arabica / Robusta: | 100% Arabica |
| Process: | Washed |
| Roast level: | light |
| Brewing method: | Pour over (Alternative brewing methods) |
| Shipping within: | 24 - 48 hours |
| EAN: | 7350045062253 |
Product reviews are obtained by means of the Trustpilot program, which allows customers who have actually purchased the product in our store issue opinions based on an individual link. Both positive and negative reviews are published in accordance with Trustpilot's terms and conditions - available
here
. The star rating is the average of all customer ratings for a given product.