1
Set: AeroPress + Fellow Prismo
49,72 €
2
33,04 €
3
6,90 €
4
33,00 €
Online products
Aeropress
Coffee
Tea
Yerba Mate
Sweets
Coffee Makers and Grinders
Accessories
Filters
AeroPress is an incredibly versatile gadget that will meet the expectations of both beginners and advanced coffee lovers. This product combines the advantages of French Press, filter method and a traditional coffee maker, which makes preparation of your aromatic coffee really simple and quick.
In addition, the device allows you to explore the limitless flavours of coffee by experimenting with brewing time, water temperature and fine or coarse ground beans.

Using this method, you get up to 250ml of coffee at once and the whole process takes only a few minutes. Aeropress is unique with its small size and light weight, so you can brew your coffee just anywhere. Another advantage is that the device is made of a durable material that is easy to maintain.

Currently, AeroPress is considered one of the most interesting alternative coffee brewing methods. All over the world there are championships crowned with World AeroPress Championships.

Package content: Aeropress, 350 paper filters, coffee stirrer, coffee scoop, filter holder.
| | |
| --- | --- |
| EAN13: | 085276000800 |
| Brand: | AeroPress, Inc. |
| Material: | polipropylen, rubber |
| Capacity: | 250 ml |
| Shipping within: | 24 - 48 hours |
Question:
Witam, gdzie odbywa się produkcja marki Aeropress?
Reply:
Witamy! Produkcja odbywa się w Stanach Zjednoczonych :)
Question:
Witam, czy w zestawie znajduje się stojak na filtry? Pozdrawiam
Reply:
Dzień dobry! Tak, w zestawie znajduje się stojak na filtry :) Pozdrawiamy serdecznie!
Related products
You may also like:
Related articles
You may also like: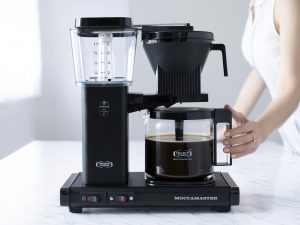 If you are wondering what coffee grounds should go into your grinder, here you will find some suggestions which can actually make it a pleasant experience!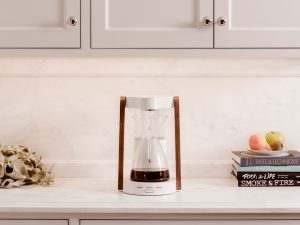 The Ratio pour-over coffee maker immediately draws your attention with its beautiful construction. How it works? Check out our review!