1
Johan & Nyström - Ethiopia Guji
11,50 €
2
Johan & Nyström - Brazil Fortaleza
9,50 €
3
6,90 €
4
23,62 €
5
5,70 €
Online products
Wilfa Brewers and Accessories
Coffee
Tea
Yerba Mate
Sweets
Coffee Makers and Grinders
Accessories
Filters

Wilfa Presisjon is a Norwegian masterpiece among filter coffee makers. WSP-2A is the second generation of the device. In comparison to the previous version (WSP-1A), it is characterised by more silent work.

Designed in collaboration with Tim Wendelboe - successful owner of a world-famous leading coffee roaster. Presisjon is a minimalist, elegant form, precise brewing and minimised temperature fluctuations - the top shelf of automatic coffee makers.
Made according to the standards of the prestigious SCAA and SCAE, it impresses with its functionality:
- Appropriate water temperature - 94°C throughout the brewing process. Thanks to that your coffee is neither bitter nor sour.
- Removable water tank - fresh water is an extremely important condition for tasty coffee. With Wilfa you can easily fill the reservoir before brewing.
- Additional scale helps to determine the amount of water - up to 1.25 L.
- Water flow control - experiment with the brewing time.
- The outlet of the filter tank allows for flow control - decide for yourself how long you want to brew.
- It keeps your coffee hot - coffee is heated for 40 minutes after brewing.
- Impressive design - its unique shape and high-quality aluminum make the brewing process pleasing to the eye.
Perfectly compatible with Melitta
1x4 filters.
| | |
| --- | --- |
| EAN13: | 7044876021755 |
| Brand: | Wilfa |
| Width: | 36, 3 cm |
| Height: | 36 cm |
| Depth: | 21,3 cm |
| Weight: | 4,1kg |
Related products
You may also like:
Related articles
You may also like: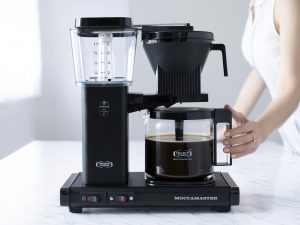 If you are wondering what coffee grounds should go into your grinder, here you will find some suggestions which can actually make it a pleasant experience!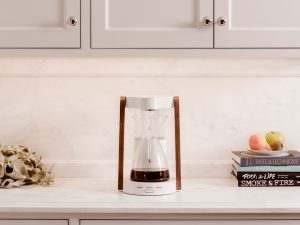 The Ratio pour-over coffee maker immediately draws your attention with its beautiful construction. How it works? Check out our review!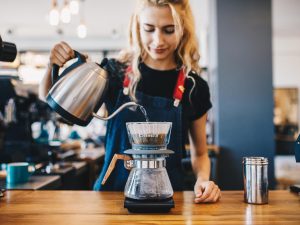 Brewista has a nice, glass dripper in their portfolio. We've checked and tried how does it work and how flat bottom improve our beloved coffee.