2
Chemex round paper filters 6, 8, 10 cups
11,50 €
3
Classic Chemex Coffee Maker - 3 cups
40,34 €
5
11,50 €
Online products
Chemex Coffee Makers
Coffee
Tea
Yerba Mate
Sweets
Coffee Makers and Grinders
Accessories
Filters
Using this model of Chemex Coffee Maker you may prepare up to 3 cups of coffee at a time (450 ml capacity).

Chemex Coffee Maker was invented in 1941 by Dr. Peter Schlumbohm. The design was based on the experience gained by this talented chemist. This one-piece vessel with its hourglass shape is made of high-quality heat-resistant glass. The role of a holder is served by a wood collar with a leather tie. The glass that Chemex is made of does not absorb odours, and thus it has no effect on the flavour of brewed coffee. Made in the United States.

Apart from functionality, Chemex distinguished by its amazing design. You may admire its visual elegance on permanent exhibition in New York's Museum of Modern Art. Additionally, it was selected by Illinois Institute of Technology as one of the 100 best-designed products of modern times. With Chemex Coffee Maker, brewing of your favourite coffee is really simple and takes 4 - 6 minutes.

Besides Chemex, you just need paper filters and good coffee which must be poured over with water (6-7g of coffee per 100ml of water). You may find instructions on coffee brewing using this method in our Knowledge Base.
| | |
| --- | --- |
| EAN13: | 028068001364 |
| Brand: | Chemex |
| Capacity: | 450 ml |
| Height: | 21 cm |
| Diameter: | 8 cm |
| Shipping within: | 24 - 48 hours |
| Description: | drip brewer |
Related products
You may also like:
Related articles
You may also like: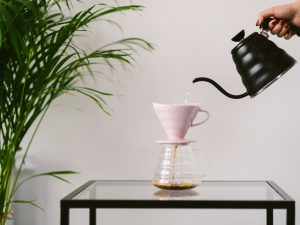 Making coffee without a coffee machine is not a myth. This article is a quick overview of the most popular alternative coffee brewing methods.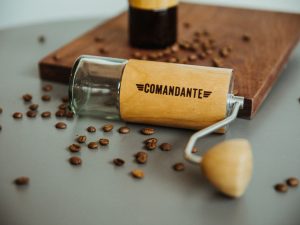 Many coffee geeks spend sleepless nights thinking about the Comandante Grinder. Though how to set the Comandante Grinder to make a good cup of coffee?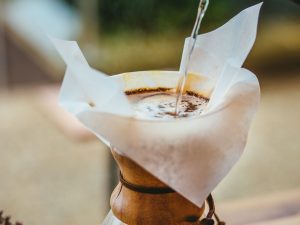 Chemex. Słówko, na które uszy miłośników kawy wysokiej jakości są na pewno wyczulone. Czy tak zawsze było z tym szklanym flakonem stojącym w muzeum?