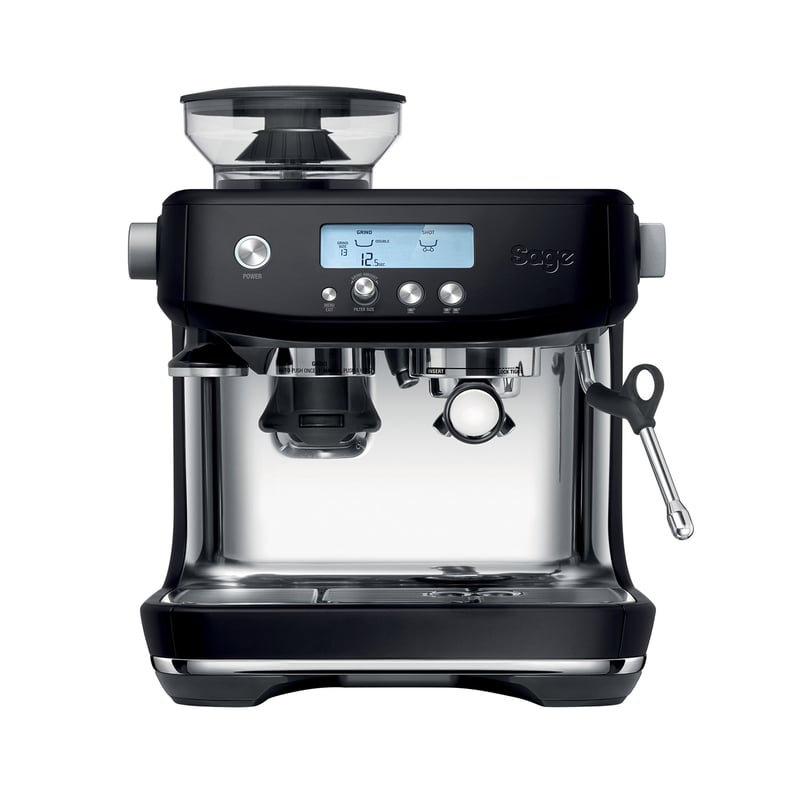 Sage - The Barista Pro Czarny - Ekspres ciśnieniowy
Leave us your e-mail, we will let you know as soon as the selected product appears in the offer!
Sage Barista Pro (SES878BTR) to ekspres kolbowy z młynkiem do użytku domowego.

Ekspres kolbowy SES878 to połączenie wydajności z nowym intuicyjnym interfejsem zapewniającym smak domowej kawy taki sam, jak w Twojej ulubionej kawiarni.

Zintegrowany młynek dostarcza odpowiednią ilość zmielonej kawy dla pełnego smaku napoju. Dzięki 3-sekundowemu czasowi nagrzewania i precyzyjnej ekstrakcji kawy, szybciej niż kiedykolwiek wcześniej zamienisz ziarna kawy w smaczne espresso.

Największe zalety:

- System niskociśnieniowego parzenia wstępnego gwarantuje stopniowe zwiększanie ciśnienia, które równomiernie rozkłada się po powierzchni kawy w filtrze dla właściwej ekstrakcji kawy.

- Zintegrowany młynek stożkowy z funkcją kontroli dawki za jednym dotknięciem dostarcza odpowiednią ilość kawy, zapewniając maksymalny smak napoju. Regulowana grubość mielonej kawy oraz czas jej mielenia.

- Wyświetlacz LCD ze wskaźnikiem mielenia i animacją postępu pracy urządzenia dostarcza wszystkich niezbędnych informacji potrzebnych do zrobienia kawy dokładnie takiej, jak lubisz… i to za każdym razem.

- Innowacyjny system grzewczy ThermoJet osiąga optymalną temperaturę ekstrakcji już w ciągu 3 sekund z natychmiastowym przejściem z espresso na parę. Gotowy do przygotowania najlepszej kawy bez zbędnego oczekiwania.

- Wydajna dysza parowa pozwala na ręczne spienienie mleka o strukturze poprawiającej smak napoju i umożliwiającej tworzenie latte art.


Funkcje:
Ekspres kolbowy do przygotowania espresso, cappuccino, latte i innych rodzajów kawy
System cieplny ThermoJet® gotowy do pracy w 3 sekundy
Elektroniczny system kontroli temperatury zapewnia stałą temperaturę podczas ekstrakcji kawy
System niskociśnieniowego parzenia wstępnego
Obrotowy regulator podawania pary lub wody
Wyjmowany metalowy tamper do ubijania kawy mielonej
Superwysoka przestrzeń do przygotowania long coffee (dużej kawy)
360° obrotowa dysza na parę
2 l wyjmowane naczynie na wodę z systemem filtrowania
Powierzchnia do podgrzewania filiżanek
Szufladka na akcesoria
Wyjmowana taca ociekowa
Napięcie: 220–240 V ~ 50 Hz
Moc 1680 W
Wykorzystane materiały: szczotkowana stal nierdzewna, stop metali szlachetnych, plastik o dużej odporności
Wymiary (wys. x szer. x gł.): 35,4 x 41 x 40,6 cm
Waga: 9,1 kg

W zestawie znajdziesz również:
Sitko z prostym dnem dla 1 i 2 filiżanek
Sitko z podwójnym dnem dla 1 i 2 filiżanek
Nierdzewny dzbanek do spieniania mleka
Wbudowany tamper
Przyrząd do wyrównywania kawy Razor TM
Przetyczka do czyszczenia
Filtr do wody
| | |
| --- | --- |
| Brand: | Sage |
| Colour: | black |
| Purpose: | home |
| Shipping within: | 24 - 48 hours |
| EAN: | 9312432032841 |
Product reviews are obtained by means of the Trustpilot program, which allows customers who have actually purchased the product in our store issue opinions based on an individual link. Both positive and negative reviews are published in accordance with Trustpilot's terms and conditions - available
here
. The star rating is the average of all customer ratings for a given product.