In the first part, we have discussed the caffeine content in pour-over coffees. Today we will be talking about the king. Espresso. We have been drinking it for over a century. If we add a couple of zeros, this figure will correspond to the number of myths which have surrounded espresso since then. To write this article, I have collected four high quality espresso samples and three ones of rather poor quality. In order to have a point of reference, let's check how much caffeine is in an espresso shot.
Do you want to know how much caffeine is in pour-over coffee? Check out Piotrek's
first article
!
To make things easier, I will give you that information again. We express quantity in milligrams in 100ml or 100g. 
A popular energy drink with a red bull in the leading role: about 30. 

Popular orange lemonades made from yerba mate extract: about 20. 

Cola/Pepsi: about 10. 

Dark chocolate: about 52-85 (depending on the brand) 

Pour-over coffee from the first part with the highest caffeine content: 102 
Let's start with the lowest quantities and gradually move towards higher caffeine stimulation. Let's see how much caffeine is in espresso! So… let's get started!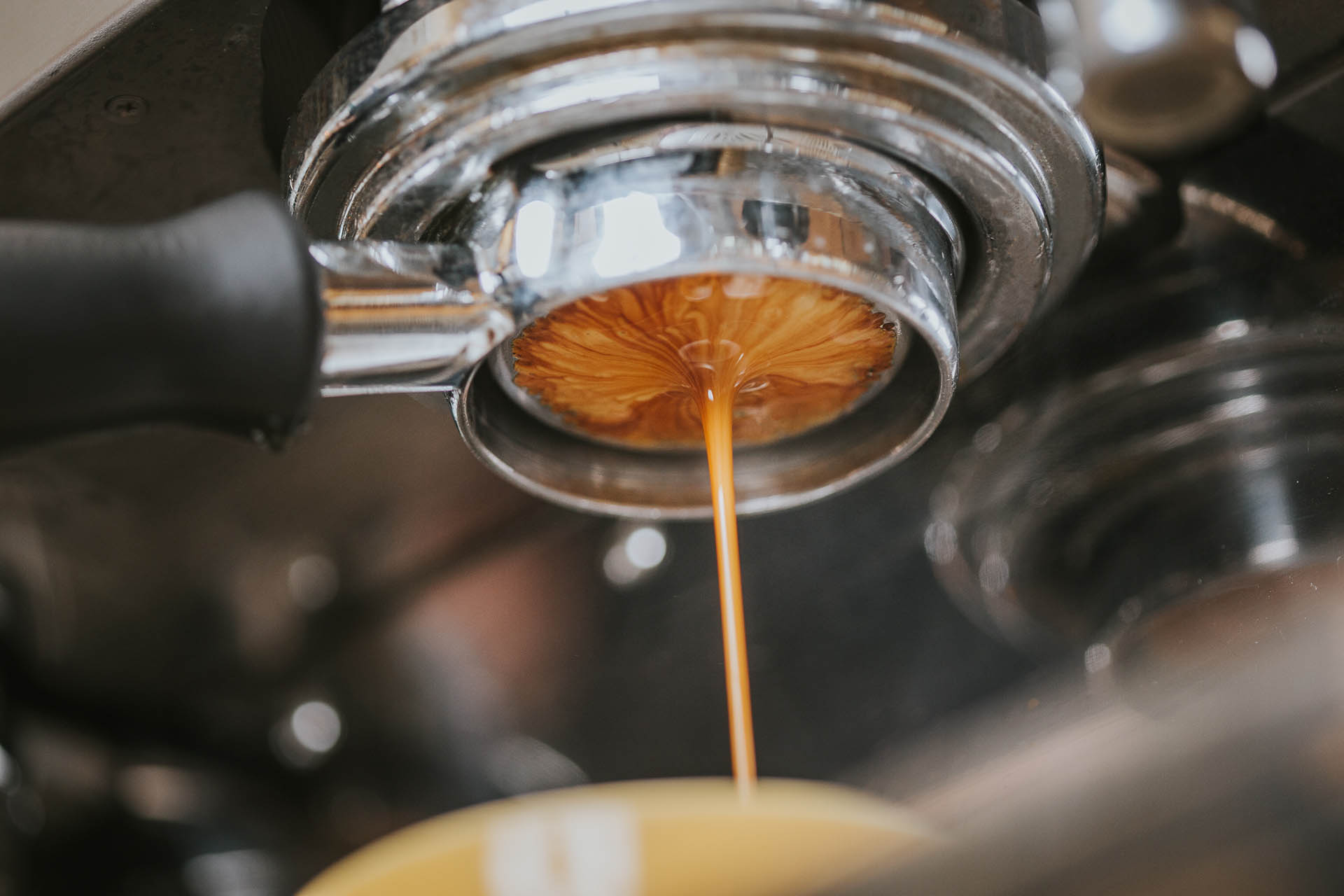 Petrol station
One of the most recognisable Polish brands in red and white. I pull up here, because it's on my way home. 
A small digression
: a pleasant surprise awaits me the very moment I enter. In the middle of the shop, next to a superautomatic espresso coffee maker, I see a line of accessories used for alternative coffee brewing methods.
Hario V60
,
AeroPress
and
glass servers
. Just imagine this situation in 2011:
Oh noo, I broke my Hario! Can you stand in at the bar for me and I will quickly go and buy a new one at the station?
At the counter I pay for a double espresso, then I go to the machine and make it myself by pressing the right button. The only information about the grounds I've got was: "100% Fair Trade Arabica". The aroma is heavy, smelling of ash and smoke, in the background a subtle hint of nuts. At a guess, the cup has about 50 millilitres. 
Result: 60mg of caffeine in 100ml. In this espresso we would consume 30mg of caffeine. Which is pretty much the equivalent of one cola. 
A green and white coffee shop
Known all over the world, a certain coffeehouse chain luring you with an appealing mermaid logo. I would never forgive myself if I had left it out of my comparison. It is located at the corner of Aleja Solidarności and ulica Jana Pawła in Warsaw. I am served by a very polite guy who seems not used to taking orders such as mine at this sort of place: A double espresso, take-away, please. 
A machine manufactured exclusively for the coffeehouse in question quickly spits out my object of study. This took less than 15 seconds. In the air, there is a strong smell of boiling tarmac. The cup has 60ml of coffee. Having taken the sample, I decide to try it, since only now do I realise that I have never tasted pure espresso made by the mermaid coffeehouse! What can I say? The coffee at the petrol station tastes heavenly compared to that brew. 
Result: 63mg of caffeine in 100ml. Almost 38mg of caffeine in a single cup. Is it worth it? Judge for yourself. I will only remind you that a similarly stimulating effect can be achieved by eating half a bar of good dark chocolate. 
Secret Life Cafe, Żoliborz district
The first espresso of speciality quality in our comparison. In the grinder, the natural-processed Ethiopia Sunyirga, roasted by Czech Doubleshot. The lads behind the counter provide me with all details, including the ratio (36g of brew out of 18g of coffee) and the extraction level (19.6%). The aroma has strong floral and cocoa notes. 
My espresso is tasty, full-bodied, with citrus acidity and grape sweetness. I drink it all, absorbing 31 milligrams of caffeine; the result I will get will be 86mg/100ml. As you can see, the amount of the stimulant in here is significantly higher than in the previous coffees of dubious quality. However, the current standards for brewing espresso from top quality coffees are based on smaller quantities than those of superautomatic machines. The advantage? You can drink more. 
Relax Coffee Shop, Mokotów district
I am impatiently waiting for an espresso at Relax, since for some time they have served coffee roasted by themselves. Yet another nano-roastery in Warsaw. I am glad to hear that! A double espresso in this already legendary Polish coffee shop has been made from the popular speciality coffee grounds from the Rainha farm in Brazil. Like I expected, it has a dominant nutty flavour, accompanied by an almond paste flavour and a subtle acidity. By the way, this is a good way of starting your adventure with high quality espresso. 
I get all information from Piotrek Sowa, the head barista: 17 grams of coffee, 32 grams of the brew. A much higher result than in the case of the previous coffees: 119mg/100ml. So I consumed 38mg of caffeine. The same amount as in a twice as big, tarry cup from the white and green company.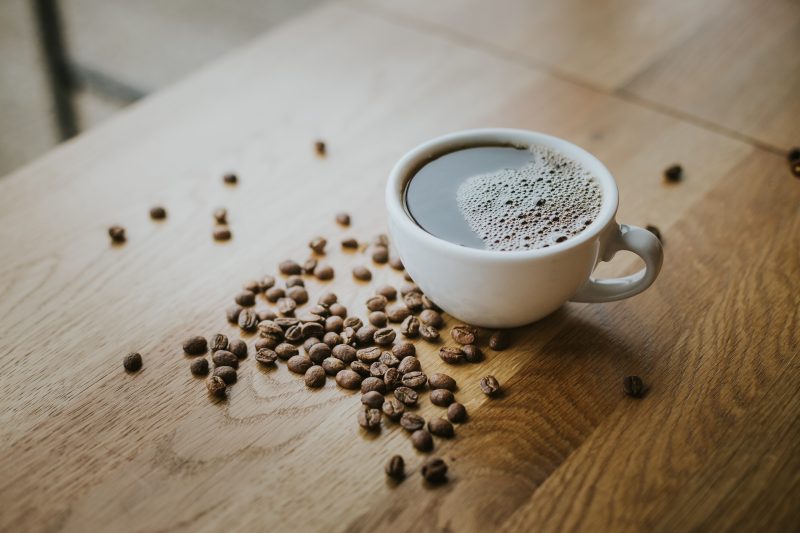 Typical dark Italian espresso 
An Italian restaurant in a fashionable neighbourhood in the centre of Warsaw. Appetising maturing cheeses, bottles of wine piled from floor to ceiling, snacks boards and espresso of, as we are about to find out, not quite the best quality. When I enquire about the grounds, I hear the following answer: "50/50 universal coffee, roasted on the spot in Italy". So half of the brew is Robusta. 
I don't hear the grinding, so I take a furtive look at the grinder. I see a huge pile of coffee ground in advance. The way it looks in the doser reminds me a bit of the Kościuszko Mound. A characteristic heavy, rubber aroma of the cup points to the presence of Robusta. According to research, this coffee type has about twice as much caffeine as Arabica. And the result seems not to contradict that. It is rather high, because 124mg/100ml. Which results in 62mg of caffeine in a 50ml cup. Decidedly the most stimulating espresso so far. 
The flavour profile? Mostly the taste of ash, unpleasant, dirty acidity and a subtle hint of walnut dulled by even more ash. A similar amount of caffeine can be found in popular orange lemonades made from yerba mate, in case you want to know. 
Forum, Śródmieście district
I have gone to Forum immediately after that to take a sample, but also to get rid of the ash aftertaste. On that day, it's Ilonka's shift and she's brewing the Ethiopia from the Bifdu Gudina cooperative. We can safely say that over recent years this coffee has become a flagship primary commodity on the speciality market. It is regularly roasted by top roasteries. This time, it was Five Elephant from Berlin. A wonderful smell of flowers, especially jasmine. The brew tastes of citrus fruits, plums. 
Modern espresso at its purest!, as Slavoj Žižek would put it. The result turns out to be twice higher than in the case of the previous Ethiopia. 156mg/100ml. I got a 37g serving from Ilonka with the caffeine content of 58g. Comparable to the espresso served 20 minutes earlier. 
Reading Room, Stare Bielany district
In this coffee shop, I've got an espresso with the highest caffeine content: 162mg/100ml. 
The grounds are roasted by Five Elephant but come from a very different part of the world: Guatemala. La Dulce Memoria is a romantic name of the farm where this coffee is grown. The espresso is sweet and thick. I would serve it to a coffee lover starting their adventure with speciality quality, just like the above-mentioned Brazilian from Relax. I have drunk it all, absorbing 52mg of caffeine from a 32g portion.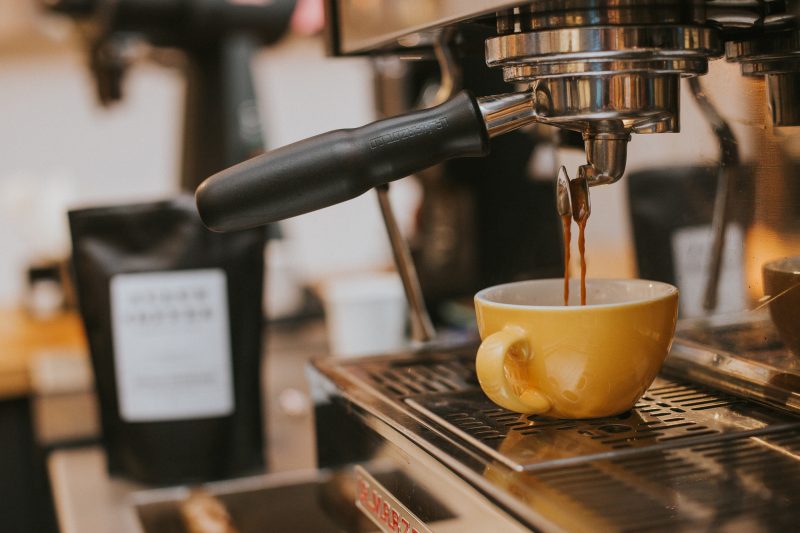 Classic question: Is espresso weaker than drip?!
– An espresso, please. 

– A single or a double shot?

– A single. I don't feel like dying from a heart attack today! 
I think every barista can include a similar dialogue in their CV. And many of them feel obliged to explain that this is not true! This is a myth. Espresso is not strong. What is strong is pour-over coffee, sir. 
So how is that, in the end? How much caffeine is in espresso? Much? A little? In my opinion the belief that espresso has more or less a superhero strength comes from the fact that this is an extremely concentrated brew. Almost ten times more than a pour-over coffee; and for that reason, its taste is very intense. In other words, in espresso there is almost ten times more coffee than in drip coffee or AeroPress. 
An average caffeine content in seven pour-over coffees from the first part amounted to 72mg/100ml. Which translates into 144 milligrams in a portion. 
An average caffeine content in seven espressos amounted to 110mg/ 100ml. 
The rounded result equals 44 milligrams in a portion.
We can conclude from these tests that caffeine content in espresso was higher than in pour-over coffees. However, at the same time the amount of caffeine we consumed was much higher in pour-overs than in espressos. Simply because an espresso is smaller than a drip. A piece of cake! 
Bonus! Surprise!
At the very end. For dessert! But without the "enjoy!" part. We want to dispel a certain myth concerning instant coffee and namely: even if it's not high quality, at least it gives you a kick because it contains much caffeine! When doing research, I took a sample from a leading brand instant coffee sachet. Following the recipe on the packaging, I "poured the contents into a cup and poured hot but not boiling water over them". The result? 18mg/100ml. In that case, I would recommend you a brownie, sir. 
* https://www.coffeechemistry.com/general/agronomy/differences-arabica-and-robusta- coffee 
Caffeine content in 100ml:
Reading Room 162mg 

Forum 156mg 

Italian espresso 124mg 

Relax 119mg 

Secret Life 86mg 

White Mermaid 63mg 

Petrol Station 60mg 
Caffeine content in a cup: 
Italian espresso 62mg 

Forum 58mg 

Reading Room 52mg 

Relax 38mg 

White Mermaid 38mg 

Secret Life 31mg 

Petrol station 30mg