Like in the old jokes – could there be anything better than one AeroPress? Oh, yes. Half of an AeroPress. And put this ironic and mocking face aside, because that's exactly right! AeroPress Go will eagerly find its way into your travel bag.
Because size matters
AeroPress is one of the most popular devices for alternative coffee brewing. Lots of people who are just starting their adventure with specialty coffee are switching to AeroPress. It is effortless to use, forgives a lot of mistakes, works well both with delicious and delicate singles as well as with darker blends. Besides, it is plastic, handy, light, you can carry it in a bag, backpack or any other 'poke'.
Invented in the early 2000s, it's a smash hit among the coffee lovers. The AeroPress World Championship is one of the best known, most party, cool and hipster events. It always takes place in interesting venues, there is no cliché, routine and complex scoring, as with other coffee competitions. The Poles have been very successful in the AeroPress World Championships. In 2009 the winner was Łukasz Jura, then Filip Kucharczyk in 2017 and Paulina Miczka in 2018 (although at the championships in Seoul she represented England).
So, you can use AeroPress to win great championships, but you can also use it to win good coffee at home. Your partner can appreciate this better than the judges at the World Championships.
Since the patenting of AeroPress by Alan Adler, the producer of well-known frisbee toys, the changes to the equipment itself have only been cosmetic – changes in material, color and fonts.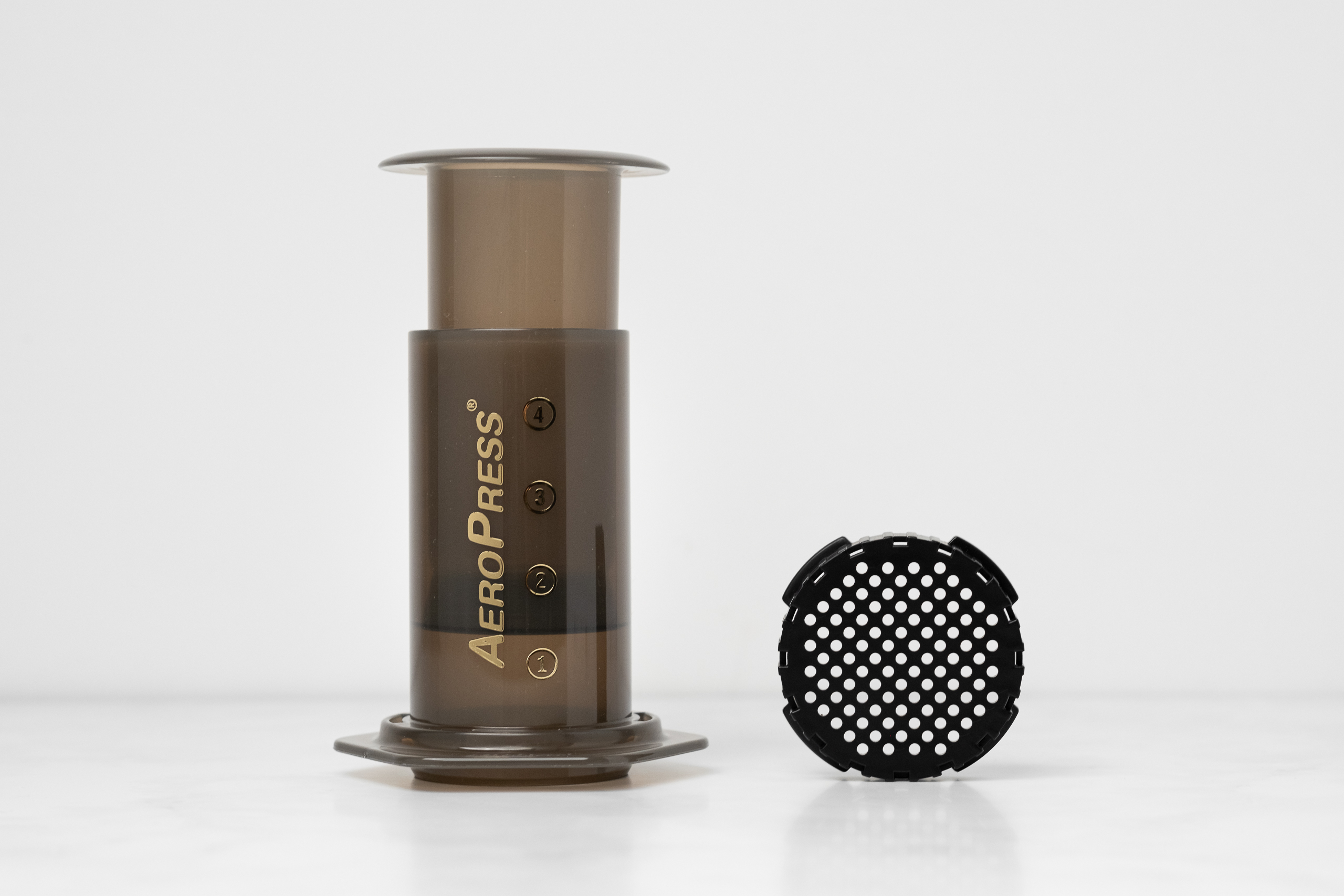 However, this very handy and small equipment has welcomed a younger sibling, who is even more handy and even smaller. So, it is even more portable than ever before, without losing its capabilities.
What has really changed in AeroPress Go?
AeroPress Go has been designed, as the name suggests, to be a topmost mobile version of AeroPress. And while the original version cannot be denied convenience, AeroPress Go is really small. The whole fits in a small, plastic cup with a silicone lid, which we get with the whole set. This is probably the biggest change, because the original version has no case or storage for the accessories. And so, when setting off on a journey, we don't need to take an extra dish to squeeze the coffee into. Mobility increased.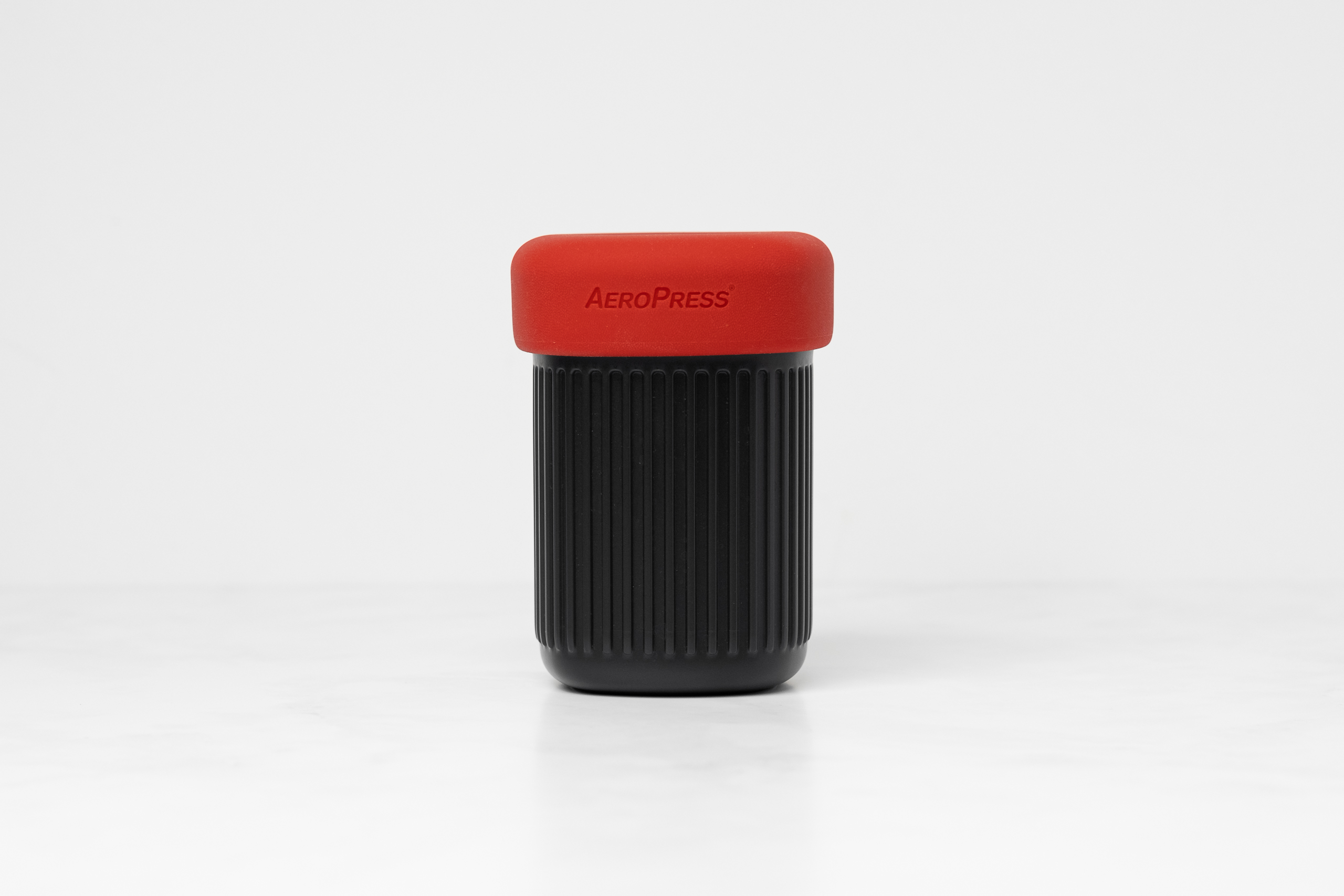 Don't look for a characteristic funnel here, which helps squeeze coffee into narrower dishes, known from the original version. Instead, there is a folding stick for mixing coffee. This piece of the puzzle has truly captivated me. This stirrer, known from the full version of AeroPress, has been modified and is now folding in half. Simple and useful. Mobility increased again. There is also a small scoop, but like in case of the classic version, I don't think it is necessary.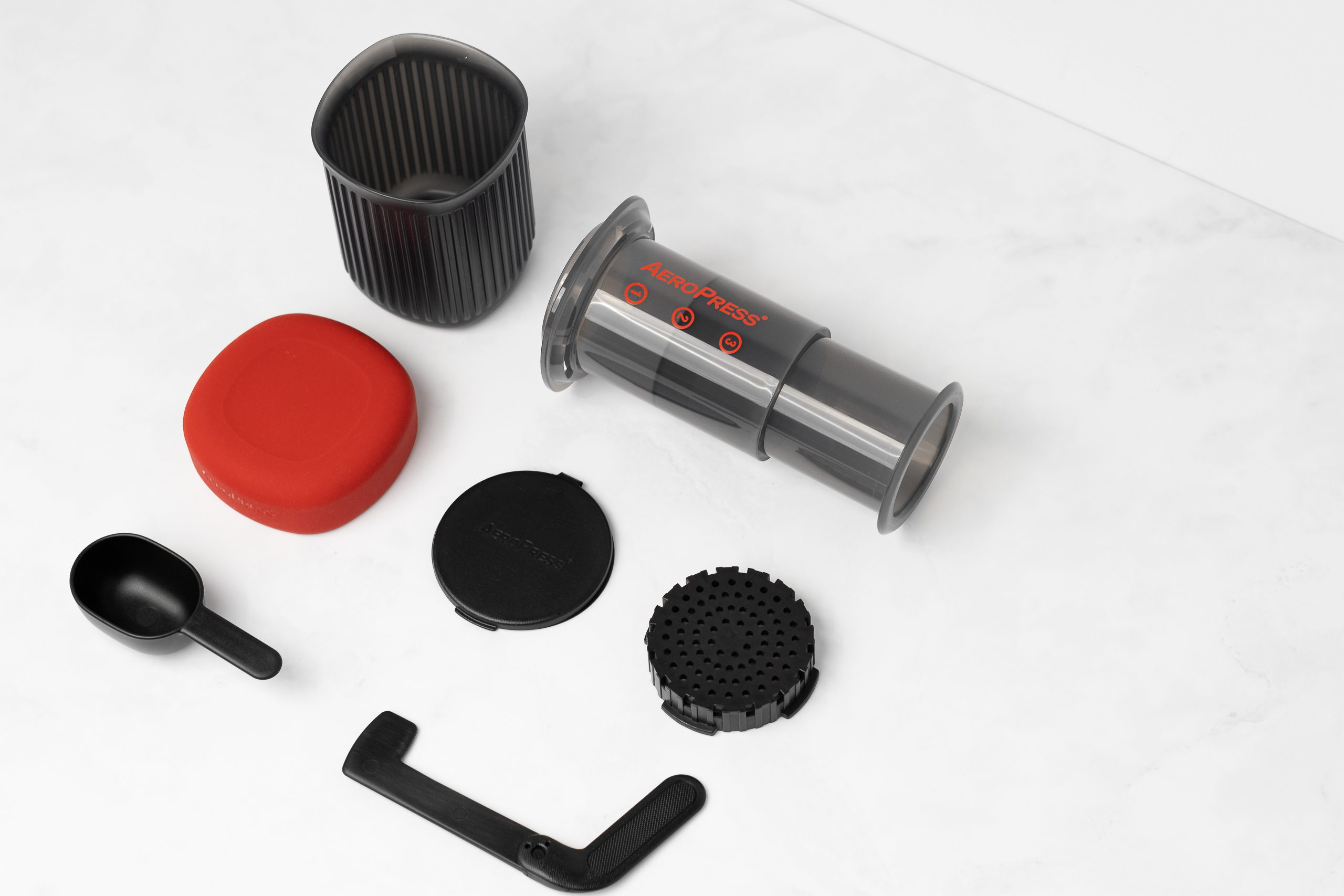 And what is most visible is the size of the brewer itself. AeroPress Go is about 1/3 smaller than its older sibling. The scale, known from the full version, ends with 3 instead of 4. This translates into size, of course, but also into the capacity of AeroPress. The original tube, completely filled with water, will hold about  260g of water. For AeroPress Go the capacity is 220g. This, of course, is the capacity without coffee inside.
Following this lead, AeroPress Go is also lighter than the original version. 160g vs 230g. Both are very light, but the Go version weighs next to nothing. Mobility improved.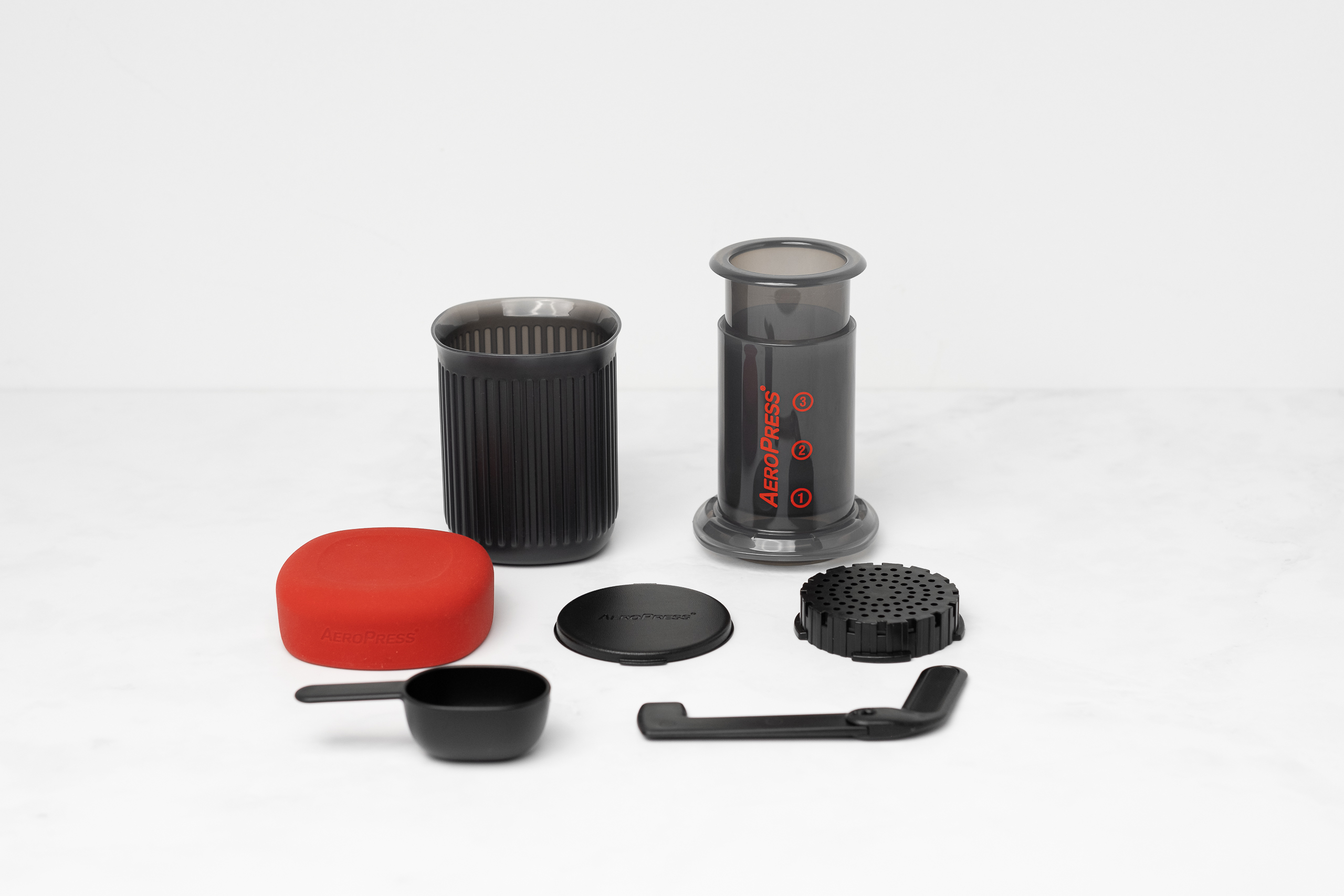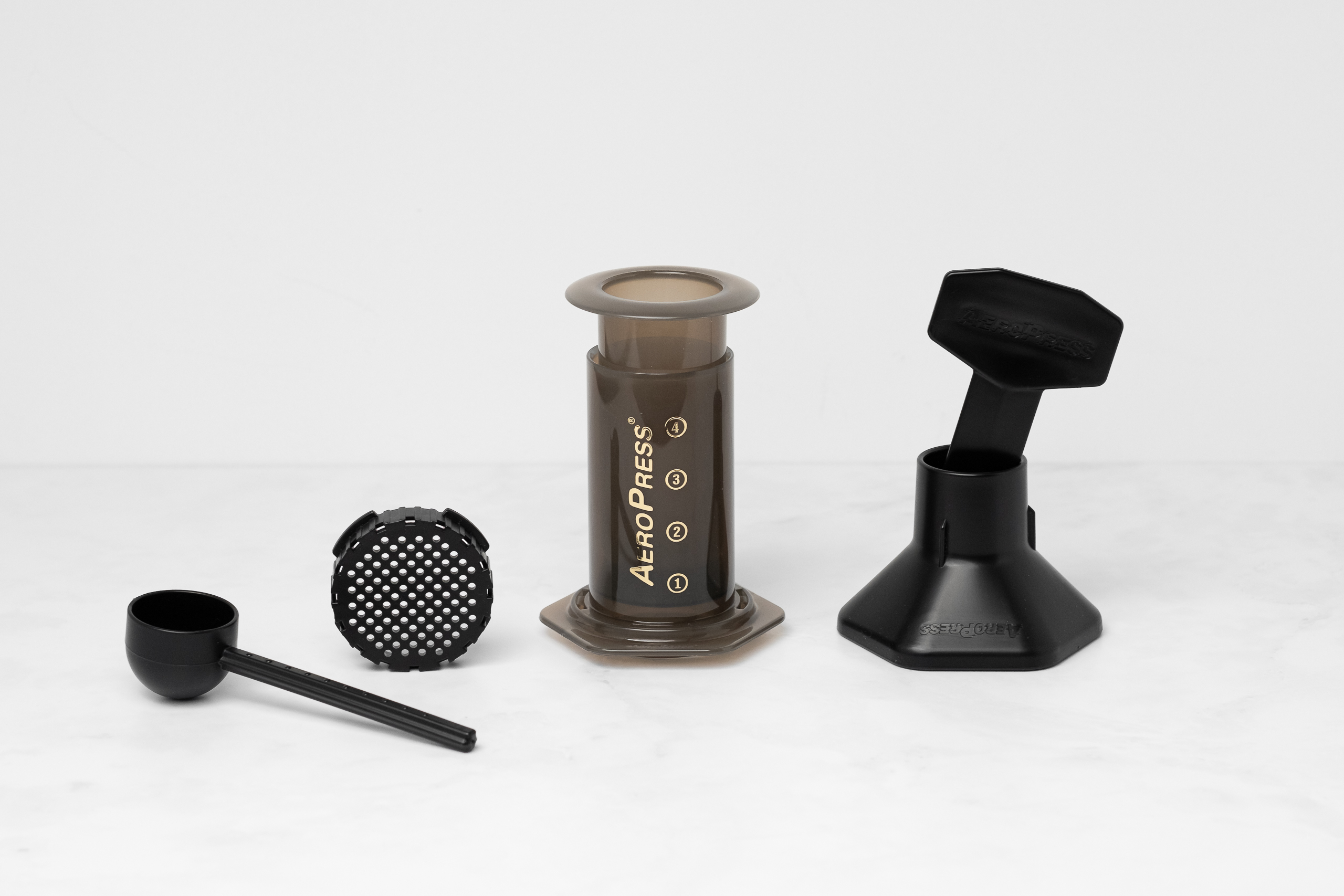 AeroPress vs AeroPress Go – the difference in brewing?
Honestly, I didn't notice any difference in brewing. You can use AeroPress Go both for and inverted and traditional brewing, with the strainer down. You can play as you wish with the proportions, brewing times, grinding and mixing. Full freedom and a multitude of settings. That's the beauty of this device. Of course, the smaller capacity of the main tube limits the amount of your coffee, unless you use one of the famous recipes of world champions, where you take a very large dose of coffee, and then dilute the finished brew, making a so-called bypass.
While from a large AeroPress you can somehow try to make two small batches of coffee at a time, in the case of the Go version, I find it impossible. A typical single-nomadic invention.
We wrote about brewing coffee in AeroPress
HERE
.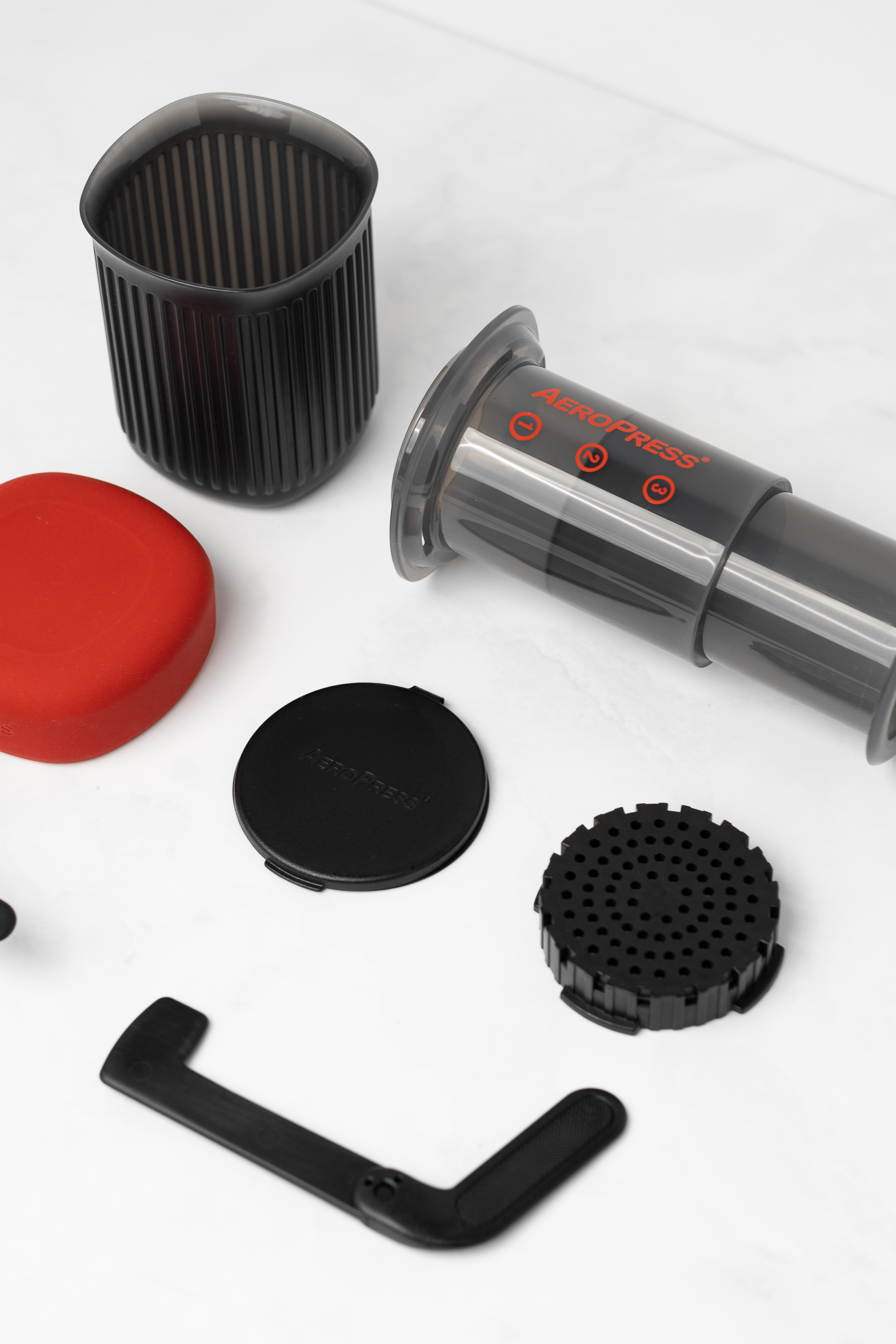 Additional accessories
AeroPress Go, except for its capacity and height, is identical to the original version. Same hole and seal diameter, same strainer mounting system. I swapped all the parts between the Go version and my old AeroPress and everything fit and was compatible. So, accessories like Fellow Prismo should fit and work. We know that some had a problem with mounting the Prismo, but all you need is a little bit of wit and perhaps some force until the plastic makes it and everything should work great.
What has changed compared to the original version (the version I compare to is my model from about ten years ago) is the use of a different type of plastic, which seems softer and perhaps prone to scratches, and a different type of rubber in the seal. The seal in my old AeroPress is from quite stiff rubber, in the Go version it is softer and resembles silicone seals.
We remind you that in January a new version of the classic AeroPress was launched – in the same colors as the AeroPress Go.

Who is it for?
AeroPress Go will find its enthusiasts and satisfied users, that's for sure. Everything is neatly packed into one container, ready to travel, it's a light and handy set. Yes, AeroPress Go is definitely a great companion for trips where every gram less is super precious, and you don't want to compromise on taste!