Lesson topic: Pre-Infusion.
Let's start with the basics. Pre-infusion actually means blanching coffee –  pouring a little water over it to make it bloom and open up. A unique recipe for pre-infusion consists in pouring the coffee over with the amount of water three times its weight. Then the coffee puffs up, releases its substances and gets rid of carbon dioxide – especially when a few days have already passed since roasting. After pre-infusion, the ground bean is ready to take in more water, and channels are formed for the water to enter and run down the coffee.
"But who'd want that?", that is: why do we do pre-infusion?
Once our coffee has been pre-infused, subsequent pour-overs cause the extraction of soluble substances. In the case of espresso, pre-infusion solidifies the coffee cake (the coffee pressed with a tamper in the portafilter), which prevents water from channeling through the cake. Of course, the pre-infusion with an espresso is much shorter, as it only takes a few seconds.
When to use pre-infusion?
All brewing methods based on perlocation (i.e. the free flow of water through the coffee, where water passes through coffee only once and then drops into the cup or server), require pre-infusion. This applies, for instance, to devices such as dripper or Chemex. Duration of pre-infusion depends on us, because the pre-infusion itself allows us to control the brewing time. The situation is different in the case of infusions, i.e. those methods in which coffee is in constant contact with water (e.g. cupping, Frenchpress or immersive brewing as in Clever or Hario Switch). In this case, the mere pouring of water replaces the pre-infusion and there is no need to pre-pour the coffee.
Pre-infusion – Chemex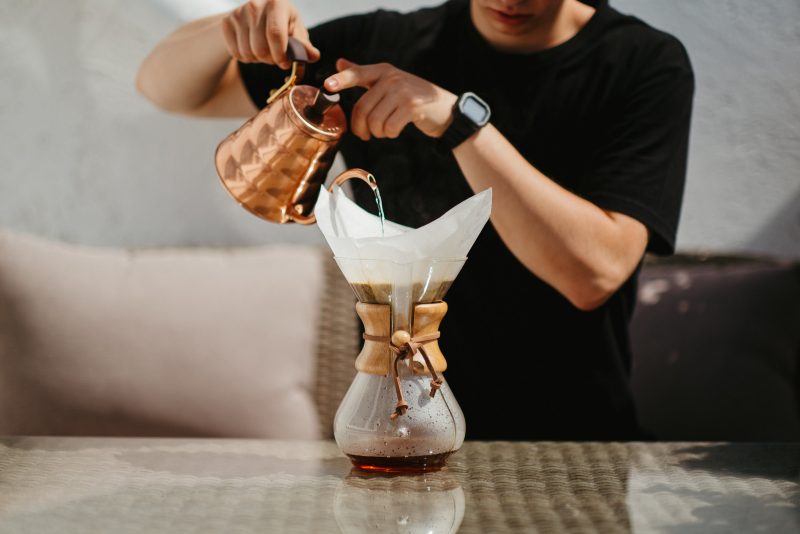 What if… coffee without pre-infusion
In percolation methods pre-infusion plays an important role – it is the prelude to the brewing. Skipping this crucial step is a sin against coffee, which will turn out to be flat, lacking appropriate acidity or sweetness, and even maintaining the right brewing time will be much more difficult.
Protip: I go for very long and generous pre-infusions, pouring 70-80 grams of water on coffee for 45-50 seconds, which extends my brewing, despite pouring over the drip 3 times.
Good luck on your test!