Since the dawn of coffee history, or at least since coffee forums were launched on the Internet, coffee philosophers have been trying to answer the basic question: Arabica or Robusta? There are many differences between these wonderful, related plants. It makes it harder for me to answer which variety I prefer. But let's take it from the top.
Far, far away…
Imagine: it's a quiet Thursday evening, you are just about to enter the Quaternary in the Cenozoic Era (because why wouldn't you). To your right: Homo Sapiens – a rational man, whom you'll be greeting with "good morning" on a staircase in a few generations – is just evolving. To your left: the Alps where you'll be skiing – emerged only a week ago. Meanwhile, plants that you'll be posting on Instagram in a few centuries are cross-breeding like mad. Thus, out of a mixture of two families – Coffea Canephora (known as Robusta) and Coffea Eugenioides – comes a prodigy that will stir up the industry: COFFEA ARABICA.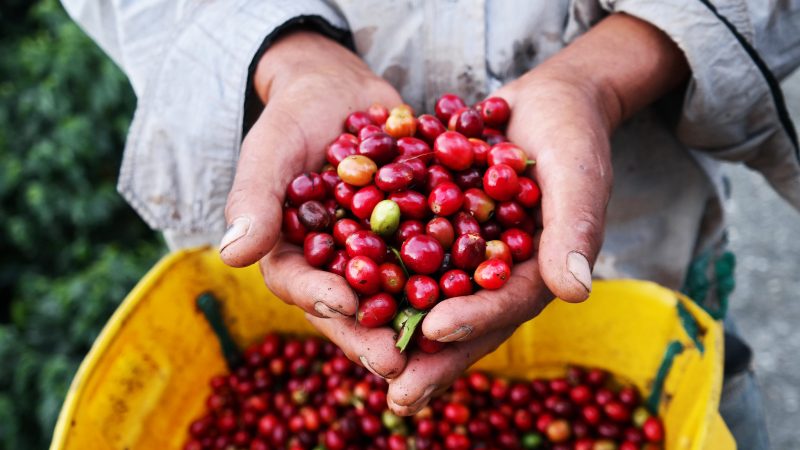 Arabica
Two-thirds of the world's coffee production is Arabica. There are over 140 varieties and the number keeps growing. Every day new species are discovered or cross-bred in laboratories. It is now grown in around 60 countries, and in more to come. Until recently, we have witnessed the onset of Arabica cultivation in China, Nepal or Saint Helena, and thanks to the laboratory enhancement of Arabica genes (mainly for its survival in the face of global warming) attempts to grow this plant in France are reported.
The taste of Arabica is hard to describe in one word – at least now, taking into account the various varieties or fermentations. Overall,  the taste of Arabica falls somewhere between cocoa, floral notes and fruity undertones reminiscent of cherries, plums or currants.
The price of Arabica on the green bean market starts from a few dollars, and the highest prices are achieved by specialty Arabica of Colombian or Panama origin, incl. Colombia La Palma El Tucan, Colombia Granja La Esperanza or Colombia Inmaculada. In turn, the most expensive coffees from Panama are Finca Deborah, Finca Hartmann, Finca Janson, Ninety Plus, and Elida Estate. Such coffees range in value from several hundred to several thousand dollars. For example, Elida Estate from Panama sold their Geisha for $ 2,263 per kilogram.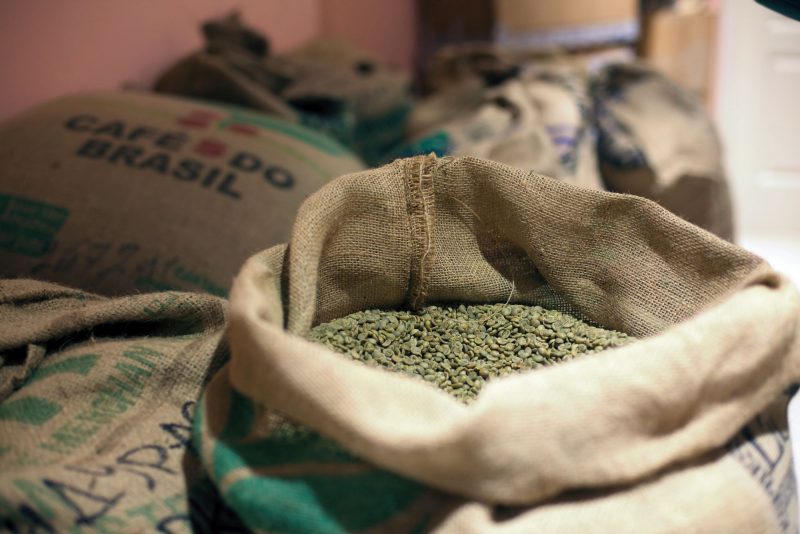 Robusta
Since Arabica accounts for 2/3 of the world's production, Robusta gets the smaller fraction that remains. Robusta is known for being cultivated mainly in the Asian part of the world: India, Indonesia, Vietnam. However, you can find a good Robusta also in Brazil and African countries. The taste has very heavy, bitter notes, but this variety can surprise you in a really positive way. Fine Robusta (equivalent to Specialty Arabica) consistently combines the notes of dark chocolate with sweet notes of walnut or milk chocolate. You should definitely see for yourself. Robusta prices fluctuate strongly in the market. Depending on the quantity, low-end Robusta costs a few dollars, while the price of the Fine Robusta is similar to the Specialty Arabica.
Arabica and Robusta – differences and similarities, that is what connects and what divides mother and daughter
A) Taste – of course, a lot of variables affect the taste of a particular Arabica or Robusta, from the plantation itself and processing of the beans, through the country where the beans grow and the height of cultivation (African coffees cultivated at higher elevations usually have higher acidity than standard low-growing Brazilian coffees), the quality of the beans, right up to roasting and brewing methods, or, say, the quality of water used for brewing.
However, Arabica has got us used to its calm, sweet, even one-tone flavors, oscillating around flowers and fruit. Robusta, on the other hand, has a heavy, bitter-chocolate note that remains on the tongue for a long time. Arabica contains almost 60% more lipids and has almost twice the sugar concentration of Robusta, while Robusta has a higher concentration of caffeine, which gives it sensory bitterness.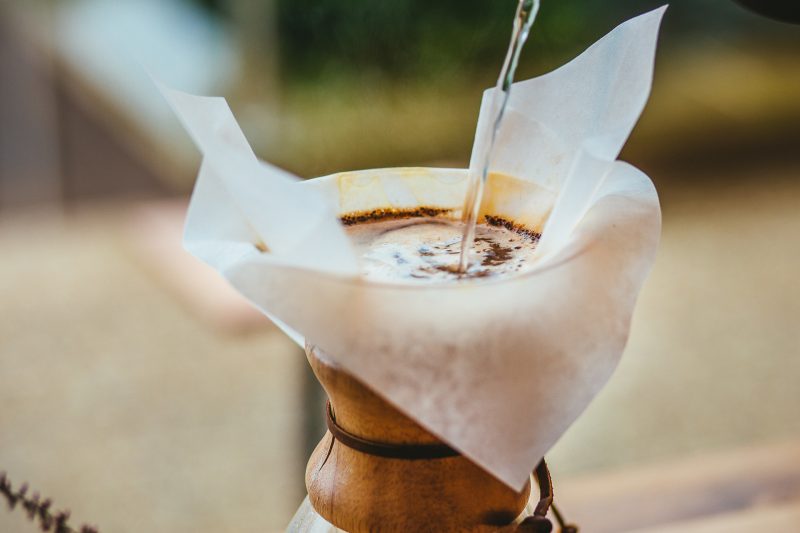 B) Cultivation – Arabica is more susceptible to pests, diseases and climate change, and thus requires more attention and care in the plantation. Robusta is a wilder plant. It can grow basically anywhere. Higher caffeine content has a protective effect against insects. It is often bred "in the wild", for example in Indonesia. A very large part of Robusta yield is used in the production of instant coffees or blends available on supermarket shelves. Of course, you can also find there low-end coffee sold as "100% Arabica", but this famous marketing slogan often raises valuable Arabica in the supermarket higher. Besides, specialty Arabica is becoming more and more popular.
C) Appearance – Robusta bean is oval with a straight furrow. Arabica, on the other hand, is more oblong, the furrow in the center is slightly curved at the ends.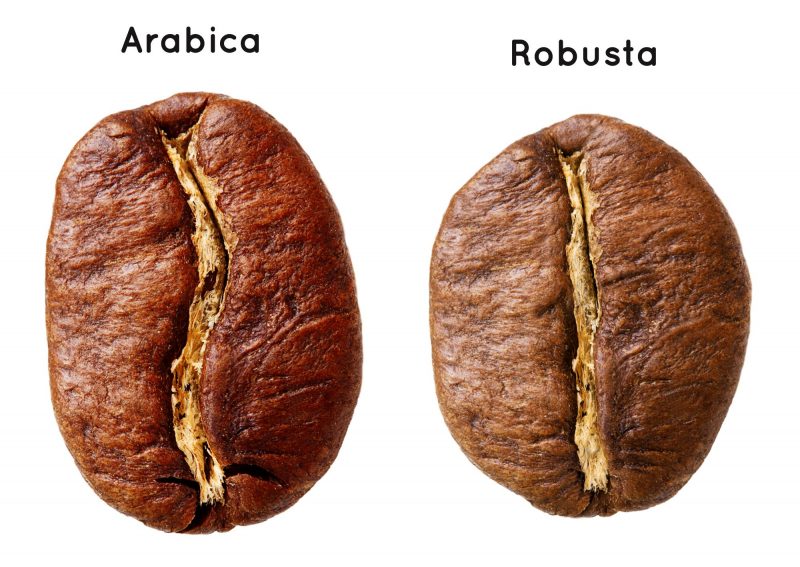 D) Price – usually Robusta can be half the price of Arabica (comparing yields from one country). When the quality of Robusta rises, its price gets close to that of the specialty Arabica. Nevertheless, Arabica Geisha, Wush Wush or newer varieties of Sidra or Mandela are far beyond the price range of Robusta.
Arabica or Robusta? Choose wisely
It has been assumed that Arabica is the better coffee, because the taste is more interesting, because it's lighter, and more is happening when it comes to varietals or fermentations. However, good Robusta is better than weak Arabica. And although Fine Robusta is hard to come by, it does provide a really interesting experience. Robusta has more caffeine, so it wins as a product to boost you in the morning! If I were to give advice, the conclusion is pretty simple:
If you are always on the hunt for new coffee delights but have tried all the fermentations available, look for Fine Robusta.
If you're looking for a morning caffeine shot, buy a Bialetti coffee maker, a decent grinder and look for good quality Robusta beans.
Are you interested in the coffee world and taking your first steps? Nothing easier. Starter pack: Hario V60 dripper, Hario Skerton mill and you're ready to discover tastes of coffee from different countries.
And, finally and most importantly, drink the coffee you like.