I don't know about you, but I go through the same process every spring: the first sunny days already take me to July with its warm evenings at the patio of my favorite cafe where I'm hanging out with my friends, tenderly holding a glass of espresso tonic…
Coffee with alcohol: creative recipes of bartenders
The first sip of this non-alcoholic drink crushed my coffee purism, which was taken over by curiosity – once we have good beans, what can you add to them to get flavor synergy? So, I reached out to people who professionally mix and experiment: bartenders. I asked each of them about the most interesting alcoholic coffee drinks that they had tried or prepared at work. Some cocktails are completely unique and have come up by chance, various versions of others have been known in bartending competitions for a long time – due to the specific, uncompromising aroma, coffee is an ingredient that bartenders often and eagerly use.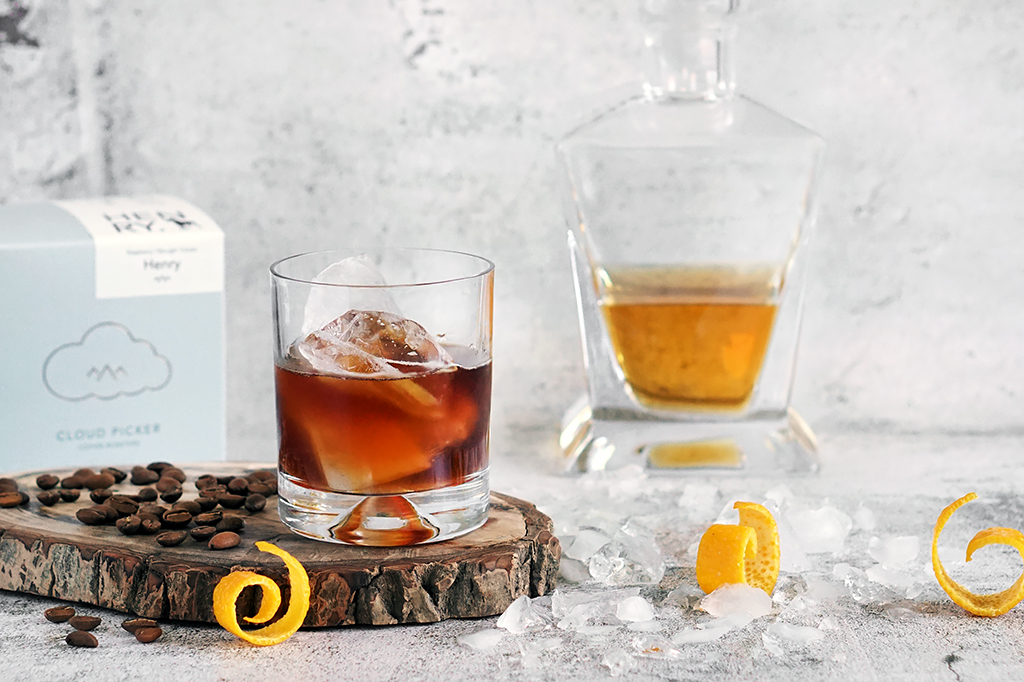 I assume that few people have a shaker and each of the spirits I mention at home, but our goal is not necessarily to perfectly recreate all recipes for alcoholic coffee, but rather to look for inspiration and be open to new flavors. Maybe someone in your fave cocktail bar will prepare something based on a cocktail that caught your eye? A good bartender, just like a barista, is fascinated with their trade and willingly shares their knowledge. As an old hand at the food service, I love asking a lot of questions to people who are experts in a field that I don't know much about myself – so, I often have a chance to try new products off the menu and cocktails that someone polishes for a competition. Be brave, as the English say, "don't ask, don't get"!
If you are not a fan of strong drinks, don't worry – you can still make use of the recipes below.🙂 Just try to grasp the role of an ingredient – such as balancing other ingredients through its acidity or breaking the bitterness – and then combine it with non-alcoholic alternatives as you will.
I am definitely a cocktail fan, mainly because of the creativity that manifests itself in surprising methods and original combinations. I will never forget a drink inspired by… pizza, made by bartenders from the Science & Industry Bar in Manchester – one of the ingredients was mozzarella-infused gin!
Rules, especially when comes to food, are there to be broken; So, let's leave the philosophy of "black coffee, no milk, no sugar" behind for a moment and see what we can get by adding alcohol. Shakers in hand!
White rum | filtered espresso | coconut water | mint bitters | mint | tonic | a slice of orange
The first alcoholic coffee drink on the list is a cocktail that accompanied me in various versions throughout the summer. The good news is that we can easily skip rum and thus get an unusual version of espresso tonic – it's worth investing in a good tonic and experimenting with various bitters and beans: for example peach bitters + a shot from Ethiopia Wolichu Wachu from Fjord.
You can also use a good espresso to make a delicious espresso martini!
Zero Waste Bulletproof Old Fashioned: whiskey | butter | muscovado sugar | espresso and milk or chilled filter coffee
Every barista knows this scenario: the shift is over, and you are left with a thermos full of filter coffee, which is a pity to pour out. Dangerous minds will try to drink leftovers in the name of savings, which will put them into a state of mild caffeine overdose and then exhaustion, most likely just before the morning shift. Those more experienced will begrudgingly write their coffee off.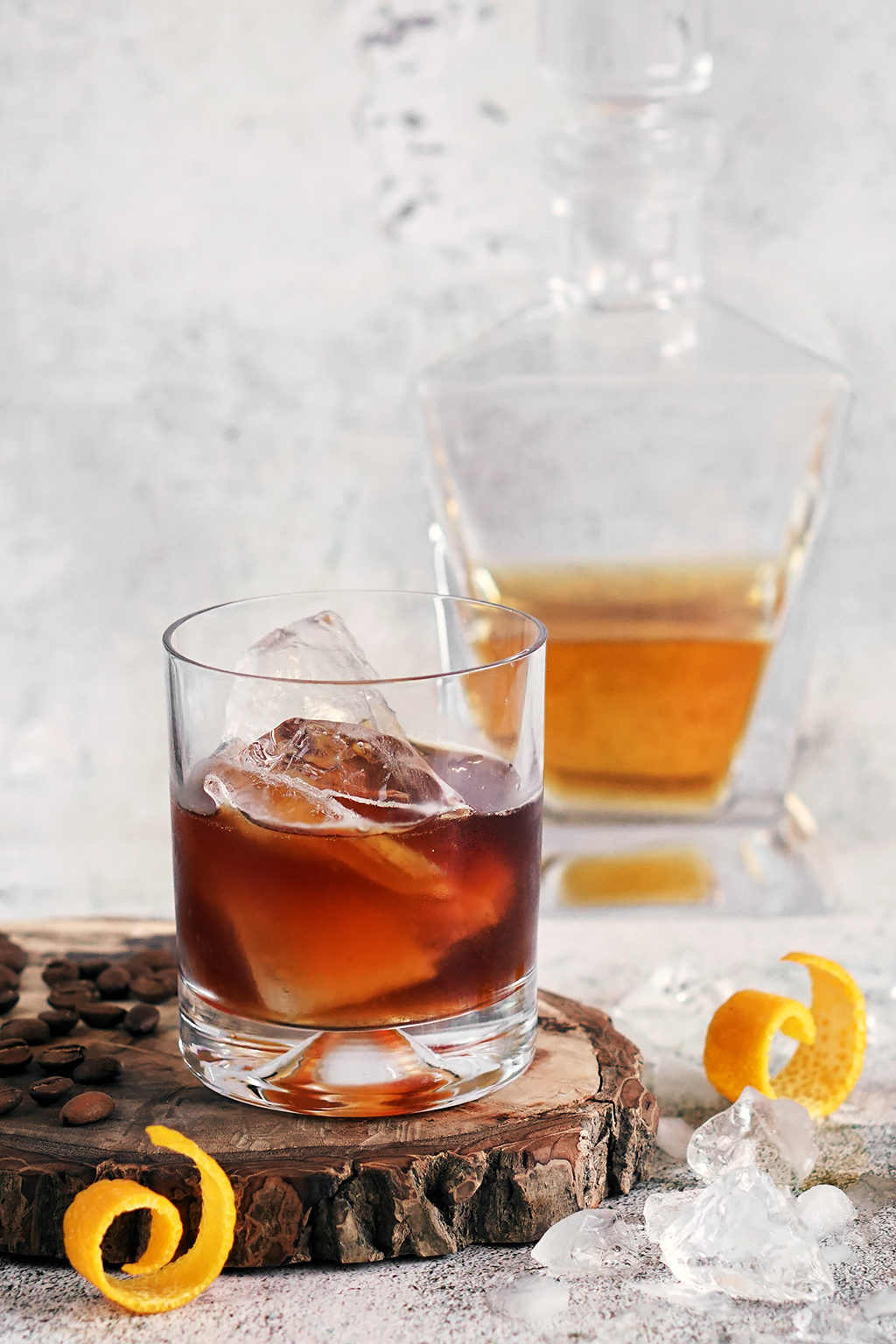 One day I took the leftover filter coffee, which cooled down long before, to a friendly bar, and I put it in front of my bartender friend asking: what can we prepare from such coffee to maximize its taste and use a product that is usually written off? While chatting with me, he was stirring, cooking up and tasting, and finally placed before me the legendary Old Fashioned in… a bulletproof version. The original recipe used whiskey subjected to the fat- washing, i.e. aromatizing alcohol with fat, in this case – butter. However, in the basic version, we can simply mix the liquid butter very, very thoroughly with the rest of the ingredients. Beans with nut and cocoa notes will work best here, but if you love fruity aromas, it's no biggy – each coffee offers a slightly different profile and may turn out to be a sensation, contrary to expectations.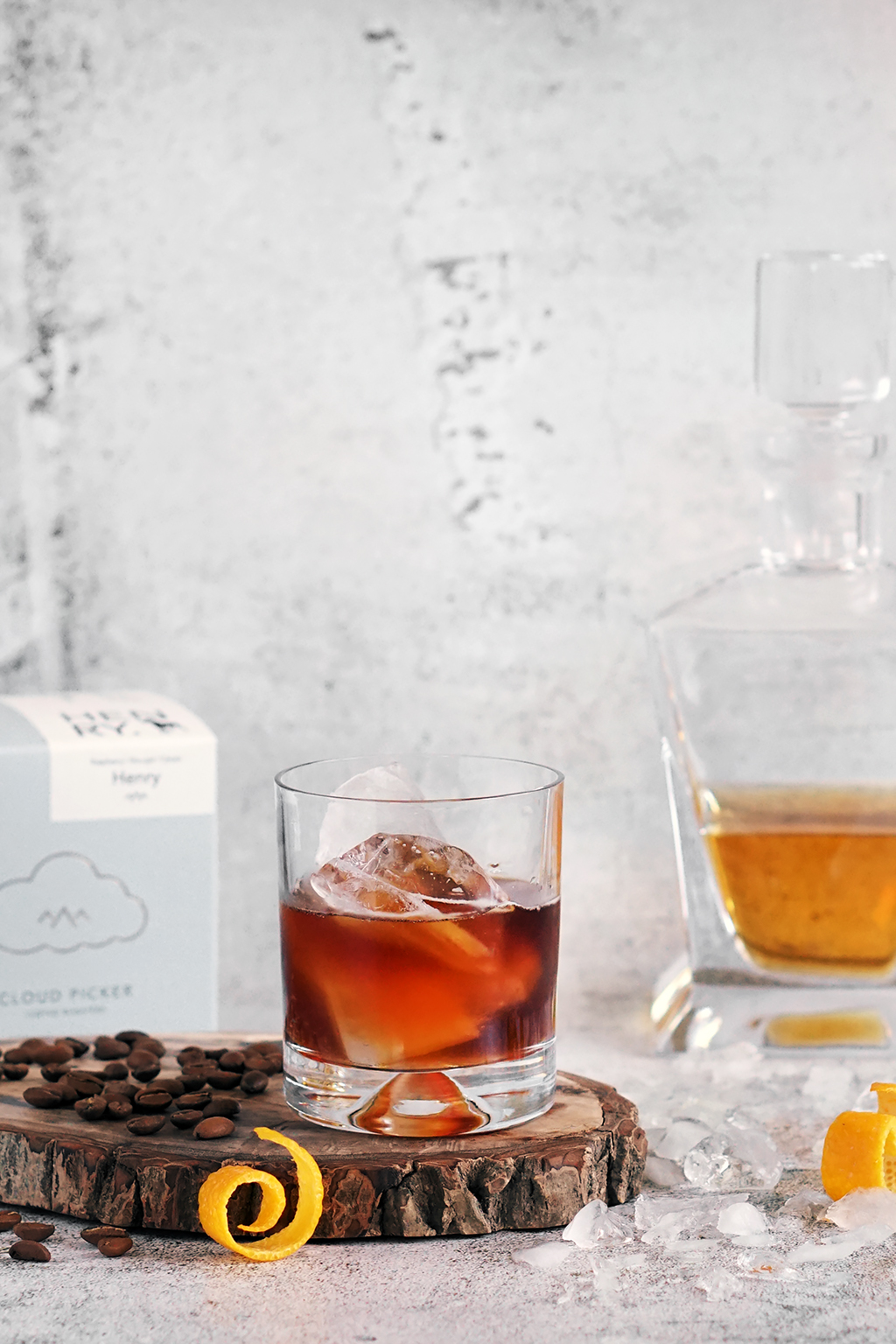 White rum | Irish whiskey | coconut | Guinness beer | espresso | absinthe | cherry bitters | soda
In search of inspiration for coffee and alcohol, I looked with one of the bartenders at the menu of the prestigious New York cocktail bar, known for its eccentric (and masterful) combinations -The Dead Rabbit. Bingo! We decided to recreate their cocktail charmingly called "Small Change". The abundance of ingredients brings it to the heights of decadence, but each of them knows its place and does not run ahead; the trick is to skillfully combine several types of bitterness: whiskey, beer, coffee and bitters.
This cocktail is a higher tier, so don't bother copying it exactly as is. Instead, look at the ingredients you have access to, and the logic behind each of them: what role do coconut sweetness, sour cherry and soda acidity, alcohol and coffee bitterness play in a drink? Then use them as a creative impulse and freely juggle different flavors. Take the whole process with a grain of salt, not even expecting it to be successful – the most important thing is to have fun. 🙂
Coffee beans | bitter orange aperitif | tonic
Last position on our list is a coffee cocktail that only requires three ingredients. Yet, this is just the beginning! Its simplicity is a huge advantage, because the attention is focused on details. Here, more than ever, the quality of the products counts, so invest in a good tonic – the most reliable and valued among bartenders is Fentimans – and coffee.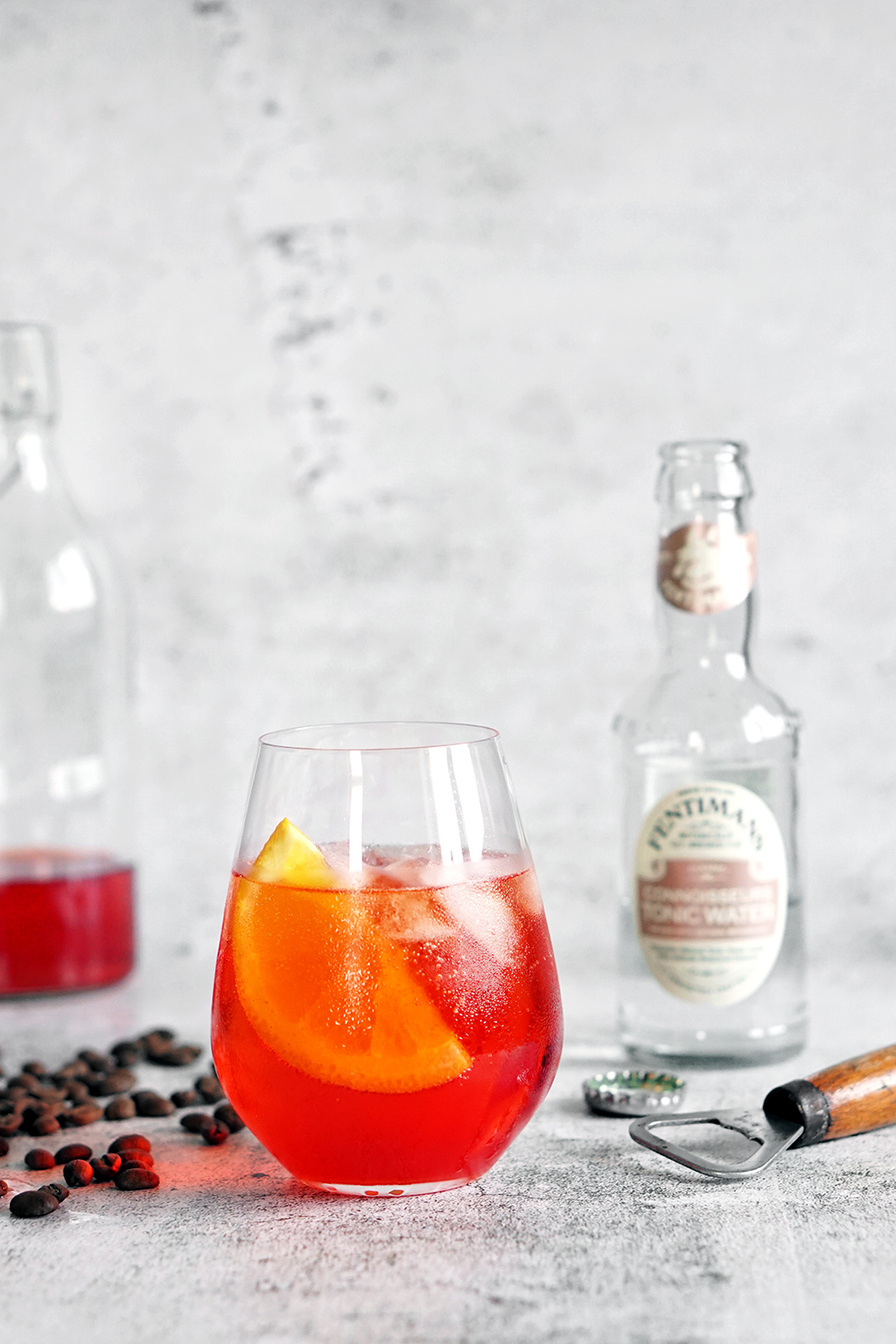 You will use the beans of your choice to infuse your aperitif: just add about 100 g of whole beans to 200 g of alcohol, keep it for several hours in the fridge, and then filter. An important tip – the aroma of the coffee will get more intense even after the coffee beans have been removed, so, if in doubt, it is better to shorten than extend the infusion process.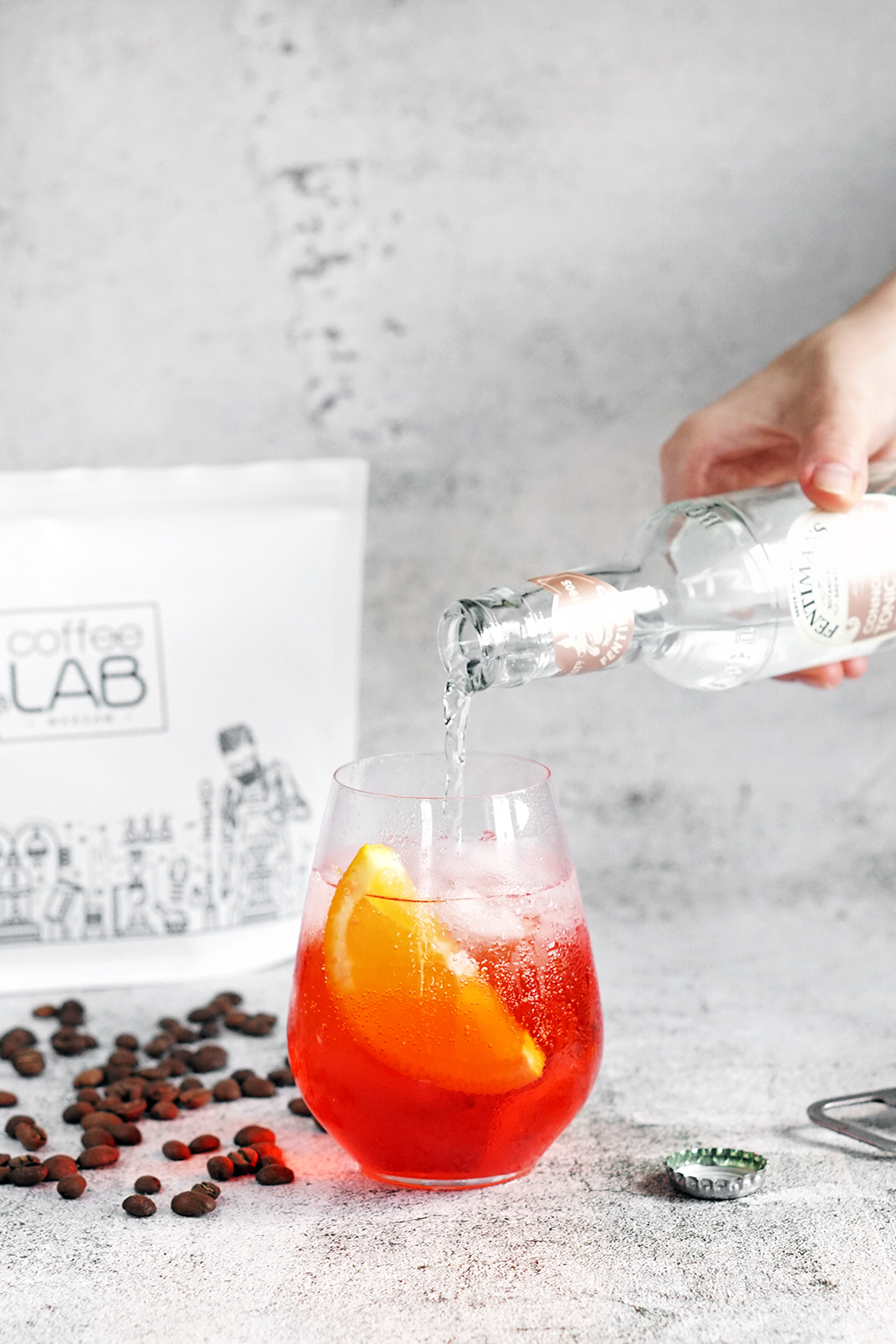 Having mastered the technique, you can experiment as much as you want. Etiopia Guji with lilac tonic? Kenia Kamwangi with rose lemonade? The possibilities are endless!