There's a saying 'pop up like mushrooms'. We'd rather say 'pop up like the cafés on Praga', because it continues to amaze us how fast coffee spots sprout up on the map of the Warsaw's Praga district.  Praga residents can finally enjoy good cafés on 'their' side of the Vistula, and the left-bank residents have more and more reasons to hop on the tram and see how delightful – and tasty! – their city is from a slightly different perspective. This is where you run away from the crowds, stroll dreamily along Stalowa Street, peek (with some caution) through the gates where time has stopped and captured the charm of the old days, enjoy the greenery in the Skaryszewski Park and check whether Saska Kępa in May actually smells with 'crazy green lilac'.
Let yourself get carried away by Praga. And even more so – take a walk around the Praga district to the rhythm of specialty coffee. Check out some of our suggestions of cafés which are worthwhile popping into even just for a minute. Consider yourself warned, though: always keep your nose and taste buds open for an extra espresso. Getting lost on the streets of Praga you never know when you make a coffee discovery.
Trzy Kruki [The Three Ravens] | Hallera 8
Also known as 'Trzy Kruczyce', this is the first spot to be checked out in the northern part of Praga district. Located at the charming Plac Hallera, the café impresses with its Scandinavian interior and well-brewed coffee from the Good Coffee Micro Roasters. The bright, high space gives the impression of ending up in a completely different place than Warsaw, which has made us used to rather small cafés. There is enough room to breathe, have coffee and a cake at the table. Not just any cake, because you never refuse a Basque cheesecake from Miss Mellow and pastries from Pracownia Panna.
This is a great place to drop by with your laptop and do some work during the week, which will surely get better with a large cup of filter coffee, and enjoy both a coffee and a glass of wine from Natural Rascals at the weekend.
Piekarnia Rano [The Morning Bakery] | Stalowa 47
Bread with butter from the Ziembiński family, bostock with blackcurrant jam and coffee from Moccamaster made from the beans roasted by Java – this is how you used to enjoy your morning, sitting on the widest windowsill in the capital, right at the table where the magic happened. Today, the bakery is also a café, where we are fortunate to witness a never-ending live coverage of baking croissants or stuffing brioches light as a cloud, seen through an open wall. You can enjoy the show to a cup of pour-over or one of the milk coffees.
There are always dogs to pet or people to talk to. Here you can bump not only into the residents of the block next door, but also into you former neighbor from Mokotów or the current one from a completely different district. There is one logical explanation for this – everyone wants to start their day well! You can order a good cappuccino and a sandwich with gouda from Wańczykówka (one of the best artisanal cheese dairies in Poland!) or a flat white and weekend cranberry scones. As if that was not enough, Stalowa in spring turns into an alley of blooming acacia trees and smells as beautiful as the bread freshly taken from the oven in Rano.
Proces Kawki [The Coffee's Trial] | Księdza Ignacego Kłopotowskiego 23/25
The only trial that takes place here is whether today is the day of drinking coffee from fermented beans from Brazil, or rather leaning towards the sweetness of Rwanda, or which coffee was more floral and which was more nutty. Proces Kawki is a café and roastery rolled into one. When ordering coffee you we can observe the roasting process that takes place in the next room. Isn't it great to see with your own eyes how your favorite coffee is made? From roasting to brewing. Here it is brewed in a thousand ways: in a dripper, AeroPress, Chemex, Gabi Master, and even in a siphon. Of course, you can also enjoy espresso or milk coffee. If, by any chance, you resist another dose of caffeine, then a tea or a bottle of chilled kombucha will also come up.
The spacious, eclectic space is perfect for work and meeting friends. The sounds of the coffee mill intertwined with jazz and classical music, will let you wind down. In addition, the black cat who is the host will not only show you to your table, but maybe also grant you once in a while the favor of stroking his ears. The owners of the Proces Kawki are great at reusing jute bags left over from coffee beans. They turn them into backpacks and fanny packs to be purchased on the spot.
Summing up: not only will you learn a bit about the process of roasting, brewing and drinking coffee, but you can also leave with the bag in which the coffee arrived.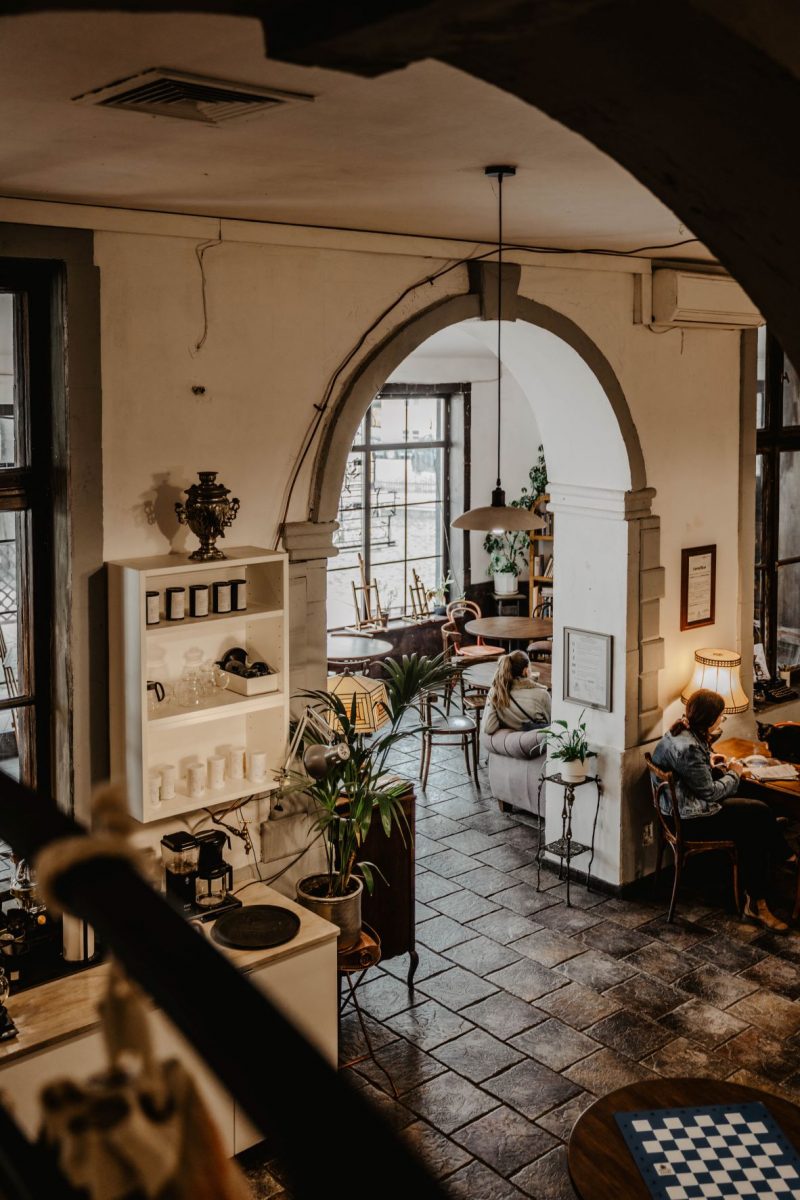 Żona Krawca [The Tailor's Wife] | Kamionkowska 29
Heading to the southern part of Praga district, we get to Żona Krawca. It is not just anyone's wife, because U Krawca café, the first café of Przemek and Michał, is a great proof that the force is female. The place which they have created allows them to develop their confectionery skills. It has worked out flawlessly, you must say. Over time, Żona has become a full-size pastry shop, and you can find their cakes in every other coffee shop in Warsaw.
At Kamionkowska street, you get not only great pastries, but also simple, tasty breakfasts and lots of good coffee from HAYB beans. Filter coffee, espresso, milk coffees, matcha latte and a wide selection of iced drinks in the summer – it's impossible not to find something for yourself here. Żona Krawca is a café where every dart and loop is remembered. Created with neighbourly meetings in mind, it has become one of the most important points on the map of the specialty cafés on the right bank of the Vistula River.
No I Co [So What] | Kamionkowska 19/U2
So What, that you just walk across the street from Żona Krawca to get to a completely different space – there's room for everyone in Warsaw's Praga. No I Co is also located at Kamionkowska Street – and, let me tell you, for such a small street, the average amount of good coffee is definitely above average. When it comes to the alternative coffee brewing, you'll get a quick filter coffee, drip coffee or AeroPress, brewed either from beans from Polish roasters such as Audun, Heresy or Czarna Fala, or from foreign ones, like The Barn or Five Elephant.
It is also the only place that comes to the rescue of the Dej bakery enthusiasts living in Praga. While Bielany is out of the way for many people, a day without double-baked croissants filled with pistachio cream and blackberries or vegan cinnamon rolls is a day wasted. The interior welcomes you with lots of green plants, a patchwork of chairs and a large collection of posters with the King of Pop, Al Pacino and David Bowie. People of Praga remember the classics!
Nancy Lee | Grochowska 282
Literally a 5-minute-walk from No I Co takes you to Nancy Lee. Over the years, Paweł and Karolina brought us to life with coffee in downtown Warsaw. Now they are thriving at Grochowska Street and invariably prove that running a plant-based café may not be a piece of vegan cake, but is fully doable. And they do it like nobody's business!
As you walk in, you are welcomed by a beautiful smell of breakfasts or lunches that are just being prepared, the bakery case is sagging under the weight of vegan cakes made on the spot, and baristas efficiently brew coffee based on the beans from Polish roasters. Milk coffees are only served with oat or pea milk, but it's no disappointment at all. After a few hours in Nancy, you will remember all the musical hits. There is no chance that 'Ice Ice Baby' will not ring in your ears for the rest of the day, and when you leave, you will instantly tune in to your favorite Queen song with your headphones. Nancy Lee is also a spacious place in a very good location. If you feel that you need a large boost of energy, the atmosphere and hectoliters of coffee will definitely put you on our feet.
MOD Donuts | Paryska 37
Unbeatable in the donut market. It was MOD that taught us that donuts with a hole are the perfect breakfast, dessert or even dinner on the go. We love them for the perfectly soft dough and colorful toppings that please the eyes and taste buds. And yet, MOD Donuts is, despite appearances, not only about donuts, but also specialty coffee. To go with the sweets you grab a coffee with their own pink label roasted by Java Coffee. Filter, espresso, milk coffee, and – in summer – cold brew in glass bottles – nothing is a problem for their baristas.
Saska Kępa has definitely gained even more colors thanks to this place. The main 'culprit' are obviously the donut toppings, but their 'accomplice' is Cosmosplantea – a floristic studio which shares the space with MOD Donuts. It is impossible to walk away without a donut, coffee and carefully prepared floral arrangements for every (and no) occasion.
Kawiarnia Waszyngton [Washington Café] | Jerzego Waszyngtona 96A
The effect of collaboration between the owners of Żona Krawca and coffee specialists, Colours of Coffee. It could result in nothing but the pinkest place in Praga, full of amazing confections, tasty food and – of course – the ocean of coffee. The first thing that catches the eye is a terrazzo counter and an impressive display cabinet with original cakes straight from their studio. Importantly, there are cakes rich in gluten and butter, as well as vegan or gluten-free. Everyone will be happy.
Waszyngton is not only about coffee and cakes – their breakfast menu has captured the hearts of Varsovians. The unique Dutch Baby or Croque Monsieur with a very large amount of bechamel are the favourites among the regulars. However, breakfast is not the end, as they serve occasional special dinners composed of seasonal ingredients. You may wonder whether the boundaries between a café, bistro and a regular restaurant have not blurred here, but let's be honest – it's hard to find a place to eat a good dinner and finish it with an even better espresso. It's standard here.
Miłość Praga [The Love Praga] | Ostrobramska 126
The last and farthest point on our café spot map will be Miłość. There's no denying that the name did not come out of nowhere, you can feel the love at every step: to Praga, to people, to good design, tasty coffee and food. A better place in the area to hang out in the morning (and any other part of the day!) is rare to find. A minimalist interior with two leading colors – turquoise and beige, soothes the eyes, and carefully selected details will surely meet the requirements of the aesthetic souls.
Although Miłość is a new spot, it has already infatuated many guests. They brew espresso in a unique way, because, instead of a classic espresso machine, the counter hosts Modbar. Thanks to this, not only can you drink a delicious, repetitive espresso, but nothing stands in the way of chatting about coffee with the baristas. They will also serve you coffee from dripper, Chemex and automatic filter from beans roasted by Polish roasters. Foodies are served breakfasts and confections, which the girls prepare striving meticulously for perfection. There is definitely a huge amount of love for sweets involved, so expect baking out of this world! On the spot you can also buy coffee equipment, coffee beans and teas, so you can try out your coffee skills at home with more or less success. This coming spring we can definitely wish one another Love, coffee and good weather for walks.
Hałas Vinyl + Coffee [The Noise Vinyl + Coffee] | Elsterska 10
The calm Saska Kępa neighborhood obviously needed some Noise, that is good coffee and equally good music. A place created not only for true connoisseurs of caffeinated drinks, but also for vinyl enthusiasts. The beans come from Assembly and Dark Arts Coffee, the shelves are heavy with musical gems. All you need to do is hop on the right tram to get here.
Some parts of the cozy interior take you back to school, and other parts make you simply feel at home. To make it even better, the baristas share their amazing knowledge about coffee. It is a bonus pleasure to seek advice from them.