Summer is in full swing, warm sunrays wake you up and the first thing you think about is a cup of aromatic coffee. But in really hot weather, the last thing we want is a hot beverage. In such cases a short black on ice cubes is a godsend. However, this time I have prepared a recipe for a delicious iced coffee: not only with ice cubes, but also rich in additions, one that will also work great as a refreshing dessert. Maybe not every day, but from time to time… Either way, you don't have to follow our recipe precisely, rather let it inspire you to create your own favorite cold caffeinated beverage on a hot summer.
How to make iced coffee? Step one: take care of the right base with a good espresso
First of all, when preparing iced coffee, remember that, regardless of all the additions, coffee is the star here and it is the ultimate reason whether you'll like the beverage or not. That is why we should pay special attention to coffee, make sure that the beans come from good roasters, are freshly roasted and properly ground. Equally important is the way we prepare it. Here, intense espresso from an espresso machine or strong coffee from a moka pot will work best. Essential, strong brew perfectly combines with milk and other additions, while still sending out its characteristic aroma.
Besides, if you do not want your coffee to be diluted with ice cubes, you can freeze coffee cubes in advance – they will perfectly cool the drink, and make it even stronger. Of course, if you are worried that this is too much caffeine, reduce the amount of espresso.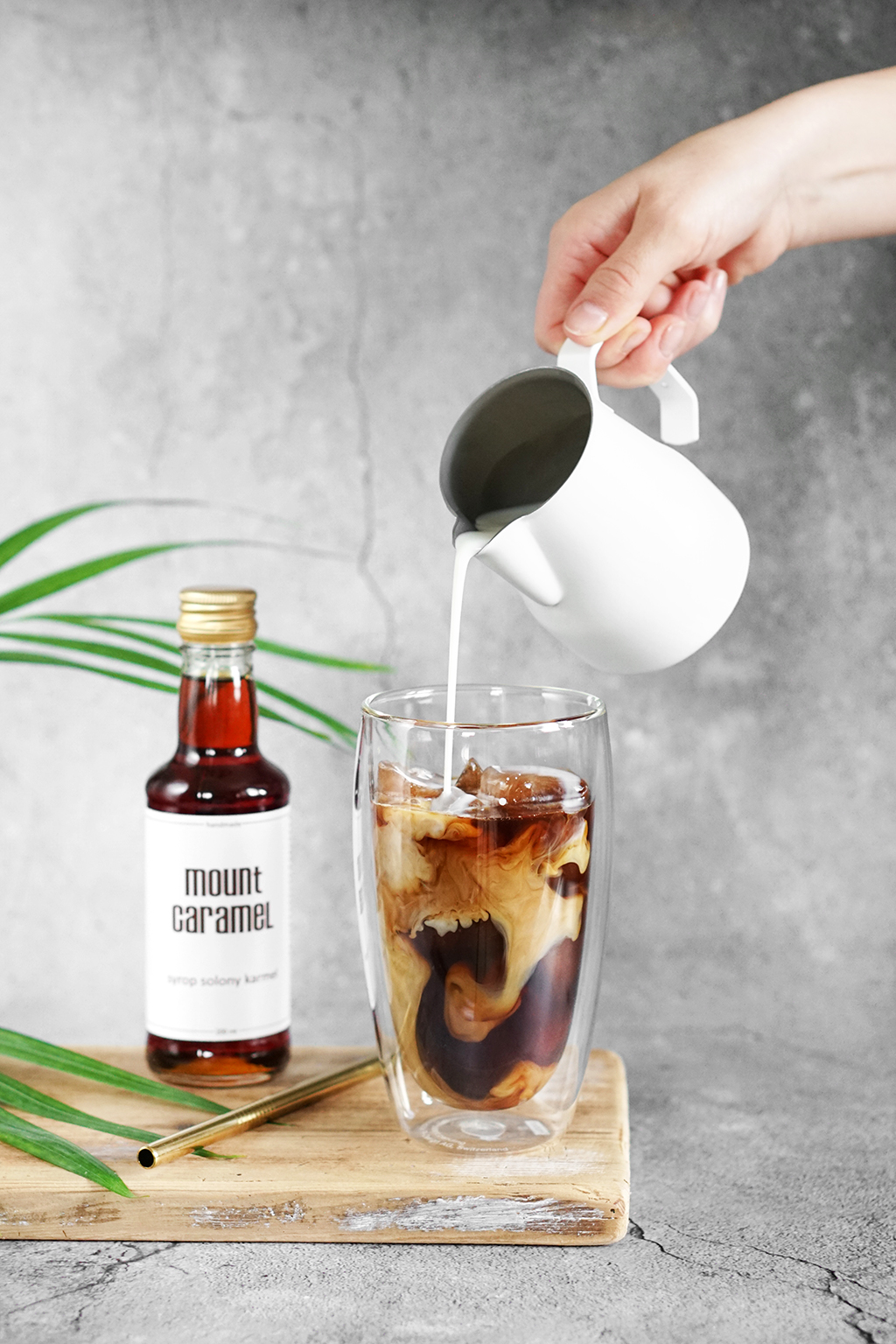 Iced coffee with ice cream, whipped cream… and other additions
As I mentioned, in the morning a good cold brew or a black coffee with ice cubes or a portion of milk is enough. But summer also means holiday ease, carefreeness and small pleasures. So, on hot summer afternoons we more often choose sweet iced coffee with velvety ice cream, a tempting, fluffy layer of whipped cream, cold milk, flavored syrups, spices and chocolate. Divine!
I must say that in order to contain all these goodies you need a really large glass, preferably one that keeps temperature at the same level, so that the drink does not heat too quickly. Finally, "cherry on top", i.e. an eco (!) straw, and it's ready!
Syrups – coffee with taste
Even a beverage perfectly brewed from high-quality beans sometimes needs inspiring company. And are magical potions that, just like a magic wand, make coffee taste different every time. Chocolate, walnut, vanilla, amaretto, salted caramel, lavender and many other interesting flavors at your fingertips. You don't need a trip to a cafe to enjoy a good cold flavored coffee. What's more, the syrup successfully replaces other sweeteners, so skip sugar. Add a spoon, or two, as you like.
Now that everything is clear, let's get to the point…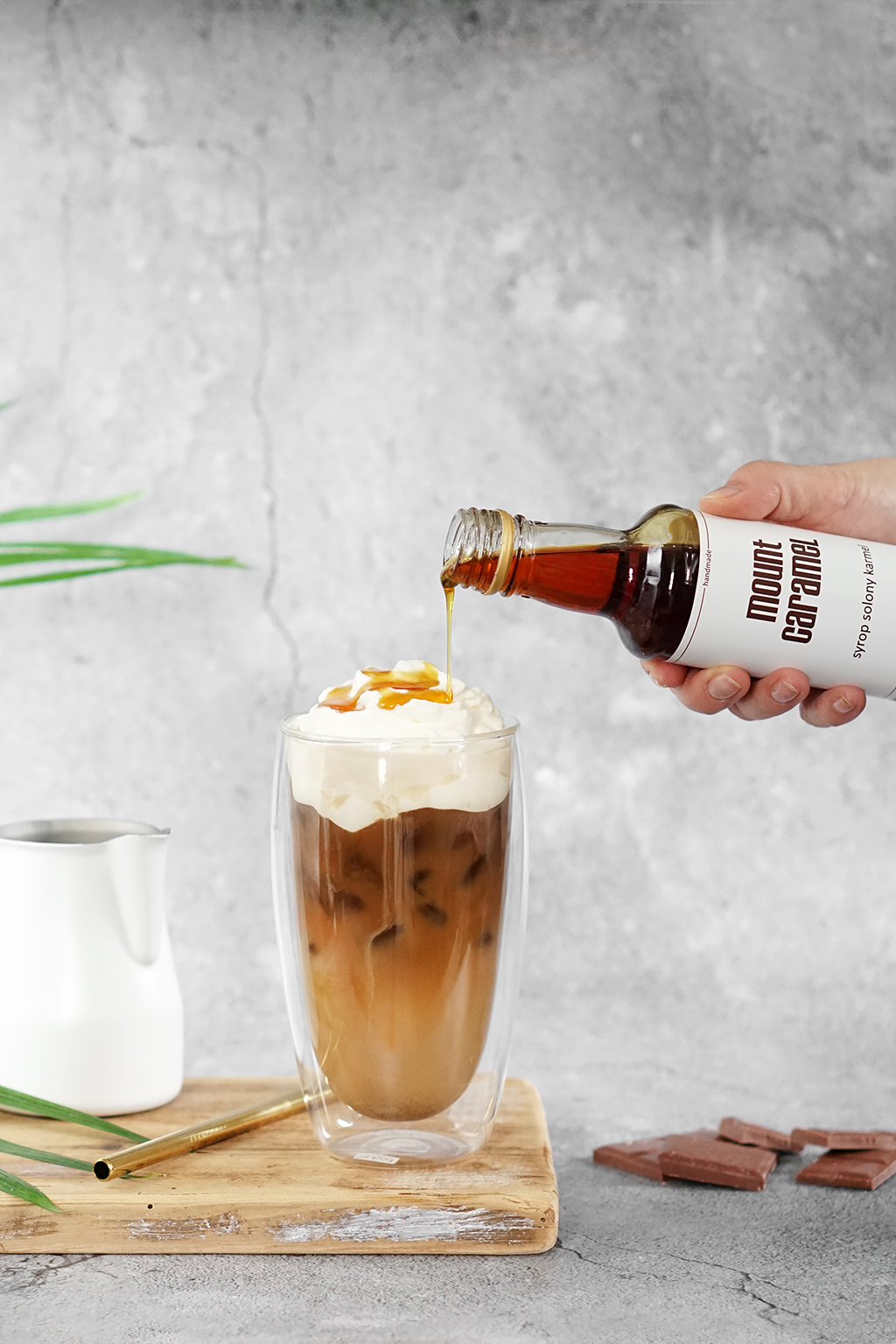 How to make iced coffee with additions? The perfect summer recipe
Ingredients (1 serving):
double espresso
2 teaspoons of brown sugar or your favorite flavored syrup
½ cup (125 ml) of cold plain milk or plant-based milk
a scoop of sweet-cream or vanilla ice cream
your favorite chocolate
ice cubes or frozen coffee cubes
whipped cream
Preparation:
Make espresso, sweeten it with brown sugar (optional) and let it cool.
Cool tall glasses in the freezer.
Pour your favorite syrup (optional) onto the bottom of the glasses, then add espresso.
Add half a cup of cold milk, ice cubes / coffee cubes and stir.
Finally, add a scoop of ice cream.
Top with whipped cream, syrup and grated chocolate.
Serve immediately after preparation, with an organic straw, of course.
Icy, sweet, strong and addictive… in short, delicious iced coffee with ice cream. Use the recipe, test it, modify it as you will and let me know when you find your favorite version. Have a sunny summer!