December, the season for warm sweaters, Christmas movies and huge mugs filled with warming drinks, is now officially open. So, prepare the ingredients and let's make together the best gingerbread coffee, which will not only give you an energy boost but will also warm you up, make the movie night more pleasant and let you feel the magic of the upcoming holidays. I'll let you in on my failproof hacks for making gingerbread coffee not only taste, but also look ravishing.
Gingerbread coffee
Gingerbread coffee is a beverage quite easy to make, yet exceptionally aromatic and full of flavor, which gives you a lot of pleasure and puts you in a blissful mood already by the very process of making it. I love that moment when the house fills with the enveloping and relaxing scent of fresh coffee and spices. Let's be honest, though: a delicious spicy coffee will not happen without a decent, intense espresso, and you should take care of it in the first place. My strong espresso comes from an irreplaceable, timeless moka pot, but if you have the opportunity, use an espresso machine. Both methods will bring out all the richness of the beans, giving you an essential espresso that goes perfectly with milk and sweet and spicy spices, while still showing off its unique aroma. In the case of milky, autumn-winter compositions, medium or dark roasted beans with low acidity and a hint of chocolate, nuts or caramel, such as LaCava – Brazylia Fazenda Cachoeira, are perfect as a base.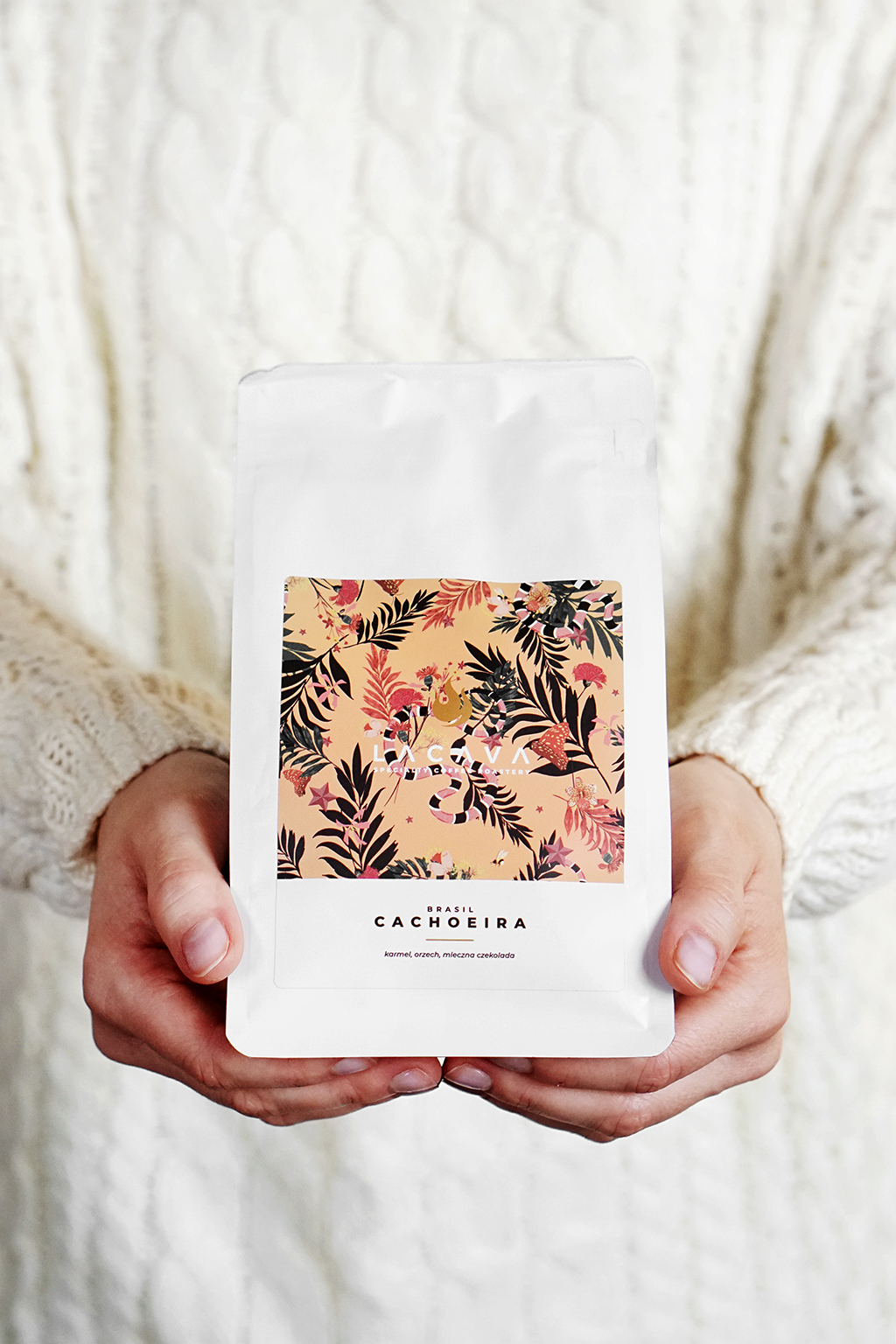 Milk or milk alternative
As already mentioned, the second essential ingredient is milk or a plant-based drink. It is worth considering a milk alternative, not only for dietary but also ecological reasons. As the choice is really large, you can easily find your favorite. You can use a handheld frother to froth the milk, which is very easy to use and gives a great effect. A few simple movements are enough to get a tasty layer of delicate, milk foam.
How to make gingerbread coffee?
Today I have two versions of gingerbread coffee for you, but treat them more as an inspiration. You can freely mix the steps from both recipes, experiment with the amount of spices, the type of milk and syrups. Just do as your soul tells you to. Let's get to work!
Recipe for gingerbread coffee with whipped cream
My first suggestion is coffee boiled with whole spices. This method of preparation gives a very expressive effect. Moreover, served under a cloud of whipped cream in a glass decorated with gingerbread crust and a charming cookie, it not only tastes but also looks simply divine.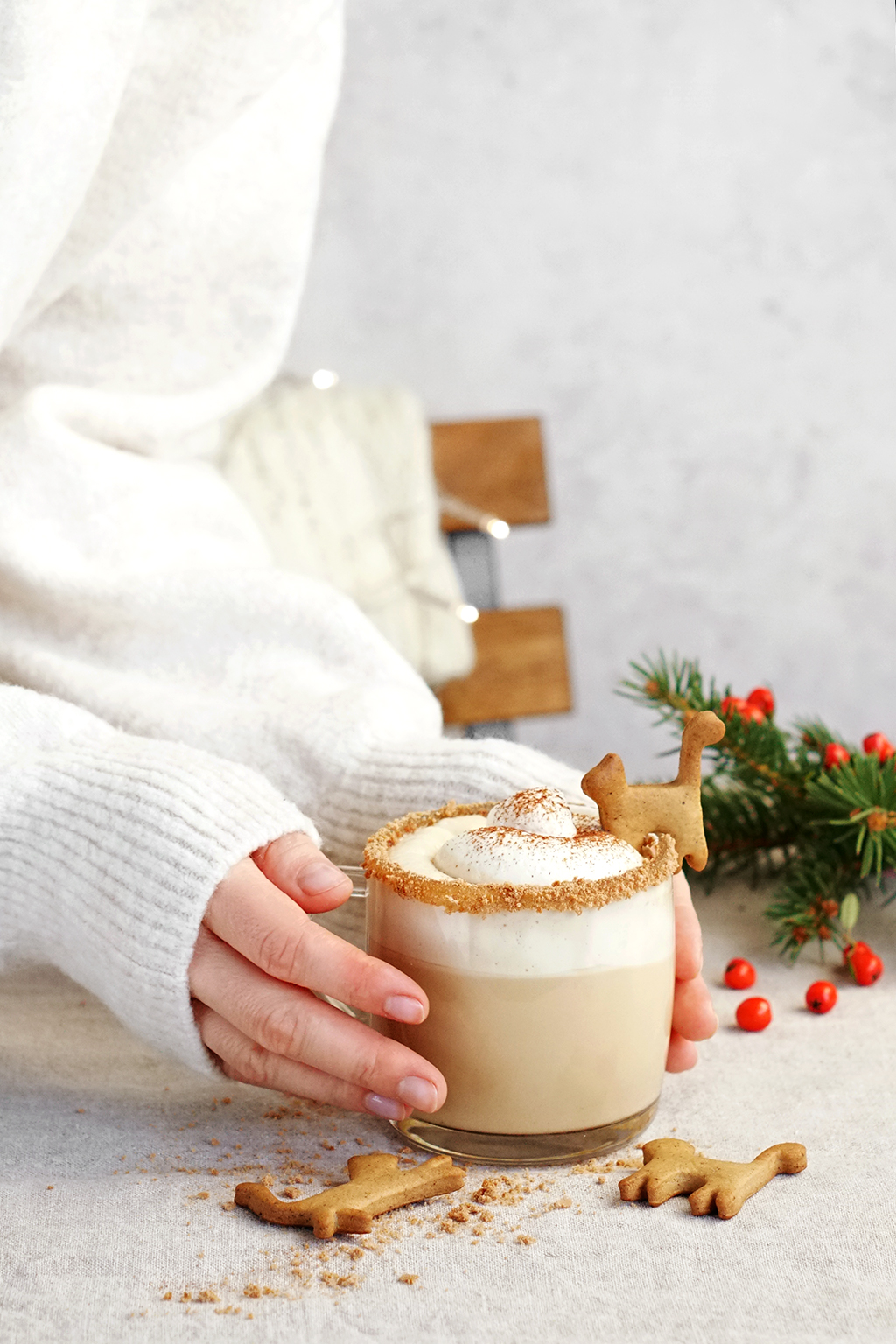 Ingredients (1 serving):
Additionally:
Preparation:
1. Gently dip the rim of the glass in gingerbread syrup and then dip it in the crushed gingerbread cookies so that they stick to the syrup.
2. Mix the coffee with the maple syrup, add the spices and heat it on low power for a few minutes.
3. Strain the drink, pour it into a mug and add warm milk.
4. Garnish with whipped cream and gingerbread and sprinkle with ground cinnamon. Serve immediately.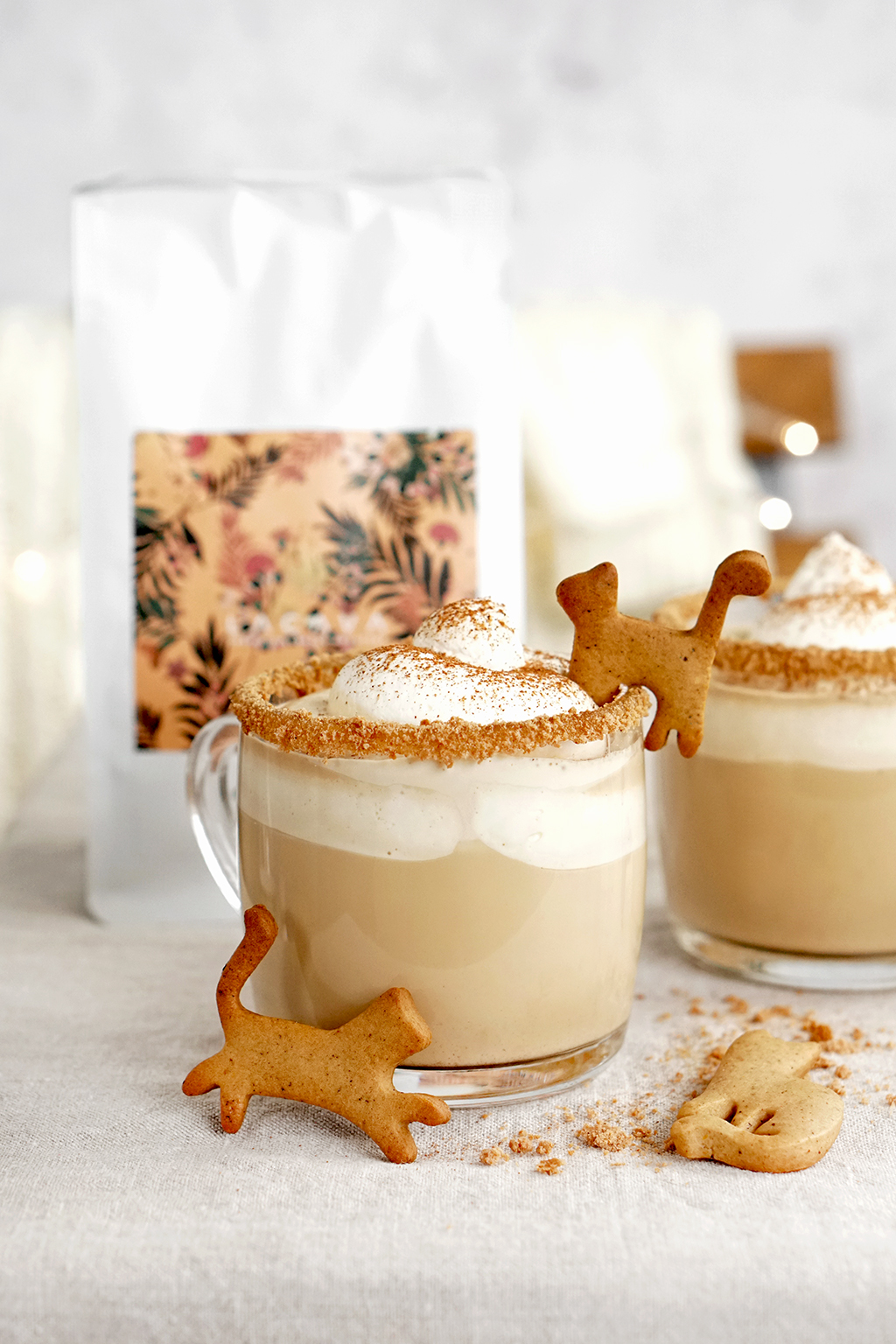 Recipe for gingerbread coffee with a plant milk
It is one hundred percent natural gingerbread coffee with a plant-based drink. However, bear in mind that not all plant milks are froth-friendly. Choose a good-quality alternative milk designed for baristas. Also, spices should be freshly ground, preferably just before use. If you choose a shortcut and are tempted by a ready-made gingerbread mix, be sure to pay attention to its composition so that it does not contain flour.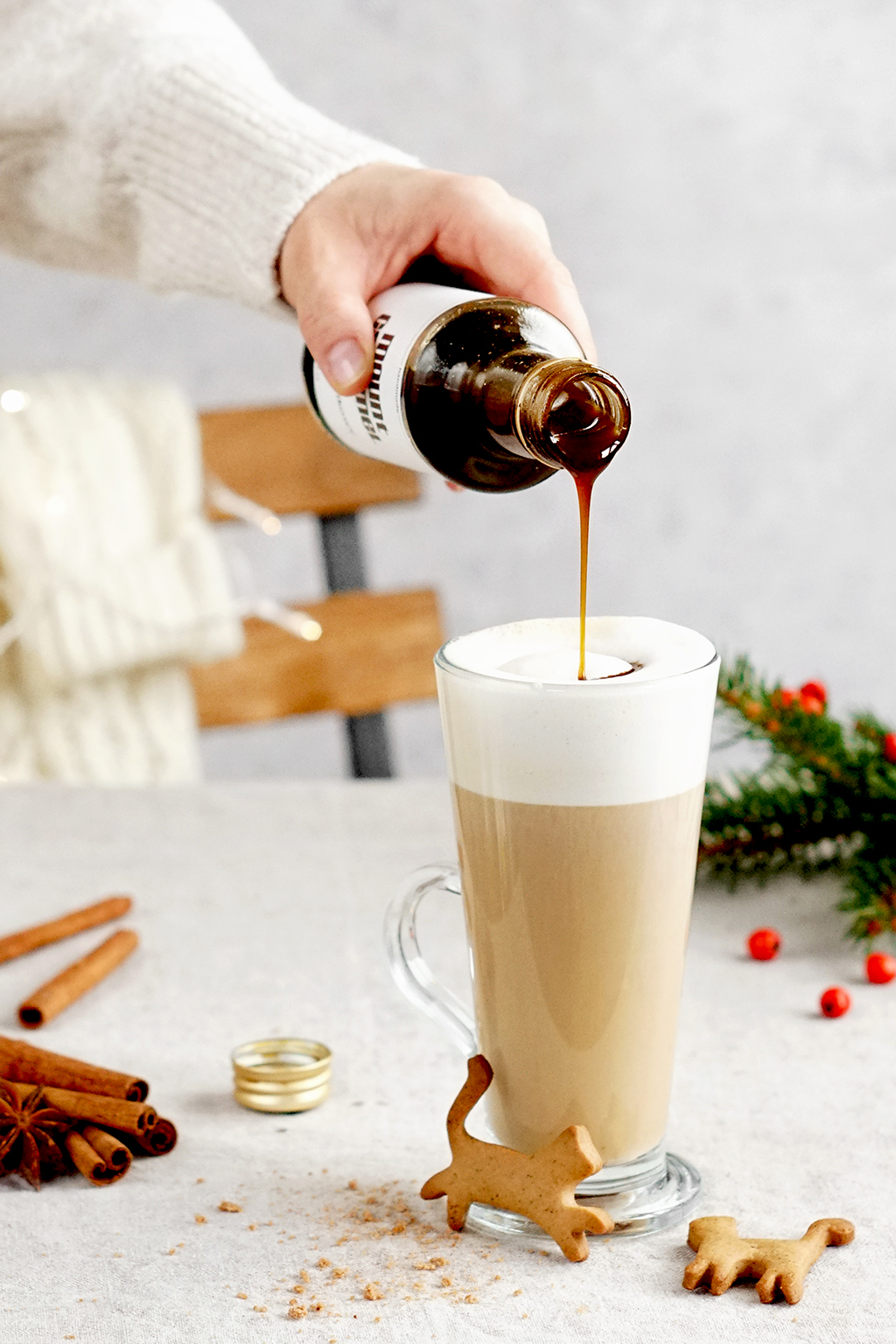 Ingredients (1 serving):
Additionally:
Preparation:
1. Mix the coffee with maple syrup and spices, heat it up and pour it into a mug.
2. Froth the plant-based milk, e.g. with a hand frother, and add it to the hot coffee.
3. Pour the milk froth with gingerbread syrup and sprinkle with crushed gingerbread cookies. You can decorate the beverage with an additional cookie. Serve immediately.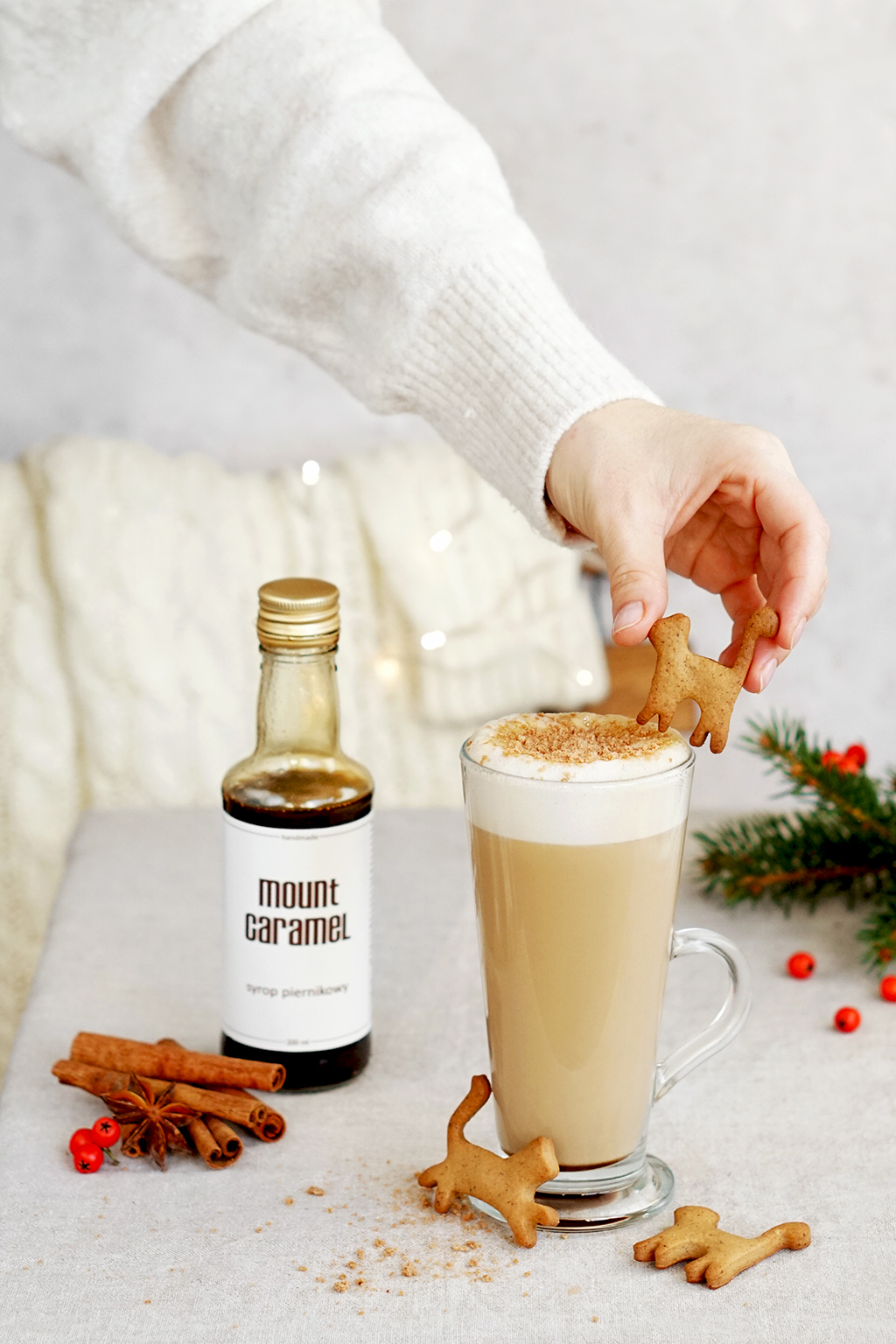 Gingerbread coffee is fragrant Christmas in a mug. Go ahead and enjoy the recipe, pamper yourself and your loved ones with a little bit of pleasure. Stay warm!