A few years ago, it was just an outlandish idea, but now it's a summer classic. Coffee matched with tonic slowly makes it into the canon of refreshing alcohol-free drinks that thirsty coffee geeks crave on hot summer days. Let's break down this great beverage and say a few words about it.
Tonic
Even though tonic is a quite popular drink, you don't often see somebody drink it from a bottle on the street or order it for lunch. When we hear the word "tonic" (unless we are thinking about gin), we most often picture plastic bottles with yellow labels from the two leading brands. Can such tonics be mixed with espresso? Sure. We are perfectly able to get an adequate taste from the ingredients bought at large chain stores.However, let's not overlook the fact that their flavour is rather dull and not too complex. We'll make nothing exceptional from them. The next important thing is product composition. One of our tonics contains glucose syrup, which is no good. These are simply mass-produced goods from large companies, so we can't expect them to be of the highest quality.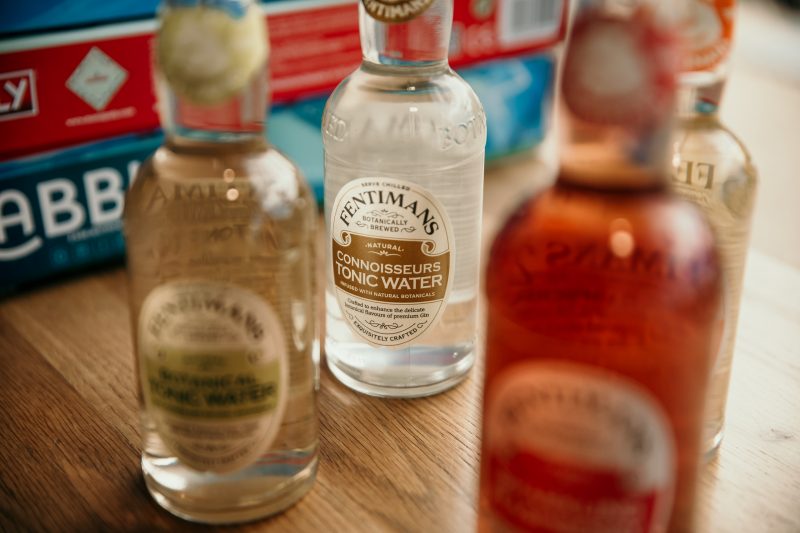 Lately, I have made an amazing discovery of the Fentimans Connoisseurs Tonic. A few days ago, I had the opportunity to taste it both on its own and with espresso at the Coffeedesk Café in Wilcza Street in Warsaw. Delicious! Very acidic (thanks to kaffir lime leaves) with a counterpointing juniper flavour. It is not too strong, and yet, it is complex and juicy. It went just perfectly with coffee, not suppressing its natural flavours. Its asset is simple composition: apart from the abovementioned ingredients, it contains only carbonated water, quinine, citric acid and sugar. And that's all.
The most advanced, but probably the most gratifying option will be to… make tonic yourself! Recently, Maciek has shared an interesting tonic recipe on the Coffeedesk Facebook group (LINK to Maciek's post – editor's note). Let me quote:
675ml either high-quality bottled or filtered water
28g cinchona bark
62g citric acid
72g fresh lemongrass
8 allspice berries
0.2g anise (about 2 stars)
4.5g cloves
1.2g salt
3.5g/about 1 cinnamon stick
1g/about 4 cardamom seeds
12g (from about 4 limes) lime zest
14.5g (from about 4 lemons) lemon zest
25g (from about 2 oranges) orange zest
5g grapefruit zest
Apart from that, you will need sugar cane syrup (2:1 sugar:water ratio) and highly carbonated water. Remove the outer leaves from the lemongrass and cut off its upper and lower stem (keep about ¾ of the original length). Then cut the stalk into smaller 2-3cm lengths. Put all ingredients into an airtight container and let the water absorb the taste for 3-4 days. It is worthwhile giving it a good shake at least once per day. After that time, pour the tonic through a coffee filter or filter pad.
Like a pro!
Espresso
We have another good news for you. I would argue that every good espresso is a match for tonic!
You should only consider your preferences. Both darker Brazilian and more fruity African coffee are suitable for this type of drink. The most important thing is to use well-brewed coffee. For the recipe, I recommend using optimal extractions: that is, those which will bring out the most sweetness and balance of the coffee. You don't need a short and acid coffee shot, since the tonic already has much acidity. You don't need the bitter taste of a longer espresso shot, because… the bitter taste comes already from the tonic! Simply choose your favourite coffee and go for it!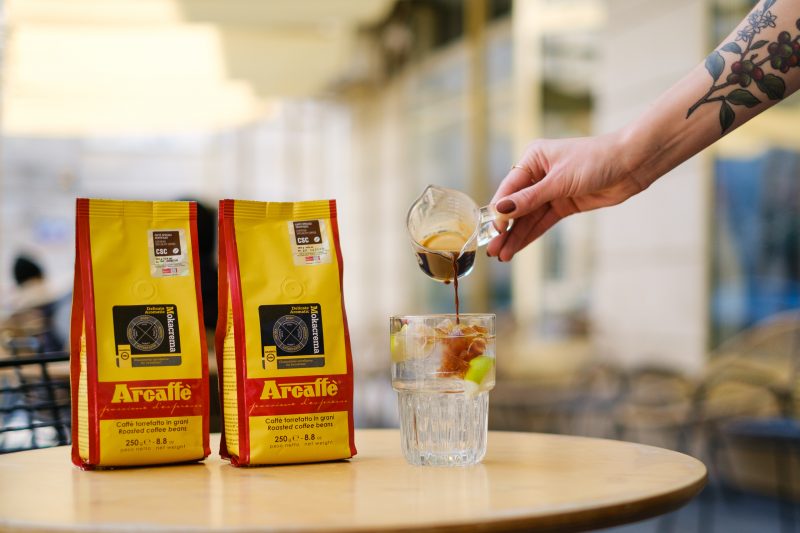 And what if not espresso? What about pour-over coffee? Yes, we can use it, but in this case you will need to slightly change the rules of the game. Classic filter coffee is about seven times less concentrated than espresso and will likely get lost in the drink. My favourite way of combining light coffee roast with tonic is using concentrated coffee from AeroPress:
30-35 grams coffee ground rather coarsely
130-150 grams water at 85-90 degrees poured in one go
stir vigorously for 30-40 seconds
invert the AeroPress and press – the total brewing time is at about 1:30
Additives
Ice cubes, lemon or lime slice is a standard. There are, however, a couple of other additives which will spice up your drink:
Such as raspberries, strawberries, berries or blackberries. You can serve them instead of or together with ice. They will cool the drink, but first and foremost enrich it with their fruitness. Simply add what you like!
Mint, basil, rosemary or lemon balm. They look pretty, but they will also make the drink more herby, giving it a fresh, rich aroma. The aroma is the main taste component, so this makes sense!
Coffee goes really well with hops. The American hop varieties with intense citrus, floral and exotic
fruit aromas can easily be ordered in online shops for homebrewers. The hop amount you will need for your coffee won't cost you much. What you need to remember is to soak hops in chilled coffee, since at higher temperatures they release a considerable amount of alpha acids which can cause a high fever. For one portion I use from half to one gram of Citra or Mosaic Hop Pellets, which I then leave for about 15-20 minutes. Then I filter them and add the substance to the drink!
Hop-infused coffee with tonic and frozen fruits is in all likelihood the tastiest and most refreshing non-alcoholic drink I have ever drunk.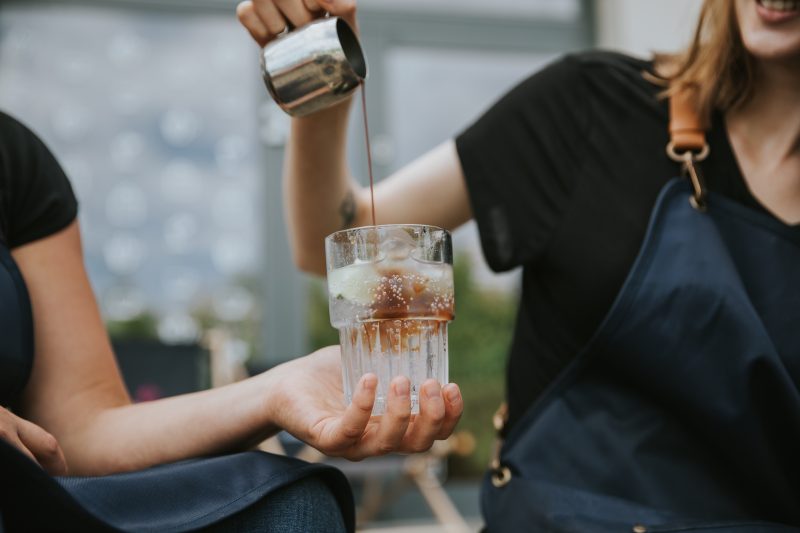 Recipe
As always, we encourage you to experiment with recipes and ratios. After all, what matters is discovering your favourite taste and drink strength. I most often use the following ratio:
OR
about 85 gram AeroPress concentrate
150ml tonic
60-70 gram ice/frozen fruit
Coffee with tonic looks fabulous, when you gently pour it over preprepared ingredients. You will see it form two clearly separate layers. Visually, it's 10 out of 10. It's best, however, to proceed with aesthetic annihilation and mix everything before drinking.
Cheers!