Good coffee has its own natural, often very complex sensory profile, which depends on many factors, such as its variety, origin, cultivation, and the way it is processed and roasted. However, only when it is well brewed, it releases its flavor notes and you can fully experience the richness of aromas hidden in the beans. If this is still not enough for you and you are looking for something more, nothing stands in the way of enriching the flavor of your brew with a few aromatic spices and, for example, preparing coffee with cinnamon. Don't worry, even the greatest coffee enthusiasts sometimes want to experiment with coffee and make small exceptions to the rule. Here are our recommendations for spiced coffee!
What kind of coffee goes well with spices?
Let's start with the fact that medium and slightly darker roasted coffees are the best match for spices. Darker roasting causes the beans to partially lose their natural aroma, but their flavor becomes deeper and stronger, and while they acquire such notes as chocolate, caramel, almonds and nuts, you can still taste the mild aroma of fruits and flowers. These flavors perfectly match the distinctive cardamom, cinnamon, anise, spicy ginger, chili and sweet vanilla. What's more, a good-quality brew is a great starting point to boost your creativity in terms of additives. However, if that's not your strong point, you may want to take inspiration from the popular circle of tastes and aromas. So, let's check what spices you can choose to give your coffee an unusual taste.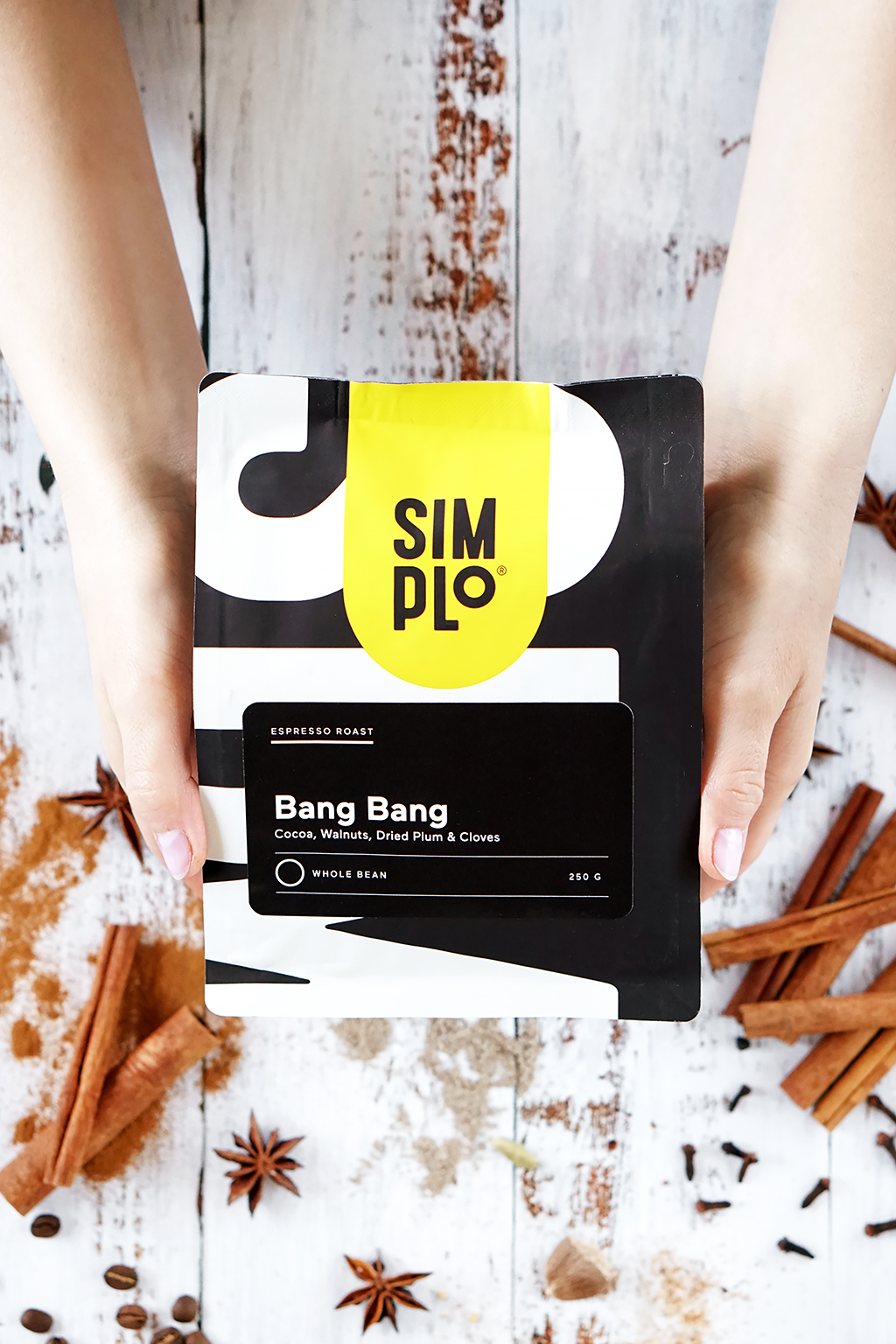 Coffee with vanilla
If you have a sweet tooth and appreciate mild flavors, choose vanilla. The inconspicuous vanilla pod hides wonderful, balsamic seeds that will emphasize the caramel and almond aftertaste, as well as subtly tweak the natural sweetness of the brew. What's more, vanilla complements the other spices perfectly, balancing them and creating a sweet and spicy indulgence for the senses.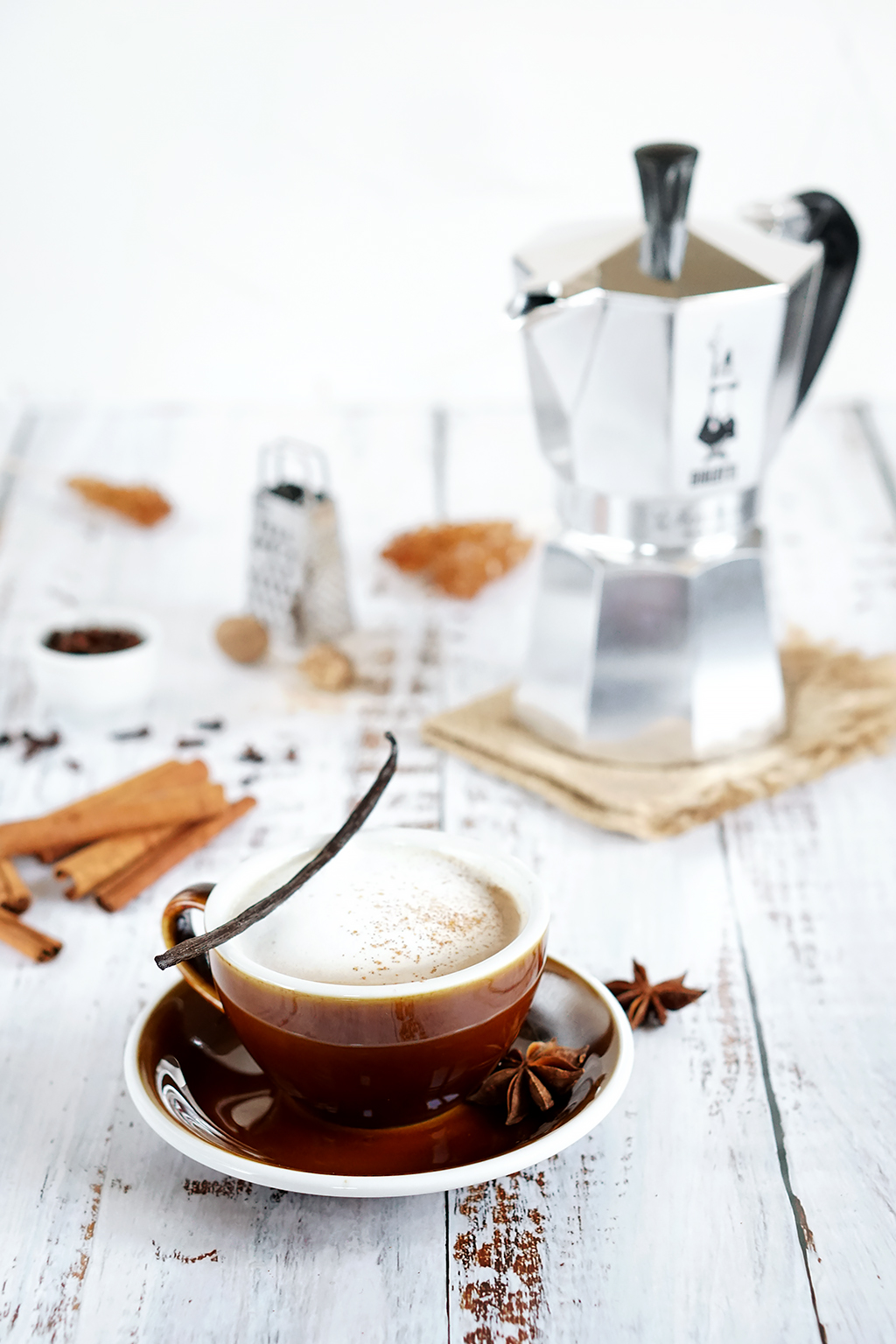 Coffee brewed with cinnamon, cardamom and other spices
Vanilla is just the beginning. After all, the list of spices is obviously very long, and each of them has its own unique aroma. Sometimes you can even get confused about what you can mix and match, but cinnamon is probably what we all know. A pinch of cinnamon in coffee will enrich the drink with its characteristic sweetness combined with a delicate, pleasantly warming spiciness.
You can use ground cinnamon or cinnamon sticks, which will additionally strengthen the visual appeal of the beverage. It will work great in coffee with chocolate, caramel and nuts aromas, as well as with fruit notes, such as apples.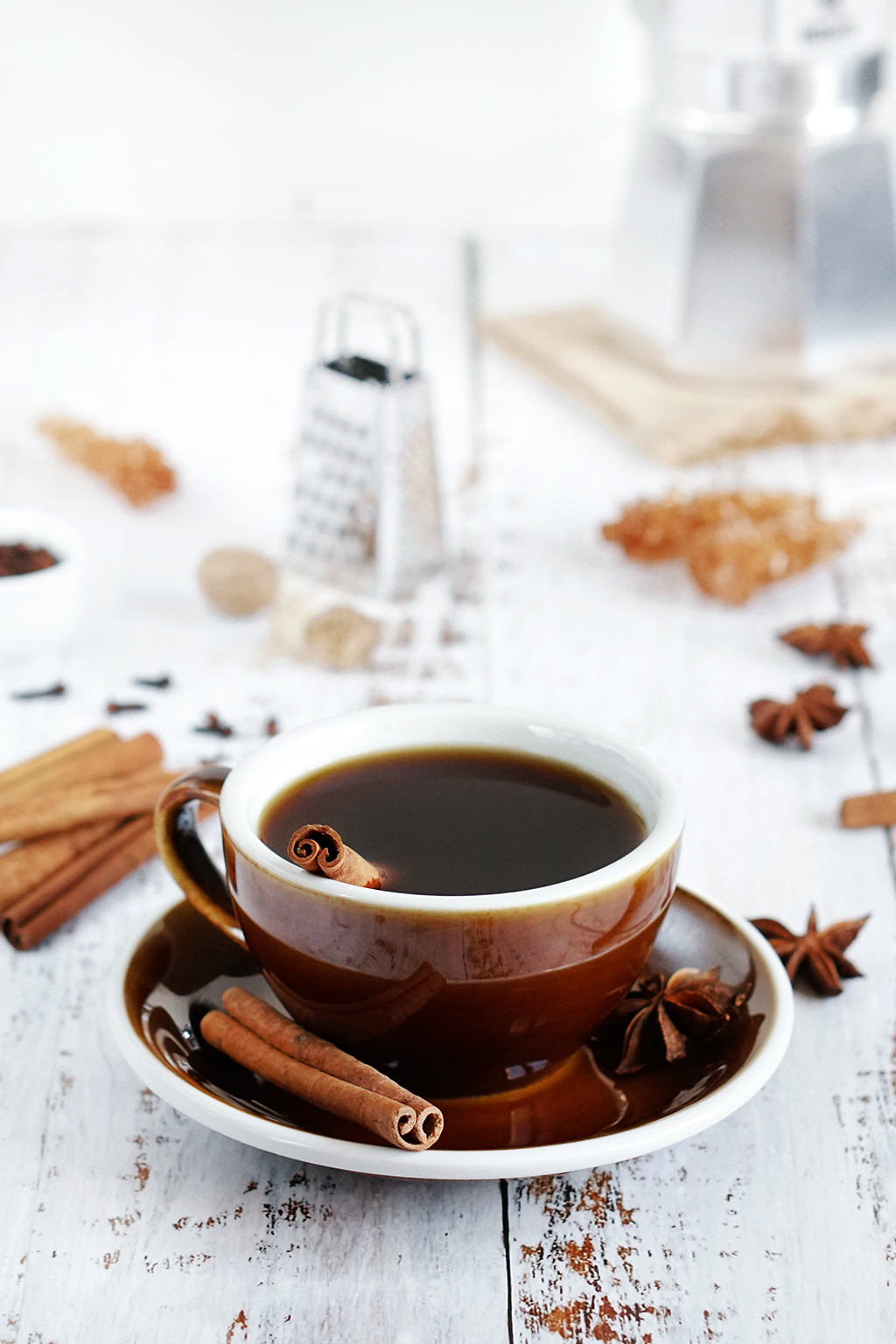 Right after cinnamon there is cardamom – even more strongly associated with coffee – with its subtle, warm aroma and an original camphor-lemon aftertaste, which is an interesting match for coffees with a fruit flavor profile. Cardamom is available ground or as whole pods. It is definitely worth choosing cardamom pods, because the former, like all other ground spices, loses its intense aroma very quickly.
Last but not least in the sweet and spicy trio is a less spicy but equally balsamic nutmeg with a pleasant nutty flavor. Actually, my favorite.
Anise, cloves, and ginger
Further on the list we have definitely sharper jets, perfect for those coffee lovers who are on the hunt for more bold, original flavors. Star anise has a very distinct aroma, much more spicy than its predecessors, with a noticeable herbal aftertaste similar to licorice. You can choose ground anise or pods in the shape of cute stars. Or maybe you prefer bittersweet, intense cloves with their slightly fruity scent or a fiery, somewhat tart ginger? I can assure you that all three will enrich not only the flavor of your beverage, but also give you energy and pleasantly warm you up on colder days.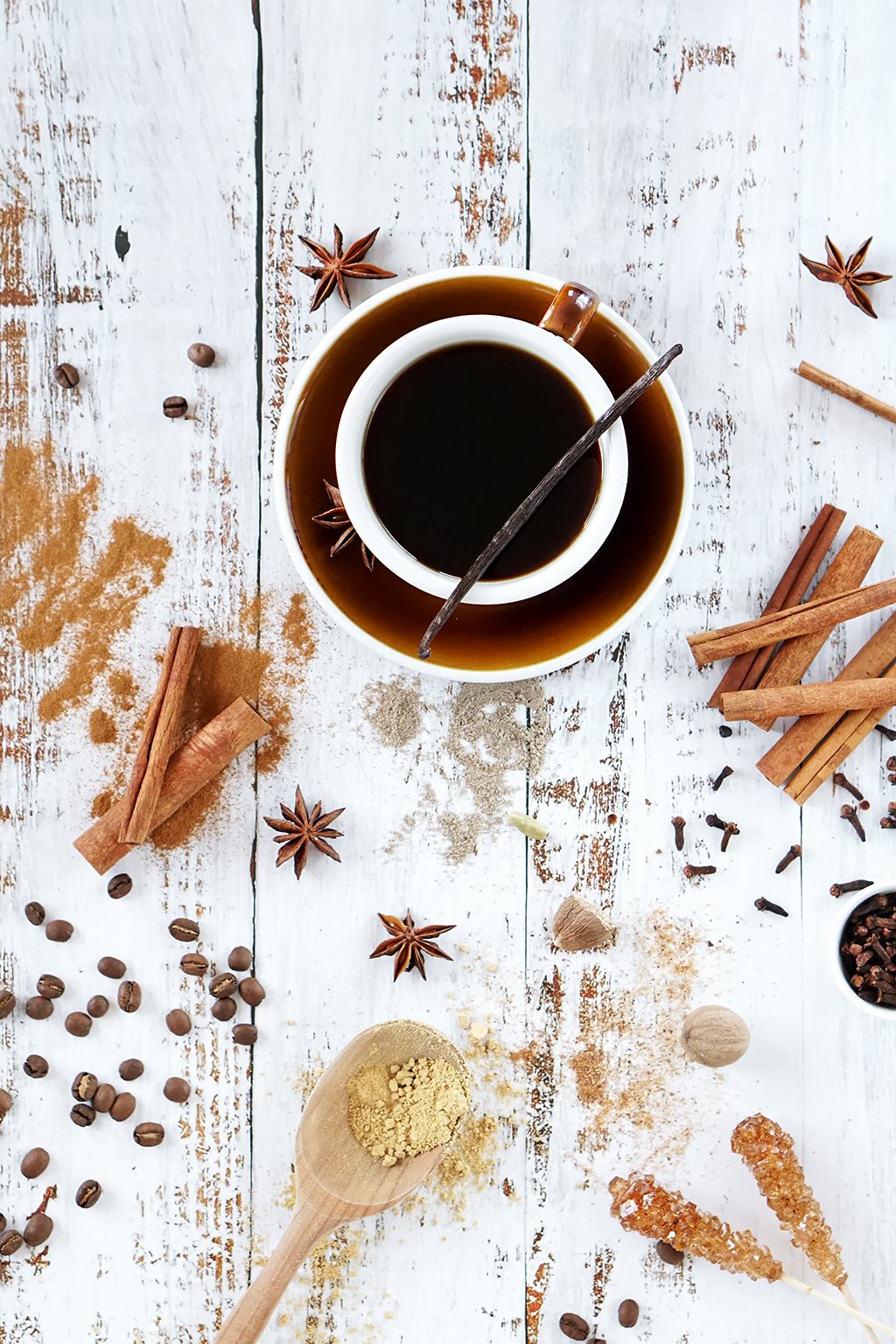 Allspice
The sweet and spicy allspice is an explosive mixture. It combines the flavor of nutmeg, cloves, cardamom, ginger and cinnamon. A pinch is enough to completely change the taste of the coffee.
Chili and cayenne pepper
A combination for the brave is coffee with chili or cayenne pepper, which will warm you up and get you on your feet, especially in the morning. The best base for this type of beverage are beans with a chocolate or cocoa aftertaste.
Spiced coffee
Now that you know what spices work well with coffee, let's move on to some tips on how to make it. To prepare a tasty spiced coffee, it is best to put a pinch of spices at the bottom of the cup and pour hot infusion over them, so that they release all their aromas under the influence of heat. For milk coffees such as cappuccino, cafe latte or macchiato, sprinkling spices on the milk froth is a good idea.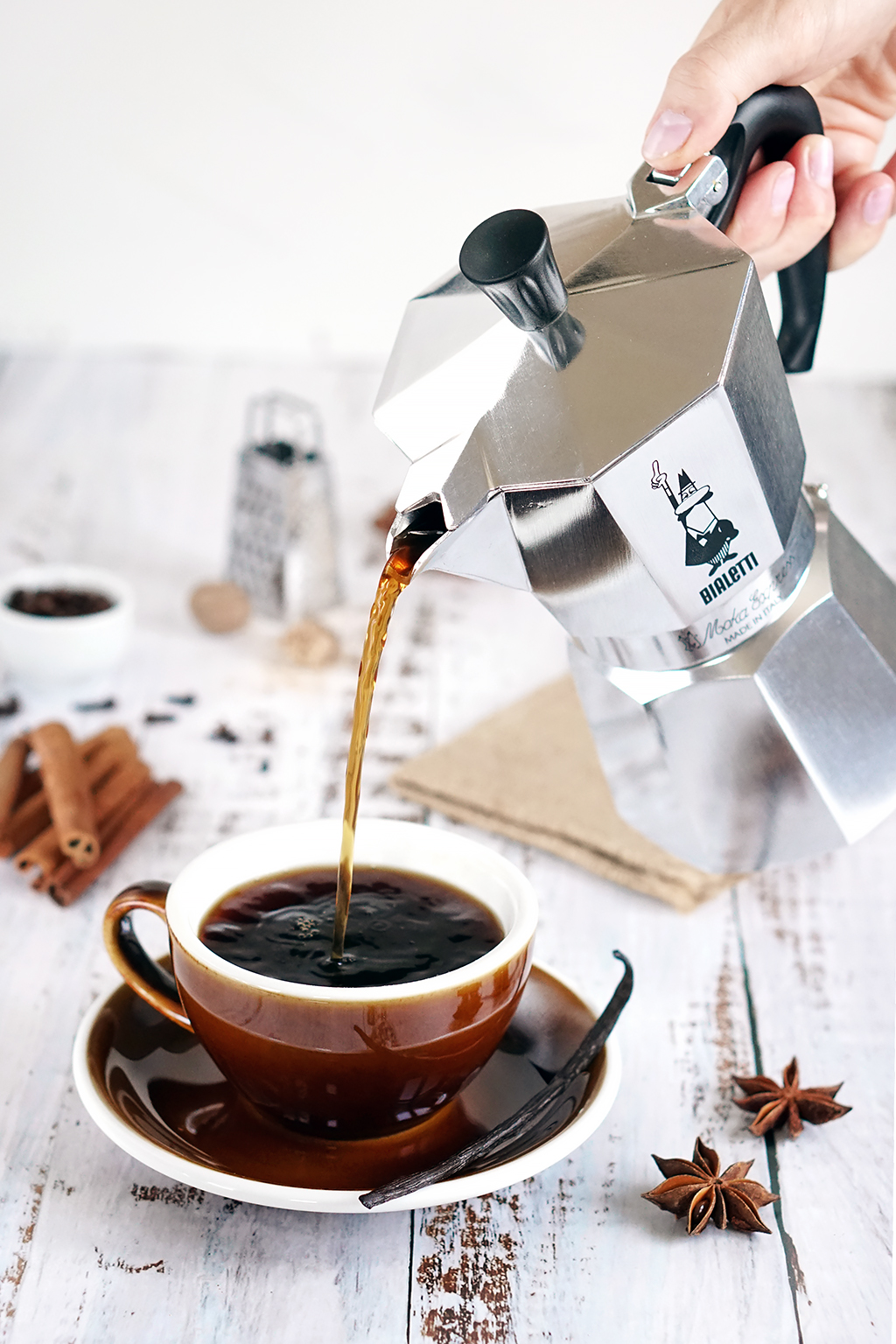 Either way, you can choose single spices or create compositions. Spicy seasonings will also enrich flavored coffee drinks. On the blog you will find a recipe for a warming Pumpkin Spice Latte with a large portion of spices.
Coffee boiled with spices
However, there is another way to prepare delicious coffee – coffee cooked with spices, which is not only tasty, but also much easier on the stomach than the classic version. It'll work also for people who can't drink the traditional short black. Preparing boiled coffee, as the name suggests, consists in boiling the water, then adding freshly ground coffee (in the ratio proper to the amount of water) and selected spices and simmering it on low heat for a few minutes. Finally, you pour everything into a cup and it's ready. You can add a little milk or honey to such coffee. Yummy!
I hope I managed to show you that spiced coffee is not only a sugary flavored drink. It may as well be an aromatic, warming brew, where spices emphasize rather than obscure the natural flavor of coffee. And although spiced coffee is mainly associated with colder months, I can assure you that it can taste great at any time of the year.