Coffee – a truly magic elixir that gives joy and energy like a Gummiberry Juice. To be honest, all of my freetime revolves around coffee. Espresso, cappuccino, coffee brewed in a moka pot or a dripper and a cold brew. I'm still discovering alternative coffee brewing methods and its unique taste. But why limit yourself to only drinking an aromatic brew? Is there anything else? Well duh! A coffee-flavoured dessert, of course. Since it's okay to have a cup of Joe with a dessert, why not add it to a cake…Here's our no-bake coffee cheesecake recipe!
Dessert & coffee?
Good quality coffee gives us a full range of wonderful aromas. Starting with fresh and fruity, floral and citrus and ending with more intense aromas like chocolate, caramel and nutty. To enrich your cheesecake with a coffee aroma, it's best to prepare coffee in a moka pot or a pressure maker. This way, we'll get a condensed and intense taste and a small dose of liquid will do no harm to the consistency of our cake, panna cotta, cheesecake or a fluffy cream. You can also use some brew as a punch for sponge cakes.
How to pair coffee with dessert?
If you're snacking a light and refreshing delicacy, the best choice of coffee would be the one with a fruity, floral or citrus profile. When you have a chocolate cake, brownie, banana bread,  pudding or a creamy cheesecake, choose coffee with a chocolate, caramel, vanilla or cocoa aftertaste. However, the very 1st rule of dessert & coffee pairing is: combine flavors according to your own preferences. Go crazy with combinations, experiment with new flavours and share your sweet success with your loved ones.
No-bake coffee cheesecake recipe
Finally, it's time for a no-bake coffee-flavored cheesecake recipe. Perfect for a warm or even hot weather. Velvety, creamy, on a sweet cookie crust, topped with yogurt and vanilla foam. Ideal in the company of a delicate and refreshing cold brew.
Ingredients (pan Ø 18cm/7in):
Crust:
120 g whole grain biscuits
¼ cube (50 g) butter
Coffee cheesecake filling:
500 g curd at least twice ground
3/4 cup (180 ml) heavy cream 30%
½ cup (110 g) xylitol
100 ml good and strong espresso
2 tablespoons (20 g) gelatine
Yogurt foam:
1 cup (180 g) greek yogurt
2 tablespoons (30 g) xylitol
⅕ cup (50 ml) hot water
1 teaspoon (5 g) gelatine
¼ teaspoon vanilla paste
Extra:
your favorite, seasonal fruits such as sweet cherries, raspberries, strawberries or blueberries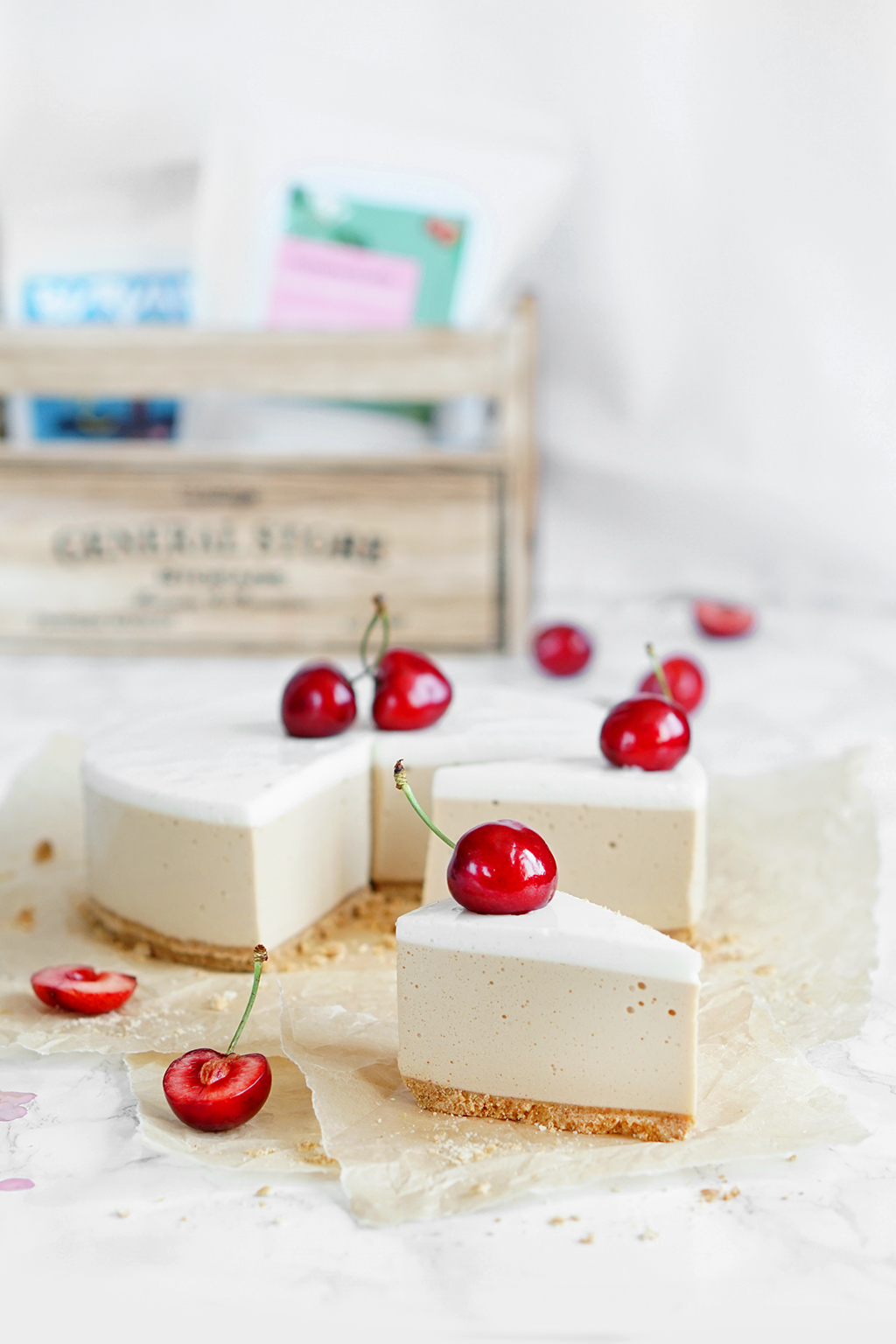 Preparation:
Crust:
Crush whole grain biscuits with a blender to get a flour-like powder, add melted butter and stir well. Line a cake tin with parchment paper and put the dough inside, spread evenly and press with the back of a spoon. Leave it in the fridge for few minutes.
Cheesecake filling:
Put curd, heavy cream and xylitol into a mixer bowl and stir (mix until xylitol dissolves and filling is aerated).
Dissolve gelatine in hot espresso. Add 3-4 tablespoons of cheesecake filling to gelatine solution and stir to even out the temperature.
Stir constantly, slowly add prepared espresso and gelatine to the cheesecake filling. Pour the filling on the crust, spread evenly and chill in the fridge until it's set.
Yogurt foam:
Put greek yogurt, xylitol and vanilla paste into a mixer bowl and whip until foamy and fluffy.
Dissolve gelatine in hot water. Add 2-3 tablespoons of yogurt mixture to gelatine solution and stir well to even out the temperature.
Slowly add prepared gelatine to the rest of yogurt, stir and pour on slightly setting cheesecake.
Leave the cheesecake in the fridge for few hours, but overnight is best.
When your no-bake coffee cheesecake is set and ready, you can serve it with a big dose of your favourite, seasonal fruits.
And that's pretty much all. Simple but yummy. Now go ahead and take a bite! Remember, summer is the perfect time to go on the beach, have a cold dessert and a good coffee!