You get up, slowly walk to the kitchen, and reach for your favorite beans and coffee stuff. "Oh, if only someone could make this coffee for me…" – you think. Well, it's possible! A coffee machine can become your  morning assistance. A coffee machine that has many names.
Why would I need a coffee machine? Why anyone needs it?
The coffee brewing device, regardless of its type, is able to speed up the preparation of your cup of joe – the entire brewing process, and especially its repeatability, lies with the machine. A properly treated coffee machine will reward you with delicious coffee every single time. Why would you buy such equipment? There are many reasons, so before you make up your mind, check out the categories of coffee machines and see what the automated realm of coffee brewing has to offer.
Fully automatic espresso machine, i.e. quick black and white coffee
Automatic coffee machines make the daily brewing of coffee very easy and, what's more, they  are immune to any morning fails of the sleepyheads – operation of it is child's play. However, "there is no such thing as a free lunch" – for the machine to take over most of the responsibility, it's necessary to invest in its design, so if you want to domesticate a coffee maker that will produce essential espresso and milk coffees, you must spend at least EUR 450. However, this equipment will serve you for many years, providing an aromatic "little black" or "large white" whenever you need it.
The automatic coffee machines include a built-in grinder that grinds as much coffee from the bean hopper as needed to prepare the indicated amount of coffee. In many coffee machines you can adjust the strength / clarity of the prepared coffee, and choose the milk based beverage. An automatic barista will have no problem serving you americano, espresso doppio, cappuccino, latte macchiato or any other coffee and milk-based drink. The milk is stored in a specially separated container, from which the machine takes the right amount for a specific drink. For this reason the automatic coffee machine requires thorough cleaning – especially of the milk frothing system. Fortunately, in most cases everything is clearly described in the instruction manual and should not be too difficult for anyone to follow.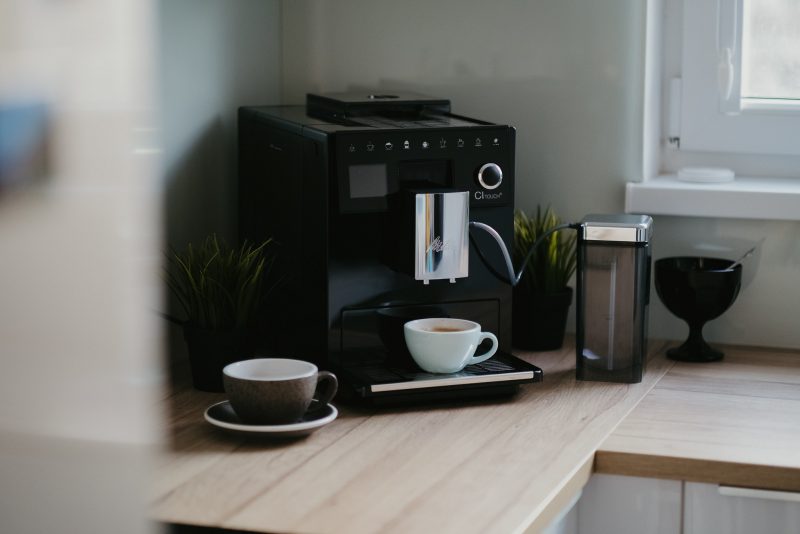 How is coffee brewed in an automatic espresso machine?
Most often, all you need to do is place the cup and press a few buttons, sometimes even just one. The combination of tubes, pumps, grinder, etc. – all this is hidden from the view of the consumer, so as not to bother them with unnecessary details. Among various types of automatic coffee machines, most often you can find those coupled with milk frothing system, which saves time and does not require any special skills. You just click and enjoy delicious coffee in the morning. Simple and fun.
Who is this machine for?
For those who are in a hurry and need their morning coffee to face the challenges of everyday life with energy. It will come handy in an office and at a home hosting frequent guests, but it will also work for coffee lovers who drink a few cups of coffee a day.
DISADVANTAGES
BENEFITS

few personalization options for specific drinks – we rely on the options programmed by the manufacturer
the need to clean the machine "once in a while" and to check the cleanliness of the milk frothing system

no knowledge of how to prepare coffee is necessary
simple operation
all-in-one design: grinder, coffee brewing system and milk frothing system in one device
Semi-automatic espresso machines, i.e. a café at home
Semi-automatic espresso machines are a kind of carbon copy of coffee machines we know from cafés. Their design seems to be a small version of the café beast – the heart of all coffee served by professional baristas. Such a domesticated version requires limited knowledge and some barista skill. It will therefore be a perfect choice for people who want to learn how to brew coffee and expand their knowledge and skills. In these devices, the milk system is self-service. Which means that the frothing of milk is the responsibility of the home coffee geek. All this via a steam wand.
The prices of semi-automatic espresso machines start in a lower range than in the case of automatic espresso machines (you can buy a decent one already for less than 330 EUR!) due to the technically simpler design, but you can also spend over 6 500 EUR, e.g. for the legendary designs of the famous "LaMa". With this type of coffee machines, you can experiment a lot with the final drink – change the amount, i.e. the dose of coffee, and the amount of water for initial brewing, the so-called "pre-infusion", and the pressure applied with a tamper – a heavy type of "button" for pressing the coffee in the portafilter. Each of these individual adjustments will produce a coffee that tastes differently – welcome to the world of endlessly different sensory experiences. Cleaning is performed on an ongoing basis – after brewing each coffee or after brewing a few coffees in a row.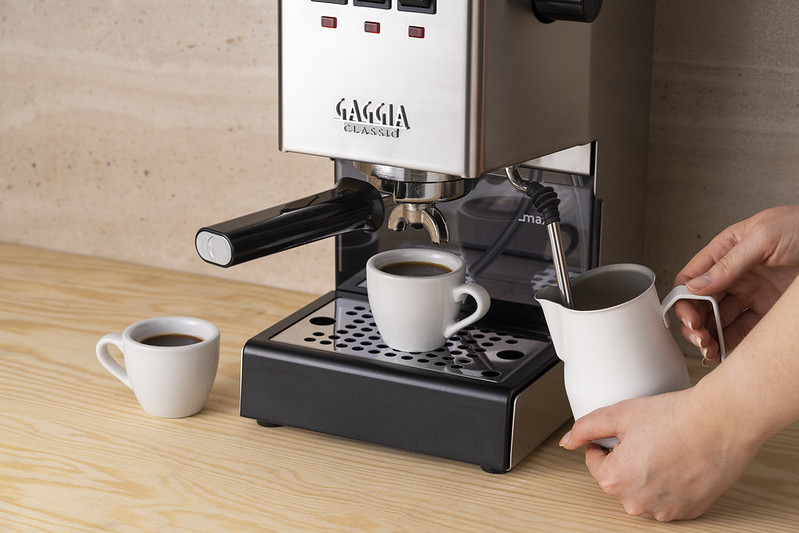 How is coffee brewed in a semi-automatic espresso machine?
After selecting the appropriate filter, i.e. the container for ground coffee, pouring the coffee into it and locking it all in the machine, the brewing begins. A scale for measuring ground coffee and the "yield", ie the amount of espresso in the cup, can prove extremely useful. Then, if you want to prepare a milk-based coffee, the milk is frothed in a milk jug with the steam nozzle and as it's whirling, it gets its creamy texture. The ingredients prepared in this way can be combined with the latte-art technique. The espresso machine is perfect for people who like to "have fun" with coffee, test and, above all, consciously learn to treat the brown beans better and better to squeeze out, under pressure, of course, what is best in them.
Who is this machine for?
For coffee enthusiasts, coffee geeks, baristas and all those who want to polish their ability to prepare espresso and espresso-based milk coffees.
DISADVANTAGES
BENEFITS

requires knowledge and barista skills
errors in handling will translate into the taste of the coffee, which with improper brewing can be much worse than in the case of automatic machines

an excellent option for any professional barista who wants to prepare professional coffee at home
the perfect design for coffee hobbyists looking to develop their skills
a good device for practicing latte arts at home
The pour-over coffee machine – make the alternative brewing easier
Fans of coffees brewed in an alternative way and all manual pour-over devices face one of the greatest challenges – time. It takes a number of minutes to prepare such coffee, depending on the automation used, whether you have an electric grinder or a kettle with temperature control. This is where you reach for the filter coffee makers, which use the ground beans to prepare a large amount of filtered coffee – some of them even include an integrated grinder (sic!). With their simple design, they are also the cheapest devices described in this article (with a minor exception,  discussed at the end). Already at around 65 EUR, we are able to buy one of these inconspicuous beasts.
Pour over coffee makers brew various amounts of coffee – depending on the type of coffee machine. Usually, the volume of coffee ranges from 0.5l to even 3l. What do I need so much coffee for? One might ask. Why brew 1l of coffee for one person? Good question, and here's the solution. The Dutch manufacturer of Moccamaster coffee machines produced a Cup-One Coffee Brewer for making 300 ml of coffee at a time, which is a perfect portion for… one cup exactly. Cleaning such machines is extremely simple and is most often limited to washing / rinsing the top water tank and the coffee pot.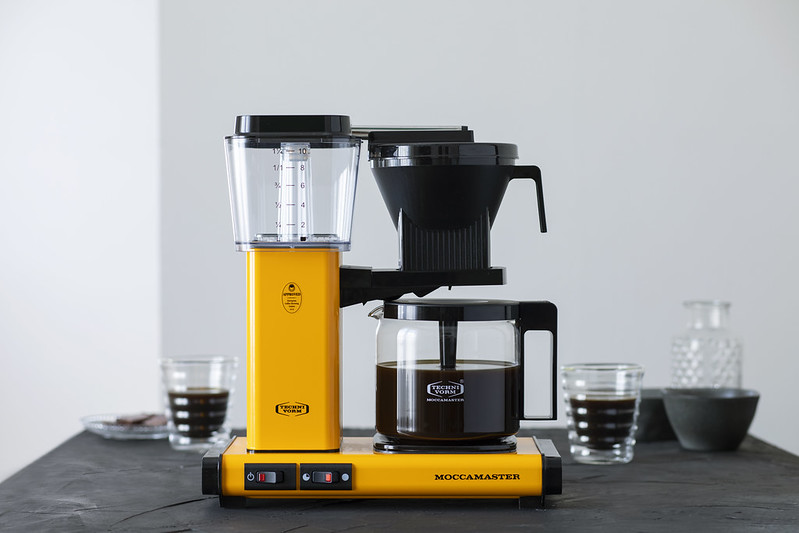 How is coffee brewed in a filter coffee maker?
After placing the filter and ground coffee in the upper part of the machine, the machine takes over and supervises the brewing process on its own by dispensing portions of water per coffee to make it delicious, aromatic and repeatable in taste. In these few minutes you can get a highly caffeinated cup of warm coffee, perfect for breakfast or "to go" in a thermos or a thermal mug. Many of the coffee machines have a heated bottom, thanks to which, while brewing coffee around the time you get up, you can enjoy it at the optimal temperature throughout the long, lazy morning.
Who is this machine for?
For those who love filter coffee and want to slightly automate the brewing process. It will also work well for "coffee leeches" who like to drink half a liter of coffee before noon.
DISADVANTAGES
BENEFITS

you must grind the coffee in advance
when you want to pour the paper filter with boiling water before making coffee, you must do it manually

it's the cheapest coffee machine (except for our final option)
it facilitates the preparation of pour over coffee, which typically, when brewed manually, requires a lot of your attention
it allows you to brew a large portion of coffee at once – for yourself, your guests or the whole family
Would you consider… pods?
The pod coffee machine is something the vast majority of coffee drinkers are familiar with. Advantages – simple and quick use and low costs of the device (you can buy it for less than PLN 100 on special offer), which compensate for the usually high costs of the pods – which is a definite disadvantage of this device. For some time now, more and more pods with high-quality coffee have been on the market – it can be a good solution for those of you who want to spend minimal time on preparing a "little black coffee". Fortunately, the versions with higher-quality coffee often go hand in hand with the biodegradable version of the disposable pods. You should just remember that milk coffees coming from pod coffee machines are usually a mixture of coffee with powdered milk, which does not live up to the standard, liquid version of the "whitener". The pod coffee machine does not require cleaning – everything is limited to pouring out / rinsing the water tank.
How do you prepare coffee in a pod machine?
Put the pod into the compartment, put the cup on the rack and press the button. Quick and easy. Is it the tastiest? It depends on the coffee used, which can be either of good quality or average.
Who is this machine for?
For all those in a hurry who treat coffee as a small part of life. All those who prefer walking on hot coffee beans to washing and cleaning the coffee machine will go in for it.
DISADVANTAGES
BENEFITS

limited selection of coffee types
high price of a single coffee pod

requires no intervention on your part
intuitive one-button operation
very simple cleaning of the device
Summary
Which coffee machine is right for you? Which one would suit your lifestyle? Try to answer these questions once you've read the article. Coffee machines are not for everyone, but they make it easier to brew coffee every day, especially if there are several people to drink coffee at the place. The machine will be appreciated by people who are taking their first steps on their coffee (including high-quality coffee) path. They are also a remedy for professional baristas who would like to drink coffee after their shift without spending too much time preparing it – by "handing over" the cup to the machine. To each his own.