A story like from Hollywood – the leading man lives a happy and carefree life until a dangerous and life-threatening accident forces him to reflect deeply on the world. While Bryan Pape was lying in the snow in 2006 with a broken femur and the realization that internal injuries could kill him within 10 minutes, two thoughts rattled in his head: 'I should get married to my girlfriend' and 'if I die now, what will my legacy be?' Today, Bryan and Rebecca are married, and the company he founded in 2010 has since donated $3.14M and over 16,000 products to 95 nonprofit organizations in 26 countries. 
Business Hand in Hand with Philanthropy
Many people devote their lives to developing business and struggling for success, and when they get old, they use the accumulated wealth to engage in philanthropy and charitable initiatives. But what if we don't get to make it to this point? The primary goal of MiiR was to combine business and charity. The market gap that Bryan noticed was the lack of convenient, aesthetic and reusable water bottles – alternatives to plastic packaging purchased in supermarkets by the truckload. Soon after, the first bottles with the MiiR logo saw the light of day. 
From there, supporting people without access to clean water seemed like a natural path of philanthropic activity for the company. After several months of preparation, in 2011, Bryan traveled to Liberia, where he met members of the local community and, with their help, jointly organized the construction of a well in a village where children had never had access to clean water before. Thus, MiiR's first aid project related to access to water has become a reality. Since then, the company has helped over 90 nonprofit organizations, operating in 3 main areas: 'sustainable food systems and agriculture', 'coffee cultivation and incubation', and 'land and water conservation'.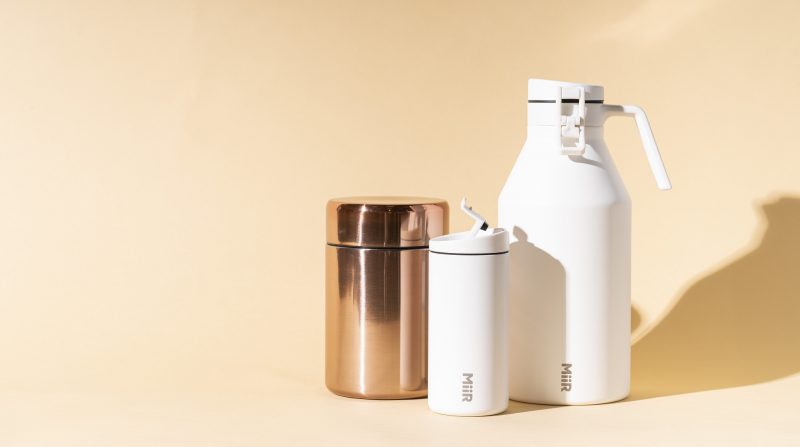 Commitments to the Planet
MiiR works in two ways: on the one hand, it transfers some of the profits as grants to those in need, and on the other hand, it places great emphasis on the welfare of the planet in production and distribution. The company is committed to: measuring and reducing CO2 emissions to achieve 'Net Zero' by 2030 (through the Climate Neutral Certified three-step process); minimize the environmental footprint of materials, production and distribution and extend the life, usability and circularity of their products.  
How does it work in real life? MiiR has developed four Designed for Sustainability Standard principles: 
Durability

, i.e. designing their products in such a way that they meet the demands of everyday life and serve for a long time;

Replaceability

, i.e. replacement elements that extend the product life;

Recyclability

, i.e. choosing materials that can be recycled;

Circularity

, i.e. misprinted, damaged or worn products can be used as feedstock in alternative production.  
All packaging is made of FSC Certified materials, and all internal and external components are made of 90% recycled cardboard. 
In addition to activities aimed at reducing CO2 emissions and energy consumption from non-renewable sources, each MiiR supplier must meet the condition of 'fair labor' proven by compliance with the Business Social Compliance Initiative (BSCI) and confirmed by an annual, external audit. 
It Has All Started with a Bottle
It all started with a water bottle and today the brand's portfolio includes 20 products in various sizes and capacities. 
Bottles
The iconic product of MiiR are the Narrow Mouth and Wide Mouth models – bottles with a characteristic, comfortable handle on the lid. They are made of medical grade stainless steel which does not transfer flavors and has no metallic aftertaste. Perfect Seal™ lids are fully leak-proof. Some models have double walls in the Termo 3D™ technology which make them maintain the temperature of cold drinks for 24 hours and hot drinks for 12 hours. 
Cups
MiiR Camp Cup is the perfect mug for outdoor trips – for camping or walks. It has a convenient handle and a lid that prevents the drinks from spilling and cooling down quickly. The Traveler model is perfect for those who need a 100% leakproof mug while traveling – you can fill it with your favorite coffee and put it safely in your bag or backpack.  
Coffee accessories
For adventurous coffee lovers, MiiR has designed the Pourigami – a coffee dripper, which consists of 3 flat elements that can be easily disassembled. This allows you to save space in your luggage and enjoy your favorite coffee anywhere in the world. Pourigami is compatible with Hario V60 size 02 filters. MiiR's offer, addressed to coffee lovers, also includes an airtight Coffee Canister that allows you to store beans in a way that prevents the escape of valuable aromas. 
Real help – Give Code
If a company donates part of its sales revenues to specific charities, then each purchased product supports a specific aid initiative – a truism, but we can rarely see with our own eyes that our purchasing choice matters. Meanwhile, on the base of each MiiR product you will find a Give Code, which links the product you are holding with a specific aid initiative. All you have to do is register your code on this page, and… helping happens. 
Customizing
Thanks to prints and engravings, MiiR products can be customized and decorated, which makes them a great material for gifts for employees or corporate merchandise. For larger orders, customising products is possible at Coffeedesk. Go to branded.coffeedesk.pl for more information.