How to improve your mood quickly and in a delicious style? It's easy. Make an Italian tiramisu and have it with an aromatic espresso. This coffee dessert is a decent boost of positive energy and an excellent eyeopener. After all, "tira mi sù" means "improve my mood" (literally "lift me up").
Classic coffee tiramisu
Tiramisu is an extremely simple dessert consisting of oblong ladyfinger cookies, strong coffee and a thick, velvet cream based on egg yolks and mascarpone cheese. And although it does not contain many ingredients, and the preparation is limited to a few steps, it has already had many varieties that are more or less different from each other. However, I will show you how to prepare an original tiramisu dessert, like from an Italian mamma, but in a convenient form, served in cups or glasses. In this version, it not only tastes delicious, it is also pleasing to the eye.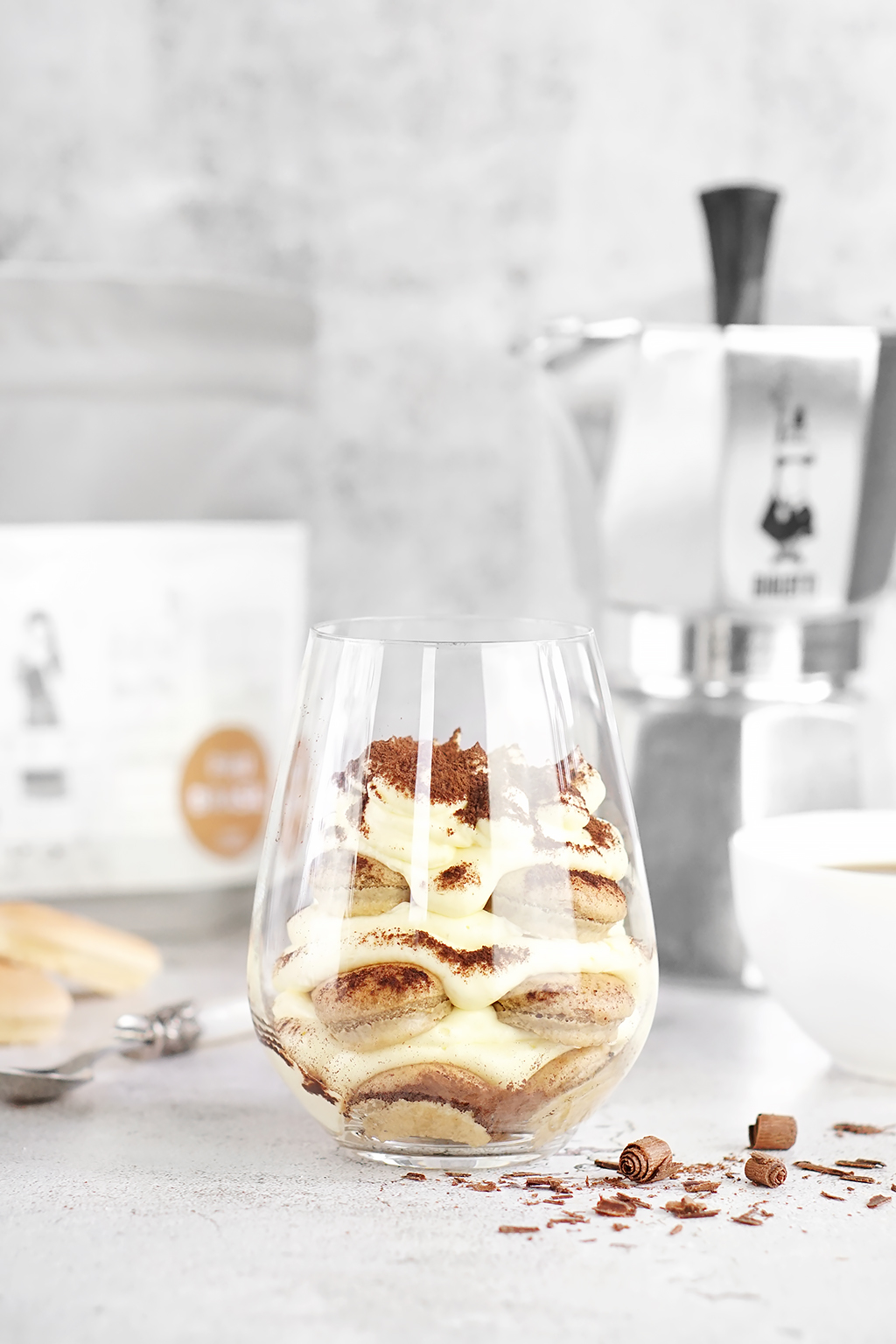 Don't spare on good coffee!
The basis of the recipe for tiramisu is coffee, the taste of which is definitely dominant and is responsible for its character. So, it is important that coffee is of good quality, freshly roasted and properly ground. For soaking ladyfingers we use espresso from an espresso machine or strong coffee from an Italian moka pot. Both methods guarantee a perfectly deep brew, and thus a coffee-intense, awakening dessert.
Dessert or breakfast?
Delicate, melting in the mouth tiramisu abundantly sprinkled with cocoa or grated dark chocolate, served with a short black will be the perfect crowning of many unique occasions. But due to the fact that it is prepared in a blink of an eye, you can, like the Italians, enjoy it for brunch, especially on warmer days. If it's not too often, you should consider adding some wine. 😉 Try it anyway!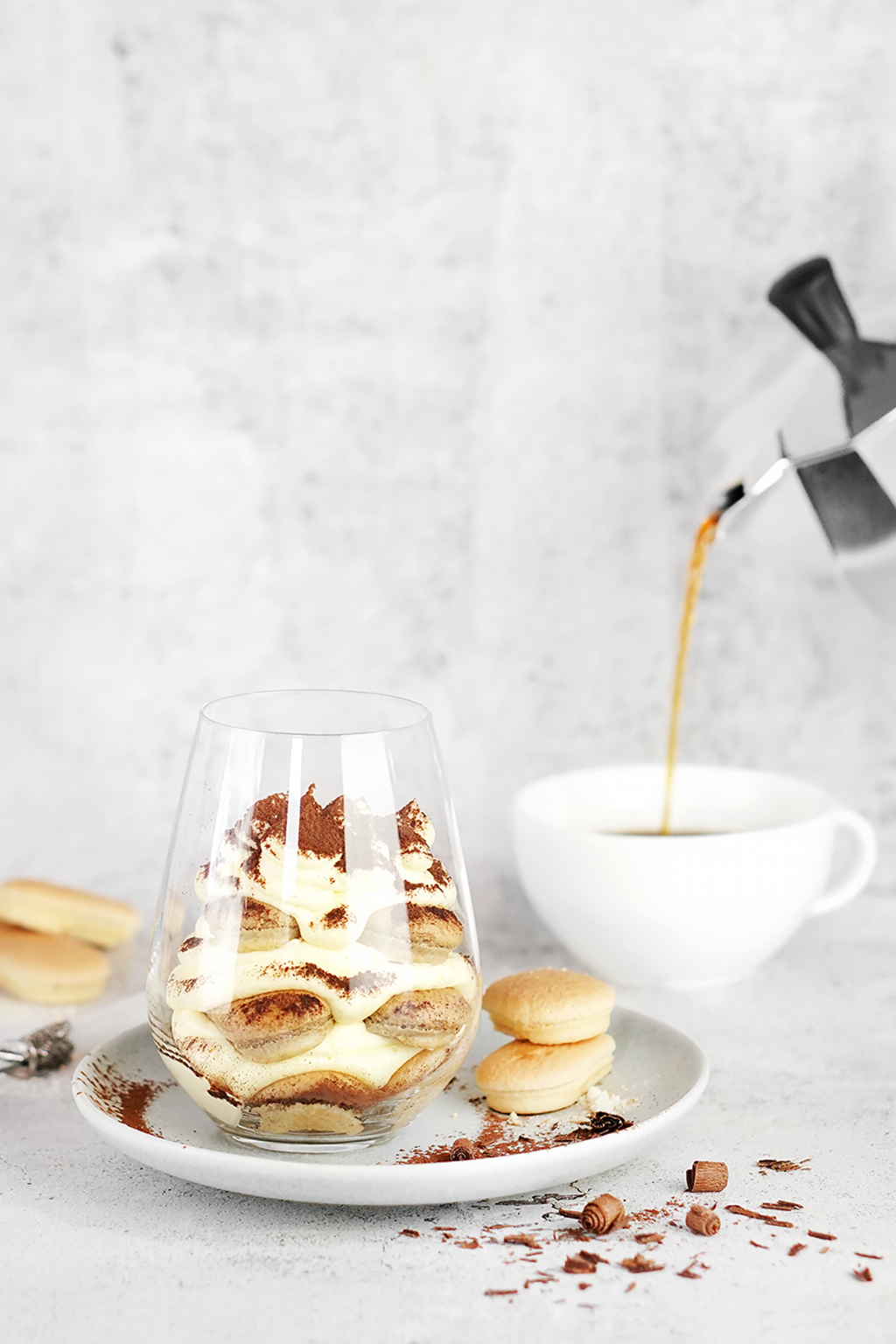 Tiramisu – a simple recipe
Ingredients (2 servings):
6-9 oblong ladyfinger cookies,
100 ml cold espresso or cold, strong coffee from the moka pot,
20 ml marsala wine (optional),
250 g mascarpone cheese,
2 fresh egg yolks,
2-3 tablespoons of fine sugar,
bitter cocoa or grated dark chocolate to sprinkle.
Preparation:
Using a mixer, whip the egg yolks (scald the whole eggs beforehand) and sugar until light and fluffy (it takes a few minutes).
Mixing all the time, add mascarpone cheese in a few batches.
Break the ladyfingers in half so that they fit into cups / glasses, soak in coffee (optional with marsala wine) and place in a dish (for me, 2 halves are enough for one layer, but 3 will fit in the wider glasses). Put a portion of cream on ladyfingers.
Put another layer of ladyfingers soaked in coffee and cream.
Finish with the last layer and set aside in the fridge so that the dessert cools well.
Sprinkle the strongly chilled dessert with dark cocoa or grated dark chocolate before serving.
I guarantee that the creamy tiramisu will steal your heart and you will do it many times over. Go ahead, enjoy this recipe and share it with other fans of sweets and coffee.