How to start a challenging day on a positive note? Preferably with a nutritious, energy-boosting sweet breakfast. How about a vegan, nutritious smoothie with coffee, perfect in the morning when every minute counts. Sounds tempting? Let's dive in!
Espresso smoothies – a healthy dessert or breakfast
Homemade smoothies are the easiest way to get an original, healthy beverage, which – when properly balanced – is a wholesome, filling meal on its own. For this reason you can grab a delicious coffee smoothie for breakfast or brunch, when you are "just a little hungry" or are in need of a healthy dessert. Personally, even when I don't feel like eating at all, I can dig in a divine-tasting portion of vitamins and minerals. What's more, you can drink the coffee smoothie right away or have it to go – take it to work or for a walk. The additional dose of caffeine will get you back on your feet at any time.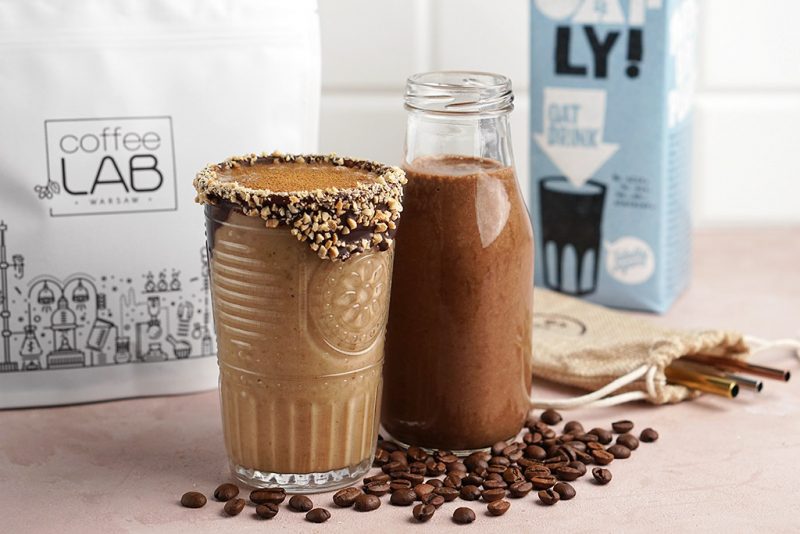 Plant-based drink – an alternative for everyone
The plant-based alternative to cow's milk is no longer just for vegans or people with food intolerance. It is also worth considering for ecological reasons, its health-promoting properties or taste, especially if you haven't tried it yet. There are more and more plant-based drinks to choose from and each has its own unique taste, so you will definitely find the perfect match for you. Currently, they are produced not only from oats or soy, but also from coconut, almonds and rice. What's more, in addition to the standard drink, there are special froth-friendly barista versions, such as the Barista Edition Oatly oat drink or the Barista Alpro almond drink.
Recipes for vegan smoothies with coffee
Coffee and cinnamon smoothie with millet
The coffee and cinnamon smoothie is exactly what you need in the morning – coffee and a meal in one. The drink is exceptionally creamy, with an interesting, slightly pudding-like texture. Thanks to millet, it makes you feel full for a long time. A serving of espresso is a boost of instant energy.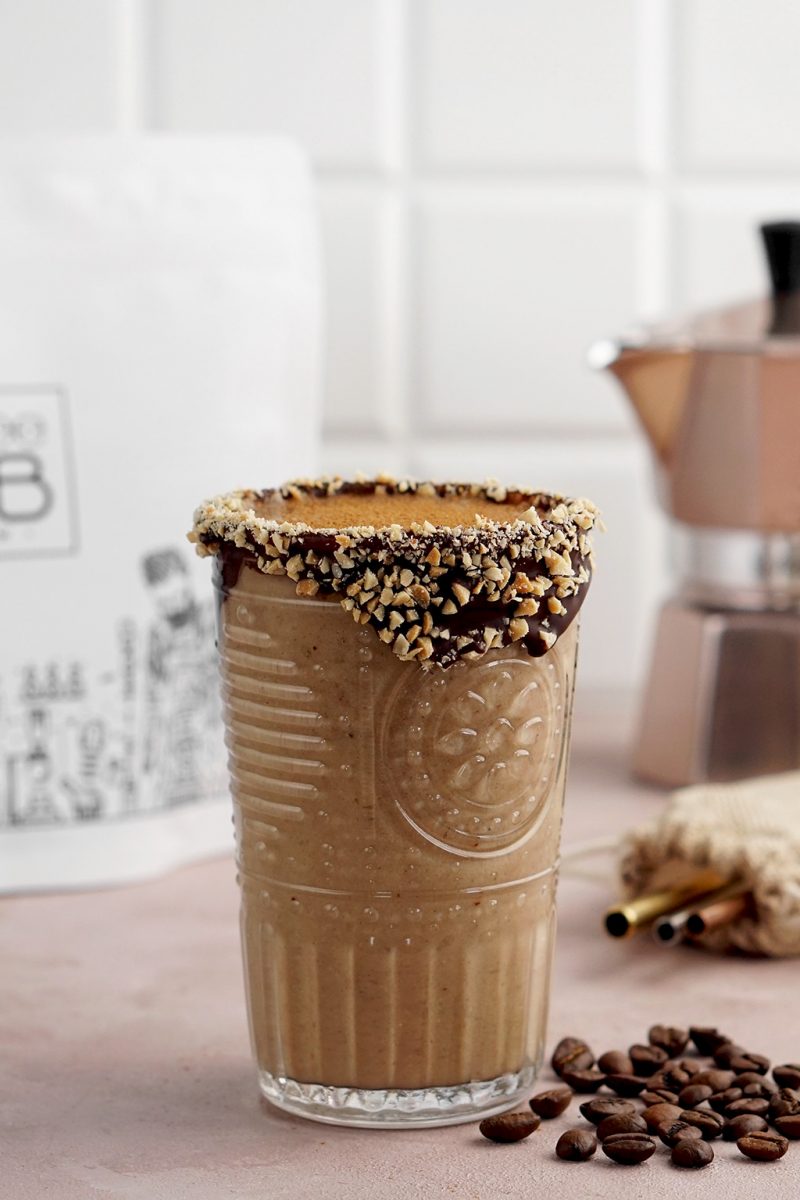 Ingredients (1 serving):
60 ml of espresso
approx. 1/2 cup (120 ml) of almond drink
1 small, ripe banana
3 heaped tablespoons of cooked millet
1 tablespoon of peanut butter
⅓ teaspoon of cinnamon
1 tablespoon of maple syrup to taste
Optional for decoration:
a few cubes of chocolate (if you want to stay true to the vegan version – choose vegan chocolate)
finely chopped roasted peanuts
Preparation:
Optionally, dip the rim of the glass in liquid chocolate and then dip it into very finely chopped peanuts so that they stick to the chocolate. Set the glass until the chocolate solidifies.
Tip: You can easily melt a small amount of chocolate in the microwave. Place the chopped chocolate in a glass bowl in the microwave, setting the medium power and time at about 15 – 20 seconds, then take it out and mix it. Repeat several times until the chocolate is completely melted.
1.Add all ingredients for a smoothie to the blender cup and blend them until you get a smooth, creamy texture. If the smoothie is too thick, add more almond drink.
Tip: If you want your coffee smoothie to be cooler and more refreshing, add previously frozen banana slices.
2. Pour the finished smoothie into a glass and serve immediately or have a drink to go without decorations.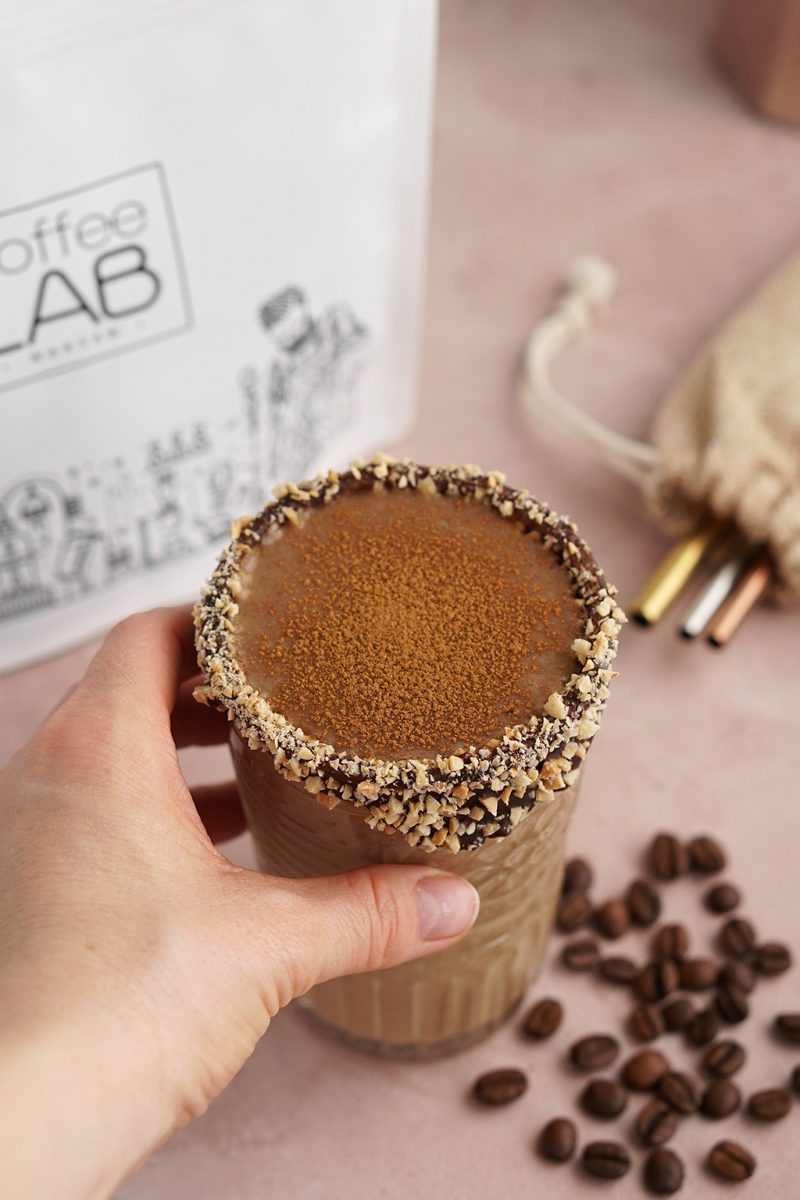 Coffee and cocoa smoothie with oatmeal
If you are a fan of oatmeal and coffee, you will surely like this coffee and cocoa smoothie for breakfast as well. Thick, naturally sweet, clearly chocolatey and super stimulating.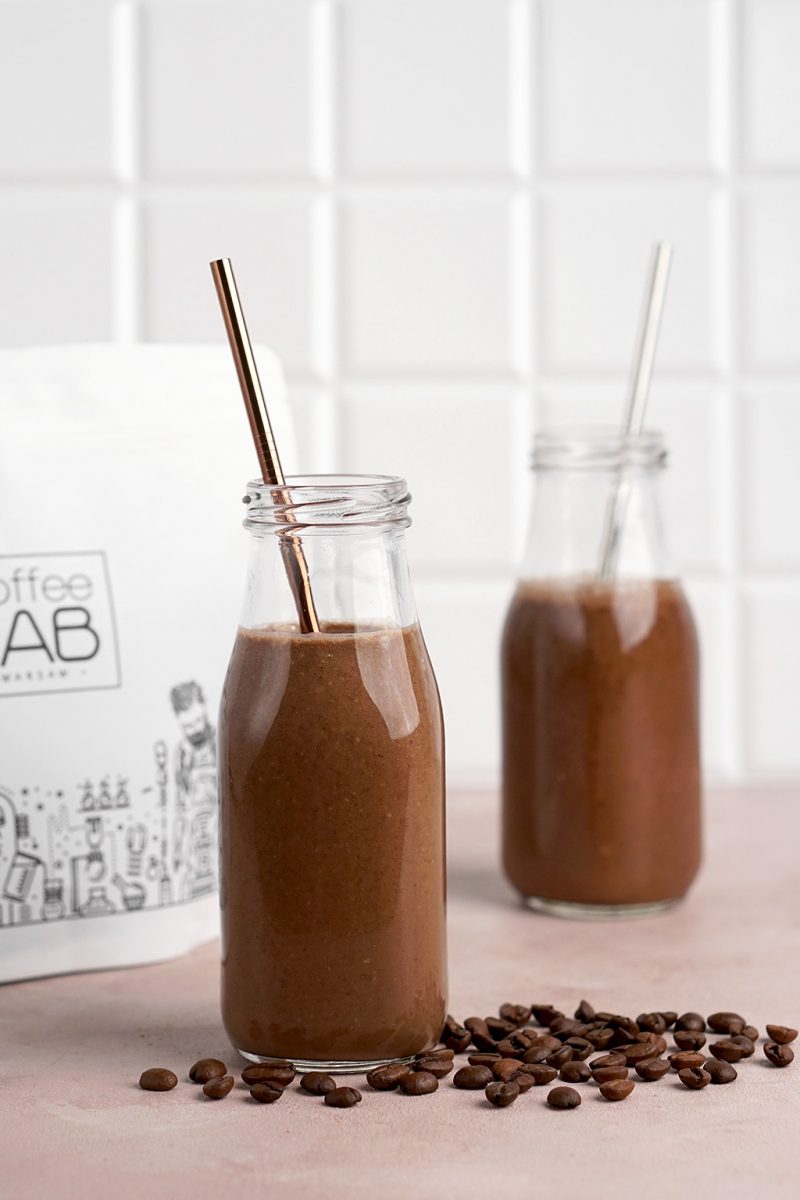 Ingredients (1 serving):
60 ml of espresso
approx. 1/2 cup (120 ml) of Oatly drink
1 small, ripe banana
3 tablespoons of steel cut oats
1-2 teaspoons of cocoa (preferably raw)
about 4-5 dried dates
a small pinch of salt
Preparation:
Pour over the oat flakes and chopped dates with warm espresso and set aside for about 15 minutes to soak.
Then add all the smoothie ingredients to the blender cup and blend until you get a smooth, velvety texture (like in the first version, the banana can be frozen). If the smoothie is too thick, add more oat drink.
Pour the finished smoothie with coffee into a glass / bottle and serve it immediately or take it away.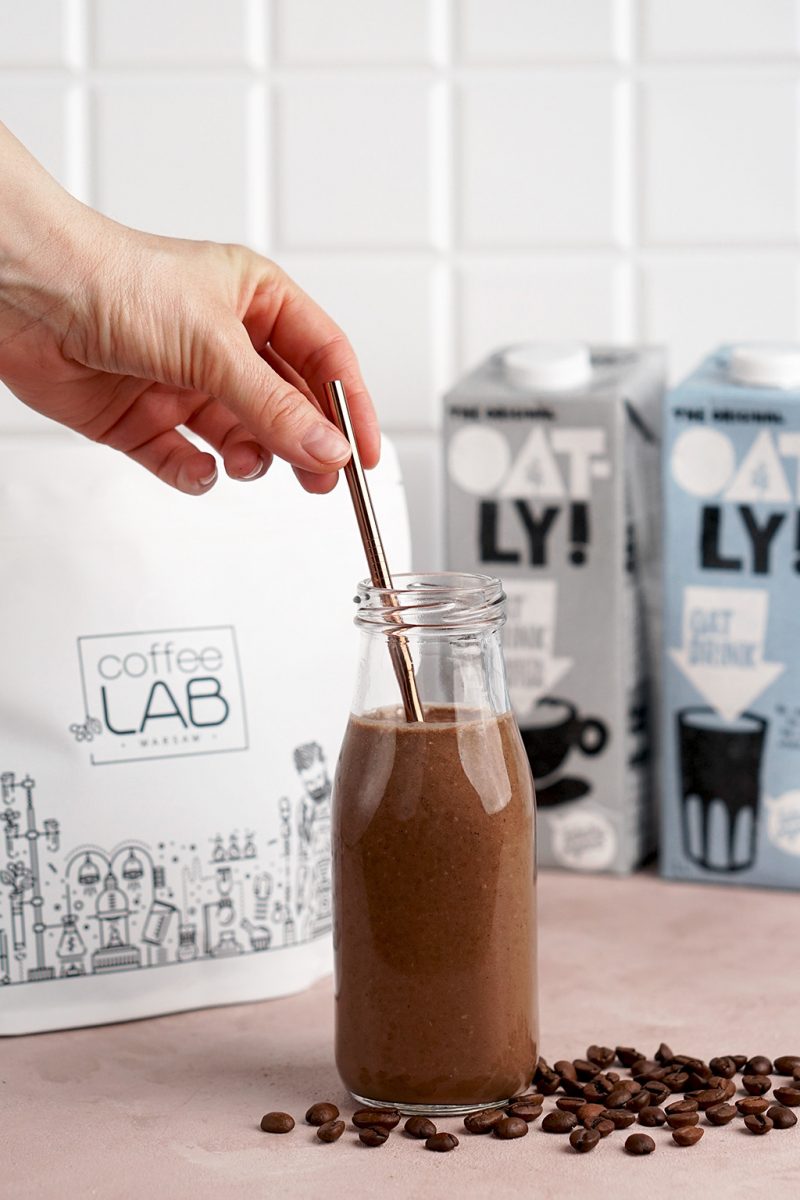 Have fun blending and let us know which version of the vegan breakfast coffee smoothie recipe has become your favorite. Take care!