Geisha from Panama is one of the most appreciated and most expensive coffees in the world. Panama also holds Finca Deborah coffee farm, owned by Savage Coffees, one of the collaborations of local boutique coffee producers. In 2017, Maciej Duszak, a Coffeedesk Master of Coffee Science, arrived at that very farm, looking for the beans for the upcoming Polish Brewers Cup (… which he later won). While visiting the country's most famous coffee producers, he came across Jamison Savage, whose coffee beans made such an impression on him that he knew he had already reached his destination. This is the beginning of the joint adventure of two people whose greatest passion is coffee. We talk with Maciek Duszak about what it is like to collaborate on producing the best coffee in the world and what surprises Savage Coffees has in store.
Savage Coffees – how did it start? How did you and Jamison Savage, the founder of the brand, cross paths?
Savage Coffees is not a roastery, but a producer of outstanding quality green coffees. The brand was created by Jamison Savage, whom I met in Panama in 2017, while I was looking for coffee for the upcoming Polish Brewers Cup. I was visiting the most famous producers from this country, but it was at Jamison's where I felt that I had reached my destination. The coffees from Finca Deborah, his coffee farm, were a revelation to me, as was Jamison himself. I had always quietly dreamed of working with him someday, although I couldn't imagine how I could bring anything in to what he was doing.
In the following years, our paths had occasionally crossed during various coffee events, until in 2020 once again I used Jamison's coffees in the Polish Championships. When the Brewers Cup ended, Jamison invited me to join Savage Coffees and build together a new chapter of this brand, which is catering exclusive and hard-to-get coffees to a wider group of consumers.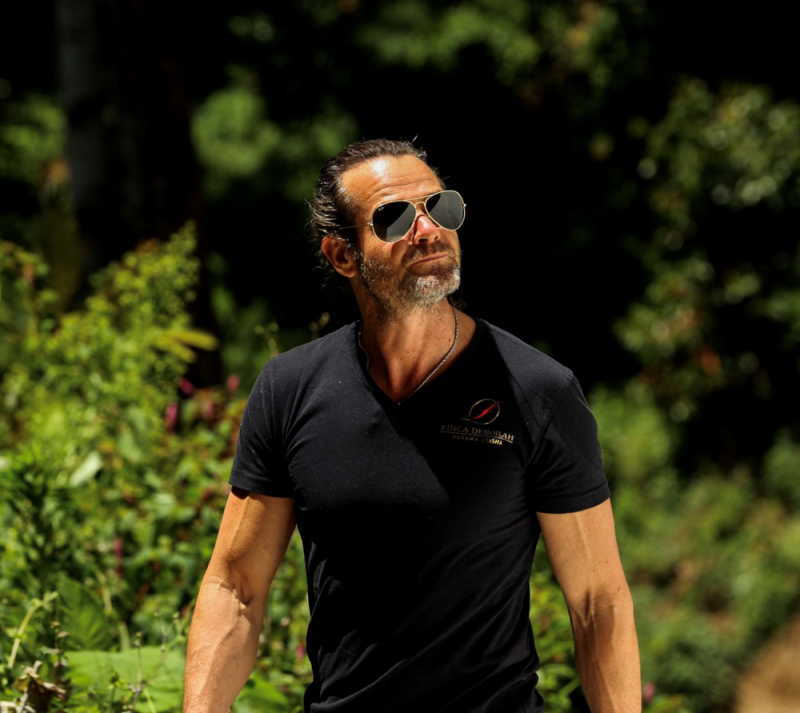 How does Savage Coffees stand out from other coffee producers?
Savage Coffees is a collaboration of Panama coffee producers. We produce coffee on our own farms, we cultivate, harvest and process it. The whole process takes place with care for the natural environment – we do not use artificial fertilizers, we expand biodiversity by regrowing rainforests, and we care for local communities without which we would not be able to function.
Finca Deborah farm (owned by Savage Coffees) wins prestigious coffee competitions around the world – what factors make up the uniqueness of its coffees?
Finca Deborah is the most iconic of our coffee farms. It is famous for the most spectacular coffees that amaze connoisseurs all over the world each year. This uniqueness comes from two elements: terroir and processing. We will get to processing later. First – terroir, that is a combination of such elements as: high elevation of cultivation (over 1900 m above sea level), shading, high biodiversity, volcanic soil, as well as knowledge of biodynamic cultivation techniques, which give the coffee from this farm its unique taste profile and simply let it stand out from the crowd.
All this is possible thanks to the involvement of the team on site – a dozen or so families live permanently on the farm, it is their home. As a result, they are fully committed to the work and take care of even the smallest details, which allows Jamison to focus on creative tasks and experimentation.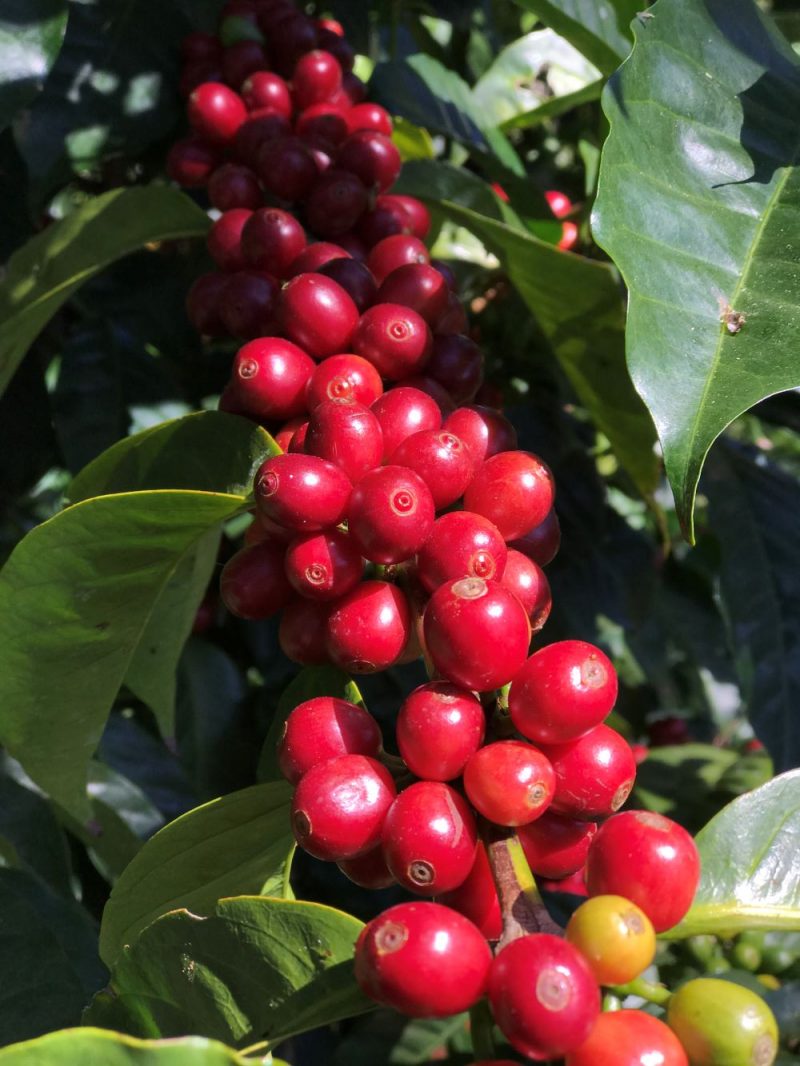 Speaking of which, can you say something about the innovative coffee processing methods you use on your farm?
It is the second element that shapes the flavor profile of our coffees. In addition to innovative cultivation, we also focus on processing. Jamison was the first producer in Panama to use the Carbonic Maceration technique, which enables to achieve levels of fruitiness, juiciness, complexity and purity unheard of in traditional processing methods. It is also a controlled process, which ensures repeatability and allows you to manipulate the taste characteristics.
Every year Jamison introduces innovations in processing – currently, we sell coffees fermented with yeast, nitrogen, in an anaerobic environment, in barrels previously used to make port wine, as well as perfected traditional washed and natural coffees. Thanks to such a variety of processing methods combined with the number of varietals grown, we can offer what I love about specialty coffee, that is: diversity. Every day I drink a different coffee, although each one comes from our crops.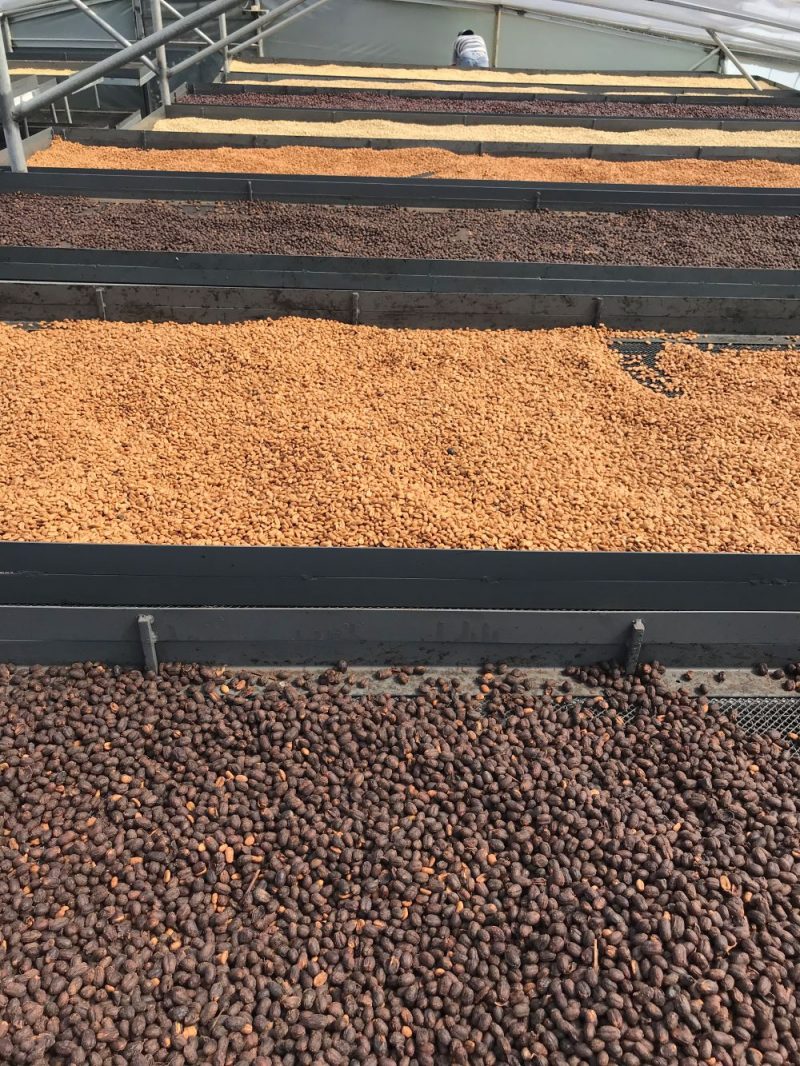 You mentioned that the entire process of growing and producing coffee takes place with care for the natural environment – is it somehow connected with the innovative solutions you use?
Coffee is an agricultural product and, like strawberries or tomatoes, it requires optimal conditions to let us enjoy great taste. You can buy "fresh" strawberries from the greenhouse in the middle of winter, but the sweet, intense and full of flavor ones will be those grown in the sunshine, preferably on your own plot. Same goes for coffee – the more natural the growing conditions, the higher the quality in the cup.
That is why our coffees grow in the shade of trees, in the middle of the rainforest, high in the mountains, in an inaccessible terrain. In such a primeval environment, which does not resemble a farm at all, coffee trees have optimal conditions for growth and fruit production. Our innovation is largely just returning to the roots and interfering as little as possible in natural processes. Hence there are exotic birds, wild papayas and melons on the farms. You can say that the wilder the landscape, the better the conditions for growing coffee. However, this wildness is effectively destroyed by man and our task is, among others, reclamation of rainforests without which we would not be able to do what we do.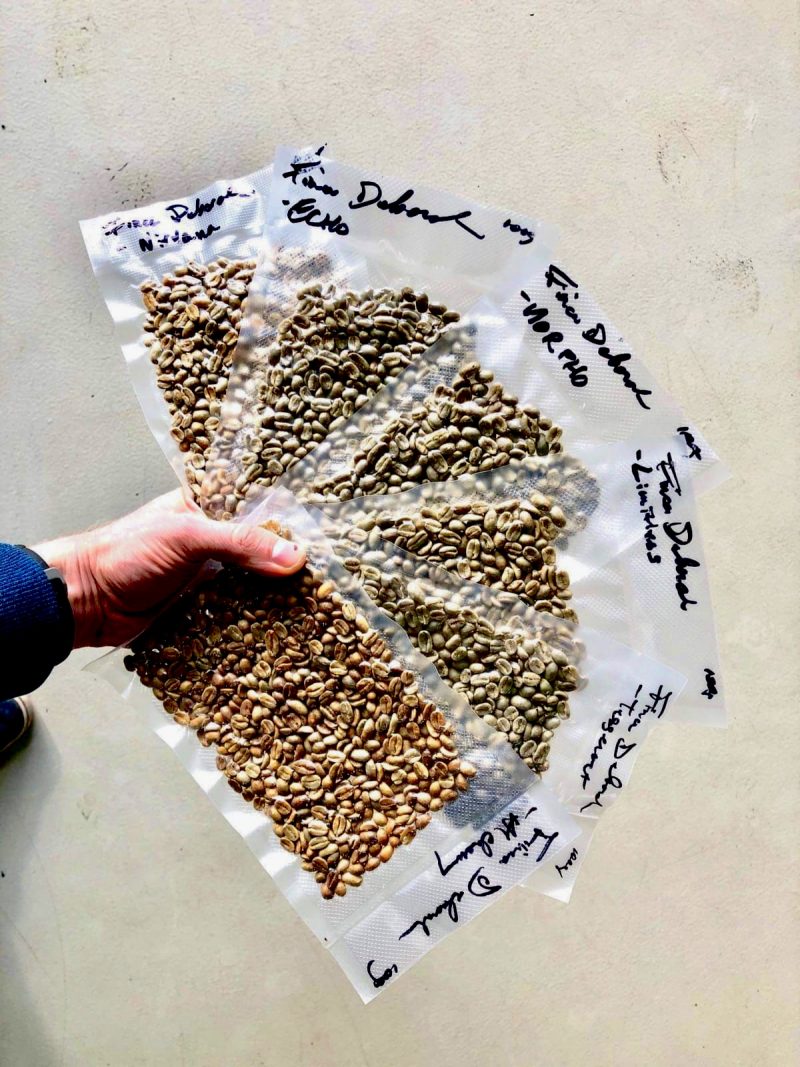 You also buy coffee beans from local farmers – what's the process like? Do you use any selection process for farms collaborating with you?
In addition to having our own farms, we also collaborate with about twenty small producers who have the potential to produce the highest quality coffee, but for many reasons do not have access to the global market or the knowledge necessary to maintain an appropriate quality level each year. We share our knowledge and resources with them, and then we buy fruit at a price several times higher than they would receive in the purchase point. 
All of these fruits are processed by us with innovative techniques, which results in excellent coffees at a price affordable for a larger group of customers around the world.
The producers cooperating with us not only receive more money for their work than on the mass market, but also have a guarantee of selling the entire crop, and at the same time they can count on us for support in cultivation – we share knowledge, transfer seedlings, help to introduce innovations, which translate into higher quality of their products.
In addition to coffee beans, you also offer coffee pods. Panama coffee in pods sounds quite unusual – why did you decide to create such a product, or maybe – who was it intended for?
We created capsules to lower the threshold for entering the world of specialty coffee. Until now, in order to enjoy the Panamanian Geisha at home, you had to have a grinder, a scale, a dripper, a kettle, filters, and most importantly – coffee making skills. Not everyone wants to become a barista to drink excellent coffee, and capsules come to the rescue for such people. All you need is a coffee machine and you can drink great coffee without knowing such terms as dose, TDS, pre-infusion or percolation. And all this at completely uncompromised quality.
It may sound unbelievable, but the pod technology allows us to achieve the perfect taste of the brew, provided that we use the latest technology in the production process and know how to use it. Our capsules are the result of many searches and trials, but thanks to this effort they offer a unique experience – coffees are sweet, aromatic, intense, and each of them retains its terroir, i.e. individual character.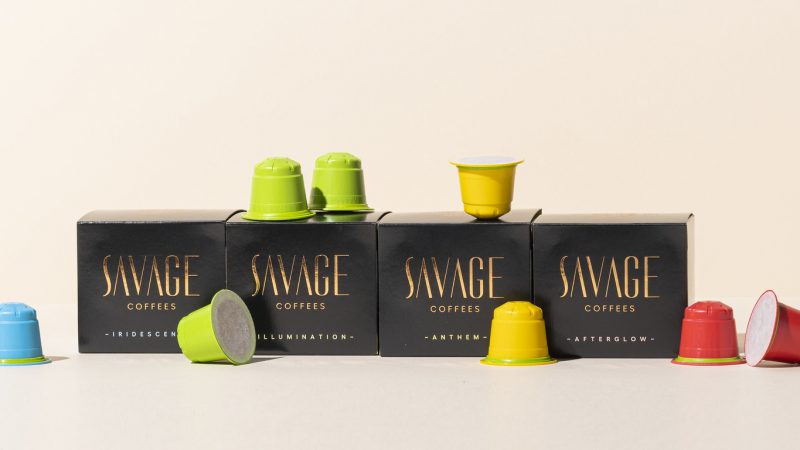 Your capsules are also environmentally friendly – how did you manage to combine ecological solutions with durability of flavor?
The capsules are made of sugar cane based resin. This makes them fully compostable and recyclable, and this applies to the entire pods, including the lid. In addition, they are equipped with an oxygen barrier that protects the coffee inside and maintains its quality for more than 12 months from the date of production.
We grind coffee using special roller mills that ensure an even grinding fraction, which we measure by laser for each production batch. No home or even professional grinder can come close to this level, which also speaks in favor of this technology.
The technology behind the encapsulated coffee is really impressive and easy access to the best coffee sounds great. But… instant coffees are a real coffee heresy for some! Where did the idea for instant specialty coffee come from and can it taste good?
Instant coffees are an extension of our philosophy of reaching a wide range of consumers who look for unique products. Thanks to technological development, instant coffees can now taste like a very good pour-over coffee. If we combine it with our coffees, we get incredible ease of preparation and uncompromising quality in the cup. In this experiment, we went all the way to New Zealand, where this product is made.
Soluble coffees at this level have not existed so far, I can say that we are the trailblazers in this segment and we take a little risk, but the product in a cup stands for itself, so it will certainly find its fans who want to drink delicious coffee, e.g. on an airplane, in a tent, on a mountain trail, or simply wherever they have access to hot water.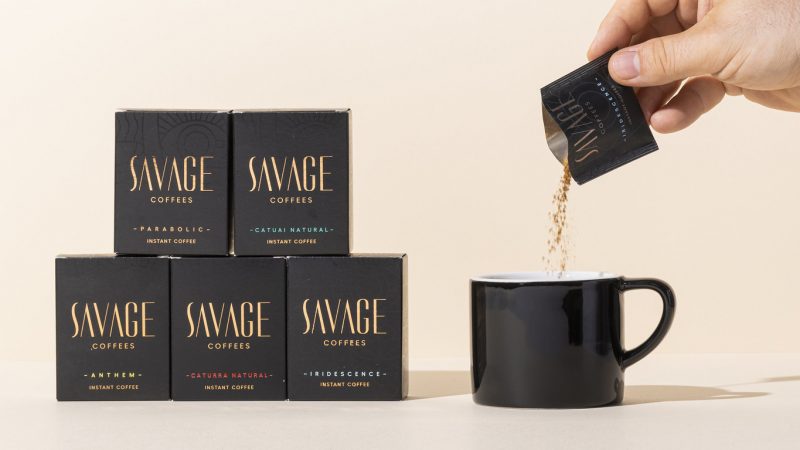 What is your role in the Savage Coffees project? Is the collaboration between Poland and Panama a big challenge?
As it happens with projects at an early stage of development – I deal with everything: from building the production chain, through creating and testing products or brand image, to handwriting labels and packing and sending coffee to customers. In Panama, we employ several dozen people on farms, in addition, we have a marketing team in Poland and the USA, and we also cooperate with roasteries from Europe, Australia and Canada. This is a big challenge for me, but this effort is regularly appreciated by our clients, which gives us a lot of energy and allows us to believe that we are heading in the right direction.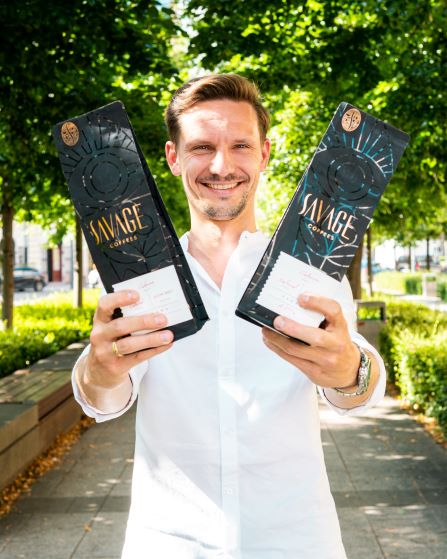 What are Savage Coffees' goals for the future? Is there anything else to discover?
I can't reveal all the secrets yet, so I encourage you to follow us on Instagram, where we regularly share the news. Certainly, our long-term goal is to reach a growing group of specialty coffee lovers – we want our coffees to remain perfect, and at the same time easily available and not requiring specialist knowledge to be able to enjoy them. We will undoubtedly expand the portfolio of coffees available in capsules. The success of this product has encouraged us to develop this branch and this year we are planning to expand the range of flavors in our offer.
We are still looking for new ways of development and innovations combined with quality are our driving force, so I can reveal that we are already working on another breakthrough product, but more about it in the future. 😉
Maciek, share your secret with us, how do you deal with so many projects and what will be your next surprise for us? 🙂
Creating Savage Coffees is actually after-hours work as my professional home is Coffeedesk and this is where I clock in most of my working time. Organization helps me – I start every day with a to-do list, but also every day unexpected things and challenges come up and they become the highest priority. It's not easy, but the joy of the work done, a great team you can count on and sometimes the satisfaction of a well done job help: the first time I held a packet of our coffee capsules in my hand I felt proud and I knew that it was worth pulling all those all-nighters to create this product.
Nevertheless, in this sheer volume of activities, it is important to find time for the things that really matter – in my case it's my family and traveling, which I try to spend every spare moment on.
Of course, I have more new actions up my sleeve in future, but let them speak for themselves when the time comes!