The Comandante grinder is gaining more and more esteem on the baristic ground. Is it indeed an indespensable tool or just an expensive whim?
Well, maybe I am biased but how not to be when Comandante has been the leading grinder for 4 years and I have been using it every day. From the first version to the secret designs that have not yet seen the light of day.
Comandante MKIII Nitro Blade is the most pampered child of the whole C40 family.
Today, however, I do not want to focus on tests, settings and grind sizes, but on the materials from which the grinder is made.
Nitro Blade
The patented steel of the burrs: High-alloyed, high-nitrogen stainless steel with a fine martensitic matrix.
To explain:
Martensitic stainless steel is one of the groups of stainless steel with high performance properties intended for cutting tools. Such steel shows high hardness and resistance to abrasion. Nitrogen is the austenite forming element and causes significant strengthening of the steel. The addition of Nitrogen in martensitic steel also improves its anticorrosive properties.

(Literature: Standard PN-EN 10088-1÷3 Corrosion resistant steels, . L.A. Dobrzański, Metaloznawstwo opisowe stopów żelaza, Publ. Politechnika Śląska, Gliwice 2007.)
What is worth remembering? This steel is very inert, which means sensorically neutral. It is of fundamental meaning, particularly if you grind delicate high-quality Arabica beans with their typical complex acidity.
The geometry of the burrs
The geometry, shape and angle of the burrs used in Comandante C40 MKIII are not a commercial product which we often come across in case of other popular brands. Comandante Engineers themselves have created and patented the conical shape of burrs to avoid obstruction while grinding. Why is it so important? Because when there is an obstruction, there is also more risk of friction. So what is friction? Friction is production of dust that is finally redundant, especially when you grind for alternatives, and strongly disliked by baristas. It has influence on the sensation of bitterness in coffee and interferes with clarity of its taste.
Aluminum body?
It should be noted that in Comandante grinders you will not find any element made of aluminium, which is quite often used in grinders by other manufacturers.
Asking why? Due to aluminum citrate which is not only water soluble but also easily absorbed by human body. That citrate accumulates in the brain and after many years it causes e.g. Alzheimer's disease or amyotrophic lateral sclerosis. How is it formed? When aluminium gets in touch with citric acid. In the case of coffee, especially light roasted Arabica, there are fairly high concentrations of citric acid. That is why it is worth remembering, especially when you grind, for example, light roasted coffee from Kenya.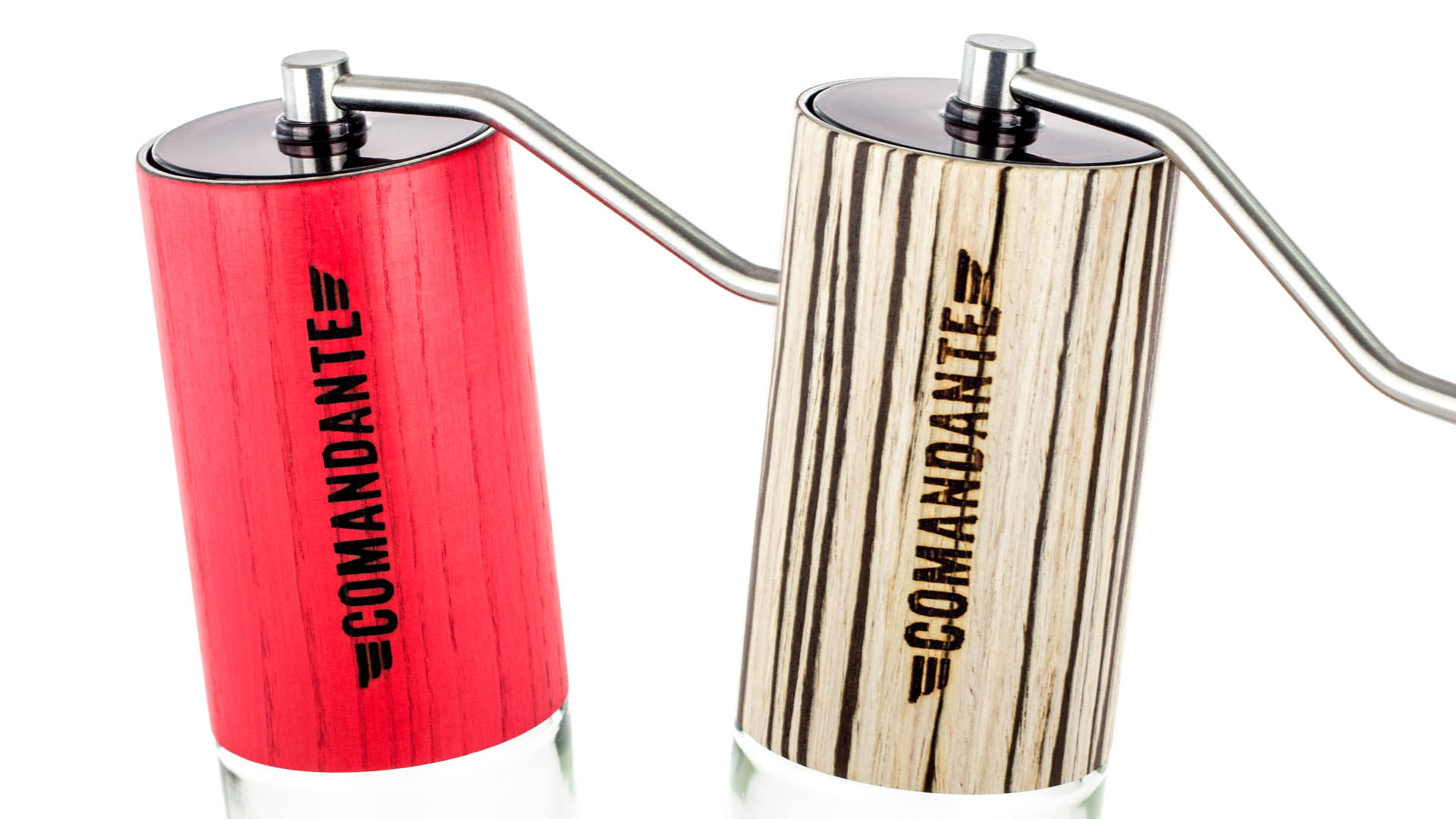 Safe Tritan ™
Quite an important fact is that the plastic used in the grinder is safe, especially in terms of food contact safety. Tritan has good chemical resistance, no effect on taste and it does not form compounds with food or drinks. The plastic is also non-toxic, as it contains no Bisphenol-A (BPA). It is inert so it does not react with any materials. It is used e.g. in the production of dummies or milk bottles for babies.
Oak
The knob made in the Black Forest provides the perfect ergonomics. Significantly, it is natural oak wood machined to gain the right shape, using an old machine that is over a hundred years old. Recently, a new version has appeared: Big Joe that provides much better grip and, I'll quote: "adds a few points to the grinding speed".
Conclusion
The Comandante grinder is for many coffee lovers, or Coffee Geeks, the tool to use for years. Made of the best possible materials, it will not fail even the greaters haters. What impresses me is the quality of workmanship, materials used in production, ergonomics and performance. Many popular electric grinders do not grind as good as this small miracle. Significantly, one of the best espresso that I had the opportunity to drink was brewed with coffee ground using the manual Comandante grinder! Can't believe it? Find out for yourself!
Fortune favours the brave!