Warm, warmer, boiling hot. On hot summer days the only salvation is a good, refreshing cup of cold brew prepared from your favorite coffee beans. Cold macerated coffee tastes great, perfectly quenches thirst and, despite what you might think, gives you a nice boost of caffeine, which effectively gets you back on your feet and ready for action. And today I will tell you what you can add to your cold brew coffee to make it even more delicious, more refreshing and stimulating.
Cold brew
Cold brew coffee is prepared mainly from light roast beans, i.e. those that are typical for alternative coffee brewing methods, less often from medium and dark roast beans. But don't think that it will taste similar to a regular hot brewed coffee or iced coffee. Cold-brewed coffee is more delicate, devoid of typical bitterness and acidity, and yet it has a deep aroma of clear, well developed fruit and floral notes. I will not give you a golden recipe for the perfect cold brew coffee because you can successfully experiment with the type and amount of coffee and the maceration time. What's more, you can prepare just as good cold brew coffee in a convenient designer bottle as in an ordinary jar, all you need to do is to carefully filter the brew later. The cold coffee obtained in this way will be an ideal base for delicious summer beverages with a handful of ice cubes and various additions.
We wrote
HERE
how to prepare cold brew!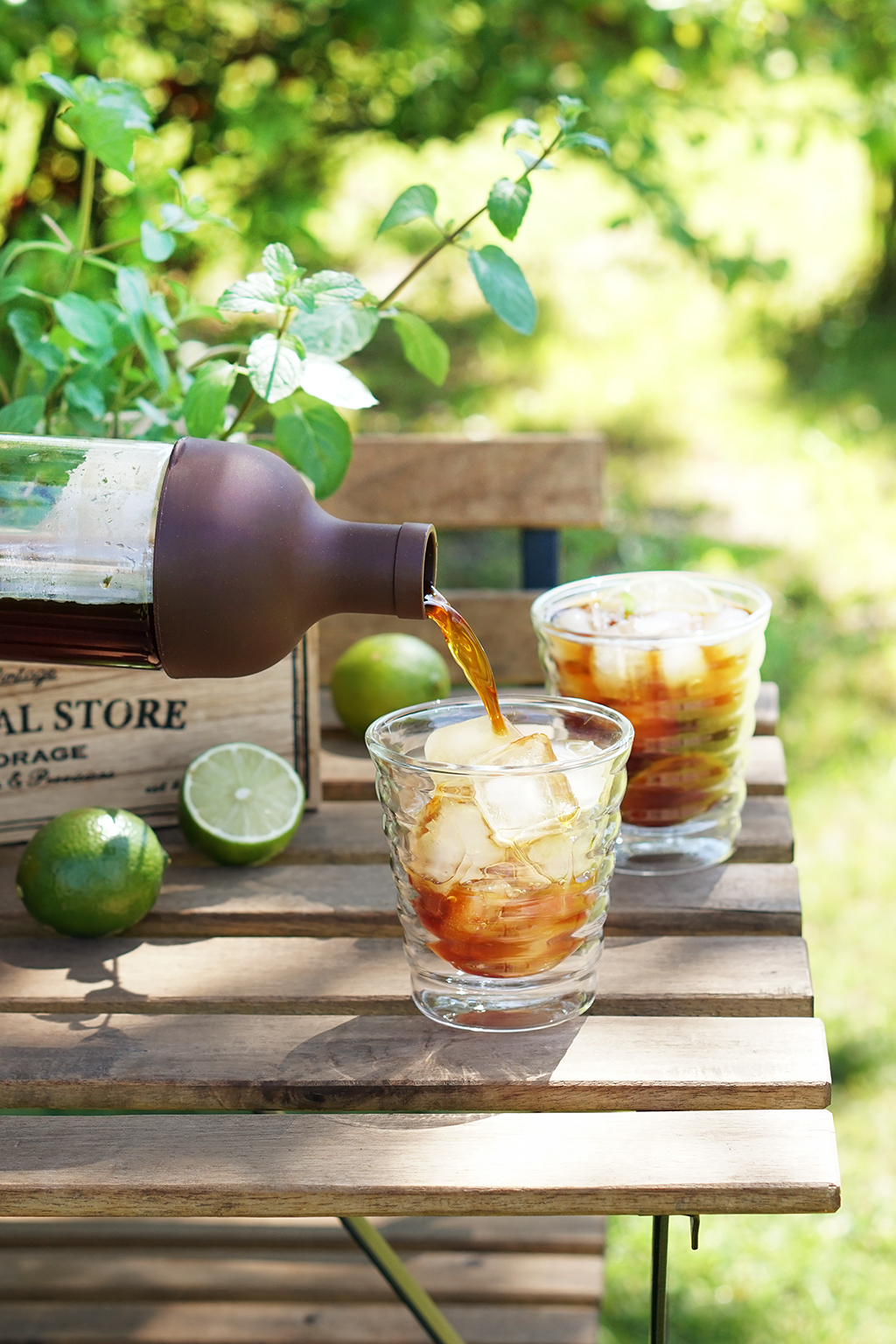 So, cards (or should I say: coffee) on the table… what can you add to a cup of cold brew?
Fresh fruits
Fresh, juicy fruits comes first to my mind when I think of a cold brew. There are no rules as comes to choosing fruit, just follow your own taste and preferences, because most fruit combine and complement each other creating really interesting compositions. You can choose local, seasonal fruits, but exotic fruit will also work great. And so, slices and a bit of juice squeezed from an orange, a lime or a lemon will wonderfully boost the citrus aftertaste of coffee.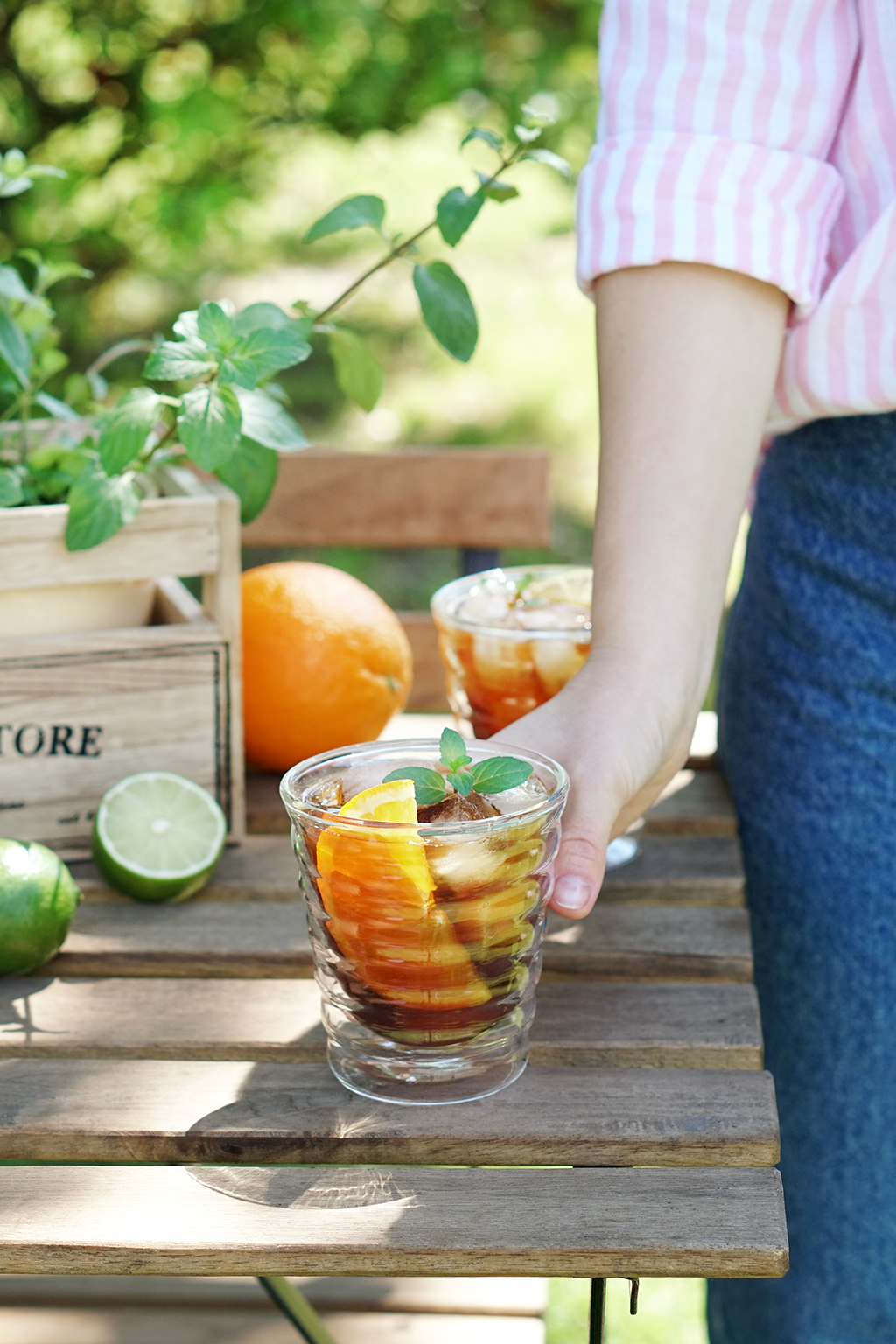 In turn, sweet strawberries, raspberries, peaches, lychee and melon will perfectly emphasize the sweetness of the black beverage. It is best to add fruits to a glass of an already brewed coffee, just before serving, and gently press to release more of their aroma. First of all, I do not recommend putting whole slices of citrus in a cold brew juge / jar and keeping it in the fridge for hours, because the brew can become unbearably bitter. Instead, it is worth experimenting with just the zest, adding it already during the maceration. Just remember to remove the white portion of the peel, otherwise, the effect will be similar to soaking whole slices in coffee over a long time.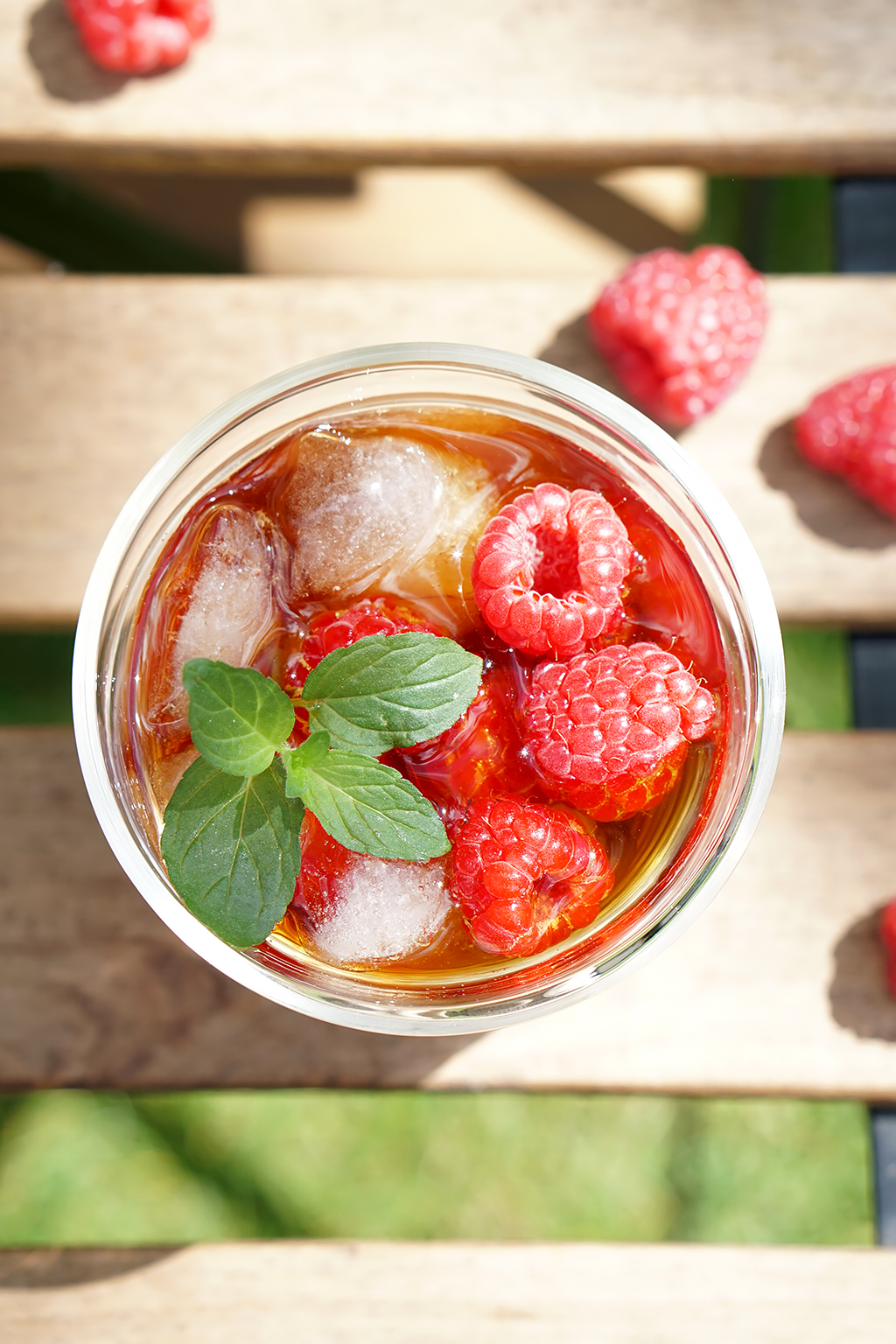 Herbs
Two summer classics, i.e. mint and melissa. Until now associated with lemonade, they land in a cold brew coffee. Extremely aromatic peppermint leaves leave a pleasant feeling of coolness in the mouth, unbeatably refreshing and stimulating. Just like melissa and its extra subtle lemon aftertaste. Both herbs go well with fruit. What's more, mint wonderfully combines with cocoa and chocolate notes. The brave ones should try the unique, slightly honey-like rosemary aroma. Like in case of the fruits, it's best to add fresh herbs to a cold brew just before serving.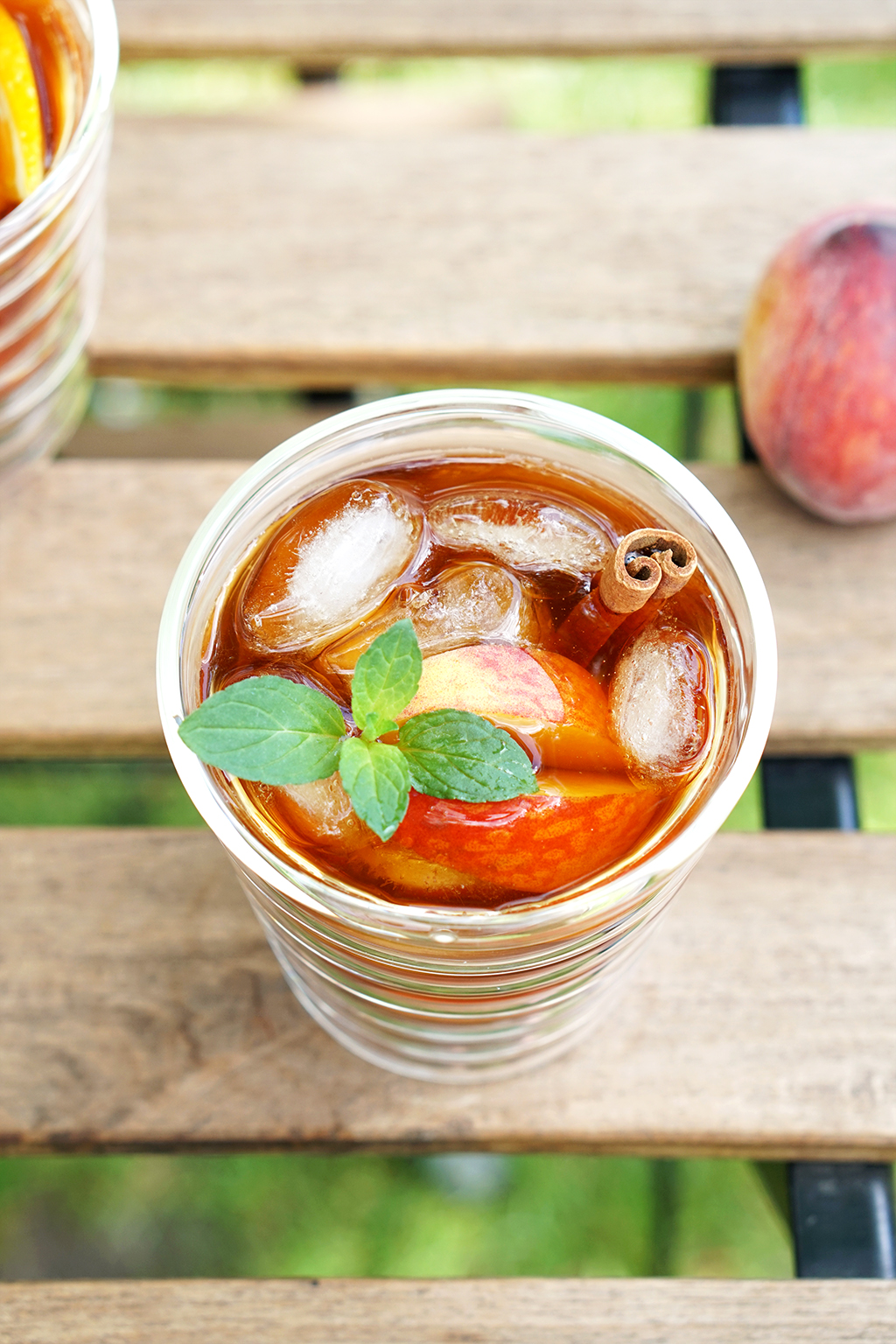 Spices
Is it still not enough? Spice up your coffee. Cinnamon bark, cloves, star anise, cardamom, vanilla… Spices suit both hot and cold coffee. We can add them to the ground beans and macerate them together, or put them in right before serving. In the first case, it's best to be careful and start with really small amounts, especially at the beginning of the adventure with cold brew, because the result can be quite intense. I also recommend starting with one type of spice, and only after some time moving on to creating crazy combinations. You can afford more freedom when adding spices to the ready cold brew, because the flavor is then a little less intense. Also, when you add whole spices, you don't have to change them each time, you can easily pour them over several times. And how does it work? Vanilla and cinnamon will bring out the sweetness of the coffee, the others will add a subtle spicy or pleasantly herbal flavor. Either way, I assure you that the effects are interesting and worth testing.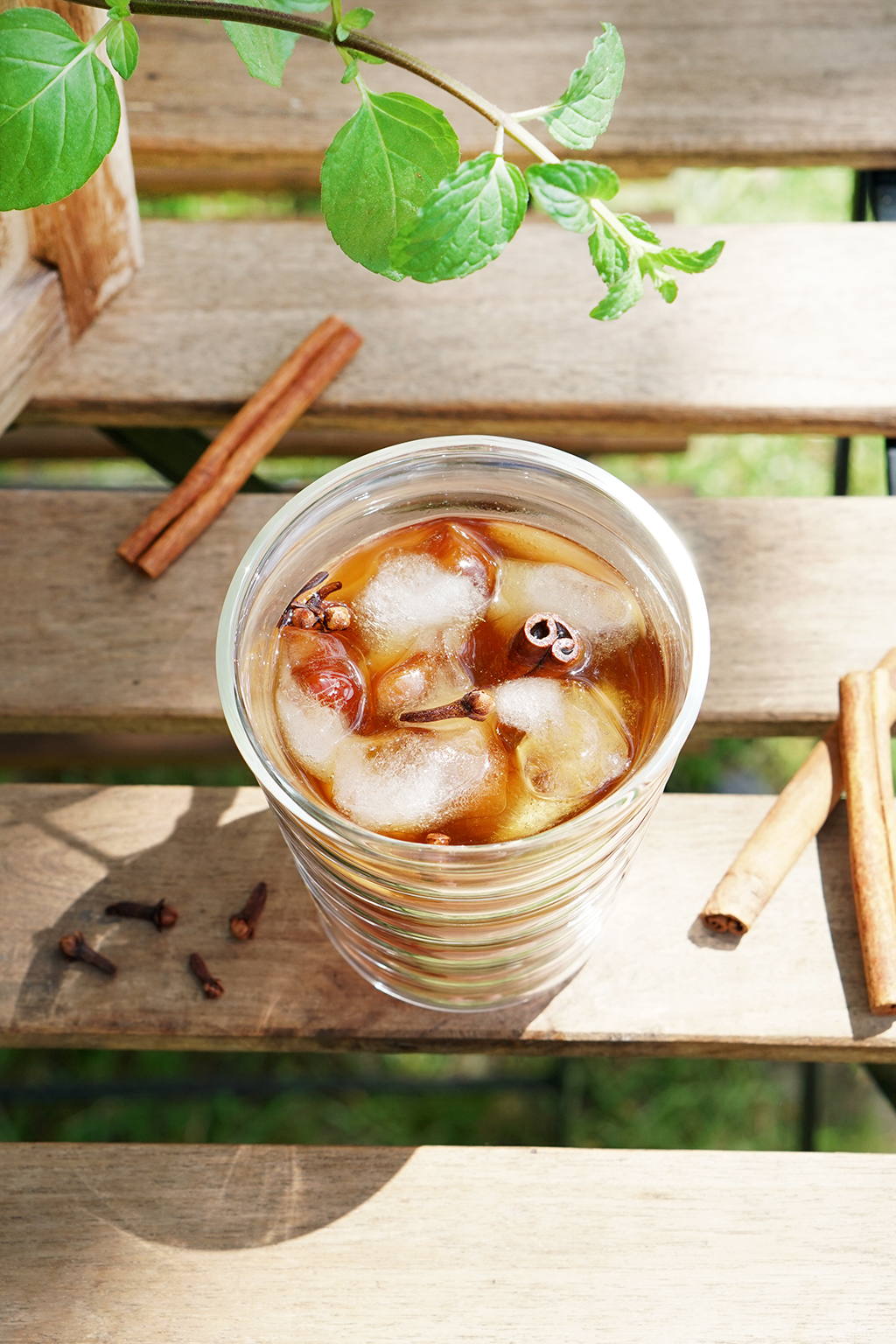 Milk
Now something obvious, that is dairy milk or any plant-based milk. If we can add them to traditional coffee, why not try it with the cold brew. Cold brew coffee with a few ice cubes and milk looks and tastes great. It also combines well with spices, maple syrup and honey.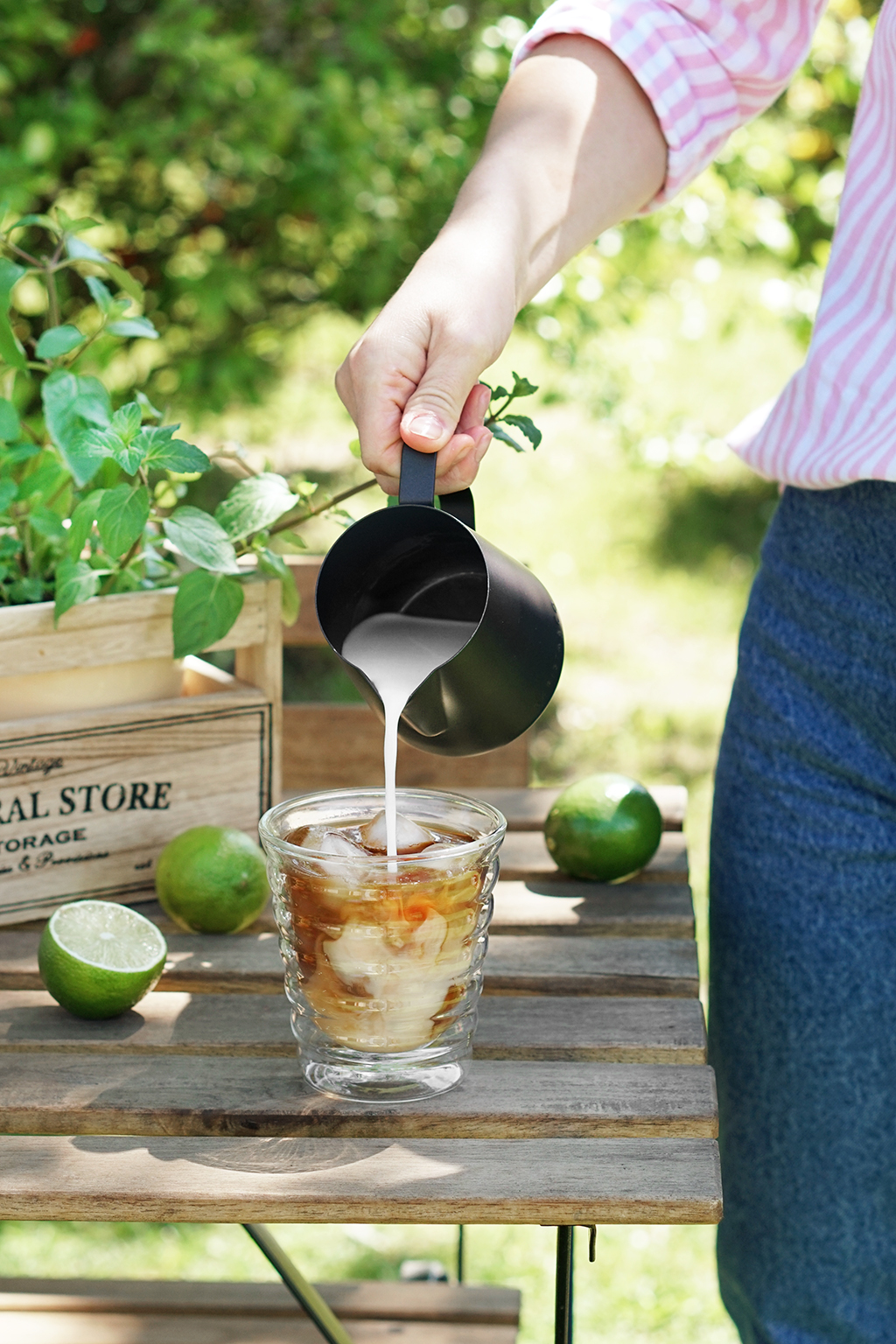 A bit of sweetness
Finally, a bit of sweetness that can complete any combination. It's best to add liquid sweeteners to the cold brew, others will be hard to dissolve. Maple syrup, honey or molasses will work great. Although I don't use sweeteners myself, I think that many people will like this option and it will be a sweet "cherry on top".
As you can see, the options are quite vast and diverse. Enjoy, experiment, have fun. It's worth it. For me, cold brew coffee with additions always comes in when it's just too hot for a hot beverage. And it's a very convenient solution. Coffee is brewed overnight, and then I just take it from the fridge any time during the day and enjoy a delicious beverage with whatever I feel like. Have you already tried? Or maybe the first experiments are yet to come? Be sure to write in the comments what are your favorite cold brew methods.