Mentioned among the largest competitors of coffee, it has loads of desirable properties, from stimulating to healing. Of course, we're talking about yerba mate. What is it and how to drink it? I have decided to take a look at the favorite drink of travelers and athletes to give you basic information in an accessible nutshell.
What is yerba mate?
Yerba Mate is a herbal infusion made from the leaves and stems of the Paraguayan Holly. Although called a shrub, it is still a tree, and it's evergreen! Yerba is drunk mainly in South America, and Paraguay (surprise) is considered its homeland.
How does yerba mate get to us? Leaves and twigs are cut from the tree, then they go through sorting, cutting, crushing, toasting, aging, and finally they can be flavored and mixed with other herbs. Then they get straight to the package and on the way to Coffeedesk, and over to you. In terms of logistics, it looks similar to coffee, that is n farmers who do not own factories often sell their yerba stems to larger producers.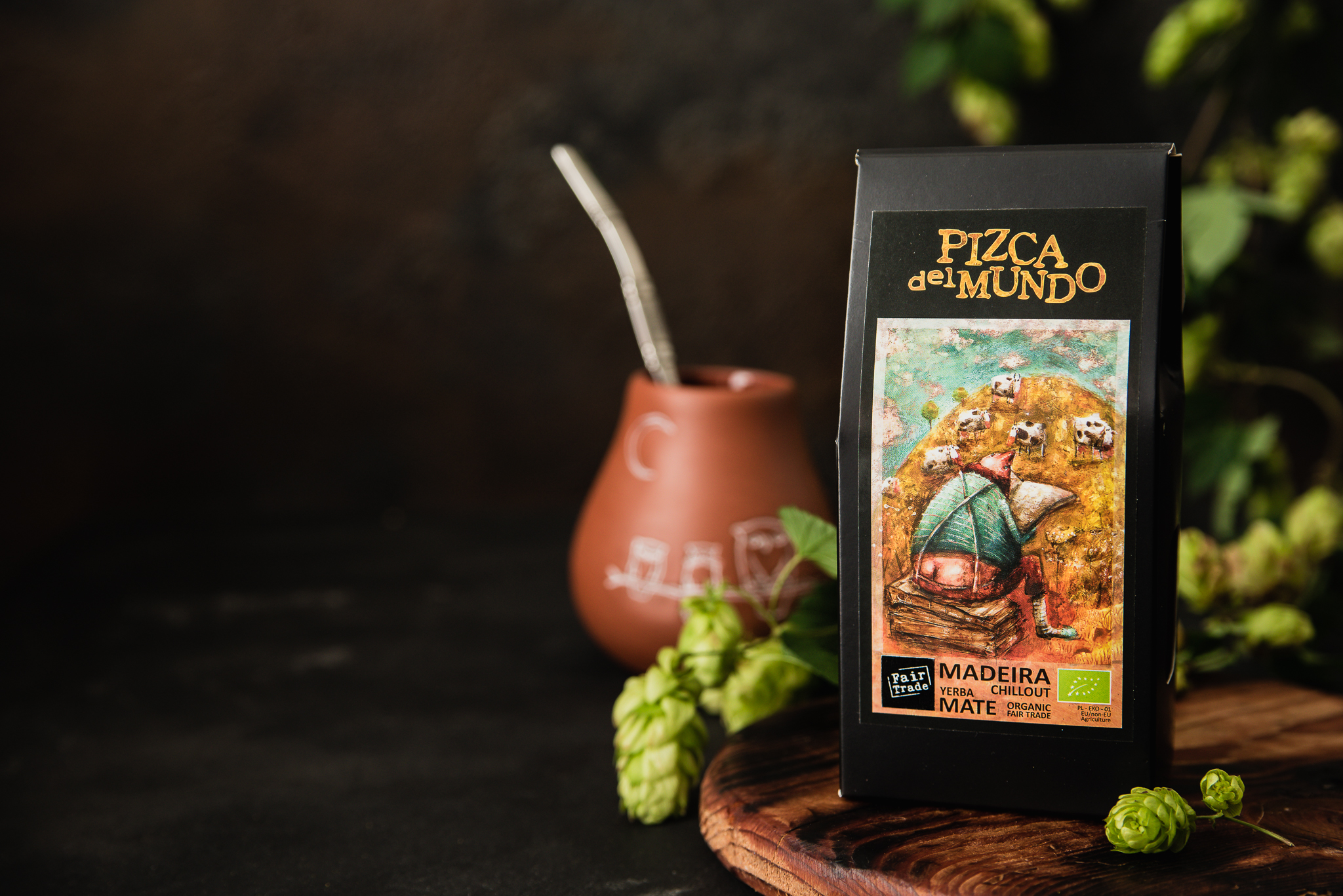 How to drink yerba mate?
Does mate gourd (matero) and bombilla ring a bell? No, they are not heroes of children cartoons, but a traditional yerba mate pot and a straw. Mate gourd, that is, the pot, most often characteristically oval, is made of various types of materials, but the most Paraguayan mate gourds are made from the sacred Palo Santo tree. This unusual wood (often burned as incense) additionally gently aromatizes the infusion. Other traditional pots include calabash or ceramic Argentine gourds and guampas from bull's horn.
Bombilla could have also once got into your hands and raised questions: what is such a funny tube for? Long, metal and that strainer at the end, what would that do for yerba mate? How to drink that? Verified information: it's good stuff for drinking ordinary loose leaf tea. However, bombilla is made specifically for yerba. When you drink from a mug, crushed leaves and twigs of yerba mate float on the surface and get into the mouth, spoiling all the taste and charm of the moment – that's why a straw-strainer was created. Used with a good gourd, it makes the drinking process as easy as it can get.
But listen, you don't have to own all the equipment right away! For starters, a large cup and something that separates you from the twigs, or a dose of angelic patience, is enough to strain the tea leaves through your teeth.
Below is a step-by-step instruction on how to drink yerba mate:
Put yerba mate to the cup between 1/4 and 3/4 the size of the cup. It all depends on how strong taste you want to get and how finely crushed the yerba is (if there are no stems, put less).
Then you need to cover it with water at a temperature between 70°C and 80°C. To get the right temperature without a thermometer, you can turn off the kettle before it starts to bubble, it's the moment when the water turns white. If you miss it, after boiling, open the kettle for 5-10 minutes and the water temperature will drop accordingly. It is worth remembering, because too high temperature will release all the worst bitterness from the infusion.
Put your bombilla equivalent in, add water, wait 5 minutes and it's ready!
Remember not to move bombilla while drinking, so that it does not clog, and after drinking you can pour water over the same yerba mate again even several times.
When you get the hang of it, it's best to choose the proportions you like, and brew it like on the streets of Paraguay… No stress, no measures, no stopwatch …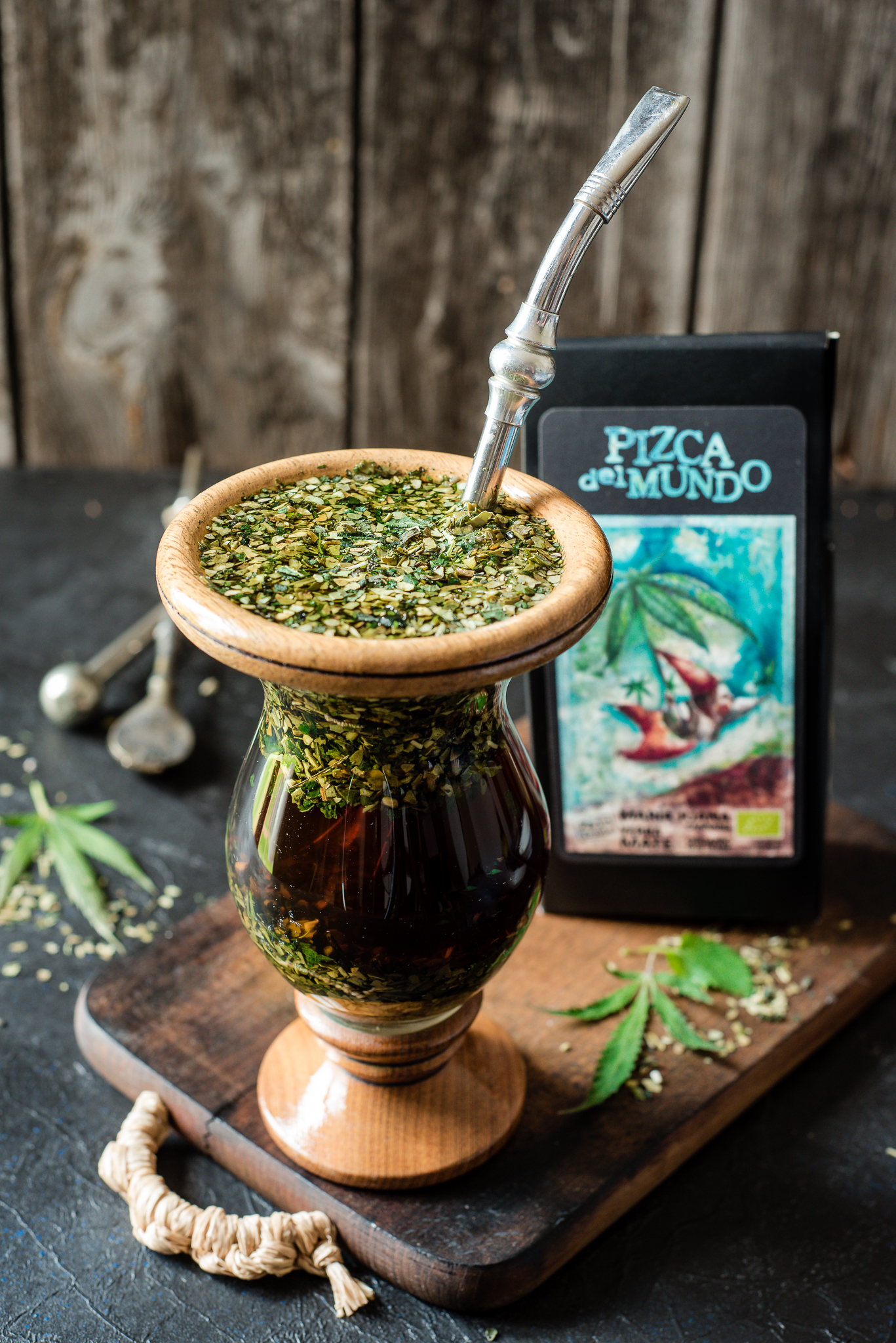 Flavor notes in yerba mate
Everyone who has ever tasted yerba will agree – the first time is extremely tasteless. Bitter, herbal in taste and somewhat cloudy, it can immediately put you off for a long time. However, they say that after a few more cups it starts to get pleasant, the tongue notices new flavors, and the brain begins to yearn another sip. So, even if you don't like it right away, you'll definitely come to like it some other time.
Among the natural flavor notes in yerba mate, you'll find hibiscus, walnut, apple, flowers and mushrooms. In addition, a strong or stronger aroma of smoke, which arose during the toasting process. Yerba mate is often mixed with other medicinal herbs, dried fruits and flowers, giving them a natural, wonderful aroma. There are also plenty of yerba mate kinds on the market, flavored with artificial aromas. Some recommend to start your adventure with them, because the bitterness is smaller, and instead of yerba, you taste orange or strawberry. If natural yerba mate does not suit your taste, but you want to use its properties, let it be flavored. However, as with coffee – the fewer additions, the better. If you are no stranger to the world of specialty coffee, then you know that the best aromas are noticed with time.
For the same reason, I think that sweetening yerba mate is fine at the beginning, but when you polish your brewing skills and get used to the bitterness, it's better to put away any sweeteners. In South America, stevia is used instead of sugar, which better complements the natural taste, and no one makes fuss when you put a bit of stevia in.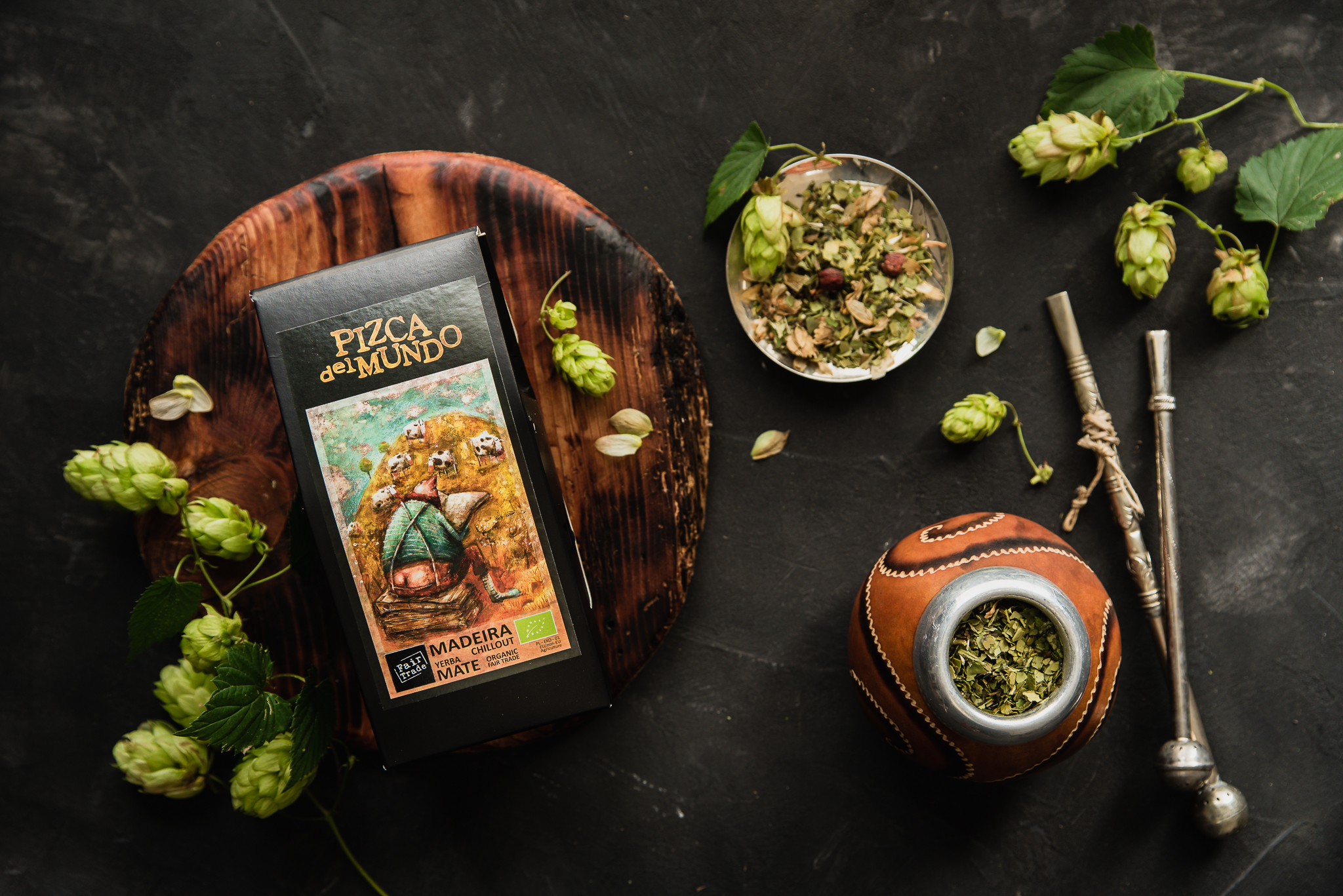 Yerba mate and its properties
The wonder of yerba mate's action is to stimulate the body and mind. We are better focused, less tired, with a magically better attitude to the world. The healing properties of yerba mate are appreciated in supporting the treatment of arthritis, cholesterol, depression, overweight, hypertension and many other diseases. The list is long because yerba mate has a lot of vitamins and substances that improve the overall work of the body, which makes it a great companion when you need to overcome a disease, finish an important project or simply face the next day.
Often valued more than coffee, as it does not rinse magnesium and is less harmful. However, don't think that it's completely safe, because, like every booster, it has its disadvantages, and as this drink is still not very popular, it is also not very well studied. It can be overdosed, which results in excessive agitation and irritability, and it can also disturb sleep patterns.
Comparing the stimulant effect of yerba mate and coffee, you can see that yerba mate has a softer and longer effect, with a milder finish than coffee. This is not only due to caffeine, but also purine alkaloids, unusual for other stimulating drinks that drive all life processes, affecting the cardiovascular system. The average caffeine drinker will notice a visible caffeine spike after black coffee, and not after yerba, but no wonder – yerba has a lot less of this caffeine. However, each person reacts differently, some are strongly stimulated by espresso, and it barely opens my eye. One could say that if espresso stimulates you too much and tea too little, yerba will be perfect.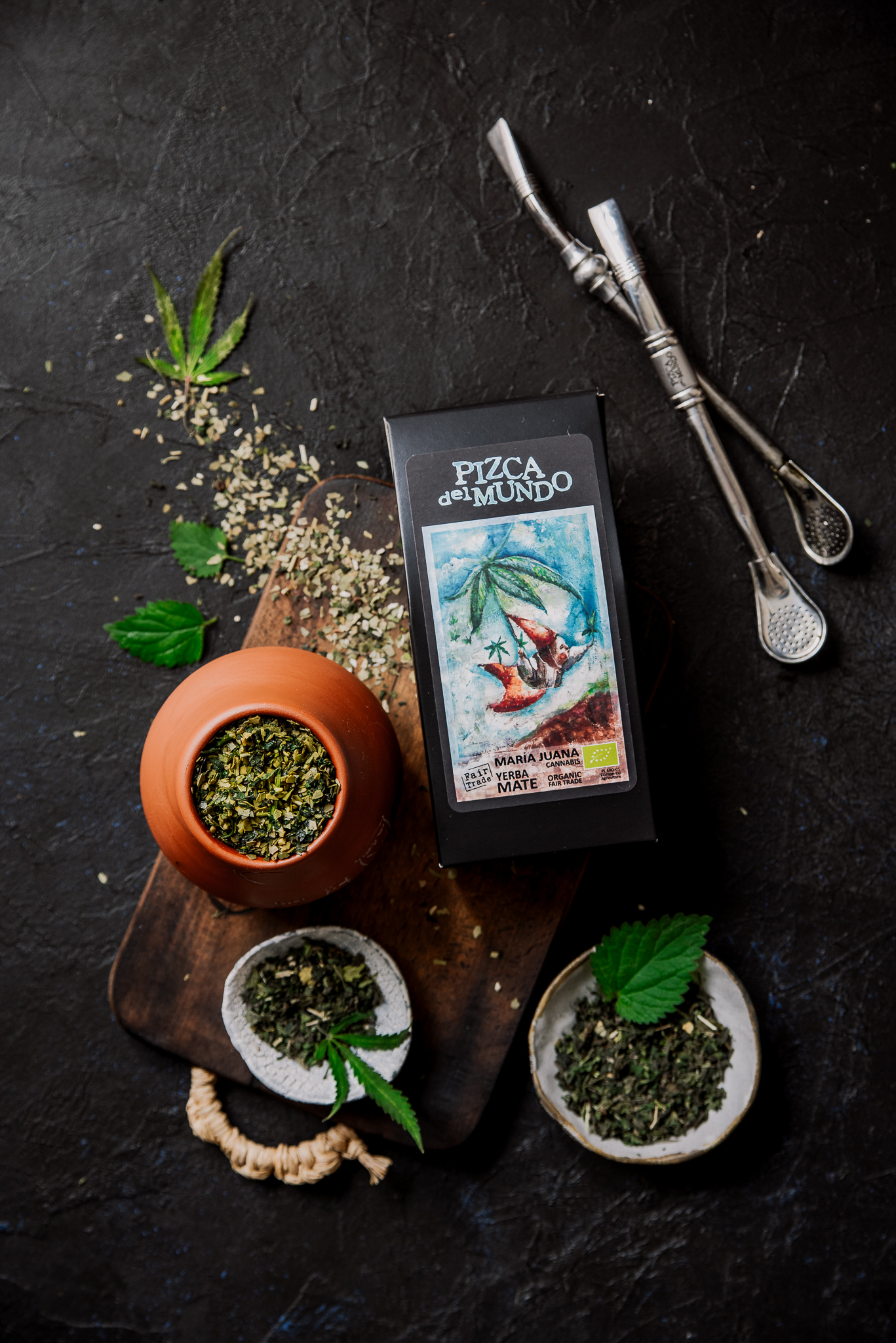 In Coffeedesk you will find everything you need to start your adventure with yerba mate. A lot of classic yerba mate, some of these naturally flavored (for example delicious pomelo with grapefruit) and even yerba in bags from reliable Teapigs. I encourage you to try and break through the first barrier of bitterness and take advantage of the whole range of benefits offered by drinking the infusion of inconspicuous leaves and twigs of Paraguayan holly. Brewing them is a nice ritual that, though stimulating, is at the same time relaxing and puts you in a really good mood.