Sometimes, you don't feel like having several brewing devices. You want something simple to brew a lot of coffee at one go and without having to focus too much on the preparation process. But then again you wish you could make coffee in several different ways, because you might feel like it one day. And yet, the device shouldn't take up too much space. A complex situation. The Fellow Duo Coffee Steeper can solve this puzzle.
A multi-appliance
A while ago, Fellow, known mostly for its designer pouring kettles used for alternative brewing, released a brewer: Duo Coffee Steeper. Its design may differ from the kettles; still, it is not about the appearance, but about the multifunctionality.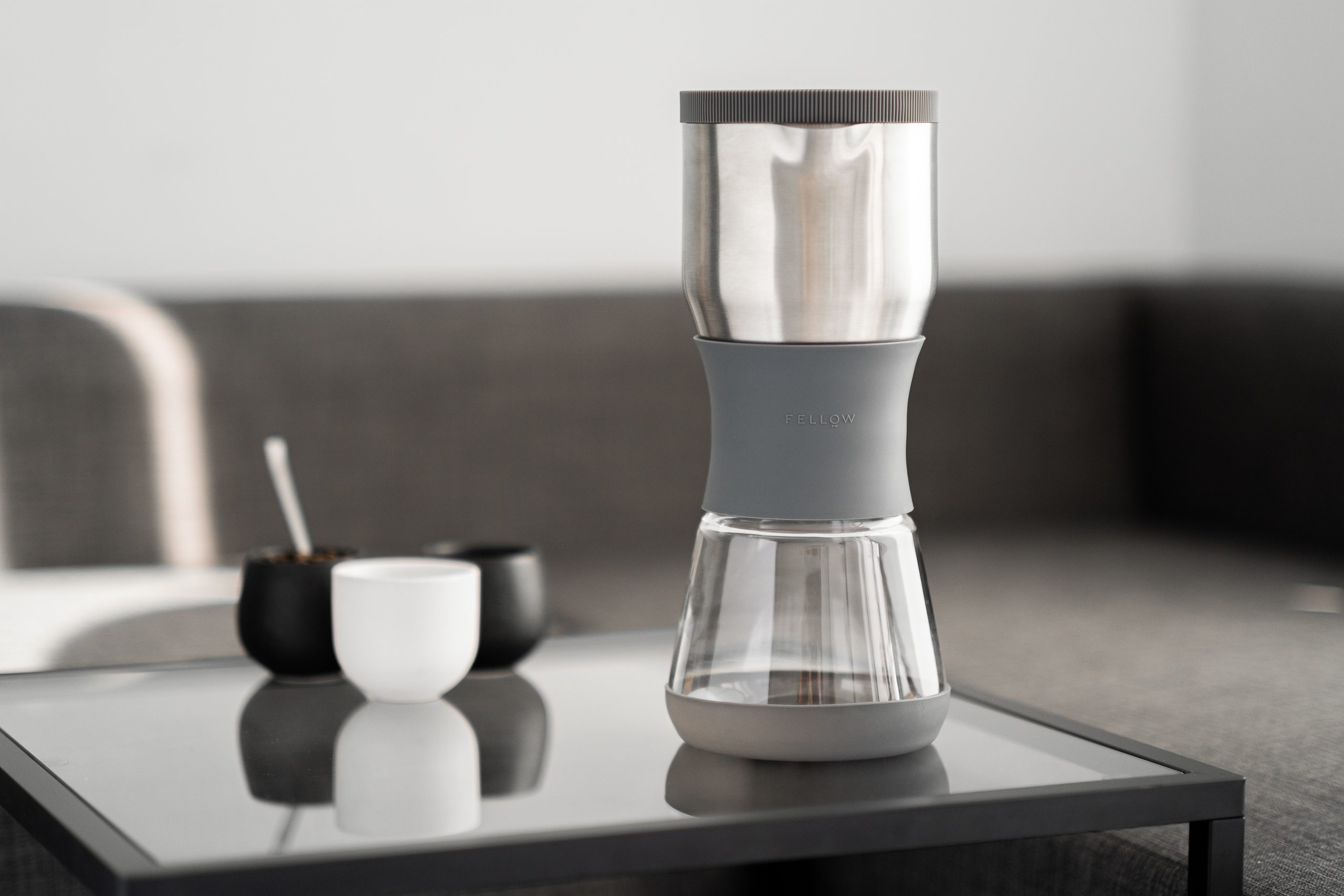 The Fellow Duo Coffee Steeper can be used as a brewer for both hot and cold coffees, such as cold brew or iced drip. However, this device doesn't work like the classic V60 dripper or the Chemex. The idea behind it is similar to the Clever Dripper, because the coffee will begin passing through the filter only once you unblock the flow. So you can keep the grounds soaked in water for several hours in a row and then make a cold brew, or you can pour hot water over them and enjoy a hot, fresh pour-over in a matter of minutes. By placing ice cubes in the lower chamber, you can make an iced pour-over, which is a great brew on warmer days.
Testing this device, I have realised there are a few other solutions…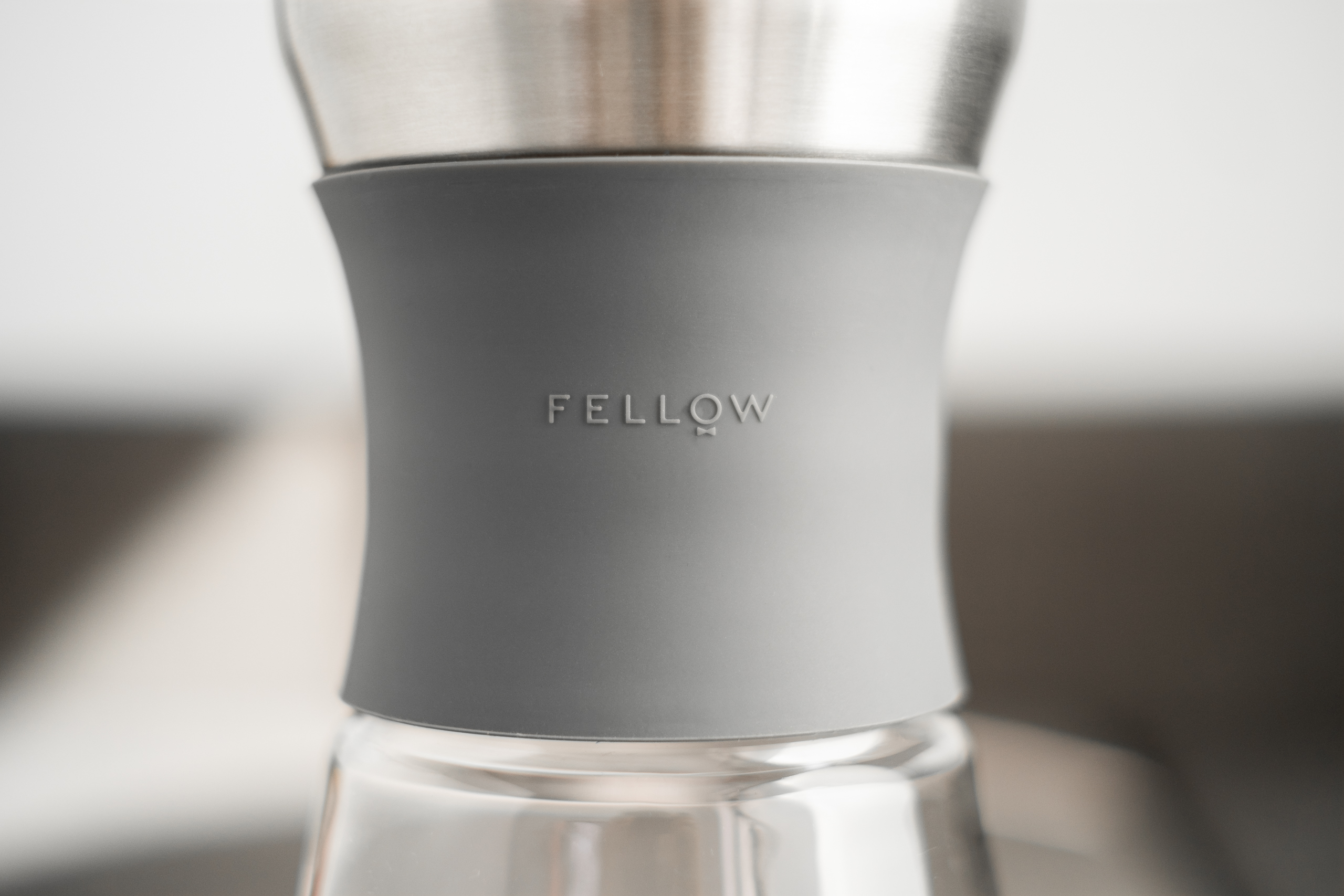 Function
The Fellow Duo Coffee Steeper doesn't rely on paper filters. Instead, it has a metal cone filter with really fine holes. This means that you won't interfere in the taste of coffee in any way, unlike when using paper filters in the AeroPress, V60 or Chemex, which sift out some of the coffee ingredients.
Of course, this gives rise to other matters – if you have a grinder of poorer quality, it will produce much dust, some of which will end up in your coffee. As a result, it will be difficult to make a brew that is very clean in taste; but there are positives too. Many people like heavier coffee, especially if they have switched from instant coffee, ground coffee mixed with water or the Americano. This is the same situation as in the French Press, where a bit of the sediment passes into the coffee through the steel filter.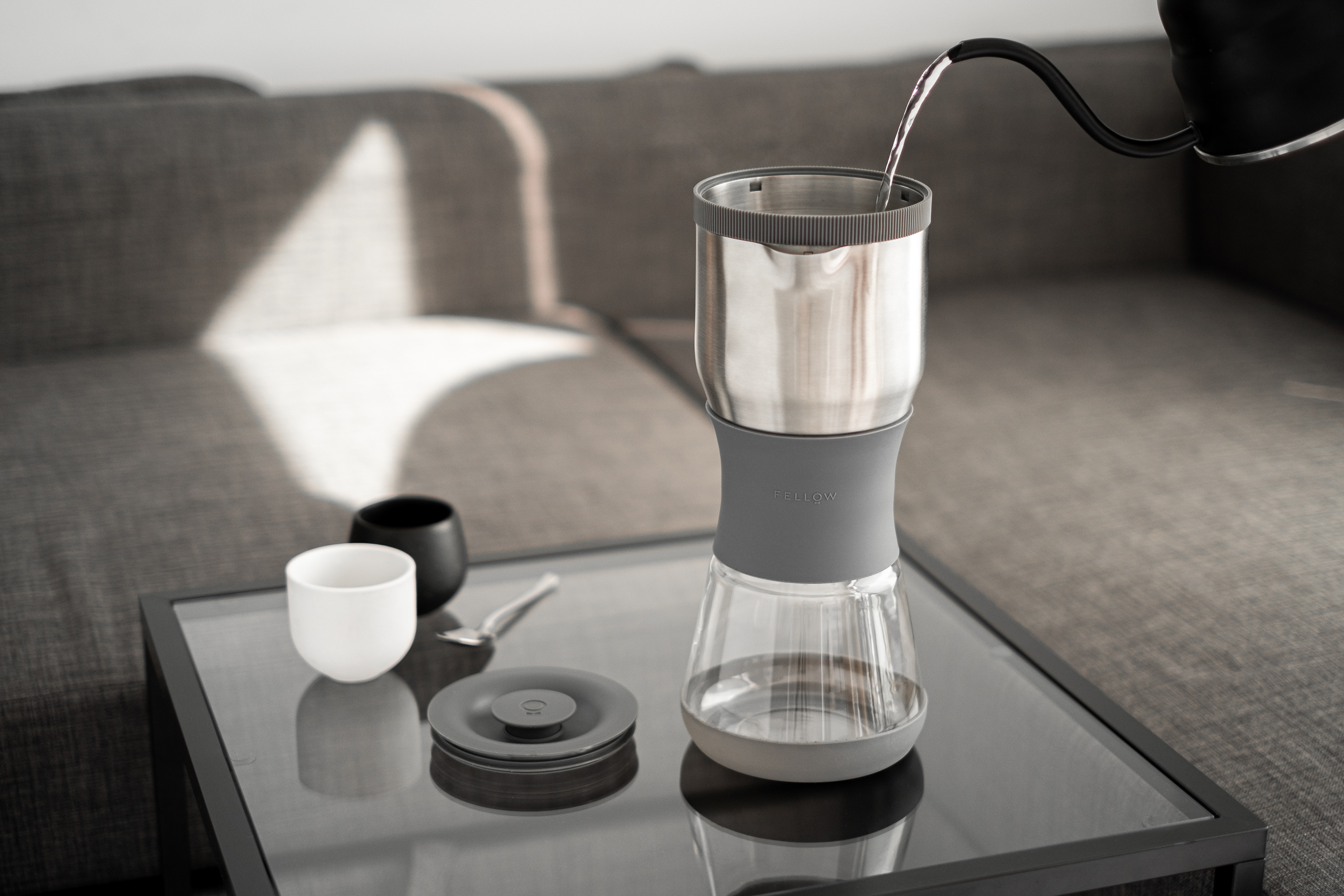 This gives you another advantage, since no interference in the coffee flavour means that it can taste like during cupping, only without the grounds. This is good news to many gourmets. You can drink coffee such as nature made it.
To be honest, I prefer a cleaner taste when it comes to my daily cup of joe in the morning. Fortunately, I have realised that the Fellow brewer can be subtly adjusted and such coffee can be made too.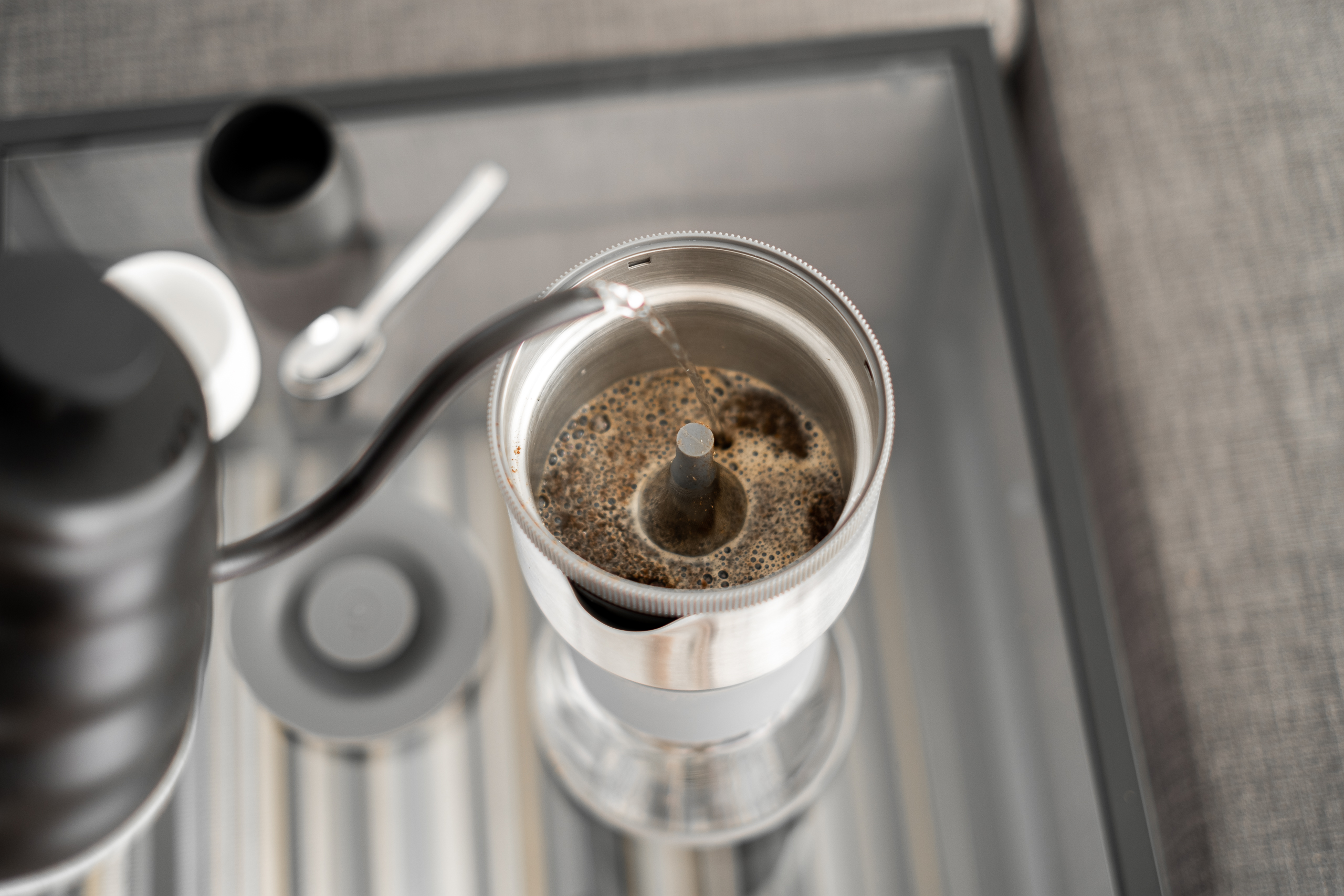 Put a cone filter I mentioned at the bottom of the upper chamber; unlike what's recommended in most solutions, place it bottom-up, like a funnel, but on a base. Pour coffee around the filter and then pour water over it. As long as you don't twist the upper chamber to a certain point, the coffee won't drain out into the carafe. So you can brew your coffee for as long as you wish.
Back to getting a cleaner taste with the Fellow Duo Coffee Steeper – you can place an AeroPress filter under a steel filter at the bottom of the upper chamber. It is a perfect fit. Thanks to that, you can retain some sediment and enjoy a cleaner flavour of coffee. I definitely recommend this solution.
For the whole family
A considerable benefit of this device is that it can make over 700 ml of coffee in one go. The manual recommends using 40-45 g of ground coffee, and since the classic ratio is 1:17, you are going to need 680 to 765 ml of water. By changing the brewing time, you can also brew smaller servings.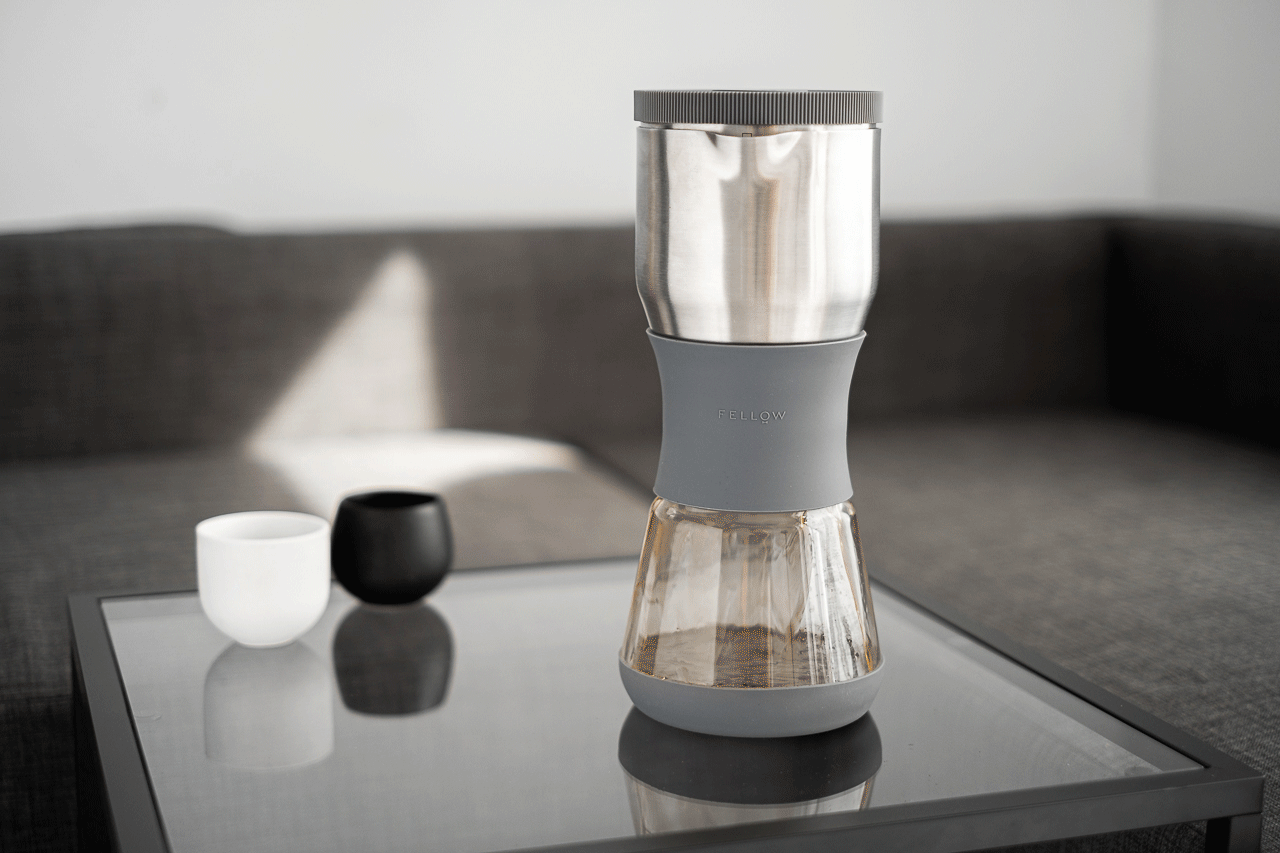 A huge advantage for me, especially when I am in a mess, comes down to the fact that the device involves you as little as possible in brewing. All you need to do is pour in ground coffee, then pour in the appropriate amount of hot water and start the timer. And that's it. No watching over the stream, adding water or fussing about other things. Maximum simplicity coupled with very tasty effects.
I am positive that the Fellow Duo Coffee Steeper will win some admirers, especially amongst Cold Brew lovers, as this brew can be easily prepared in it.