Autumn has settled down for good, which means that it's time to bring on your autumn vibes and enjoy the aromatic and warming infusions filled with positive emotions. So, sit back while I show you how to make three versions of cinnamon tea, perfect for colder days.
How does cinnamon tea work?
Tea with cinnamon is a must-have on the list of simple pleasures to enjoy during the autumn and winter. The sweet and spicy cinnamon wonderfully warms you up, pleasantly relaxes you with its intense, warm aroma and looks great in a beverage-filled mug.
It also has a number of beneficial healing properties. The most valuable substances contained in cinnamon are cinnamaldehyde with anti-cancer effect and epicatechin which supports the functioning of the nervous system. It can also be used as an aid during colds and stomach ailments. What's more, it speeds up the metabolism, and lowers the level of glucose and cholesterol in the blood. So, cinnamon tea is worth drinking not only because of its taste.
Additionally, the infusion with cinnamon can be prepared in many delicious ways, complemented with other spices, fruit or honey – there's something for everyone. So, do not hesitate, stock up on spices and your favorite tea and be sure to test each of the recipes below.
How to make tea with cinnamon?
Chai tea latte
My first suggestion is traditional Indian masala chai, which is a strong black tea seasoned with strong, aromatic spices, honey or brown sugar and milk. It is tea with cinnamon, ginger and cloves, which tastes great, warms you up blissfully and effectively puts you on your feet, just like strong coffee. It takes a few minutes to prepare this oriental sweet and spicy indulgence for the senses, but if it's too much fuss for you, use teapigs Chai Tea – the ready-made blend of the perfect tea and aromatic spices. I have to admit that I'm addicted to masala chai at this time of year and I prepare it almost every day. Depending on how much time I have on my hands, I go for the first or second version. Trust me, both are delicious.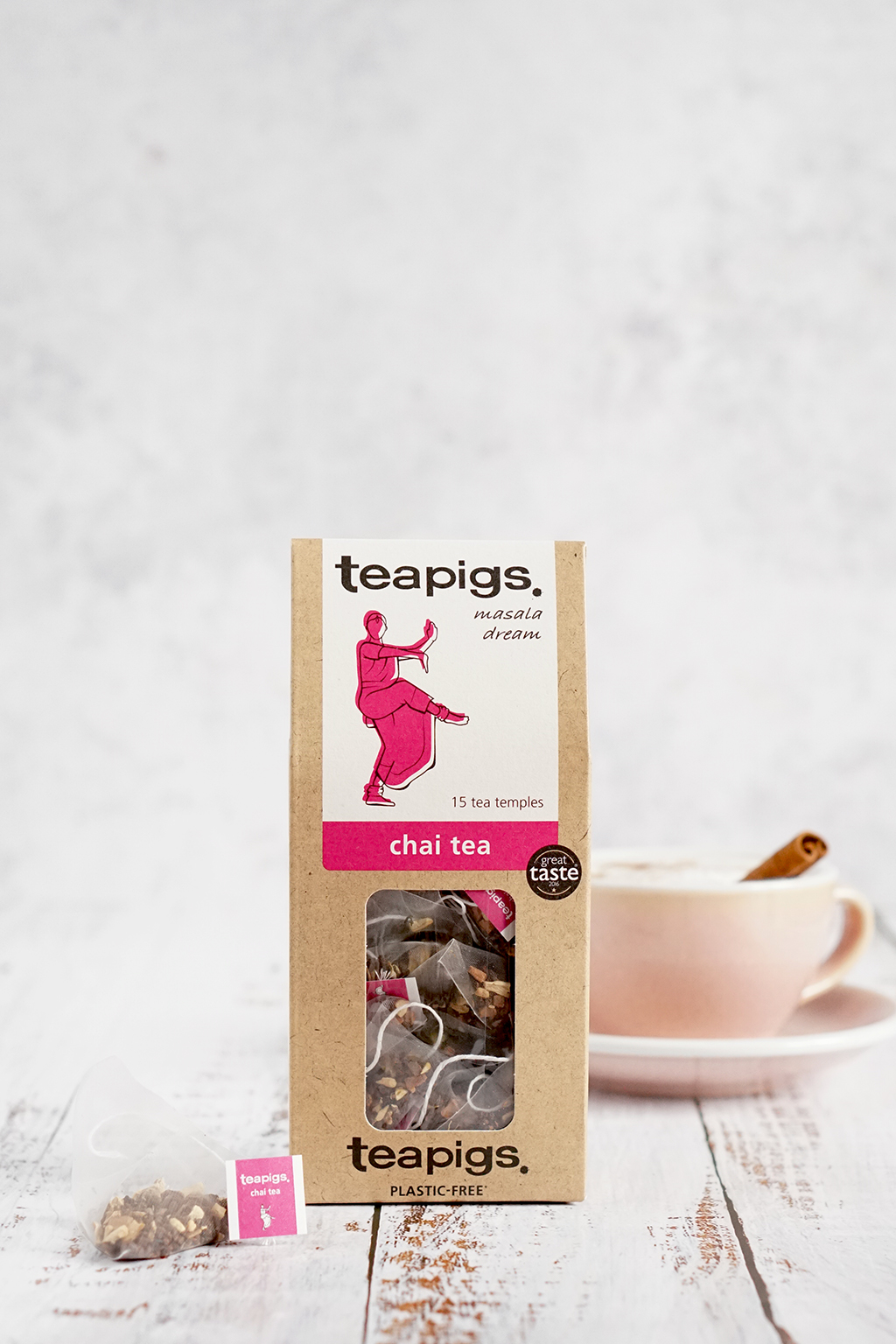 Recipe for chai tea latte
Ingredients:
1 pyramid teabag of your favorite black tea, eg teapigs English Breakfast
250 ml of water
approx. 125 ml of milk
1-2 teaspoons of honey
Spices
1 cinnamon stick
1 cardamom pod
1 star anise
2 cloves
1 slice of ginger
a small pinch of nutmeg
a pinch of cinnamon to sprinkle the milk foam
Preparation:
1. Put all the spices into a small pot, add water and boil for about 5-10 minutes.
2. Remove from the burner, add the tea and steep it so that the infusion is concentrated and intense.
3. Drain the tea into a cup, add warm frothed milk and gently sprinkle with cinnamon. Serve immediately.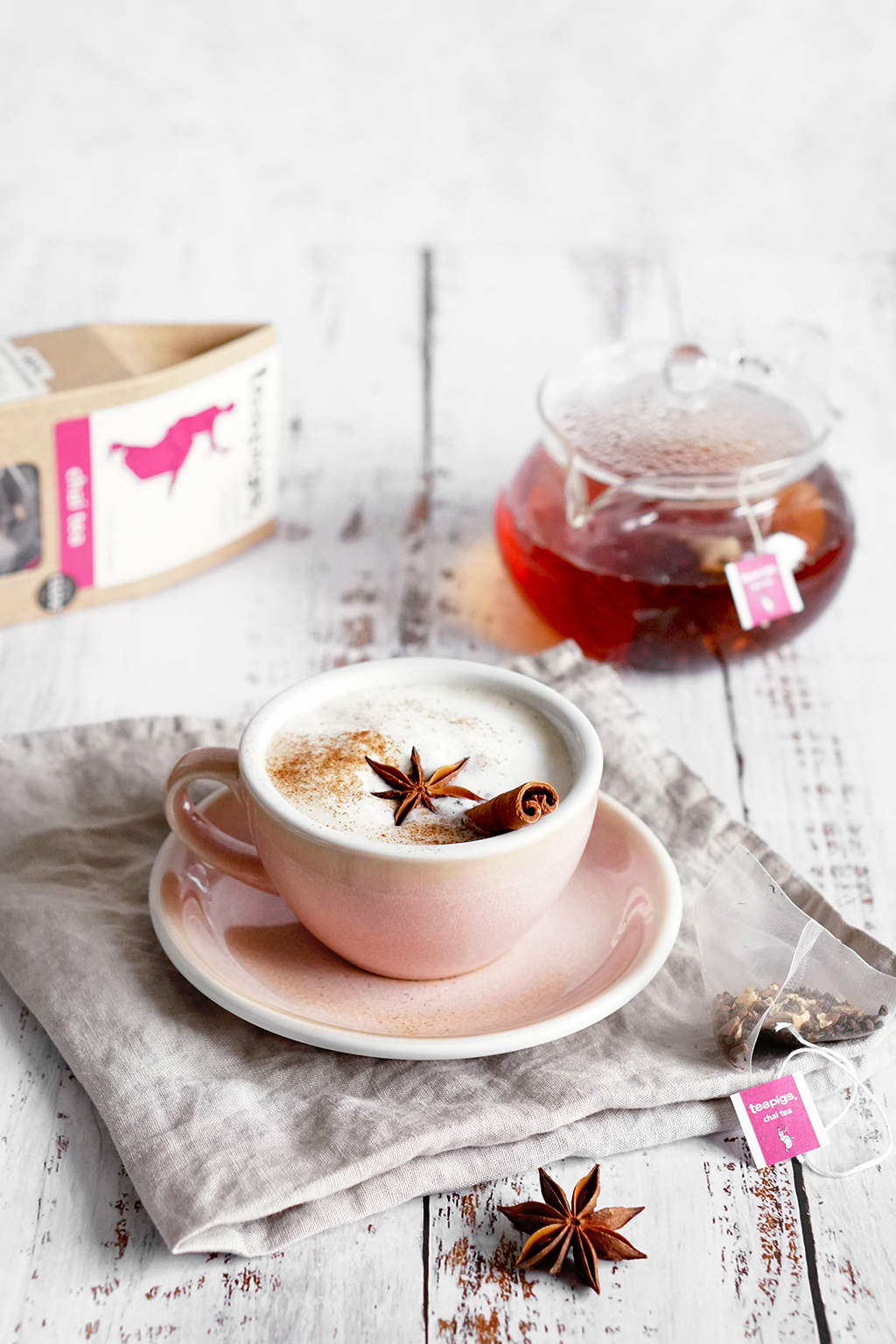 Rooibos with cinnamon and cider
Rooibos with the addition of cinnamon and good cider is what you need on the cool autumn / winter evenings, when you come home after a long, exhausting day. It is a subtly spicy, caffeine-free composition with a relaxing and restoring effect. Rooibos is a decaffeinated alternative to coffee and tea, full of beneficial antioxidants.
Recipe for rooibos with cinnamon and cider
Ingredients:
1 pyramid teabag of teapigs Honeybush & Rooibos
50 ml of good quality cider
1-2 teaspoons of honey
1 piece of star anise
1 cinnamon stick
1-2 slices of lemon (pour boiling water over the fruit beforehand)
Preparation:
1. Brew 250 ml of rooibos tea with a cinnamon stick and 1 piece of star anise.
2. Sweeten with honey, add cider and lemon slices. Serve immediately.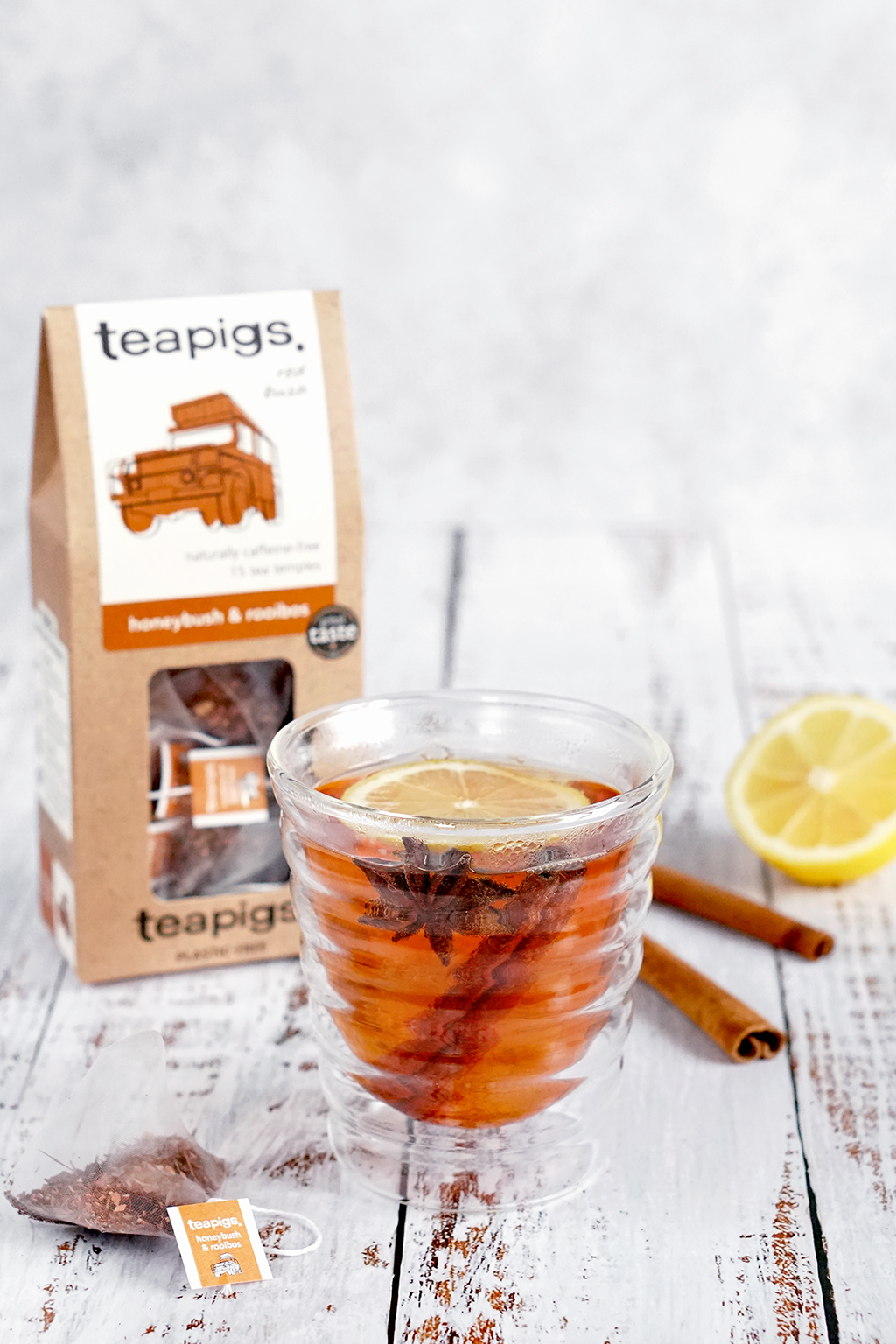 Unusual cinnamon tea – apple kombucha
Chilled, delicately sparkling kombucha is mainly associated with summer and holidays, but who says we can't experiment just a bit. So, today we will enrich it with spicy cinnamon and sweet apples and turn it into an autumn delicacy. Although it takes a while to prepare, it's not overly engaging – most of the time you just wait. Believe me, it's worth showing a bit of patience, because this version of kombucha is a real SENSATION.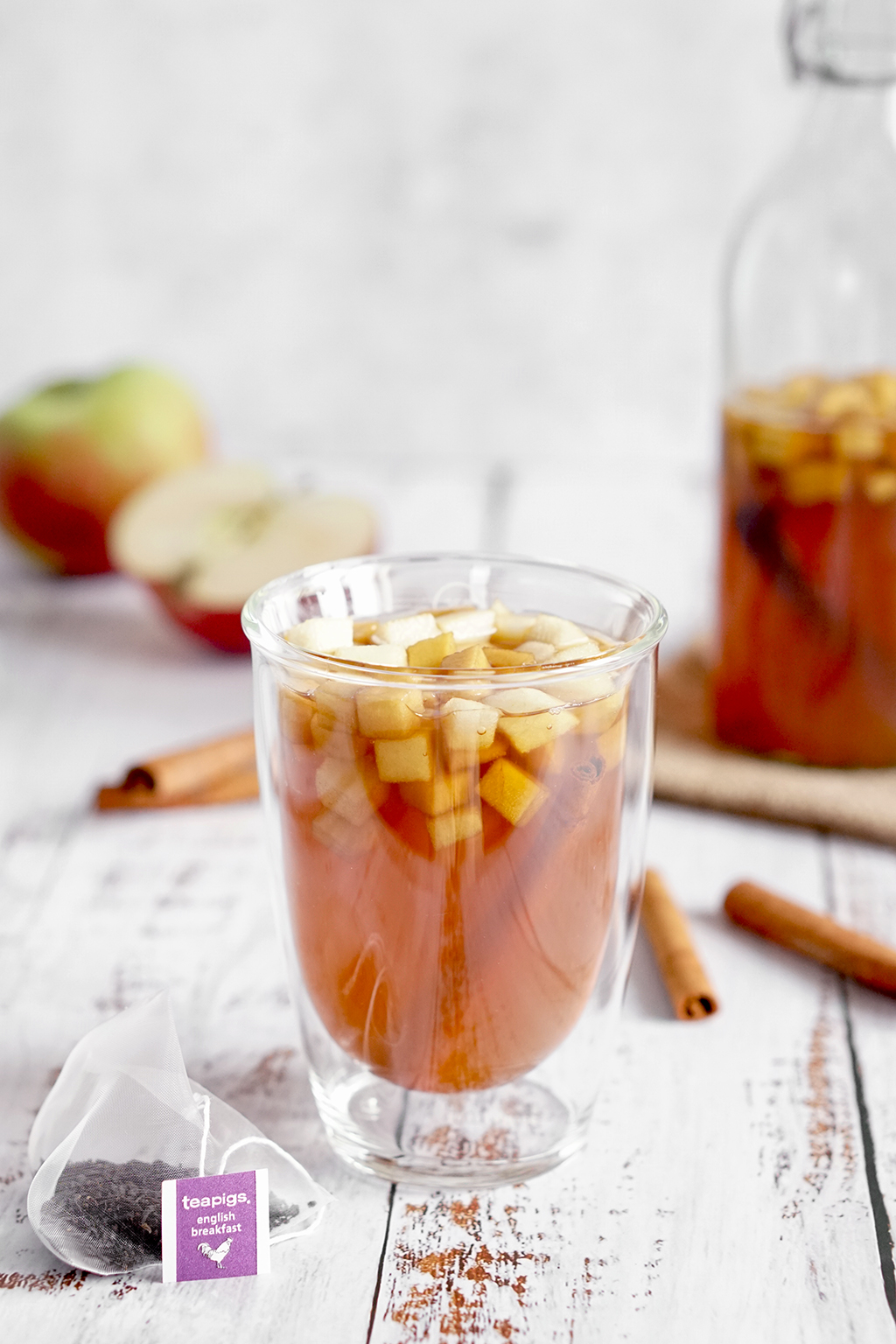 Recipe for apple-cinnamon kombucha
Ingredients:
4 pyramid teabags of black tea, eg teapigs English Breakfast
2 liters of water
150 grams of sugar
SCOBY – "tea fungus"
200 ml of kombucha from previous fermentation – a starter
Additionally:
2 sticks of cinnamon
1 large, sweet apple
Preparation:
1. In a large glass vessel / jar of about 3l capacity, brew 2 liters of black, strong tea.
2. Add sugar, mix and set aside to cool.
3. Add SCOBY and the starter to the cooled infusion. Then cover it tightly with a piece of gauze and seal with a rubber band.
4. Set aside in a warm, shaded place for 7-10 days. It's best to taste the drink during this process and adjust the fermentation time to your preferences. For me, 7 days is usually enough.
5. When you decide that the kombucha is ready, cut the peeled apple into small cubes and place equal amount into two bottles (the bottles should be tightly closed, suitable for storing carbonated drinks). Add a cinnamon stick to each bottle and pour the strained kombucha, leaving about 5 cm of free space (leave about 200 ml of kombucha with the tea fungus for the next fermentation).
6. Place the prepared bottled drink again in a warm, shaded place for another 3-5 days. After this time, store the finished kombucha in the refrigerator.
7. Serve the chilled, delicately sparkling drink with apple pieces.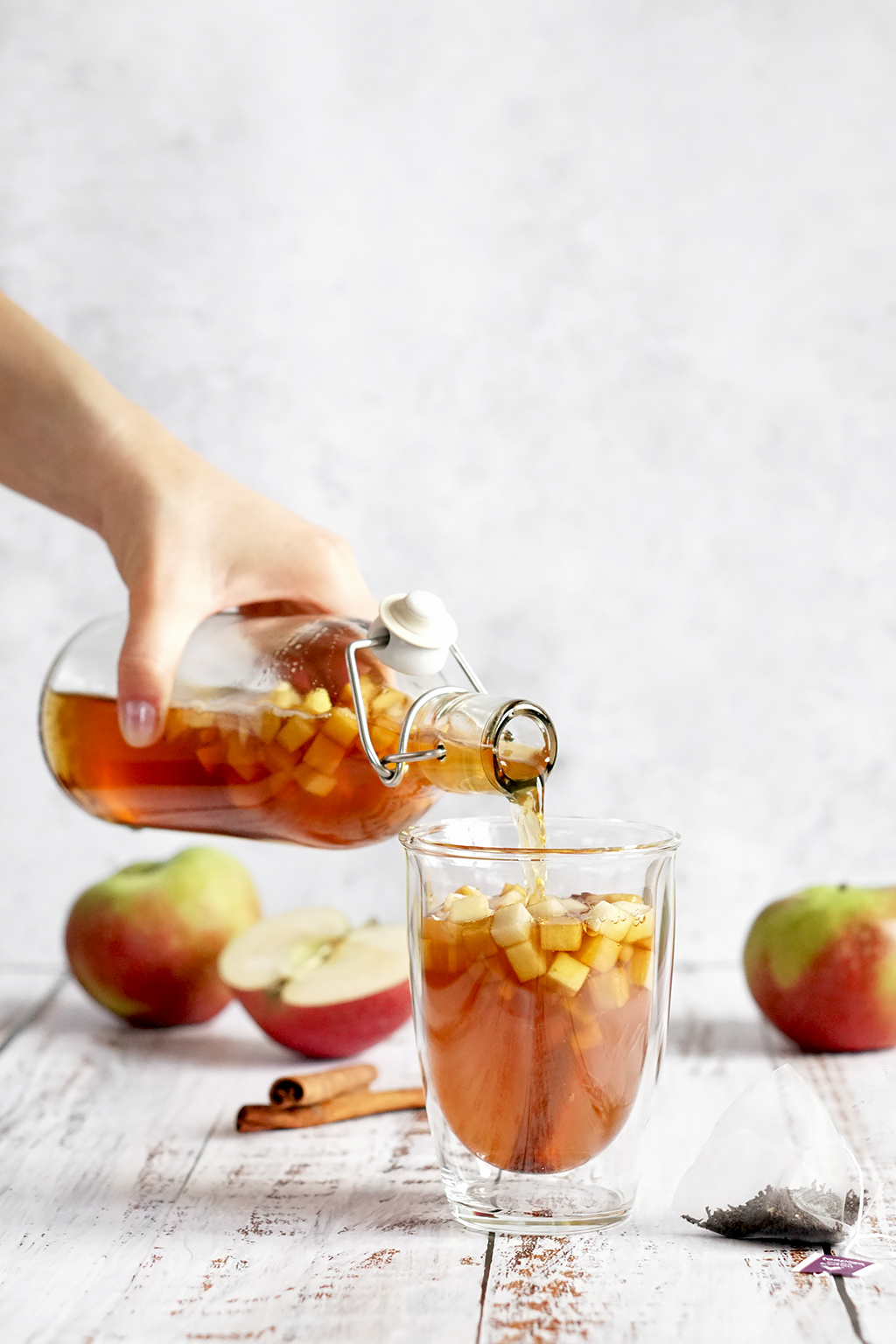 Be sure to try and let us know which version of cinnamon tea is your favorite. And if you still feel don't feel satisfied, keep reading our blog for 3 other ideas for warming teas. After all, the best thing in autumn is that we finally have more time to enjoy our favorite beverage.