As an avid tea head, who also loves cocktails and creativeness I decided to embark on a journey and find tea-based boozy recipes that will hopefully make the summertime even better. Fear not if you miss a few ingredients – most are easily replaceable once you know their purpose in a cocktail, whether it is to add sweetness or counterbalance acidity. Feeling crazy and inventive? Or lazy and in need for something uncomplicated? Either way I got you covered. A few experiments (and an access to Google search) is all you need. Have fun and don't be afraid to improvise!
#1
Bourbon | Lapsang soughing | Cinnamon syrup | Orange oil
In my group of friends I am known as "that girl that drinks nothing but tea and heavily peated Scotch". My philosophy is: the smokier, the better, and this concoction is a perfect marriage of both worlds – which is precisely why my first stop after arriving in the UK was a cocktail bar where this drink was created. The original recipe calls for sake that may be out of reach for most folks, but the slightly altered version below is equally delicious!
Ingredients:
Add leaves to the spirit and stir vigorously for a minute, then strain. Depending on your personal preference you may leave the tea in for a bit longer – its heavily smoky aroma sparks controversy so make sure you find your sweet spot. Add cinnamon syrup and orange oil, serve in a whisky glass with an ice cube.
#2
Earl grey | gin | tonic
I am human and nothing human is alien to me – including those moments of pure laziness when I don't feel like spending hours in my kitchen slash chemistry lab and instead happily turn to a good old classic. Enter this lush earl grey G&T – three ingredients is all you need and it is absolutely fool-proof. Lifesaver!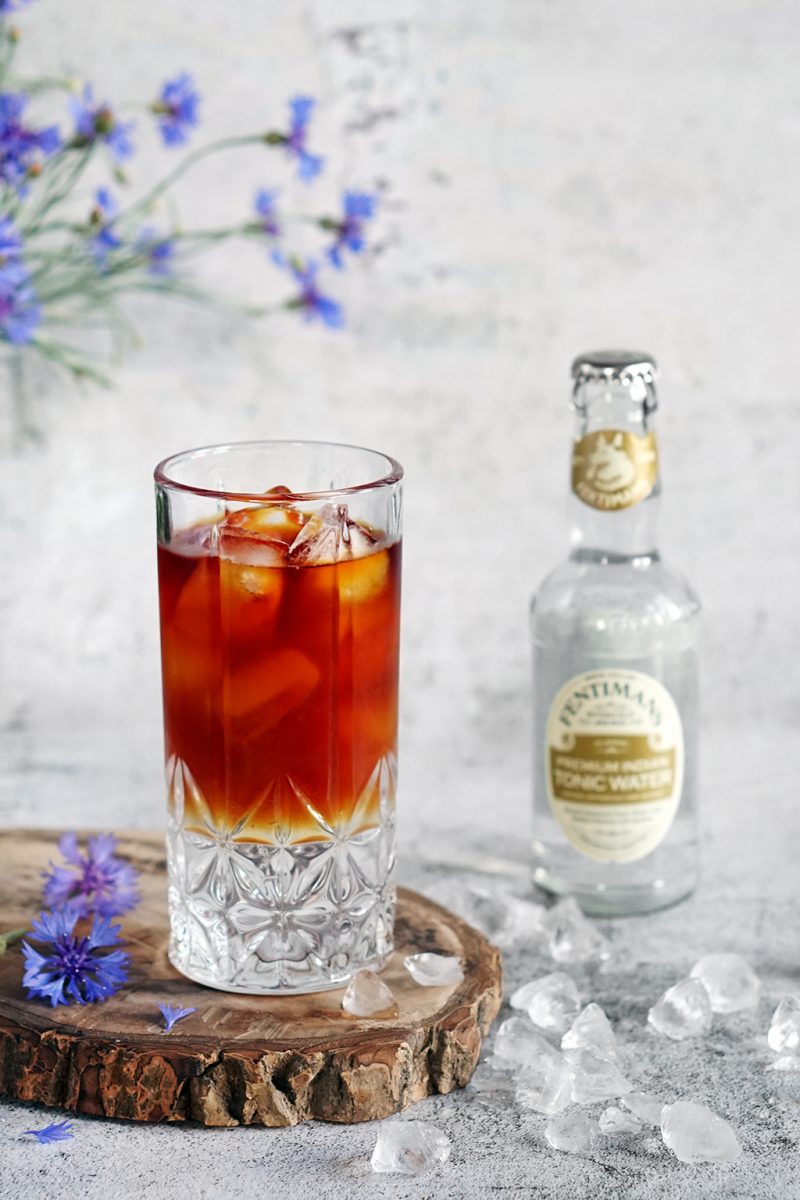 Ingredients:
Infuse gin with tea and leave for 2-3 hours; strain and serve with tonic and ice. Easy peasy! Similarly, you can infuse gin with any tea of your choice, loose leaf or tea bags, coffee beans…sky truly is the limit here, as the simplicity of G&T allows us to focus on a single ingredient and master the flavour.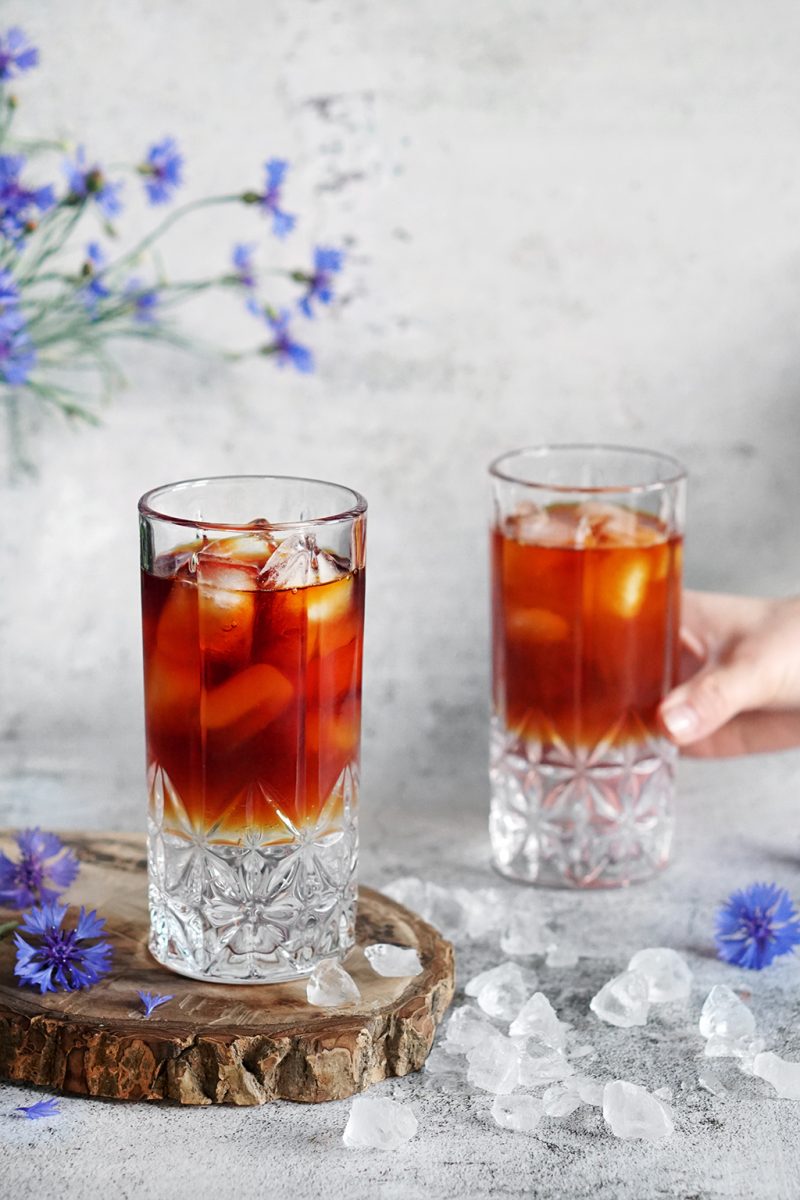 #3
Whisky | sencha/gyokuro | soda water
Well, I did warn you, didn't I? Whisky holds a special place in my heart. This time we are swapping punchy American flavours for elusive and delicate feel of Japanese spirits. Think Scottish style with fruity sweetness – and we are mixing it with another great Japanese produce: green tea.
Ingredients:
5 g loose leaf sencha/gyokuro
60 ml whisky
soda water
Brew the tea gong fu style – high leaf to water ratio and short infusions. I found my sweet spot for this recipe is 5 grams of tea and 90ml water. Be cautious with the temperature of water – remember, we are aiming for intense umami notes and no astringency. Let the tea cool down and mix it with 3-4 ice cubs, whisky and soda water in a 300ml high glass.
#4
Chamomile | honey | lemon | gin/vodka/whiskey
Another quick, no-fuss cocktail you can whip up in a flash. Chamomile with honey and lemon is a tried-and-true combination that just works, all day and every day – be it a hot warming fix for winter nights, iced tea and of course, cocktails.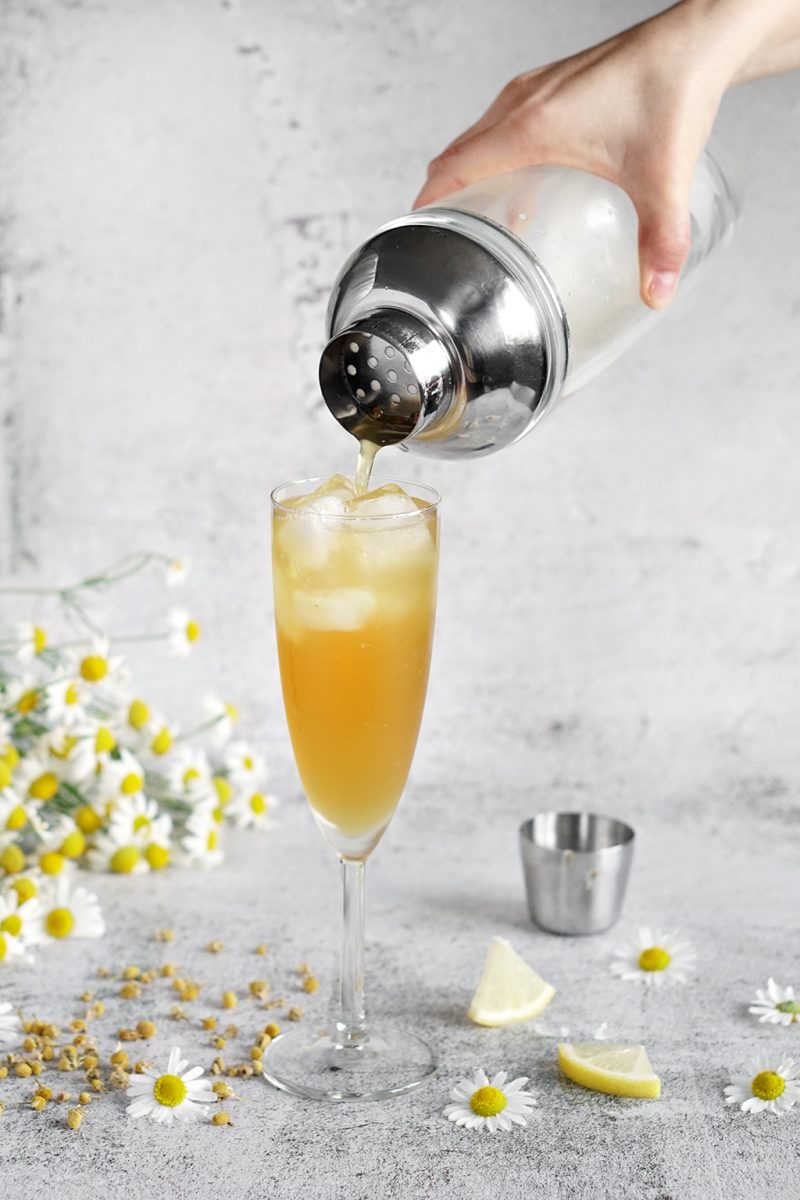 Ingredients:
8 g dried chamomile flowers
30 g honey
fresh squeezed lemon juice (half a lemon)
spirit of your choice – ratio will vary depending on its strength
Make 150 ml of concentrated chamomile tea with honey and lemon – don't worry about it being too strong at first as we will dilute it with ice – and wait for it to cool down. Now, low-budget option is to simply add the spirit and serve in a tall glass on ice. However, if you can use a shaker, absolutely do – the difference in texture is unbelievable and I guarantee you will never go back. Shake for 20-25 seconds and strain into a coupe glass.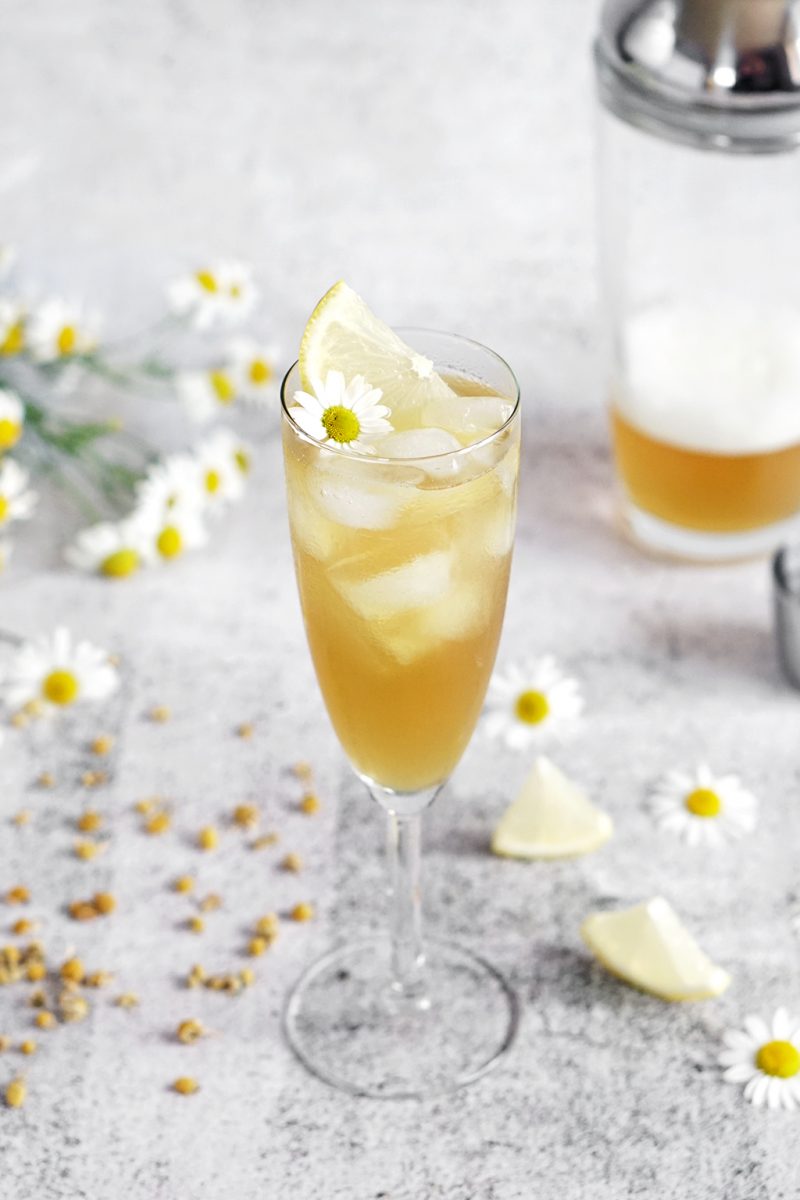 #5
Hot rooibos cocktail based on the recipe by the Aviary, Chicago
Although the list of ingredients seems lengthy at first, most of them you likely have on hand. Any leftover mulled wine spices hiding in the pantry? Now is the time to give them a second life! Making our concoction is where the tricky part begins as you will need a coffee syphon. If you have one, the process itself is straightforward – put dry ingredients in the upper bowl and water in the bottom one. When the water starts boiling, add remaining wet ingredients and place the upper part on top, just as you would if you were brewing coffee. Voila! For those of you who are curious about the process here is a video from the Aviary – the birthplace of this cocktail.
Dry ingredients/spices:
1.5 g Rooibos tea
2 g almond flakes
4 fresh mint leaves
0.1 g saffron
0.5 g lavender
0.3 g lemongrass
half a stick of cinnamon
half of a vanilla pod
two pieces each of lemon peel and orange peel
5 peppercorns
Wet ingredients/spirits:
45 ml gin
15 ml cherry liqueur
15 ml simple syrup
15 ml lemon juice
250 ml water
These recipes are a drop in the ocean of possibilities – hopefully they will inspire you to go on and experiment on your own 🙂 Unsure of where to begin? No need to reinvent the wheel – I usually start off by selecting a tea and browsing coffeedesk selection in search for ideas. Learn from the best – tea producers test out hundreds of combinations before they decide on a final product. Good news – the difficult task of blending flavours has already been done for you! When in doubt, go for proven solutions – earl grey with honey and lemon, green tea and cucumber, rooibos and caramel, and many others.
While geeking out and learning about intricacies of various spirits is a lot of fun, it can feel like information overload at times. Start small and work with what you already have – a forgotten bottle from last Christmas? Leftover supplies from pre-quarantine parties? All you need is your favourite spirit and some tea. I love playing around with infusions as simple way to upcycle my collection – gin and vodka work beautifully as a base. Have fun and good luck! 🙂