A clean moka pot is everything… good taste of coffee and functional equipment that does the job for years. By taking care of your moka pot, you not only prevent bacterial development inside, but you lengthen your pot's life. Spare some time and take a good care of your coffee maker – trust me, it's worth it! So, how do you clean a Moka pot?
What's moka pot made of – stainless steel or aluminum?
Let's start with the most important question: what is your beloved moka pot made of? If the answer is steel, we can easily suggest you plenty of cleaning products. As to the aluminum, we need to be more careful when cleaning, because every type of acid can damage the surface of the utensil. Regardless of the type of moka pot, we need to clean it after every single use. When cooled down, of course. It's best to use water with just a tad of dish soap. It's important to prepare your moka pot for the cleaning – remove the rubber seal and sieve – you are ready to go!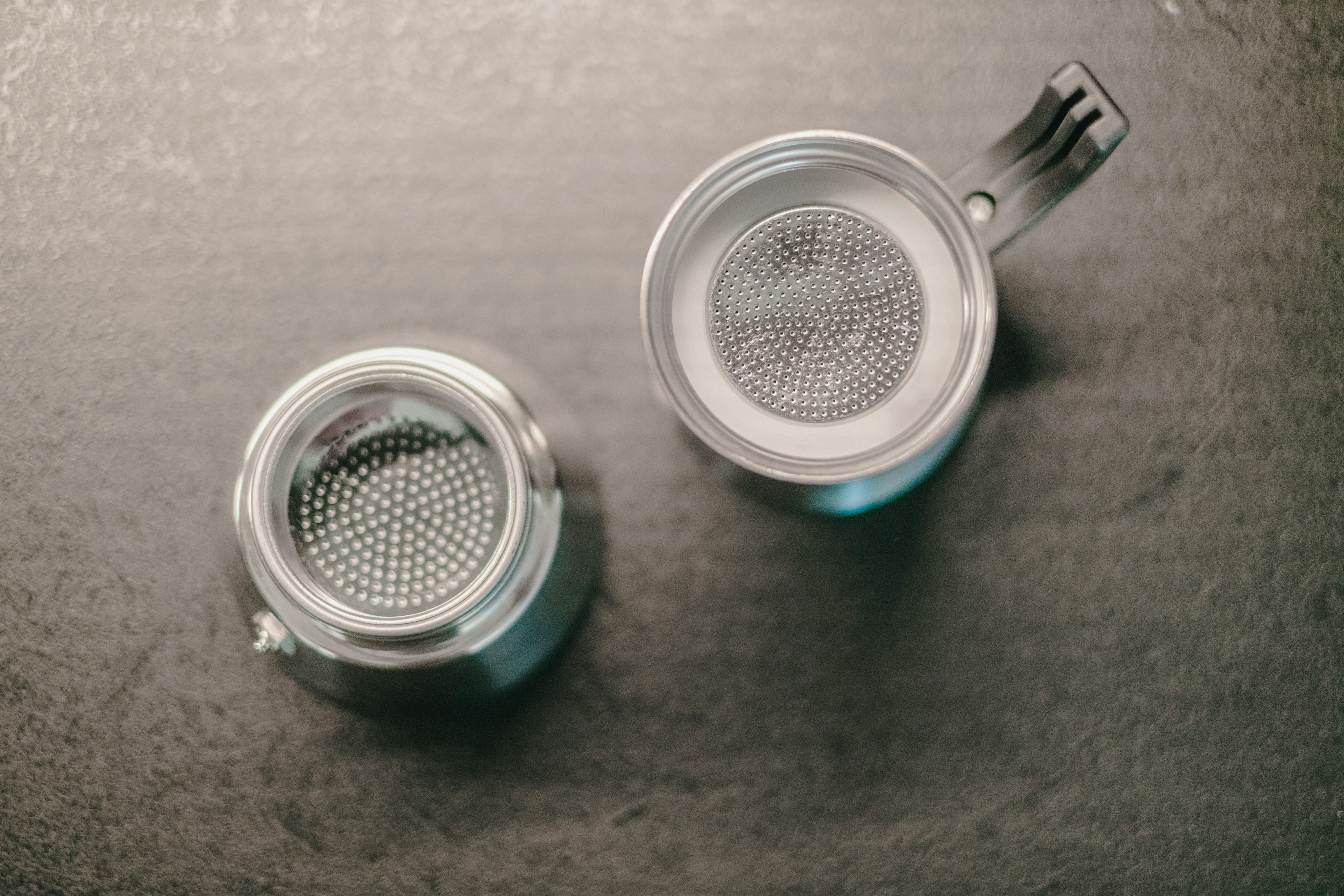 How to remove the seal? You can use reverse side of the spoon to pry the rubber. Don't worry – seals that haven't been removed are prone to quicker damage, loss of elasticity and impermeability (I know this from experience). Systematic cleaning of the moka pot will make the rubber seal useful for a long time. What if there's a small leakage of coffee? It's probably time to replace the old seal with a new one. You'll find rubber seals for moka pots here.
Let's begin with the limescale. To get rid of this hard chalky deposit that has built up all around our coffee maker, it's best to use Urnex Dezcal. Prepare a cleansing bath for the moka pot by dissolving the powder in water. One sachet of the product and 1l of water will easily remove a thin layer of limescale. If the layer is thick, you can increase the dosage and use 2 sachets with 1l of H2O (accordingly 1 sachet per 0,5l). Leave the pot in solution for few hours and rinse thoroughly. All done!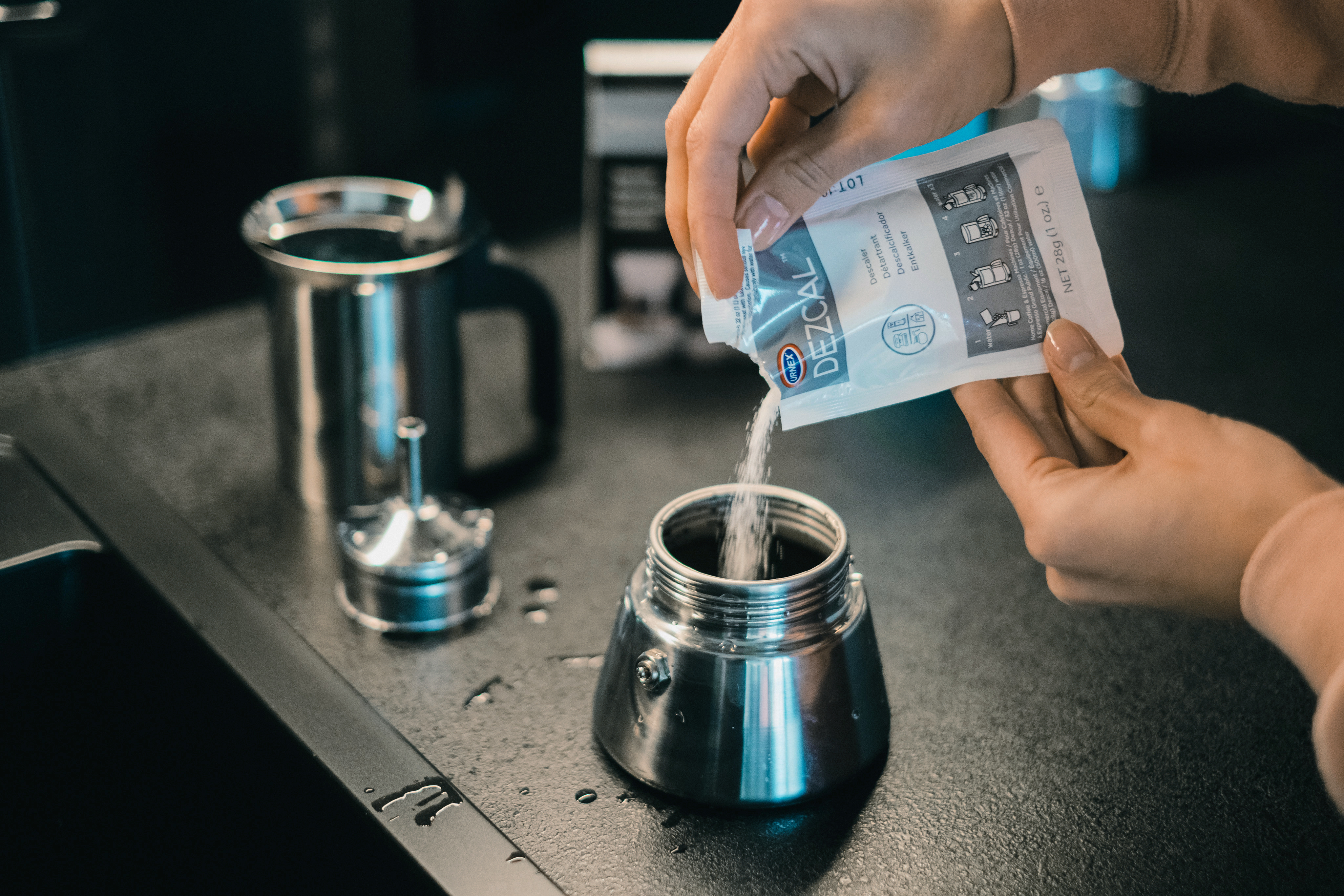 Now, let's talk about the infamous coffee leftovers in the moka pot's funnel with sieve. There you can find some small particles of coffee that were pushed through the filter by the pressure 3and stayed inside. It's impossible to remove them with a sponge, as the only way into the funnel is a narrow and round cylinder at the top. But fear not – here comes Urnex Clearly Coffee. To clean the funnel with sieve, place it in the narrow glass dish. Pour in the blue liquid and make sure the part is fully immersed. Let it sit for few hours. When you see that coffee leftovers have peeled off the surface and are now floating in the blue cleaner – job's done! You can move on to next elements of your moka pot.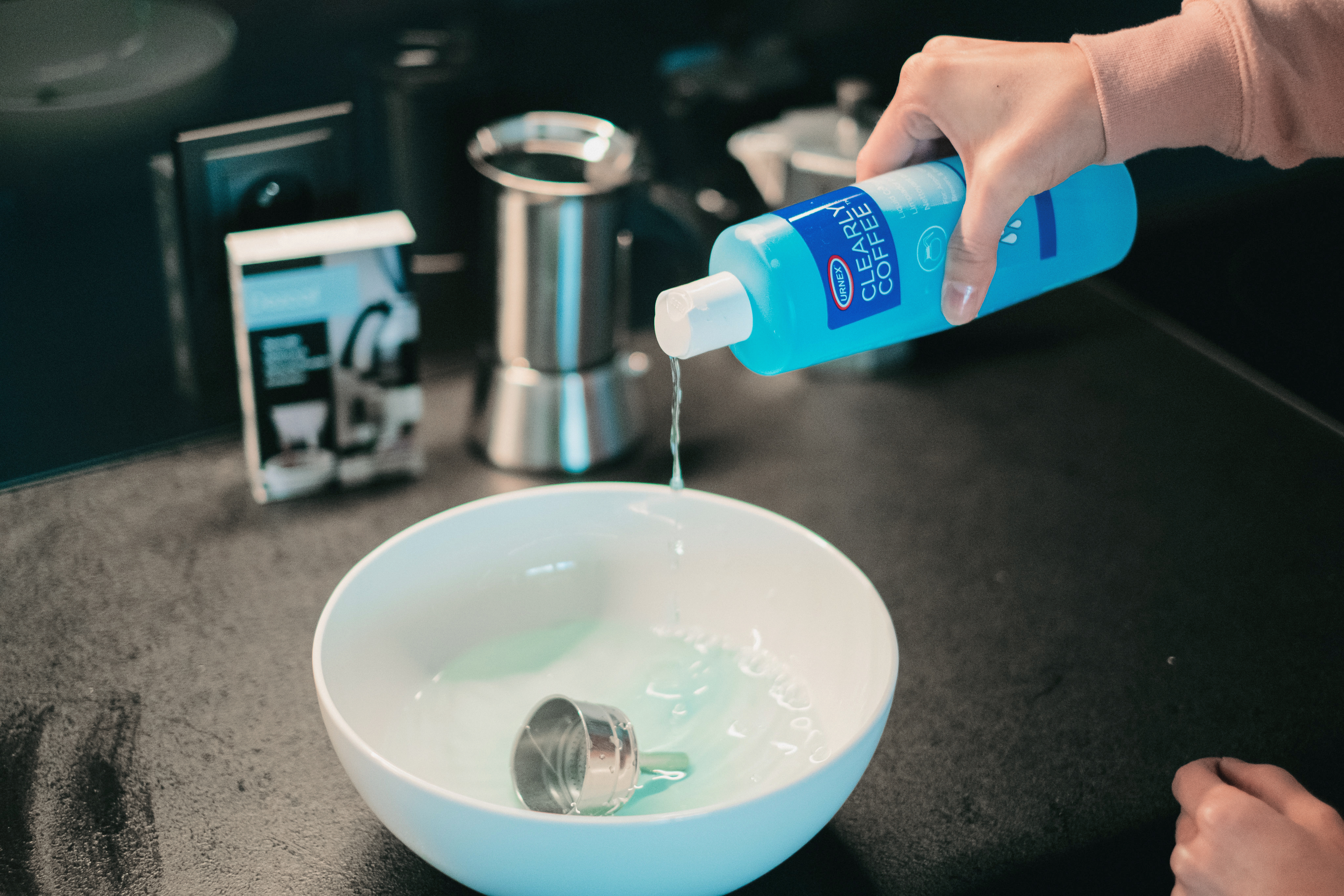 If you spot some coffee particles left on the funnel or sieve, use cleaning brush with dish soap. You can also use a toothbrush to be more precise.
The best way to do it, is to use a sponge with only water and few drops of dishwashing liquid. Alternatively, you can use a solution of water and baking soda. Remember, every drop of acid, either from a cleaner, descaling product or citric acid, can cause a chemical reaction on the surface of aluminum. This leads to a damage of the material. Drying your moka pot with cloth after every cleaning is a good practice. Drops of water on the surface can leave you with not-so-nice stains when they dry off.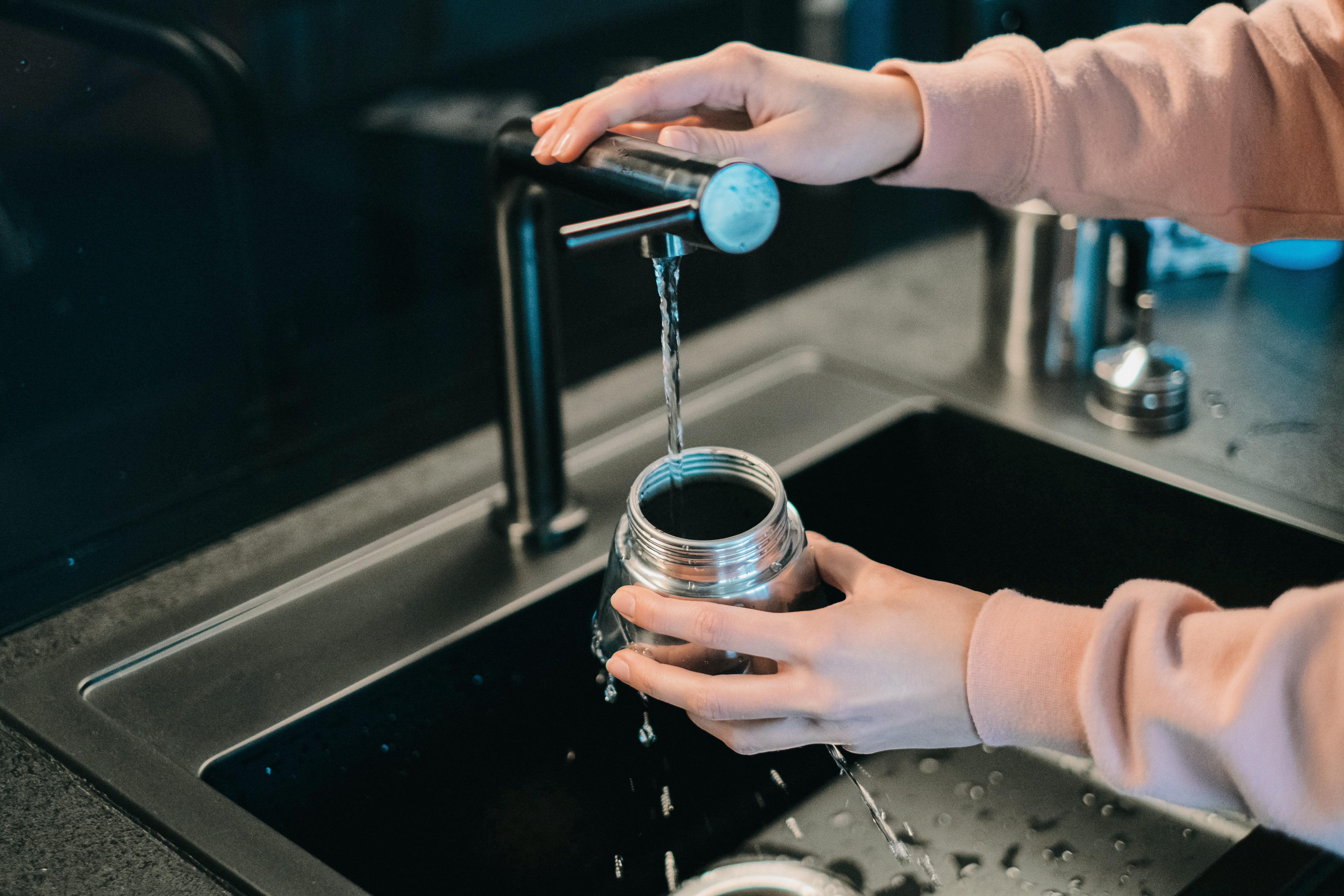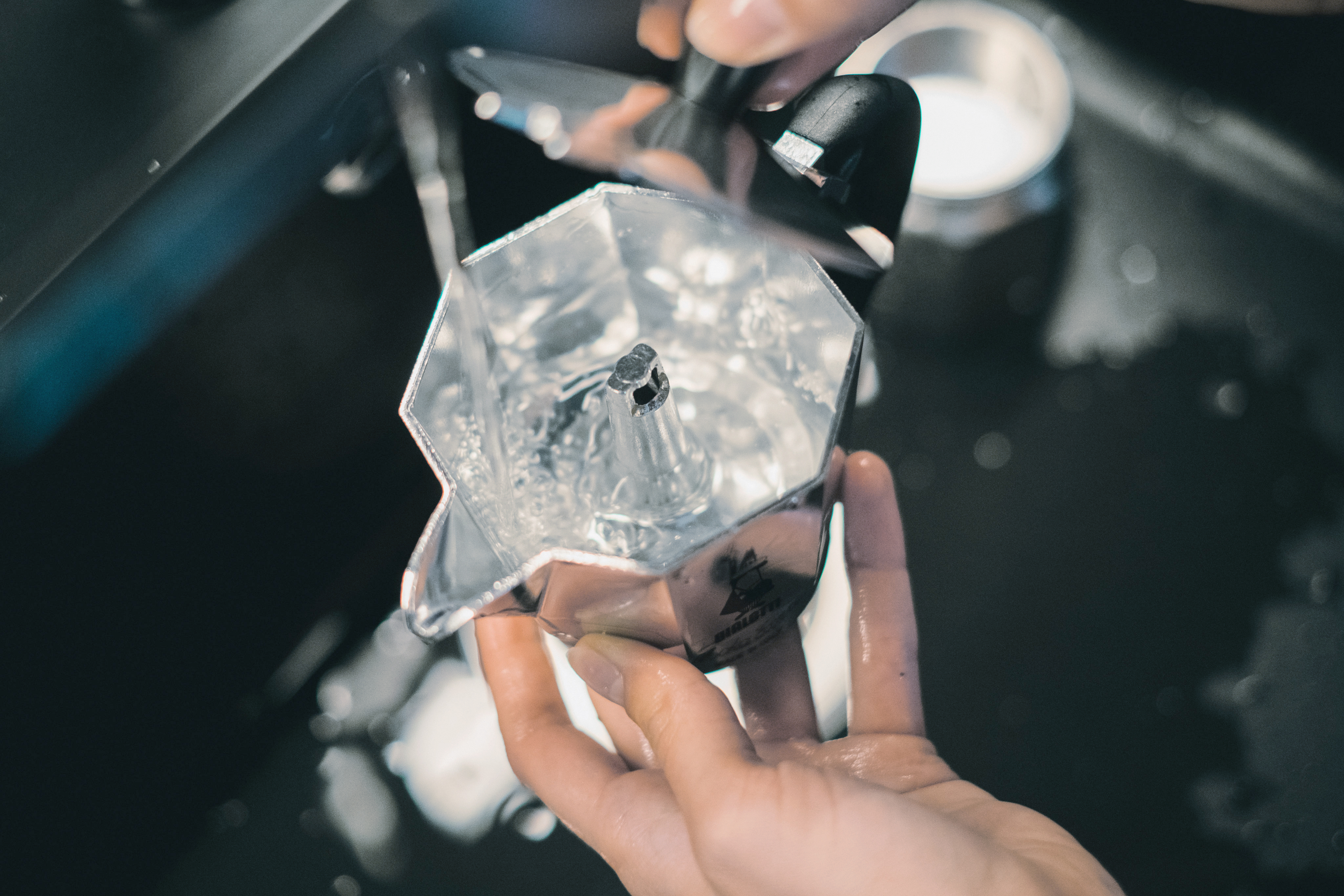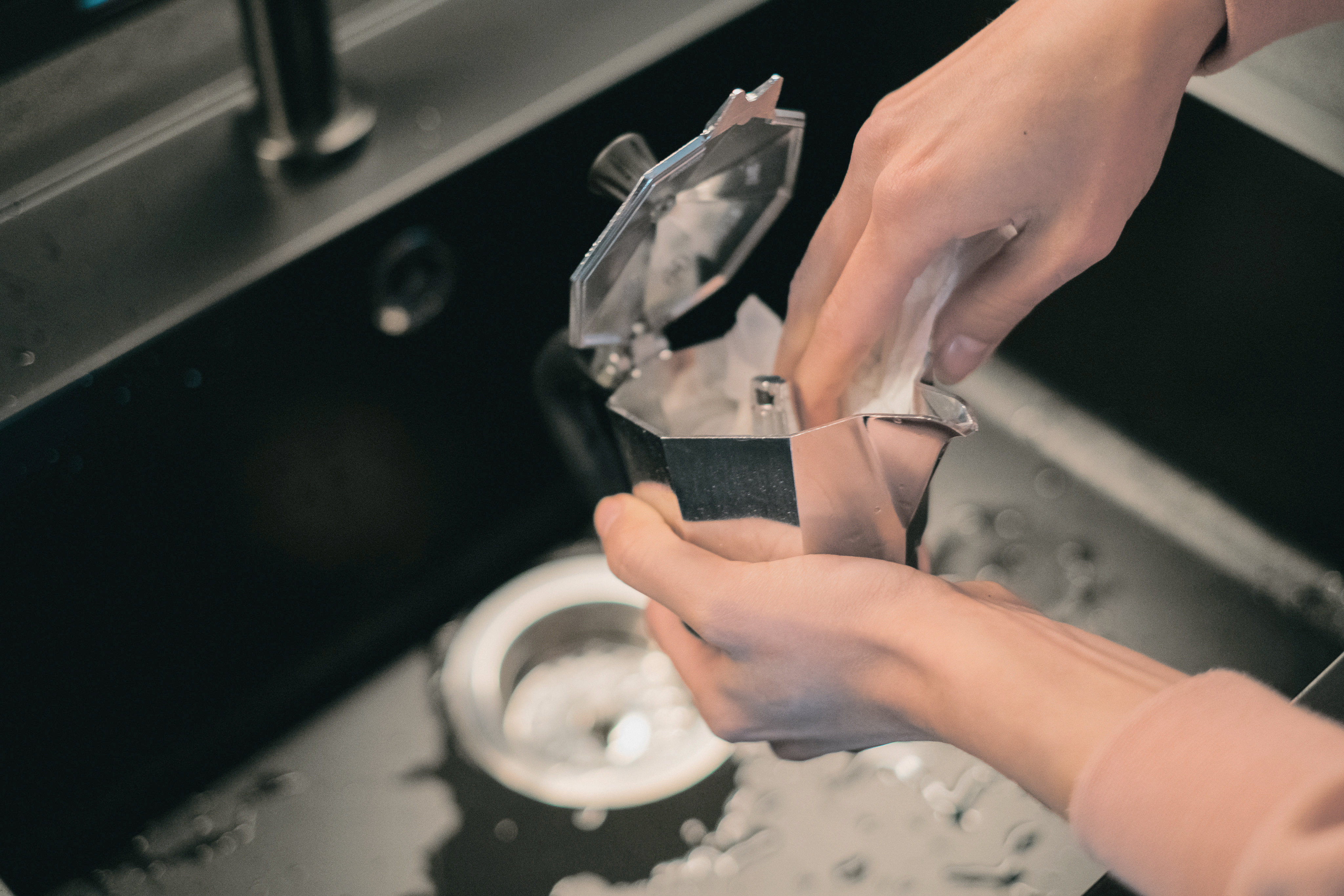 Keep it away from the dishwasher!
Let me tell you a little story: once upon a time, at my family home (about 7 years ago) lived airily an aluminum moka pot. This magnificent creation, brought joy and happiness in form of lifesaving cup of aromatic coffee. From day to day, our everyday life became more and more enthusiastic. Nobody could resist the temptation of its fragrant, appetizing and energizing brew. Unfortunately, it didn't last long… One day, a boy named Krzysztof (sadly, I mean myself here) decided to make cleaning of the moka pot easier for himself and put it…in the dishwasher. This couldn't end well for the little pot. After an unwanted bath in a hot water with strong detergents, it lost its shine, protective coating and was not useful anymore. This is the end of the story of how an unaware Krzysztof, got rid of his beloved moka pot forever…
The story was based on a real-life incident. I've learned my lesson and will never put any moka pot in the dishwasher again. So, learn from my mistakes and remember about a proper way of cleaning your coffee maker. There are no shortcuts on the path to greatness!
How about more "natural" way?
You can easily find cleaning products in your kitchen – citric acid and baking soda. But remember, do not use citric acid on aluminum! It can damage a gentle surface of your pot.
If you want to clean your moka pot with more "natural" products, you can use Melitta AntiCalc BIO or prepare your own mixture. You can speed up the cleaning process by choosing a ready to use liquid (make sure you follow the instructions from the information sheet).
How to prepare a homemade cleaner? Mix baking soda and citric acid together. For liquid cleaner, use baking soda and citric acid in a 1:1 ratio. If you want to use some baking soda as a gentle scrub for the moka pot, mix products in a 2:1 ratio instead (i.e. 40g baking soda and 20g citric acid). Well mixed and dry mixture, put into the upper and lower container of the pot. Next, pour boiling water inside the containers and leave it for 15-20 minutes. When the solution cooled down, use regular kitchen sponge to finish the cleaning.
I tried to clean it – no results
If you have troubles with cleaning your moka pot or it's made of aluminum, you can look for some spare parts. In case of i.e. damaged or old sieve, all you have to do is replace this element and your pot will be as efficient as new! Replace only the broken parts of you coffee maker – it's effective and definitely cheaper. Take a good care of your moka pots. Don't leave coffee inside and clean it after every use. I wish you good luck and loads of great coffee!