I have been searching for the perfect insulated mug for years. I have tried out the cheapest ones, those slightly more expensive, untippable, plastic, metal, black, blue, leak-proof, leaky, etc. And still, an insulated mug reminded my nose of a mountain thermos flask – with its characteristic smell of previous drinks, a subtle penny-like flavor. The tea thermos once "contaminated" with coffee remained a coffee thermos until the end of its days. The one with mint tea "smelled" of mint for a long time. So, Fellow came up with a marriage of metal and ceramics… and that's how Carter Everywhere Mug was born.
Yeah… but what's the deal with it?
Carter Everywhere is a thermal mug that is resistant to the aromas of previous drinks. The ceramic coating inside the mug is odor-resistant and is designed to give you a full aroma sensation of your coffee. This is important because, in fact, it's a big problem with insulated cups. While they undeniably retain heat, regrettably they also keep smells, fingerprints on the metal body and discoloration from coffee inside. Carter Everywhere Mug came to me for testing in a matte white version with a capacity of 355ml – the perfect everyday capacity for me as a good coffee alternative at work (ha! A coffee alternative to office coffee, prepared in an alternative way at home and carried in an alternative insulated mug!). Well… let's check it out!
Design readers!
Many people who saw my Fellow mug for the first time thought it was a bluetooth speaker! Associations are correct because great care and aesthetics of design are obvious. Looking at Carter, I feel a strange aftertaste of apples at the tip of my tongue… In a way, the mug can actually bring to mind a HomePod from a Californian orchard, unattainable in Poland. Actually, it is "designed in San Francisco", which kind of confirms the idea.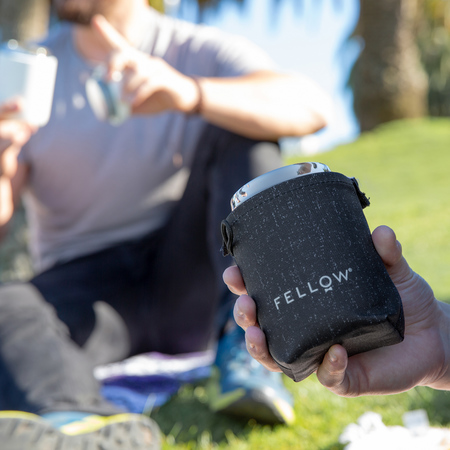 We get the Carter Mug in an amazingly minimalist package, as the insulated mug is inside a case (made of 100% recycled plastic bottles) and is only secured with a thin pouch. No cardboard boxes, no foamed polystyrene, no large number of bags. Interesting and different packaging! At first I thought, to quote the bears from the fairy tale, that "someone drank from my cup", but the manufacturer's sticker assured me of the originality of the packaging. In addition, since the manufacturer packs the mug in this bag alone and ships it like that, it means that this case can be trusted as a protection for the dish.
Here I must admit that I have nothing to complain about the Fellow mug's resistance – tested in various conditions, it did not get any scratches, blemishes or dents. Both when used with and without a case. Well played – good job, Fellow. The case itself is quite tight. This makes the set perfectly fit, and you don't have to pull it completely out of the case to take a sip, just open its top. The edge of the cup is slightly rounded and pleasantly profiled – drinking is not a problem and is pleasant to the mouth.
What does it smell like? Are these strawberries with cream?
We get to the heart of the Carter Everywhere Mug – odor-resistance. The sense of smell is very important in tasting and drinking coffee everyday. Your tongue helps to define sweetness, acidity, bitterness, saltiness or umami of a beverage or food. It is the nose that receives aromas and through the senses allows to interpret individual olfactory sensations. It is the nose that senses mangoes, strawberries with cream, cola, chocolate, nuts or herbs. If that was not enough, smell is the sense that is the most strongly connected with memories. That is why it is so important not to exclude your nose from taking part in tasting your coffee (or tasting anything at all).
The wide diameter of the dish makes it possible to taste and smell at the same time – while you drink, your nose "goes inside" the Carter mug, participating in the experience of drinking coffee. The width of the mug makes it fit under the Hario V60 dripper, AeroPress and virtually any alternative coffee brewing equipment. While brewing directly into a Fellow mug, everything stands steady and does not fall over even after mine bursts (tests in Upper Silesia are not the easiest ones).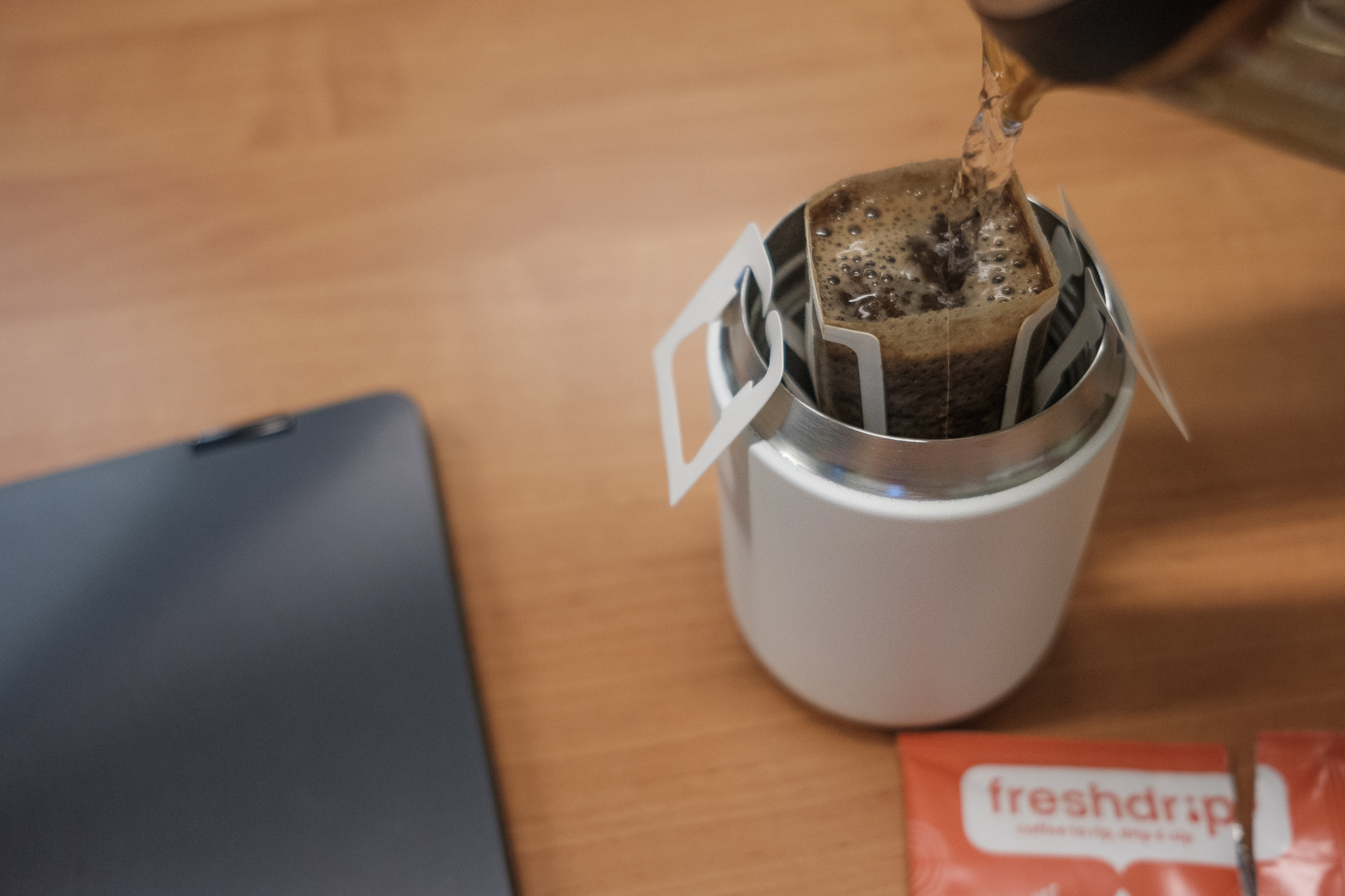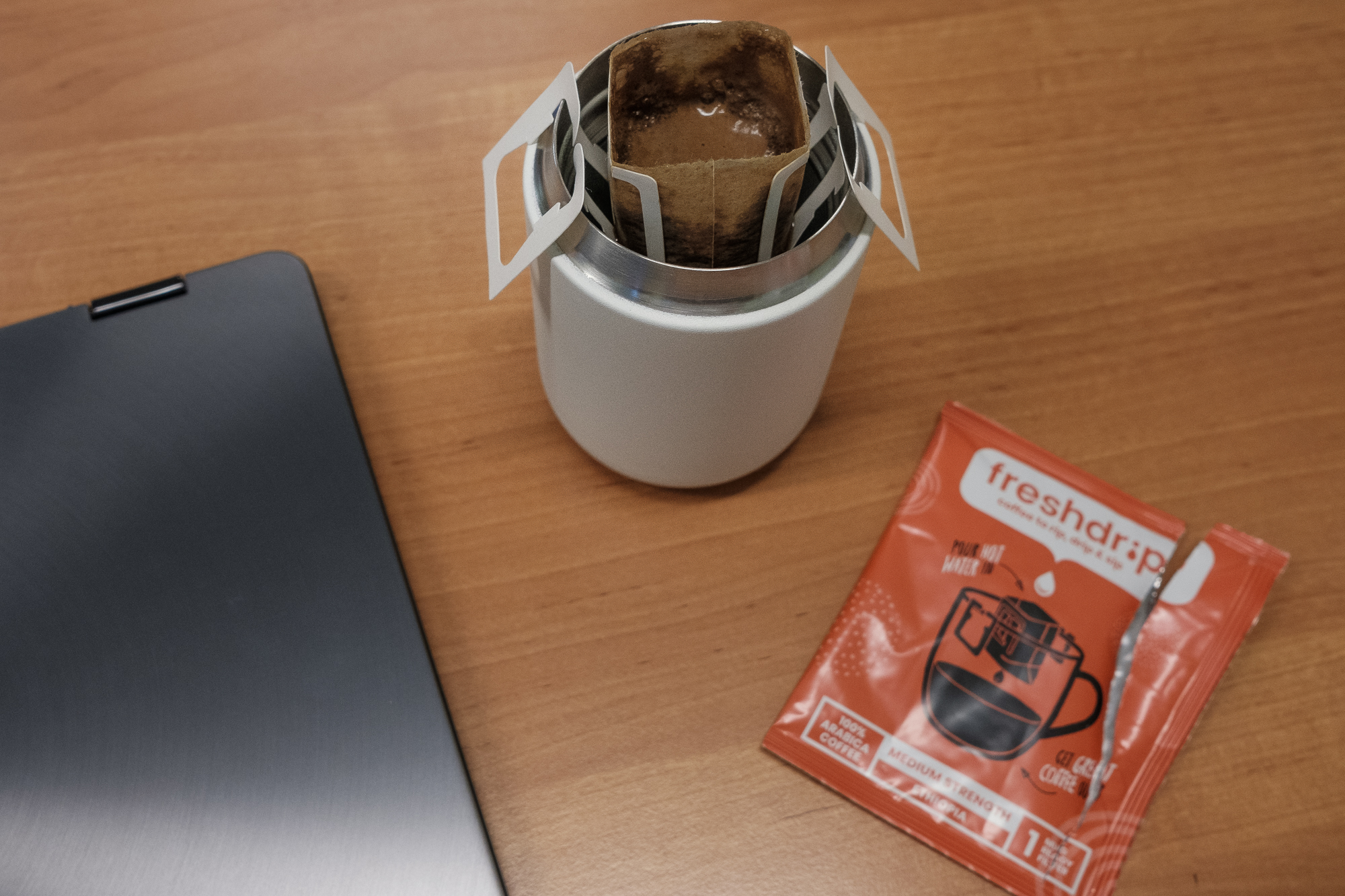 Temperature tests
I conducted two tests in retaining heat – a theoretical test with water and a practical test with coffee. In the "water" test, I poured in dihydrogen monoxide at 96°C. After one hour, the water was 90°C, after two hours – 84°C, after three hours – 79°C, and after twelve hours – 50°C! Not bad, especially that good coffee won't have the opportunity to stay in the mug for so long.
In the second test I brewed coffee in an external server, aerated it (by pouring it from the server to the measuring cup and back to the server) and then poured it into the preheated mug. The coffee that landed in Carter was 68°C – it was very warm but no longer burned in the mouth, perfect for drinking. After three hours, the liquid inside the mug was 56°C and pleasantly warmed up. The coffee was still warm and perfect for an office brunch break. After five hours, the mug served a beverage of 44°C – it still seemed warm, did not lose any expressiveness of aromas, did not gain "cup taste" or other foreign aromas. Perfect match with an afternoon white chocolate Oreo cheesecake.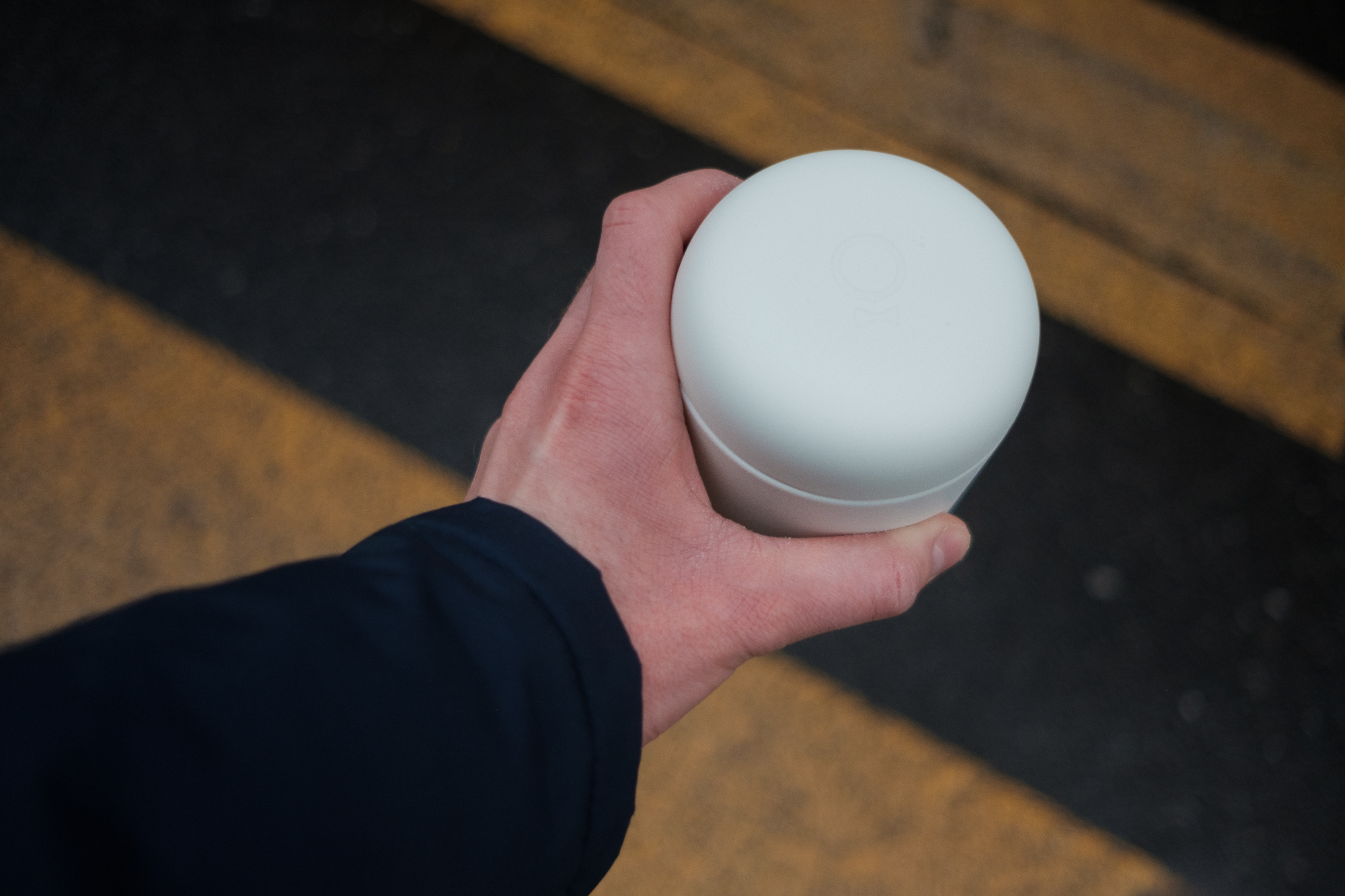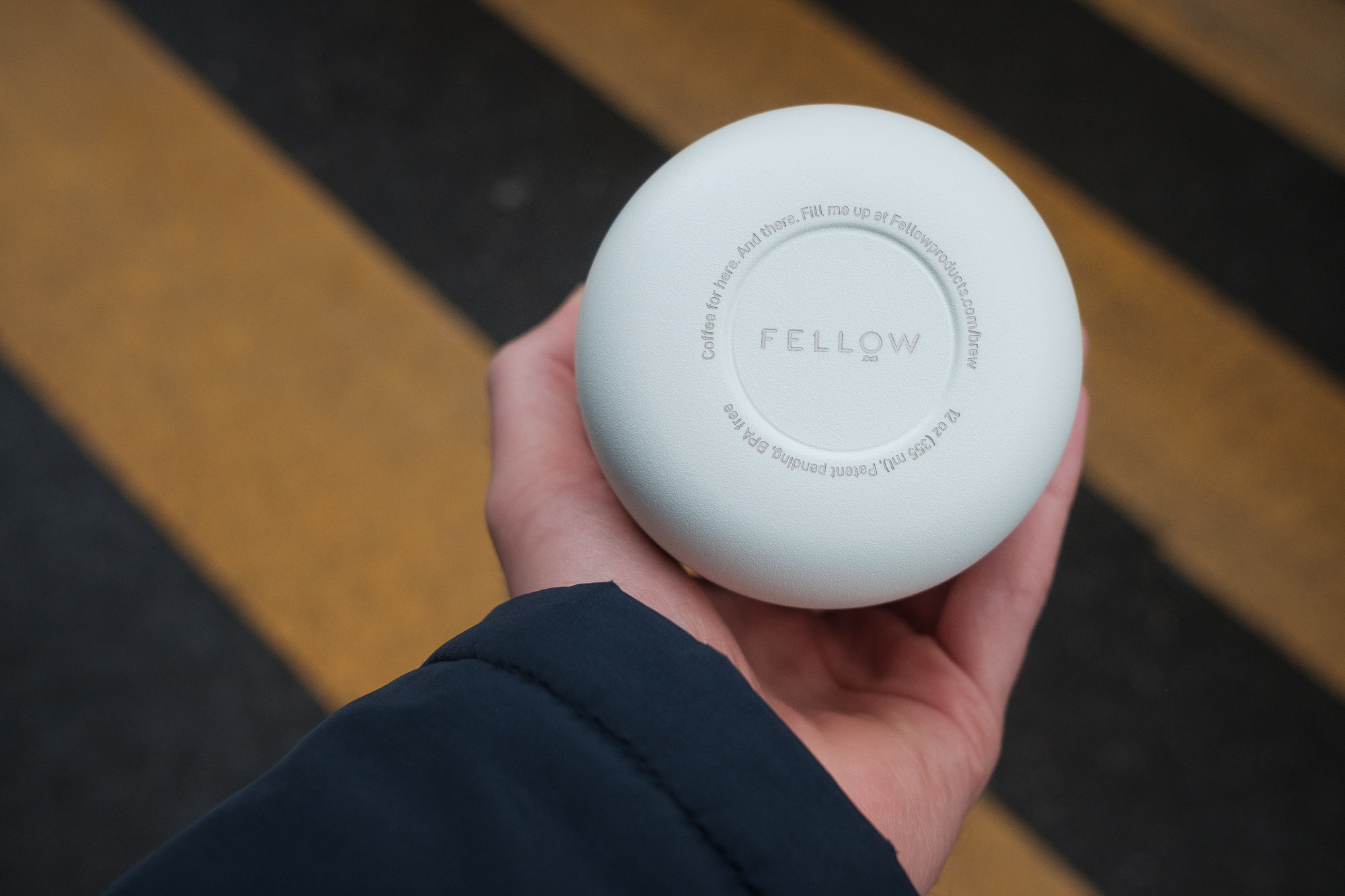 How does this translate into "everyday usage"? Making coffee at home in the morning, we are sure that we will enjoy it at work, still at a high temperature (unless you drink it along the way). Regardless of whether we need caffeine with brunch or with an afternoon snack – it will still be warm. Here I see the greatest potential of the proposals from Fellow. The mug is an ideal urban companion – it looks nice, retains heat well and does not cause problems in transport. It is a perfect ecological and personal mug to take to a café – instead of disposable cups.
Tip: it's good to remove the gasket from the top of the mug from time to time and wash both the silicone gasket and the grooves in the lid. Coffee happens to get there and it is worth getting out those few drops from time to time. For hygienic reasons. The ceramic coating makes cleaning the mug easier – I had no problems with cleaning even dried coffee residues.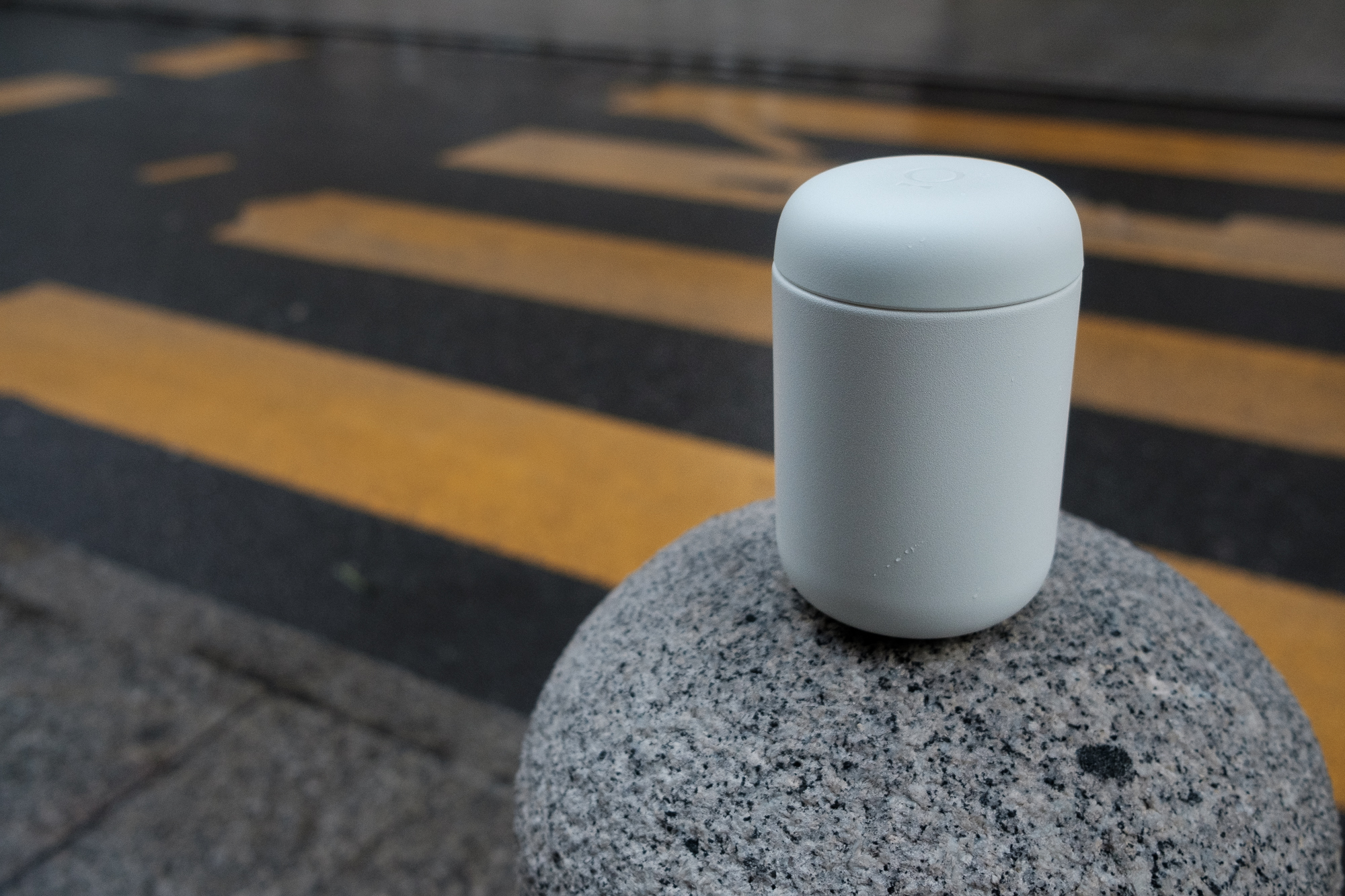 Summary
So, is this a perfect product that will work well in every home? Nope. Just like there is no specific coffee that everyone finds tasty, there is no perfect cup.
The pros of Fellow Carter are definitely: odor-resistance, no metal aftertaste in coffee, long heat retention, wide mouth for full taste and smell sensations that fits all known coffee accessories, minimalistic design, 100% leak-proof while using and a thin edge which is pleasant to drink from.
Cons? For some people with small hands it may seem awkward. It is also not a good solution for a car – you need to unscrew the lid every time and it doesn't fit in the drink holder, which strongly limits its usefulness in personal vehicles.
If you don't mind those cons – bingo, you've just found your mug. Congratulations!