4
5,70 €
5
5,20 €
Online products
Hario Accessories
Coffee
Tea
Yerba Mate
Sweets
Coffee Makers and Grinders
Accessories
Filters
A set of Hario Filter-In Cold Brew Bottle and two Yunomi Glasses. Perfect for keen tea brewers and design enthusiasts.
Hario Cold Brew Tea Filter-In Bottle - 750 ml - Pale Grey:
This bottle is a new way to prepare delicious and refreshing tea.
The whole success is brewing tea leaves with cold water. Just pour your favourite tea, pour it over with cold water and put the bottle in the fridge. This brewing method allows for a smooth and rich flavour without hints of bitterness. The filter in the upper part of the bottle keeps leaves inside for a clear infusion.
It is also great for preparing flavoured water -just add your favourite fruit instead of tea leaves.
The bottle is made of Japanese glass with a silicone top.
Capacity: 750 ml
Hario Yunomi - set of 2 tea cups 170 ml:
Made of the highest quality Japanese glass, they make an elegant decoration of any kitchen.
Yunomi have no handles, but the glass structure reduces temperature conduction, so you can fill them even with a hot brew and hold in your hands.
Each cup holds 170 ml of your favourite tea. Dishwasher safe.
| | |
| --- | --- |
| EAN13: | 4977642037373 |
| Brand: | Hario |
| Colour: | light grey |
| Shipping within: | 24 - 48 hours |
| Article number: | |
Related products
You may also like:
Related articles
You may also like: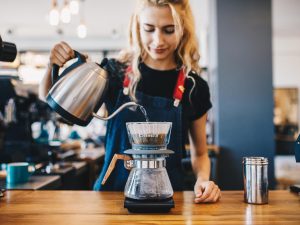 Brewista has a nice, glass dripper in their portfolio. We've checked and tried how does it work and how flat bottom improve our beloved coffee.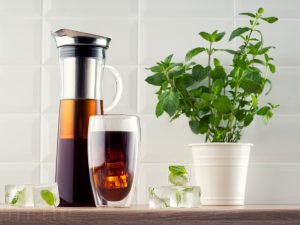 We can officially state that summer is here! For coffee lovers, it's the best opportunity to try out dozens of grounds in the form of a cold brew.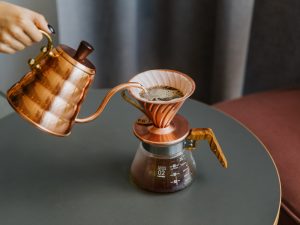 Drip coffee - this term stands for coffee revolution! How to make drip coffee and what is Hario V60? Check it!