1
13,00 €
2
11,00 €
4
26,00 €
Online products
GAT Moka Pots
Coffee
Tea
Yerba Mate
Sweets
Coffee Makers and Grinders
Accessories
Filters
Fashion is a series of stylish coffee pots made by G.A.T., Italian manufacturer. Its classic body has been enriched with elegant matte black finish. It will meet the expectations of anyone seeking an aesthetic product that allows for trouble-free brewing of excellent coffee.

G.A.T. Fashion 3tz is used to brew 3 cups of espresso at a time (approx. 50ml each). The total capacity is 150ml.

To brew true Italian espresso, you just need this coffee pot, good coffee and a few minutes!

• Design: Aluminum coffee pot with matte black finish. Well-shaped handle and additional knob made of black plastic allow for easy handling and serving of your coffee. The lid is made of silver aluminum. Made in Italy.

• Use: G.A.T. Fashion is suitable for gas or electric hobs. Put your coffee pot on the hob so that the handle is beyond the reach of heat. Wash by hand, without the use of detergents. Not dishwasher safe. Choosing the size of your coffee pot, keep in mind that every time you need to brew the amount of coffee specified by the manufacturer.

• How does moka work? The coffee pot consists of a top sealed tank, a filter and a bottom tank. Put ground coffee beans in the filter, pour water into the bottom tank below the safety valve level and connect all the elements. Put the coffee pot on the hob and wait a few minutes. Hot water moves to the top tank, flowing through the ground beans. Your delicious and aromatic espresso is ready!
| | |
| --- | --- |
| EAN13: | 8007126001364 |
| Brand: | G.A.T. |
| Colour: | black |
| Material: | aluminum |
| Number of espressos: | 3 |
| Induction: | no |
| Capacity: | 150 ml |
Related products
You may also like:
Related articles
You may also like: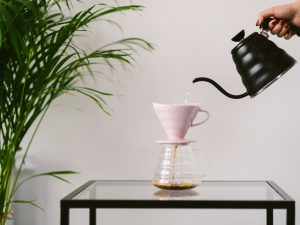 Making coffee without a coffee machine is not a myth. This article is a quick overview of the most popular alternative coffee brewing methods.