1
107,00 €
2
131,00 €
3
107,00 €
Online products
Handground Grinder
Coffee
Tea
Yerba Mate
Sweets
Coffee Makers and Grinders
Accessories
Filters
The new version of Handground is here - the improved burr offers better calibration and a more consistent grinding.

It stands out from the crowd due to its construction and the way the whole project was funded - by thousands of Kickstarter supporters. Check out the three available colourways!

Design
What draws your attention first is the handle mounted on the side of the grinder. This allows for a more natural motion and together with a rubber pad on the bottom of the base, gives a good grip and makes grinding quick. The hopper may contain up to 100g of beans. What is more, it is closed, so the beans won't jump out of it while grinding. The base is made of glass, which prevents static and sticky grounds.

The hopper, its lid and regulation rings are made of plastic. There is also a metal handle and a wooden knob. Glass was used to make the base. The burrs are ceramic.

Grinding
The heart of the grinder is a 40mm ceramic burr. The coarseness is set in a convenient way - using the ring under the hopper. You won't have to unscrew any elements to do that!

Just twist the numbered ring to setting 1 to produce an espresso grind or 8 for French Press. There is a step in between each number for a total of 15 coarseness settings. The axle is mounted on metal bushings in three locations to keep it stable while grinding and eliminate burr wobble.

Colour: Nickel
| | |
| --- | --- |
| Brand: | Handground |
| Colour: | silver |
| Grinder type: | manual |
| Burr type: | ceramic |
| Number of grinding steps: | 15 |
| Height: | 21 cm |
| Diameter: | 10,4 cm |
| Shipping within: | 24 - 48 hours |
Related products
You may also like:
Related articles
You may also like: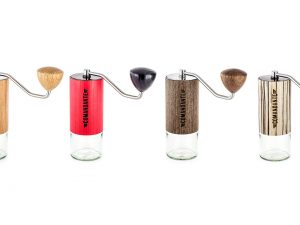 Comandante C40 MK3 Nitro Blade is famous, well know hand grinder, where quality is at the first place. Would you like to know why?