1
Set: AeroPress + Fellow Prismo
49,72 €
2
33,04 €
3
Set: Bialetti Moka Pot + Coffee
27,43 €
4
Set: Dripper Hario V60-02 + Coffee
12,96 €
5
Set: Aeropress + Hario Hand Grinder
59,02 €
The very best set for every lover of coffees with milk, it includes the most famous moka pot in the world, Bialetti Moka Express 6tz, milk frother Bialetti Tuttocrema and one of our coffee bestsellers - Arcaffe Roma! Special price and great products thanks to which you will achieve next level of initiation on your coffee adventure.

The set includes:

Moka Express is the most classic model made by Bialetti, the world's leading manufacturer of coffee makers. This is the coffee pot that made the Italian manufacturer famous in 1930s. To this day it is the most popular moka model in the world, as more than 200 million pots have been produced so far.

Bialetti Moka Express 6tz model is used to brew 6 cups of espresso at a time. The total capacity is 300ml.
Bialetti Tuttocrema is a simple and practical way to prepare delicious, creamy froth in the comfort of your own home. It is a perfect device to make perfect cappuccino.

Milk frothing is extremely easy and quick. Simply heat the milk to your preferred temperature (not boiling, the temperature should be about 60-65 degrees). Then froth the heated milk, pumping the plunger knob vigorously several times. Once you get the desired effect, which is velvety, fluffy froth, pour it directly onto your brewed coffee. Fill Tuttocrema jug up to 1/3 of its capacity, as milk volume increases.

The frother is suitable for gas, electric and ceramic hob. Made of aluminium coated with teflon.
Roma is a high-quality sweet blend of Arabica coffees produced unchangeably (except for war) since 1926. Coffee brewed with these beans will have a soft and pleasant crema with the aroma of cocoa and caramel. It is characterized by a rich, velvety body and a delicate hint of tobacco.

It was named in honour of the famous café in Livorno for which it was created. It is a perfect combination of 6 different Arabica coffees, which creates its unique personality.
| | |
| --- | --- |
| Brand: | Bialetti |
| Shipping within: | 24 - 48 hours |
Related products
You may also like:
Related articles
You may also like:
Pumpkin Spice Latte is a sweet coffee drink which is on everyone's lips in the winter season. We will tell you the secret of making this aromatic latte!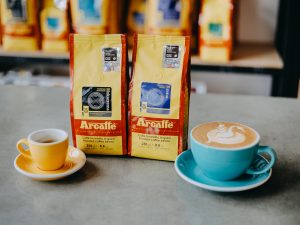 Every day automatic espresso machines - our private baristas - brew copious amounts of coffee. Check what coffee is the best to brew in espresso machine.
Almost everybody has heard about sommeliers in the world of wine. A q-grader is a professional taster who specialises in sensory evaluation of Arabica.