Online products
Barista & Co Accessories
Coffee
Tea
Yerba Mate
Sweets
Coffee Makers and Grinders
Accessories
Filters
This designer set from Barista & Co was created for the fans of coffee with milk! The milk frother will help you make the best milk froth, and cocoa shaker and stencils will add an effective pattern to your favorite beverage.
The set includes:

Barista & Co - Milk Frother Gunmetal
Practical manual milk frother made from glass, stainless steel and silicone. Froth up to 400ml of milk at once!

Key features:
- 400 ml capacity.
- The easiest way to froth milk at home.
- Embossed logo.
- Not dishwasher safe.

How to use it?
Pour in cold milk by 1/3 of the glass jug (about 150ml).With your hand, plunge the handle up and down.

Barista & Co - Cocoa Shaker- Gunmetal
Accessory that allows for an even dusting of cocoa.
Key features:
- Stainless steel.
- PP lid to prevent moisture entering the chamber when shaker not in use.
- An elegant design embossed with the Barista & Co logo.
- Dimensions: 7 cm (Height); 7,3 cm (Diameter).
Barista & Co - Cocoa Stencils - Electric Steel
The set of three stencils to decorate milk coffees. Use cocoa or cinammon ad make interesting patterns!

Key features:
- Designs: Wake up; Made with ♥; Hot stuff.
- Made from stainless steel.


Related products
You may also like:
Related articles
You may also like: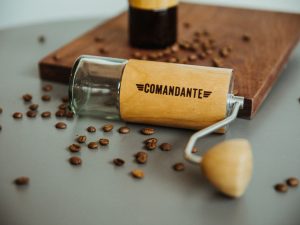 Many coffee geeks spend sleepless nights thinking about the Comandante Grinder. Though how to set the Comandante Grinder to make a good cup of coffee?