4
5,70 €
5
5,20 €
Online products
Hario Accessories
Coffee
Tea
Yerba Mate
Sweets
Coffee Makers and Grinders
Accessories
Filters
The very best set that allows you to become a real home barista. Kettle, scale, dripper, filters, server and hand grinder - these are top-quality accessories from Japanese producer Hario. With this set, you will achieve advanced level of coffee brewing.

The set includes:

This Japanese gadget allows you to make the most of your coffee in a simple and effective way. The filter method is great fun and allows for experimenting with coffee. Surprise your friends with rich taste and aroma of coffee, and the technique of its preparation!

Hario V60-02 allows you to brew 300 - 500 ml of coffee at a time, which is enough for a big mug or two smaller portions.
This ceramic version offers a stylish design available in several colours, which make a perfect decoration of every kitchen. Furthermore, it is characterized by a very good level of heat keeping. Its conical form and special grooves on the inside of the dripper provide excellent water flow.

Hario Buono Kettle is any barista's best friend in a form of a practical teapot used to boil water. Thanks to its precision, it is particularly useful for coffee brewing with alternative methods such as a Dripper, Chemex or Aeropress.

Its slim profiled spout allows for full control of pouring, so you have an influence on the pace and direction of the water stream. The minimalist and industrial design along with pouring precision make Buono Kettle stand out from other kettles.

Buono Kettle with its solid stainless steel design and plastic elements is your kettle for years. Additionally, it is suitable for all types of hot plates.

100 Hario filters designed for conical coffee drippers.
Drip Scale from Hario allows you to simultaneously weigh coffee beans, measure hot water and time the extraction, which are the main parameters for the production of quality coffee from a dripper or Chemex. Drip Scale makes brewing of your favourite coffee even more pleasant!

Thanks to the great design and high-quality workmanship, the scales will be a perfect decoration in every kitchen and you can use it to weigh more than just coffee. A built-in timer, tare option, clear display and simple use guarantee the comfort of use. The scales are powered by two AAA batteries (included), the maximum weighing range is 2 kilograms.
Its advantage is that it is microwave safe. It is absolutely compatible with all products from Hario V60 series. Its plastic handle facilitates coffee serving and the lid provides better heat retention. The server is also equipped with a scale which allows you to brew precisely the desired quantity of coffee.
Related products
You may also like:
Related articles
You may also like: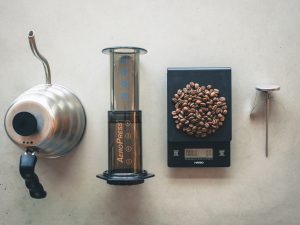 Three years after Drip Scale had its premiere, Hario dropped a brand new thing – Hario Metal Drip Scale. Is it better than its predecessor? Let's find out!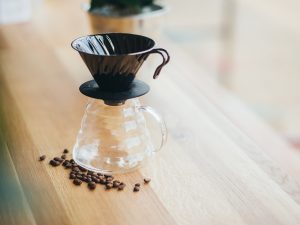 We have prepared for you a review of the Timemore Dual Sensor Scale with a comparison to the Acaia Pearl scale, its main rival.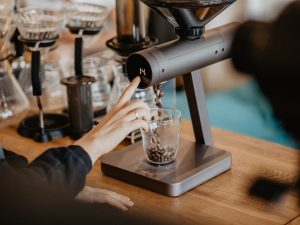 Acaia Orion is the brand new toy of specialty coffee industry. In every place, where daily coffee dosing is an arduous routine, new Acaia's tool will be godsend. Why? Check and read our review!