1
13,00 €
2
11,00 €
4
26,00 €
Online products
GAT Moka Pots
Coffee
Tea
Yerba Mate
Sweets
Coffee Makers and Grinders
Accessories
Filters
Bella is the most colourful coffee pot model from G.A.T., Italian manufacturer. A combination of the original shape and fresh colours make this Moka perfect for fans of both classic and innovative solutions. Bella makes a functional element of decoration that revives any interior. Choose the colour that suits you and make brewing of your coffee even more pleasure!

G.A.T. Bella 6tz is used to brew 6 cups of espresso at a time. The total capacity is 300 ml.

To brew true Italian espresso, you just need this coffee pot, good coffee and a few minutes!

• Design:
This aluminum coffee pot impresses with the design quality and a wide range of colours. The knob and additional handle made of white plastic provide comfortable handling and serving when your coffee is ready. Its transparent lid is made of plastic in the colour of your coffee pot. It allows for better control when brewing. Made in Italy.

• Use:
G.A.T. Bella is suitable for gas or electric hobs. Put your coffee pot on the hob so that the handle is beyond the reach of heat.

Wash by hand, without the use of detergents. Not dishwasher safe.

Choosing the size of your coffee pot, keep in mind that every time you need to brew the amount of coffee specified by the manufacturer.

• How does moka work?
The coffee pot consists of a top sealed tank, a filter and a bottom tank. Put ground coffee beans in the filter, pour water into the bottom tank below the safety valve level and connect all the elements. Put the coffee pot on the hob and wait a few minutes. Hot water moves to the top tank, flowing through the ground beans. Your delicious and aromatic espresso is ready!
| | |
| --- | --- |
| EAN13: | 8007126002804 |
| Brand: | G.A.T. |
| Colour: | white |
| Material: | aluminum |
| Number of espressos: | 6 |
| Induction: | no |
| Capacity: | 300 ml |
| Shipping within: | 24 - 48 hours |
Question:
Ile gramów kawy potrzeba do zaparzenia w kawiarce 6tz?
Reply:
32g :)
Related products
You may also like:
Related articles
You may also like: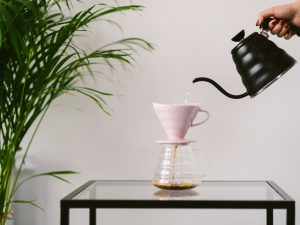 Making coffee without a coffee machine is not a myth. This article is a quick overview of the most popular alternative coffee brewing methods.